Cankiri is the capital city of Cankiri Province, in Turkey, about 140 km (87 mi) northeast of Ankara. It is situated about 800 m (2500 ft) above sea level.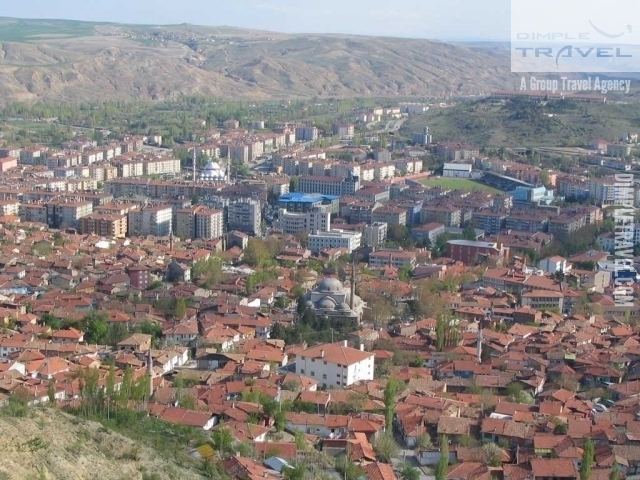 Cankiri was known in antiquity as Gangra, and later Germanicopolis (Greek: ). The city has also been known as Changra, Kandari or Kanghari
? town of Paphlagonia that appears to have been once the capital of Paphlagonia and a princely residence, for it is known from Strabo that Deiotarus Philadelphus (before 31 BC-5/6 AD), the last king of Paphlagonia, resided there. Notwithstanding this, Strabo describes it as only "a small town and a garrison."
According to 1st century BC writer Alexander the Polyhistor the town was built by a goat herder who had found one of his goats straying there; but this origin is probably a mere philological speculation as gangra signifies "a goat" in the Paphlagonian language.
Gangra, was absorbed into the Roman province of Galatia upon the death of Deiotarus in 6/5 BC. The earlier town was built on the hill behind the modern city, on which are the ruins of a late fortress, while the Roman city occupied the site of the modern city.
In the writings of the 2nd century AD Greco-Roman writer Ptolemy, the city is referred to as Germanopolis (Greek: ). It was named Germanicopolis, after Germanicus or possibly the emperor Claudius, until the time of Caracalla.
In Christian times, Gangra was the metropolitan see of Paphlagonia. Hypatios, bishop of Gangra, is considered a saint in the Orthodox Christian tradition. He was killed by Arians on his return from the Council of Nicaea (325 AD), in which he took part.
In the 4th century, the town was the scene of an important ecclesiastical synod, the Synod of Gangra. There is disagreement about the date of the synod, with dates varying from AD 341 to 376. The synodal letter states that twenty-one bishops assembled to take action concerning Eustathius of Sebaste and his followers. The Synod issued twenty canons known as the Canons of Gangra; these were declared ecumenical by the Council of Chalcedon in 451.
Over the centuries the settlement witnessed the hegemony of many cultures and races, such as Hittites, Persians, Ancient Greeks, Parthians, Pontic Greeks, Galatians, Romans, Byzantine Greeks, up to the Seljuks and finally the Ottoman Turks. Traces from its long past are still visible throughout the city. The continuity of the citys name from ancient times across languages is of note: Hangara for the Arabs, Gagra for the Jews and Tzungra or Kangiri or Cankiri for the Turks.
Various agricultural produce, including wheat, corn, beans, and apples is grown in the farms and fields.
(,)http://www.dimpletravel.com/images/cities/big/cankiri/cankiri-1.jpg(,)http://english.karatekin.edu.tr/images/apply.jpg(,)http://www.ucl.ac.uk/paphlagonia/images/highlights/Paph_8.jpg(,)http://i.dailymail.co.uk/i/pix/2013/11/17/article-2508731-19773B6300000578-298_634x420.jpg(,)https://media.licdn.com/mpr/mpr/p/3/005/06c/282/1d73bfa.jpg(,)http://www.trainsofturkey.com/w/uploads/History/cankiri_1934.jpg(,)http://bookturkeytours.com/images/travel/cankiri-800x533.jpg(,)http://media.worldbulletin.net/250x190/2013/12/24/tuz-magarasi-cankiri-712x320.jpg(,)http://farm6.static.flickr.com/5016/5429300352_a8416ef206.jpg(,)http://farm6.static.flickr.com/5060/5429300346_49228a1b15.jpg(,)http://farm9.static.flickr.com/8108/8639982870_509ebf7104.jpg
(,)http://fle135-turkiye.pbworks.com/f/cankiri-merkez.jpg(,)http://media-cdn.tripadvisor.com/media/photo-s/04/4d/e4/6b/alyanss.jpg(,)http://admin.gateofturkey.com/api/data/GetHeaderImage/2243/%25C3%2587ank%25C4%25B1r%25C4%25B1-Panaromik.jpg(,)http://r-ec.bstatic.com/images/hotel/840x460/208/20855619.jpg(,)http://images6.mygola.com/38ccb1e44d85fc32e706b2ac40ce5ba3_1394135816_l.jpg(,)https://c2.staticflickr.com/8/7610/16555796648_daa0c42b4d_h.jpg(,)http://aff.bstatic.com/images/hotel/max500/208/20855585.jpg(,)http://aff.bstatic.com/images/hotel/max500/208/20855322.jpg(,)http://aff.bstatic.com/images/hotel/max500/208/20822974.jpg
(,)http://islam.ru/en/sites/default/files/img/story/2013/12/The%25205,000-year-old%2520salt%2520cave%2520is%2520thought%2520to%2520be%2520effective%2520in%2520healing%2520asthma,%2520bronchitis%2520and%2520other%2520respiratory%2520illnesses..jpg(,)http://www.tccb.gov.tr/images/photoalbum/2012-haber/2012-03-21-turksoy-02.jpg(,)http://www.tccb.gov.tr/images/photoalbum/2012-yutici/yi-20121108-cankiri-18.jpg(,)http://www.tccb.gov.tr/images/photoalbum/2012-yutici/yi-20121108-cankiri-13.jpg(,)http://gazi.edu.tr/upload/1/2014/1/31/6fa2c64e637233783cde4669d4ffe8bd626daaf9(,)http://gazi.edu.tr/upload/1/2014/1/31/e42f64494096ee16fe55513f430caacd5bd7c815(,)http://1.bp.blogspot.com/-MeG9vfEX0rE/T-z91KYbP4I/AAAAAAAAAAs/p4qLtB8Kn7M/s1600/DiverseCollegeGrads.jpg(,)http://gazi.edu.tr/upload/1/2014/1/31/3cb55136ff91005af4685b84b7a38d473d5770de(,)http://aregem.kulturturizm.gov.tr/Resim/121840,f20091127.png%3F0