Nickname(s)

Camp Humphreys CWO Ben Humphreys was a member of the 6th vise 4th transportation Company (Lt Hel).

Motto(s)

Sustain, Support, Defend

Similar

Camp Hovey, Camp Bonifas, Camp Long
Welcome to camp humphreys south korea
Camp Humphreys (Korean: 캠프 험프리스), also known as United States Army Garrison-Humphreys (USAG-H), is a United States Army garrison located near Anjeong-ri and Pyeongtaek metropolitan areas in South Korea. Camp Humphreys is home to Desiderio Army Airfield, the busiest U.S. Army airfield in Asia. In addition to the airfield, there are several U.S. Army direct support, transportation, and tactical units located there, including the 2nd Infantry Division's 2nd Combat Aviation Brigade.
Contents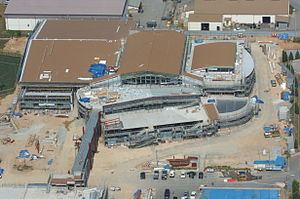 In 2004, an agreement was reached between the United States and South Korean governments to move all U.S. forces to garrisons south of the Han River and relocate the United States Forces Korea and United Nations Command Headquarters to Camp Humphreys. Those movements are expected to be completed by 2016 and will transform Camp Humphreys into the largest U.S. Army garrison in Asia. Under that plan, the 28,500 U.S. troop presence in South Korea will be consolidated by 2016 and United States Forces Korea will move from Seoul to Camp Humphreys.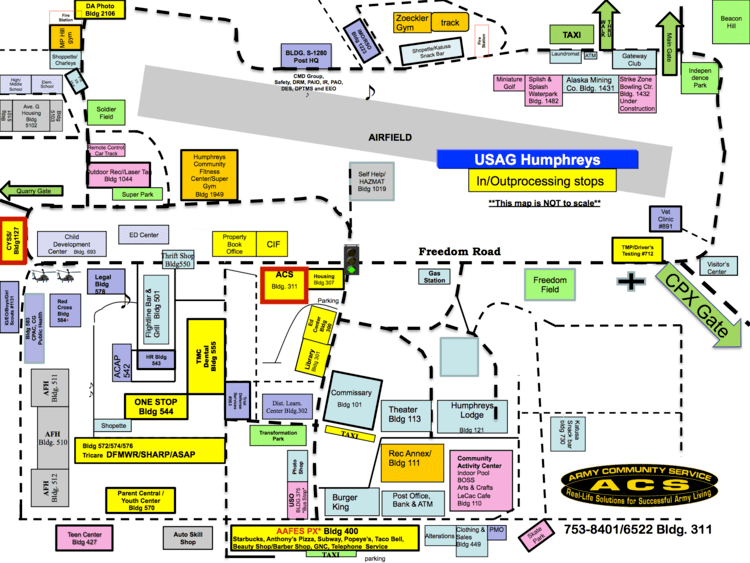 Thanksgiving greetings from the camp humphreys garrison command team
Geography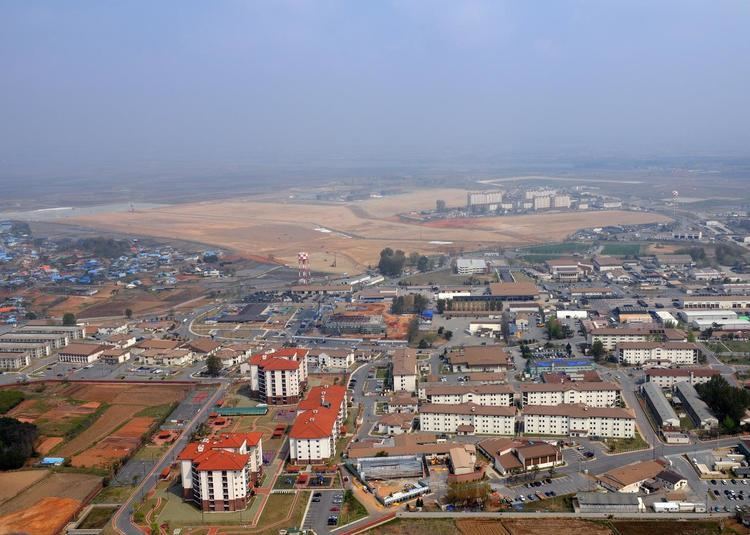 The town of Anjeong-ri is located adjacent to the Camp Humphreys main gate. Smaller farming villages are located along the perimeter.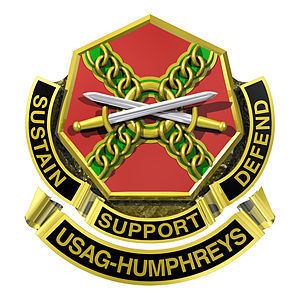 The installation covers an area of 1,210 acres. As part of the Yongsan Relocation Plan, that number will grow by 2,328 acres to 3,538 acres.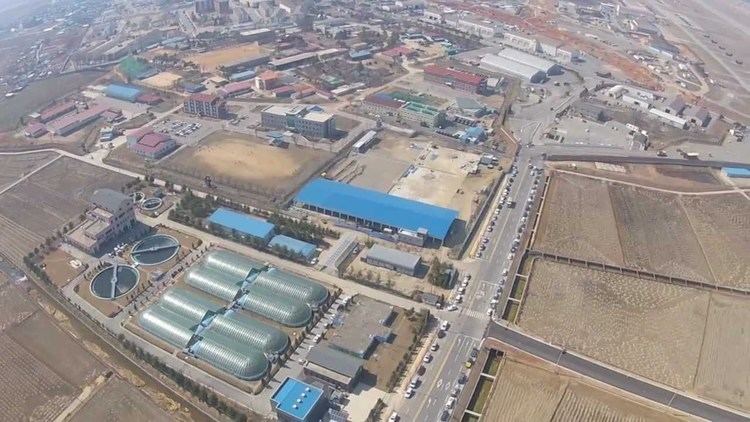 The immediate area around Camp Humphreys is mostly agricultural and consists mainly of rice fields. There are some rolling hills in the vicinity, but for the most part the elevations are less than 150 feet. There is a small mountain range about seven miles south of Camp Humphreys, with peaks reaching 958 feet in elevation. Larger mountains are located to the northeast, east, and southwest, all within 20 miles with peaks reaching to 2,293 feet in elevation to the south and 1,000 feet in elevation to the southeast. Urban areas are situated mostly to the northeast of the airfield. Seoul is located approximately 55 miles northeast.
The Ansong River flows from the east to west toward the West Sea and passes three miles northwest of the airfield. About 12 miles west of Camp Humphreys, the river widens and empties into the Asan Bay, near Koon-ni Range.
The numerous areas of water around Camp Humphreys has an effect on the weather. The abundant moisture is responsible for most of the fog and stratus which occurs in the area. This is especially true from the spring through fall.
History
The history of Camp Humphreys dates back to the beginning of the 20th century when, in 1919 the Japanese military built the Pyeongtaek Airfield. Later, during the Korean War, Pyeongtaek Airfield was named K-6 after being repaired and enhanced by the U.S. Air Force to accommodate a U.S. Marine Air Group and the 614th Tactical Control Group.
1960s
In 1962, the base was renamed Camp Humphreys in honor of Chief Warrant Officer Benjamin K. Humphreys, a pilot assigned to the 6th Transportation Company, who died in a helicopter accident.
In 1964, Humphreys District command (later re-designated as the 23rd Direct Support Group) was activated as a separate installation command of the Eighth U.S. Army providing all direct support, supply and maintenance, storage of all conventional ammunition in Korea, Adjutant General publications and training aides and the Eighth U.S. Army Milk Plant.
1970s
In 1974, with the activation of the 19th Support Brigade, Camp Humphreys was redesignated as U.S. Army Garrison, Camp Humphreys. USAG-Camp Humphreys was still responsible for all affairs affecting personnel stationed at Camp Humphreys, but the 19th Support Command was responsible for all support activities vital to the Eighth U.S. Army and its subordinate units. Those units formerly reporting to the 23rd Direct Support Group reported to the 19th Support Command in Daegu. Only the basic functions remained with USAG Camp Humphreys.
1990s
Later, the 23rd Direct Support Group and 19th Support were renamed 23rd Support Group and 19th Theater Army Area Command. On 17 June 1996 the United States Army Support Activity Area III (USASA Area III) was established and made responsible for the peacetime support mission for Camp Humphreys, Camp Long, Camp Eagle and U.S. Army units assigned to Suwon Airbase.
2000s
On 1 June 2005, the U.S. Army announced that Camps Eagle and Long would close. Both camps were then later closed on 4 June 2010, consolidating installation support activities on Camp Humphreys.
2005 protests
Following a series of large protests against the South Korean and American governments' plan to expand Camp Humphreys to make it the main base for most U.S. troops in South Korea, residents of Daechuri and other small villages near Pyeongtaek agreed to a government settlement to leave their homes in 2006 and allow for the base expansion. Compensation for the land averaged 600 million won (about 600,000 USD) per resident.
Under a 2004 land-swap pact, the U.S. promised to gradually return a combined 170 square kilometers of land housing 42 military bases and related facilities to South Korea and move U.S. military forces from garrisons in and north of Seoul to Camp Humphreys.
With the creation of the Installation Management Command on 24 October 2006, U.S. Army Support Activity Area III was redesignated as U.S. Army Garrison Humphreys and Area III on 15 March 2007.
On 13 November 2007, USFK and South Korean officials conducted a groundbreaking ceremony for the expansion of Camp Humphreys. Under that plan, the 28,500 U.S. troop presence in South Korea will be consolidated into two regional hubs in Pyeongtaek and Daegu by 2016.
2010s
On 2 September 2011, U.S. and South Korean officials participated in a joint groundbreaking ceremony to mark the beginning of construction for an elementary school to accommodate 850 students and high school to accommodate 950 students on Camp Humphreys.
On 26 August 2013, Camp Humphreys opened a new elementary school. The new elementary school will hold kindergarten through fifth-grade classes for a total enrollment capacity of 875 students.
Occupants
Camp Humphreys is home to the 2nd Infantry Division's Combat Aviation Brigade ("Talon Brigade"), consisting of the following subordinate units:
Headquarters and Headquarters Company (HHC) – "Warrior Knights"
2nd Battalion, 2nd Aviation Regiment (Assault) (UH−60L) – "Wild Card" (K-16, SEOUL AB)
3rd Battalion, 2nd Aviation Regiment (General Support) – "Nightmare" (CH-47F, UH/HH-60L)
4th Battalion, 2nd Aviation Regiment (Reconnaissance & Attack) (AH-64D) – "Death Dealer"
602nd Support Battalion (Aviation) – "Warhorse"
1st Squadron, 17th Cavalry Regiment/1st Battalion, 82d Aviation Regiment(Reconnaissance & Attack) (OH-58D) - "Horsemen" (Rotational Forces)
130th Engineering Battalion, Task Force Ready (Rotational Forces)
The following units are also stationed at Camp Humphreys:
1-16 IN, 1ABCT, 1ID(Rotational Forces)
304th Signal Battalion
501st Signal Company
194th Combat Service Support Battalion
94th Military Police Battalion
249th Military Police Detachment
557th Military Police Company
20th Military Police Det (CID)
176th Finance Battalion, B Detachment
343rd Rear Operations Center, USAR
4-58th Airfield Operations Battalion
618th Dental Company
75th Medical Company(AS)
568th Medical Company
USAF Det 2, 607th Weather Squadron
16th Medical Logistics (Blood Depot)
150th animal Care Detachment
Army Materiel Command, Logistics Support Element
3rd Military Intelligence Battalion
719th Military Intelligence Battalion
524th Military Intelligence Battalion
532nd Military Intelligence Battalion
138th Battalion Movement Control Team
22nd/8th Korean Service Corps (KSC) Company
52nd Ordnance Company
538th Ordnance Company
25th Transportation Company
Camp Humphreys also houses the Eighth United States Army military confinement facility, which is used to detain soldiers sentenced for no more than a year of confinement or until they are transferred to a military prison facility in the United States.
Department of Defense Dependent Schools
The Department of Defense Education Activity (DoDEA) is a civilian agency of the United States Department of Defense that manages all schools for military children and teenagers, as well as foreign service children and teenagers, in the United States and also overseas at American military bases worldwide.
DoDEA currently manages both an elementary and middle school on Camp Humphreys, while high school students are bussed to a nearby school on Osan Airbase.
In 2011, construction began on a new Camp Humphreys for a Humphreys Central elementary and high school. In 2013, construction completed the new schools and adjacent athletic fields accommodate 1,700 students. The Humphreys Central elementary school hold 850 students and the high school hold 950. The elementary school hold kindergarten through fifth-grade classes and the high school hold sixth through 12th grades until a new middle school. Humphreys Middle School and Humphreys Western Elementary school will open the CY17.
Post exchange (AAFES)
Camp Humphreys is home to a 72,000 square foot concession mall, with laundry and dry Cleaning services, an optical shop, LG Uplus(Mobile, Internet, CATV ETC), barber shop, florist, embroidery, giftware vendors and more. The AAFES food court offers Popeye's Chicken, Taco Bell, Anthony's Pizza, Subway and Baskin Robbins Ice Cream. Anthony's Pizza and Popeye's also offer daily delivery service.
There are also three Shoppettes on Camp Humphreys. The Zoeckler Station shoppette is located near the main gate by the KATUSA snack bar and Pizza Hut . Pizza Hut offers delivery service daily for on-post residents. Also located near this facility, across from the walk-thru gate, is laundry/dry cleaning service and a AAFES barber shop. The 3rd MI shoppette is located in the same building as Charley's Steakery, which serves a selection of sub sandwiches.
The post movie theater seats more than 550 customers and offers the latest movies in digital sound. The theater was recognized in 2011 as the "Best in the Army."
A 24-hour laundromat is located adjacent to the walk-thru gate to Camp Humphreys.
Korea is a ration control assignment. Upon arrival, military personnel, family members and civilian employee need to get a ration control card from their local Pass and ID Office prior to shopping in an AAFES facility. Department of Defense identification cards and ration control cards are always necessary to enter all AAFES facilities in South Korea.
Family and Morale, Welfare & Recreation
The Directorate of Family and Morale, Welfare & Recreation office on Humphreys is part of a vast network of an Army-wide support and leisure services that aims to enhance the lives of Soldiers, civilians, Families, and military retirees.
Its goals include increasing Soldier and family resiliency, restoring balance, and enhancing recruitment, readiness, and retention.
The Humphreys DFMWR mission helps to support Army Force Generation by providing programs and services that result in a quality of life for Soldiers, Civiliand and their Families commensurate with the quality of their service and sacrifice in this forward deployed assignment.
The Humphreys DFMWR vision is to lead IMCOM in providing excellence in services and innovative, quality MWR programs that enhance Soldier, Civilians and Family well-being and readiness while adapting to the changing expectations of customers and with regard to the local area.
The Humphreys DFMWR values are to uphold and support the Army core values of loyalty, duty respect, selfless service, honor, integrity and personal courage.
Army Community Service (ACS) is dedicated to providing quality services to assist Soldiers and their Families. ACS provides life skills, information, referral and advocacy to all active duty and retired military personnel and their Family members; members of the Army National Guard and US Army Reserve, when on active duty and during post deployment and their Family members; Army APF and NAF civilian employees, and their Family members; Family members of prisoners of war or personnel missing in action and surviving Family members of military personnel who died while on active duty. Programs include Army Emergency Relief; Army Family Action Plan; Army Family Team Building; employment readiness; the Exceptional Family Member Program; family advocacy; Family Readiness Group training; financial readiness; information, referral and follow-up, mobilization and deployment support, relocation readiness and Survivor Outreach Services. A satellite ACS office is available at Suwon Air Base for members of the 51st Air Defense Artillery Regiment stationed there.
Child, Youth and School Services (CYSS) offers children of US military personnel, DoD civilians, retirees and contractors a comprehensive set of programs for ages 6 weeks to 18 years through a variety of programs and facilities. The mission of CYSS is to promote readiness by reducing conflict between parental responsibilities and unit missions, assisting the child by promoting intellectual growth, physical ability and social skills. CYSS offers care and open recreation activities for children from six weeks to 18 years of age as part of full-day, part-day, hourly, after-school and weekend programs.
The Bang Jeong Hwan Child Development Center offers full-day, part-day, hourly and extended duty care for up to 300 children ages six weeks to kindergarten old. As is standard with U.S. Army Child Development Centers, the overall development of the child, improvement of motor skills, growth of social skills, personal hygiene and early education are all important parts of the program. Care is provided by trained staff and operations are subject to Department of Defense (DoD) certification. This center has completed NAEYC's national, voluntary accreditation system which has set professional standards for early childhood education programs, and helped families identify high-quality programs for their young children. The $8 million facility opened in 2008 and aims to provide children a safe place to learn and play.
The School Age Center is located in Bldg. 570 and offers a full range of School Age Services programs including special camps, field trips, homework assistance, a variety of clubs and a Youth Technology Lab, where children and youth can engage in technology-based activities and programs that help link youth with their deployed parents and support geographically dispersed children and youth. These highly structured recreational and educational programs provide youth with age appropriate after school activities as well as holiday and summer day camps for youth enrolled in kindergarten through 5th grade. SAC currently offers before and after school programs, weekend activities during the school year, and camps during school vacations. Care is provided by trained staff and operations are subject to DoD Certification. The School Age Center is accredited through the Council on Accreditation, ensuring the quality of care provided.
The Youth Center is located across the street from the School Age Center. A full range of programs and activities are available including homework assistance, computer lab, arts & crafts, movie nights, lock-ins, field trips and more. The Youth Program offers comprehensive, supervised program options and affordable, quality, predictable services that are easily accessible for eligible youth in grades 6 through 12. The Youth Center provides a comprehensive framework consisting of four service areas: life skills, citizenship and leadership opportunities; arts, recreation and leisure activities; academic support, mentoring and intervention services and sports, fitness and health options. Through formal partnership agreements with nationally-recognized youth-serving organizations, such as United States Department of Agriculture (USDA), 4-H and Boys & Girls Clubs of America (BGCA), youth have access to programs, standard curricula, special events, camps, scholarships and more. Supervision and programming is provided by trained staff and operations are subject to DoD certification.
Parent and Outreach Services is located at Parent Central Services, in Building 1127. Its services include enrollment for the Child Development Center, School Age Center and many Youth Center programs. Its outreach services include SKIES Unlimited Instructional Programs, CYSitters, child behavior consultants and respite child care. SKIES programs are a range of out of school classes, e.g., piano, martial arts, gymnastics and Korean language and culture. Classes are designed to complement, expand, and support the academic, life skills and athletic experiences children and youth have within Army CYSS programs and schools. These educational programs are provided by CYS Services employees and contract instructors in a variety of settings.
The School Liaison Officer is located at Parent Central Services, in Building 1127, and provides education references, resources and referrals; student transition assistance; command, school and community connections; home school linkage and support and post-secondary preparation.
Youth Sports and Fitness Programs offers developmentally appropriate opportunities for children and youth to be engaged in individual and team sports, competitions, skill building clinics and nutrition and health classes that foster development of lifelong healthy habits. Youth Sports teams are available for various age groups in baseball, soccer, a running club, swimming, basketball and other sports areas. USAG Humphreys teams play in a league with teams around the peninsula which sometimes requires travel. Volunteer coaches are always needed and are required to undergo background checks and complete a certification course before they are allowed to coach. Seasons tend to start and finish earlier than the traditional sports dates, so it is essential to register your children early to assure them a spot on a team. There is a fee charged for all sports, and all participants must be registered with the Child, Youth and School Services program.
The Augusta West Miniature Golf Course is a 9-hole miniature golf course adjacent to Splish & Splash Outdoor Pool. It is open during the summer during the same hours as the pool, where golf balls and clubs can be signed out for play from the front desk at no cost.
The Auto Skills Center has three mechanics on staff to work on all makes and models of vehicles. The center also allows patrons to rent bays and equipment to work on their automobiles. The center offers self-help regular bays, vehicle lifts, paint booth, body bays, welding, machine shop, wheel balancing, tire changes and balancing, computer diagnosis, electrical systems testing and special tools with applicable charges. Center personnel can also do safety inspections, which are required for individuals who have shipped a vehicle as part of their PCS move or those who have purchased a vehicle upon arrival.
The Better Opportunities for Single Soldiers (BOSS) program ensures enhanced quality of life for single and unaccompanied Soldiers through three pillars of service, which include well being, recreation and leisure activities and community service. Well-being includes those things that Soldiers can directly or indirectly influence to enhance their morale, living environment, or personal growth and development. The well being issues identified or raised during the BOSS meetings will be directed to the appropriated command or staff agency for resolution on the installation. Activities may be planned by the BOSS committee or by the BOSS committee working in conjunction with other MWR activities. Soldiers will assume a lead role in planning BOSS events. Events should be planned that meet the needs and desires of the single Soldiers. The BOSS committee may elect to participate in community programs or projects that make a difference in the lives of others, in the community, and ultimately, in themselves. The service is voluntary in nature and in accordance with the installation volunteer program and can support either BOSS programs or existing programs.
The Community Activity Center hosts many of the key events on posts. The Recreation Center portion of the building includes a music room with guitars, a drum set, a piano and amplifiers, table tennis, billiards tables, foosball, TV lounge, board games, a free wi-fi zone, PlayStation 3, Xbox, Xbox 360, Kinect, Nintendo Wii and classic arcade games. The building also houses an Arts and Crafts Center, indoor pool, LeCAC Cafe and the Discover Seoul ticket outlet. The Arts and Crafts Center provides ongoing programs and scheduled classes that include custom framing and matting, ceramic painting and glazing, sewing, pottery and holiday-themed crafts for individuals with skills ranging from beginner to advanced. The CAC indoor pool depth ranges from 4 feet to 11 feet with dimensions of 14 meters by 25 meters. It features six swim lanes with starting blocks, a diving borad, a hot tub and sauna and men's and women's locker rooms. LeCAC Cafe offers customers a variety of quick-service food options such as burgers, paninis, French fries and onion rings, as well as a breakfast menu. Discover Seoul provides domestic travel service, concert ticket sales, evenet ticket sales, vehicle rental and regional information. A shuttle bus to Incheon airport departs and returns to the center daily.
The Humphreys Community Fitness Center, coined the Super Gym, is the largest gymnasium in the Army. The 110,000 square foot facility has three floors with amenities that include an indoor pool, three regulation-size basketball courts, a 200-meter indoor running track, a dynamic weight room, an advanced indoor rock climbing wall, racquetball courts, cardio equipment and a variety of fitness classes. The facility's first floor has two racquetball courts; an eight lane, 25 meter swimming pool and hot tub and a large gym floor complete with climbing ropes and a rock climbing wall. The court can be divided into three separate regulation basketball courts. Men's and women's locker rooms offer day-use lockers, showers and saunas. The second floor is equipped with a three lane, 200 meter running track overlooking the basketball courts, Life Fitness, Hammer Strength and Nautilus equipment and a large cardio room. An outdoor patio extends from the cardio room and an indoor balcony doubles as an observation deck overlooking the pool. The 3rd floor has a small multipurpose room primarily used for yoga classes and individual exercise classes. This floor also has an aerobics/dance room and a combatives/boxing room. There are also two conference rooms for meetings and dignitary receptions.
Other fitness facilities on the garrison include the Fitness Annex, MP Fitness Center and Zoeckler Fitness Center. The Fitness Annex's mission focuses on functional fitness and its equipment includes climbing ropes, Concept 2 rowers, plyometeric boxes, kettlebells, Olympic barbells, tires, dynamax balls and rubberized weight plates (bumper plates). The MP Hill Fitness Center and Zoeckler Fitness Center are located on opposite sides of the flight line, but share a standard design and similar equipment and services that include fitness classes, cardiovascular equipment, a comprehensive weight room, a basketball court, a rock-climbing wall, climbing ropes, an aerobic room and two racquetball courts.
There is also an extensive intramural and post-level sports program, with leagues in flag football, basketball, volleyball, soccer and softball. Post-level men's and women's teams are offered in flag football, basketball, rugby and softball. Triathlons are offered twice a year and power lifting, wrestling, racquetball, tennis and swimming competitions are held on a semi-annual or annual basis. Community runs, including 5K's, 10K's and children's fun runs, are offered throughout the year and Camp Humphreys hosts one of the Official Army 10-Miler Shadow Races in October. There is also a Polar Bear swim at the Splish & Splash Outdoor Pool each winter. Humphreys is also home to the Humphreys Road Runners youth running club. The club is headed by Dave Elger, who holds the Guinness World Record for longest time between sub-three hour marathons. He is also part of a tiny handful of runners who have logged sub-three hour marathons in five decades.
Swimming facilities include indoor 25-meter pools at the Super Gym and the Community Activity Center, plus the Splish & Splash Outdoor Pool, which features a 50 meter by 25 meter pool with lap lanes and two diving boards, a 1.1 meter splash pool with 2 curlicue slides, a .3 meter kiddie playground pool with a water fort, a graduated-depth children's pool, a hot tub, a stage and pavilion, a snack bar and a large deck area. The water park is open from Memorial Day through Labor Day weekend.
The Sergeant First Class Raymond E. Duke Memorial Library offers designated quiet study areas, WiFi access, commercial Internet computers, photocopiers, homeschooling resources and a designated quiet study areas in which to learn. The library boasts a wide range of New York Times Bestsellers, Caldecott and Newberry Award-winning children's books, military professional readings, DVD's, CD's, audiobooks, magazines and newspapers. Direct and inter-library loans are available from Army libraries around Korea. The paperback swap rack is a free and simple way to enhance your personal library while providing new reading options to others. The library features a variety of programs, including a book club, board game club and preschool story hour.
The Outdoor Recreation program offers Warrior Adventure Quest, parks and pavilion reservations, laser tag, garden plots, equipment rentals, events and tours. Destinations include the Seoul Zoo, the COEX Mall Aquarium, Asan Spavis Spa, Sapgyo Lake and Songni Mountain. Regular trips includes skiing/snowboarding, hiking, paragliding, bungee jumping, shopping and various family and unit trips. Equipment available for rent includes camping stoves, sleeping bags, tents, GPS, ski packages and snowboard packages. An array of rental equipment is available for unit functions and includes a dunk tank, boxing, sumo wrestling, jousting, bounce houses, horseshoes, tug of war, a barbeque grill, canopies, ice chests, tables and chairs. Ski and snowboard services include hot wax, edging, surfacing and repairs. The Outdoor Recreation Center also houses laser tag, which is available for play anytime during regular operational hours. Outdoor Recreation oversees and manages reservations for the following on-post parks: Walk Through Gate Picnic Area, a covered pavilion located adjacent to the walk-in gate that features an oversized charcoal grill, 2 large basin sinks with running water, cabinets and counter space; Beacon Hill Park, a quiet hilltop park that features walking trails, a stream, an 18-hole disc golf course and 9 pavilions with picnic tables; Transformation Park, a small park with a gazebo, brick walkway and several picnic areas located in the center of Humphreys downtown, across the street from the Commissary and Post Exchange; the Super Park, which is located across the street from the Humphreys Community Fitness Center, near the parking garage and features two large playground structures – one for ages 5 – 12 and another pint-sized play area for ages 2 – 5, plus pavilions, six barbeque grills, a basin sink with running water and a water fountain; Soldier Field, the park directly behind the Humphreys Community Fitness Center that features an all-weather volleyball court, gazebo, two batting cages, two turf softball fields, a turf soccer field and a concession stand with restroom facilities; Independence Park, located beneath Beacon Hill, which has two turf baseball fields and restroom facilities and a Skate Park, located behind the Army Lodge and near the KATUSA Snack Bar.
Alaska Mining Company is the garrison's only full-service casual dining restaurant serving breakfast, lunch and dinner seven days a week with a broad menu, daily lunch buffet and evening specials. The Flightline Bar and Grill is open for lunch during the week and offers as variety of late-night entertainment on the weekends. The Gateway Game Room has a bar, slot machine and live entertainment in the lounge.
Army Health Clinic
The Camp Humphreys Army Health Clinic provides outpatient primary care services to active duty service members and their families living in the Pyongtaek area. Patients must be enrolled in the clinic via TRICARE and assigned a primary care provider prior to scheduling appointments.
Services provided by the clinic include family medicine, pediatrics, physical therapy, behavioral health, occupational health and optometry. The TRICARE office arranges for specialty referrals to host-nation partner hospitals, or to Brian Allgood Army Community Hospital on Yongsan Garrison in Seoul. The clinic nurse case manager also coordinates care for inpatients who are admitted to host nation partner hospitals.
The Camp Humphreys Army Health Clinic does not provide emergency medicine services, and patients with real or potential emergencies are encouraged to proceed directly to the closest off-post hospital emergency department. Informational cards with emergency department locations, phone numbers, and assistance numbers, are available inside the clinic, and also can be accessed on the garrison's official website.
On occasion, the clinic is able to provide "space-available" care to retirees and their family members, DA civilian employees, DODDS employees, and contractors. Patients in these categories who have chronic medical conditions should establish regular care with a primary care physician, and the clinic TRICARE office can assist those patients in establishing care in one of the clinic's partnered international clinics.
In popular culture
Camp Humphreys is featured in the 2013 film World War Z.
References
Camp Humphreys Wikipedia
(Text) CC BY-SA