Country

France


Population

109,899 (2008)




University

University of Caen Lower Normandy




Area

112,790




Region

Lower Normandy




Mayor

Joel Bruneau (UMP)




Points of interest

Abbey of Saint-Etienne - Caen, Memorial de Caen, Abbey of Sainte-Trinite - Caen, Musee des Beaux-Arts de Caen, Chateau de Caen

Caen or Caen ( Norman: Kaem) is a commune in northwestern France. It is the prefecture of the Calvados department and the capital of the Basse-Normandie region. The city proper has 113,249 inhabitants (as of 2006), while its urban area has 420,000, making Caen the largest city in Lower Normandy. It is also the second largest municipality in all of Normandy after Le Havre and the third largest city proper in Normandy, after Rouen and Le Havre. The metropolitan area of Caen, in turn, is the second largest in Normandy after that of Rouen, the 21st largest in France.
Contents
Map of Caen
It is located 15 km (9.3 mi) inland from the English Channel, two hours north-west of Paris, and connected to the south of England by the Caen-(Ouistreham)-Portsmouth ferry route. Caen is located in the centre of its northern region, and it is a centre of political, economic and cultural power. Located a few miles from the coast, the landing beaches, the bustling resort of Deauville and Cabourg, Norman Switzerland or Pays dAuge, Caen is often considered the archetype of Normandy.
As the city of William the Conqueror, the city has a long and complex history. Caen is known for its historical buildings built during the reign of William, who was buried there, and for the Battle for Caen—heavy fighting that took place in and around Caen during the Battle of Normandy in 1944, destroying much of the city. The city has now preserved the memory by erecting a memorial for peace.
History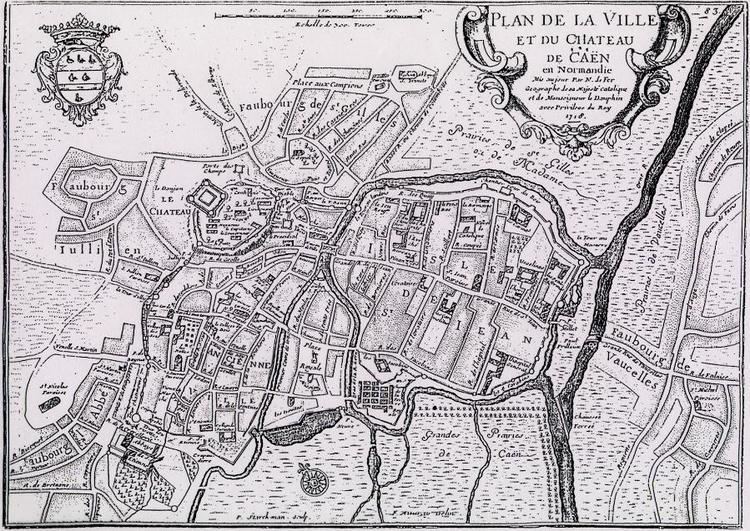 Geography
Caen is in an area of high humidity. The Orne River flows through the city, as well as small rivers known as les Odons, most of which have been buried under the city to improve urban hygiene.
Caen is 10 km (6 mi) from the Channel. A canal (Canal de Caen a la Mer) parallel to the Orne was built during the reign of Napoleon III to link the city to the sea at all times. The canal reaches the English Channel at Ouistreham. A lock keeps the tide out of the canal and lets large ships navigate up the canal to Caens freshwater harbours.
Main sights
The castle, Chateau de Caen, built circa 1060 by William the Conqueror, who successfully conquered England in 1066, is one of the largest medieval fortresses of Western Europe. It remained an essential feature of Norman strategy and policy. At Christmas 1182, a royal court celebration for Christmas in the aula of Caen Castle brought together Henry II and his sons, Richard the Lionheart and John Lackland, receiving more than a thousand knights. Caen Castle, along with all of Normandy, was handed over to the French Crown in 1204. The castle saw several engagements during the Hundred Years War (1346, 1417, 1450) and was in use as a barracks as late as the Second World War. Bullet holes are visible on the walls of the castle where members of the French Resistance were shot during the Second World War. Today, the castle serves as a museum that houses the Musee des Beaux-Arts de Caen (Museum of Fine Arts of Caen) and Musee de Normandie (Museum of Normandy) along with many periodical exhibitions about arts and history. (See Timeline of Caen Castle at the Wayback Machine (archived February 13, 2006))
References
Caen Wikipedia
(Text) CC BY-SA
(,)http://hgtice.free.fr/vire/caen1718.jpg(,)http://www.british-history.ac.uk/sites/default/files/publications/pubid-343/images/fig152.gif(,)http://www.ddayguidedtours.com/images/ddayguidedtours-caen-mainstreet01.jpg(,)https://i1.wp.com/www.secretsofthenormaninvasion.com/images/caenstonesm.png(,)http://warthunder.com/upload/image/News/Operation%2520Epsom/The_British_Army_in_Normandy_1944_B7443.jpg(,)http://blog.smu.edu/studentadventures/files/2007/09/26/brenda-statue.jpg(,)http://www.british-history.ac.uk/sites/default/files/publications/pubid-343/images/fig153.gif(,)http://cdn.homesthetics.net/wp-content/uploads/2014/09/Caencase.jpg
(,)http://worldlandscapearchitect.com/2013/mvrdv/caen/xPLAN-MASSE-CAEN-ZOOM.jpg.pagespeed.ic.rnpVtQ6o2X.jpg(,)http://worldlandscapearchitect.com/2013/mvrdv/caen/xBIRD-VIEW-02.jpg.pagespeed.ic.TViXeqQhm2.jpg(,)http://media-cdn.tripadvisor.com/media/photo-s/05/fd/80/cc/caen-hill-locks.jpg(,)http://www.archiscene.net/wp-content/uploads/2013/05/MVRDV-transform-caen-06.jpg(,)https://c2.staticflickr.com/6/5506/9929722813_e52c3a437d_b.jpg(,)http://assets.inhabitat.com/wp-content/blogs.dir/1/files/2013/05/MVRDV-La-Grande-Mosaique-2.jpg(,)http://media.cmgdigital.com/shared/lt/lt_cache/thumbnail/960/img/photos/2012/10/19/12/2c/WheelockNormandy.jpg(,)http://architecturelab.net/wp-content/uploads/2012/08/CAEN-proj-53.jpg(,)http://st.houzz.com/simgs/40e181c704c75dfa_4-1872/contemporary-landscape.jpg(,)http://www.e-architect.co.uk/images/jpgs/france/caen_library_o110910_4.jpg(,)http://www.nevillestanikkphotography.co.uk/img/808-Caen-Lock-Canals-Leisure.jpg(,)http://www.designboom.com/wp-content/uploads/2013/05/mvrdvcaen07.jpg(,)http://www.metalocus.es/content/system/files/imagecache/blog_content_images/images-lead/caenmvrdv%2520copy.png
(,)http://www.caenevent.fr/sites/default/files/tous_en_cuisine_photo_2.jpg(,)http://static.seety.pagesjaunes.fr/asset_site_e9392dd1-2565-45dd-9796-b960d0c4f242/e9b64b60-2012-478a-ba28-bcdacb5d9c97(,)http://www.cotecaen.fr/files//2012/11/P13-acontresens-630x0.JPG(,)http://caen.coeur2ville.com/media/large/caen/etablissements/se-restaurer/cuisine-de-france/le-black-pearl/le%2520black%2520pearl%2520restaurant%2520caen%2520(1).jpg%3Ftime%3D1322056868(,)http://www.cotecaen.fr/files/2014/01/Sylvie-Varin-La-Poterne-1.JPG(,)http://static.seety.pagesjaunes.fr/asset_site_e9392dd1-2565-45dd-9796-b960d0c4f242/1af0412e-355e-4a2c-9a4c-92776cb8b680(,)http://mvistatic.com/etablissements/2008-05/11913.jpg(,)http://halal.tripdiscovery.com/Images/Restaurants/Le%2520Kashmir%2520Restaurant%2520-%2520Caen,%2520France.jpg(,)http://www.entreprises.ouest-france.fr/sites/default/files/imagecache/detail-article/2013/01/16/ca10_3489642_4.jpg96.jpg(,)http://cuisine.blogs.ouest-france.fr/media/02/01/927837316.JPG(,)http://www.caenevent.fr/sites/default/files/ambiance_1_tous_en_cuisine.jpg(,)http://www.caenevent.fr/sites/default/files/ambiance_2_tous_en_cuisine.jpg(,)http://www.cotecaen.fr/files/2011/11/P3-incognito.jpg(,)http://images.restopolitan.com/restaurant/santa-lucia-caen/302697/Detail.jpg(,)http://images.restopolitan.com/restaurant/le-caen-grill/300659/Carousel1.jpg