C. J. Obasi (also known as "Fiery") was born and raised in small town, Owerri, Nigeria. He grew up watching Hammer House of Horror films and reading Stephen King novels. As a child, he developed a knack for drawing and selling comics based on all his favourite movies and superheroes at the time.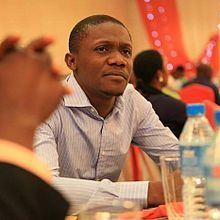 Much later on in life, he would put aside his degree in Computer Science from the University of Nigeria (UNN) to launch into film making, full-time.
Obasi, called "Fiery" or "The Fiery One" by many within and without the industry, has worked on short films, documentaries, TV series and music videos as director, writer, cinematographer and editor. Jim & Joan, his debut feature, was shot in his childhood home in Owerri, as well as some choice beach spots on Lagos Island. Jim & Joan, an art house surrealistic piece, was made without a formal budget, with financial backing from C.J's friend and partner, Benjamin Stockton. Jim & Joan was screened as the Closing Film at the Eko International Film Festival in November 2012, where it was noted as "the most daring film" in the festival, and C.J's work was compared to the Danish auteur, Lars von Trier's expressionism.
Obasi set up his company "Fiery Film" in 2012. Soon after, his friend Benjamin Stockton, a screenwriter and movie aficionado from California came on board to help run the company. The no-budget horror thriller feature film Ojuju, written, directed and edited by Obasi premiered at AFRIFF where it won the award for Best Nigerian movie.
Obasi won the Trailblazer award at the 2015 Africa Magic Viewers Choice Awards in March.
Obasi is currently working on O-Town, a crime thriller epic piece, which C.J. calls his "Western in an Eastern land" and describes as "His exploration into genre-film making". O-Town won the Restless Pitch at the Africa International Film Festival.
Obasi has also worked as an editor on productions and on commercials for brands, including Globacom.