Romania




105 km²




Daniel Stefan Dragulin (UNPR, elected from PNL)



Călărași ([kələˈraʃʲ]), the capital of Călărași County in the Muntenia region, is situated in south-east Romania, on the bank of Danube's Borcea branch, at about 12 kilometres (7 miles) from the Bulgarian border and 125 kilometres (78 miles)from Bucharest.
The city is an industrial centre for lumber and paper, food processing, glass manufacturing, textiles, medical equipment production and heavy industry, the last represented by the Călărași steel works. The city is known colloquially as "Capșa provinciei" (the Capşa from the provinces).
The site of a prehistoric village, called Lichiresti from the time of Michael the Brave. Călărași appeared for the first time in 1700 on a map drawn by Constantin Cantacuzino. It got its name after it was made by the Wallachian princes, in the 17th century, a station of "mounted couriers' service" on the route from Bucharest to Constantinople. The service was operated by horseback riders (the călărași). It expanded into a small town, and in 1834 became the surrounding county's capital.
Călărași is connected by DN3, DN21, DN31 and DN3B. Also A2 ("The Sun's Motorway") has 3 exits for Călărași, at Lehliu Gară (about 50 km (31 mi) NW), Dragalina (about 30 km (19 mi) N) and Feteşti (about 40 km (25 mi) NE). The city lies on the seventh pan-European corridor of transport(the Danube river) and is next to the fourth pan-European transport corridor(Dresden–Constanța) at 26 km (16.16 mi). The town is connected by rail (table 802 CFR). The nearest major cities are: Bucharest 120 km (75 mi), Constanța 148 km (92 mi) and Varna 155 km (96 mi).
The city is currently represented by FC Dunărea Călărași in the Romanian Liga II soccer league. Sala Sporturilor (Călăraşi)
Ştefan Bănică, Sr. (actor, singer)
Dan Mateescu (member of Romanian Academy)
Călărași is twinned with:
The climate is continental with a year average temperature of 11.3 °C (52 °F). The lowest temperature ever recorded in Călărași was −30.0 °C (−22 °F) on January 9, 1938 and the highest was41.4 °C (107 °F) on August 10, 1957.
In 2011, Călărași had a population of 65,181, with 95.05% of them declaring themselves as being Romanians and 3.59% Roma. The surrounding communes (Modelu, Ostrov, Roseți, Grădiştea, Cuza-Vodă, and Ştefan Vodă) with Călărași number almost 100,000 inhabitants.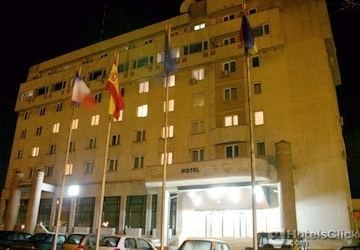 Călărași Wikipedia