Lyrics

Alan Ayckbourn




Originally published

1975




Composer

Andrew Lloyd Webber




Book

Alan Ayckbourn




Lyricist

Alan Ayckbourn






Basis

Jeeves by P. G. Wodehouse




Productions

1975 West End 1996 West End revival 1996 Goodspeed Opera House 2001 Broadway 2007 UK tour




Characters

Jeeves, Bertie Wooster, Gussie Fink-Nottle, Madeline Bassett, Roderick Spode




Playwrights

Andrew Lloyd Webber, Alan Ayckbourn




Orchestrators

Andrew Lloyd Webber, Don Walker




Similar

Andrew Lloyd Webber plays, Musicals
By jeeves part 2 by andrew lloyd webber and alan ayckbourn
By Jeeves, originally Jeeves, is a 1975 musical by Andrew Lloyd Webber and Alan Ayckbourn, based on the novels of P. G. Wodehouse.
Contents

Jeeves is the original 1975 version, which opened on 22 April 1975 and closed on 24 May after 38 performances at Her Majesty's Theatre, London. It is regarded as Andrew Lloyd Webber's only real flop. By Jeeves is the rewritten 1996 version, which opened 1 May 1996 in London and due to success was extended to February 1997, through three theatres. It premiered in the U.S. in 1996 and on Broadway in 2001.
By jeeves part 7 by andrew lloyd webber and alan ayckbourn
1975: Jeeves
Tim Rice conceived the idea of turning P. G. Wodehouse's Jeeves stories into a musical. Originally, he was to work with his then-partner, Andrew Lloyd Webber, but Rice backed out of the project. Eventually Lloyd Webber teamed up with famed British playwright Alan Ayckbourn, and the two of them began work with the personal blessing of Wodehouse. Ayckbourn utilized characters and plot lines from several Jeeves and Wooster stories, notably The Code of the Woosters. The action takes place at the East London Club for Unmanageable Boys, where Bertie Wooster is playing a banjo concert; his banjo keeps breaking down, so he is forced to tell stories to pass the time while Jeeves is sent off to fetch new strings. Bertie recounts how he managed to become engaged to three ladies simultaneously and how his valet Jeeves (through ingenious intervention) unravelled the complications.
Unfortunately, the loyalty to the Wodehouse material made for an epic length (four and three-quarter hours at the Bristol tryouts), and reducing the duration made for creative tensions. Rows broke out about the presence of an all-male singing sextet accompanying Bertie Wooster and the realisation that the first woman did not appear on stage until thirty-five minutes had passed. Regardless of book-trouble, Lloyd Webber had provided a strong period score that eschewed all traces of the pop-inflections of his Jesus Christ Superstar. The sound of trumpets, banjos and saxophones for this score were written by a group of arrangers: Keith Amos, Don Walker, Lloyd Webber himself and his future orchestrator, David Cullen.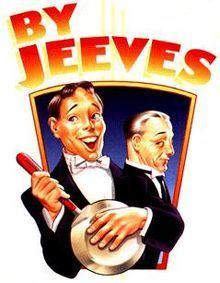 The show opened in London on 22 April 1975 at Her Majesty's Theatre, starring David Hemmings as Bertie Wooster and Michael Aldridge as Jeeves. The role of Madeleine Bassett was performed by T.V. actress Gabrielle Drake. Other cast members included Debbie Bowen, Gordon Clyde, Angela Easterling, John Turner, Bill Wallis and David Wood. Actress Betty Marsden was cast as Aunt Dahlia, but the role and the accomplished actress were released before opening night.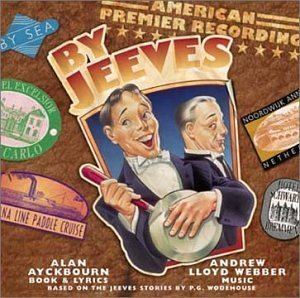 The director Eric Thompson (father of actress Emma Thompson) was fired just before the opening, so Ayckbourn himself stepped into the fray, aided by choreographer Christopher Bruce. The production received poor reviews and closed after little over a month and 38 performances, on 24 May. Several critics noted that the authors failed to develop the title character, Jeeves not even having a solo song.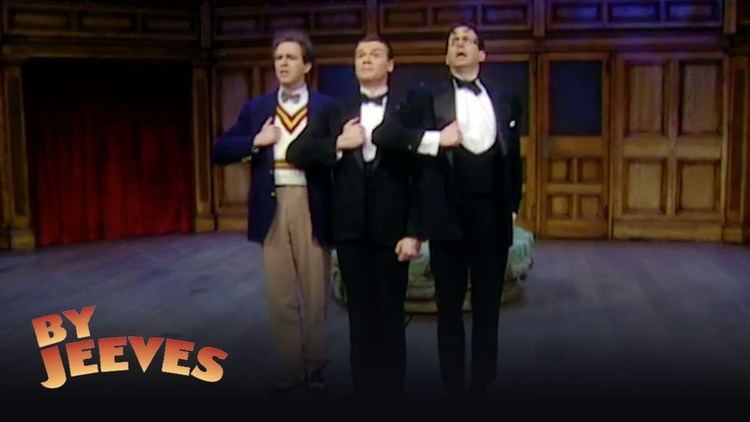 The original cast album (MCA Cat. No. MCF 2726) was recorded and released, but it is extremely hard to find. Lloyd Webber, reportedly acting on the advice of American theatre director Harold Prince, withdrew the recording in order to be able to reuse some of the musical material in subsequent shows.
Musical numbers
Note: from Original London Cast recording, 1975; only the first 12 songs were recorded
Code of the Woosters
Travel Hopefully
Female of the Species
Today
When Love Arrives
Jeeves Is Past His Peak
Half a Moment
S.P.O.D.E.
Eulalie
Summer Day
Banjo Boy
Deadlier Than the Male
The Hallo Song
By Jeeves
What Have You Got to Say, Jeeves?
It's a Pig
Wizard Rainbow Banjo Mix
Love Maze
Wooster Will Entertain You

The Jeeves theatrical programme also lists song titles that weren't recorded: "Food of Love" sung by Aunt Dahlia (the role and song were cut in previews); "Song of Spode", sung by the villainous Roderick Spode; and "Literary Men" sung by Bertie, Jeeves & Gussie, the melody of which was later reused in Song and Dance - first as the finale "When You Want to Fall in Love" and later as a new song in the first act "Unexpected Song".
Some of the songs from the score managed to find a life after the original production: "Half a Moment" was later recorded by Lloyd Webber's second wife, Sarah Brightman, on the album The Songs That Got Away and the track "Summer Day" was re-written and appeared in new chordal disguise as "Another Suitcase in Another Hall" in Evita. A small section of "Half a Moment" was cut from the song and reused in Sunset Boulevard as part of the song "As if We Never Said Goodbye".
The tune of "It's a Pig" appears with different lyrics as "Magdalena", an unsuccessful pop song for Tony Christie in 1977. The melody of "Female of the Species" appeared earlier than its Jeeves incarnation, with lyrics written and sung by Tim Rice as "The Ballad Of Robert And Peter" in 1973 (for private recording purposes). "The Hallo Song" was a reworked tune, released pre-Jeeves in 1972 as "What a Line to Go Out On" sung by Yvonne Elliman. "Travel Hopefully" is a melody originally written as "Love Is Here" for the first ever Lloyd Webber/Rice project, The Likes of Us.
1996: By Jeeves
Background
In 1996, Lloyd Webber and Ayckbourn decided to revisit the show, jettisoning most of the score and the entire original book. Retitled By Jeeves (so as to dispel all previous associations with the original production), the character of Roderick Spode and his fascistic intentions were eliminated from the plot. The character list was whittled down from 22 to 10, and the original orchestrations also underwent a reduction to a little band. Only three songs from the original show remained lyrically intact: "Banjo Boy", "Half a Moment" and "Travel Hopefully". The other songs and musical interludes were mostly new or reworked compositions by Lloyd Webber.
Productions
By Jeeves re-opened on 1 May 1996 at the Stephen Joseph Theatre-in-the-round in Scarborough, North Yorkshire, an English seaside resort. Audience reaction was generally enthusiastic so the show moved on 2 July 1996 to London for a 12-week season at the fairly intimate Duke of York's Theatre. The show turned out to be more popular than first thought, and the run was extended to February 1997 with the show moved to The Lyric Theatre in Shaftesbury Avenue.
Steven Pacey played Bertie Wooster and Malcolm Sinclair played his valet Jeeves. The Musical Director was Kate Young. The cast recording has an unusual format, taking a track between every song where Bertie and Jeeves humorously summarize the plot. Pacey was nominated for an Olivier Award for Best Actor in a Musical, and By Jeeves also received nominations for Outstanding New Production and Best Costume Designer.
The show had its U.S. premiere on 12 November 1996, at the Goodspeed Opera House in Connecticut. U.S. actor John Scherer took the part of Bertie, and Richard Kline played Jeeves. The show was specially recorded and released on VHS and DVD where British actor Martin Jarvis took over from Richard Kline as Jeeves. It also had a brief run on Broadway at the Helen Hayes Theatre, from 28 October 2001 (in previews October 16) to 30 December 2001, for 73 performances. Directed by Ayckbourn, the cast featured Scherer (Bertie), James Kall (Gussie) and Martin Jarvis (Jeeves) (who received the Theatre World Award).
References
By Jeeves Wikipedia
(Text) CC BY-SA