Birth name

Burton Lorne Cummings




Name

Burton Cummings




Years active

1965–present





Genres

Rock, soft rock




Spouse

Cheryl DeLuca (m. 1981)









Born

December 31, 1947 (age 67) Winnipeg, Manitoba, Canada (

1947-12-31

)


Instruments

Vocals, guitar, piano, keyboards, saxophone, drums, percussion, harmonica, flute




Associated acts

The Guess Who, Bachman Cummings, The Deverons, Tim Thorney, Ringo Starr & His All-Starr Band




Role

Musician · burtoncummings.com




Profiles




Facebook

Twitter

Google+

Myspace




Occupation(s)

Musician, songwriter



Burton cummings break it to them gently
Burton Lorne Cummings, (born December 31, 1947) is a Canadian musician, singer and songwriter.
Contents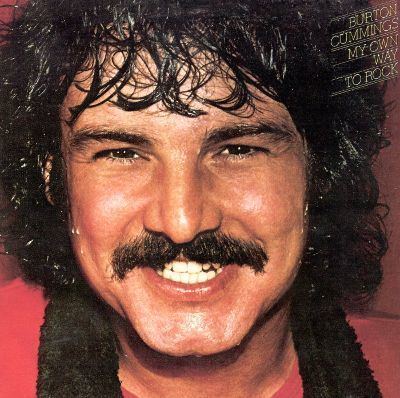 Burton is the former lead singer and keyboardist for the Canadian rock band The Guess Who. During his 10 years in the band, from 1965 to 1975, he sang, wrote or co-wrote many hit songs, including "American Woman," "No Time", "Share the Land", "Hand Me Down World", "Laughing", "Star Baby", "New Mother Nature", "These Eyes", and "Clap for the Wolfman". His solo career includes many hit singles, including "Stand Tall", "My Own Way to Rock", "Fine State of Affairs", and "You Saved My Soul".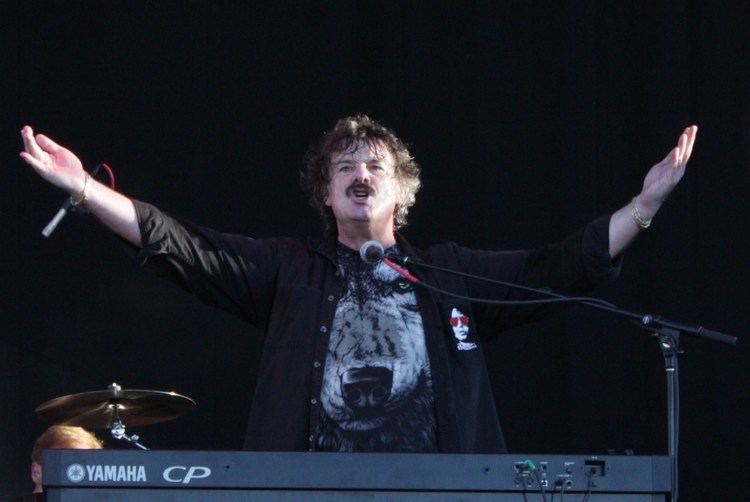 Burton Cummings Interview 1999 - Mike Bullard
Biography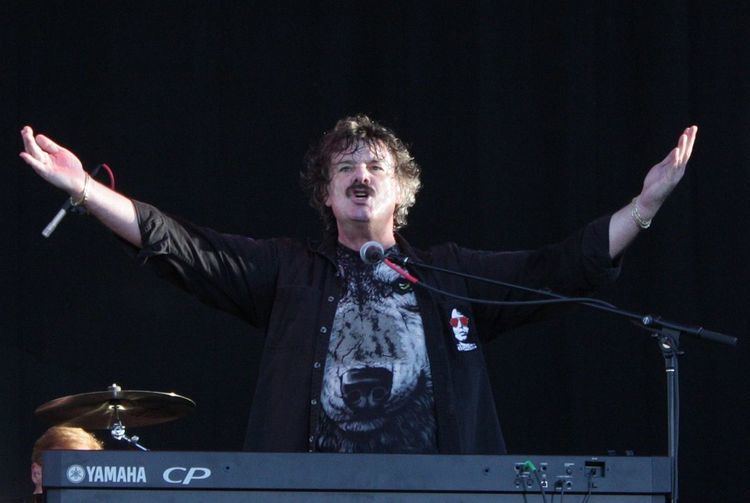 Cummings was born and raised in Winnipeg, Manitoba, as were all of the other original members of The Guess Who. Burton was brought up by his mother Rhoda and her parents; he never knew his father, who left when he was less than a year old. Burton attended St. John's High School. He dropped out of school, due to poor grades, when he was sixteen. Forty-five years later, in 2010, his former high school awarded him an honorary diploma. His first band was a local Winnipeg R&B group, The Deverons, with an 'E' (not to be confused with the band The Devrons who had Country/R&B hits in the early 1960s). The Deverons with Cummings released two singles on the tiny REO Records label. The first single, "Blue Is The Night / She's Your Lover", was cut at a Winnipeg radio station. The second single, "Lost Love / Feel Alright", was recorded at Kay Bank Studios in Minneapolis, where The Guess Who frequently recorded. In January 1966 he was asked by The Guess Who to join the band, originally as a replacement for recently departed keyboardist Bob Ashley. By May 1966 Cummings had assumed the role of lead singer, a position vacated by original front man Chad Allan who left the group that April.
Success with The Guess Who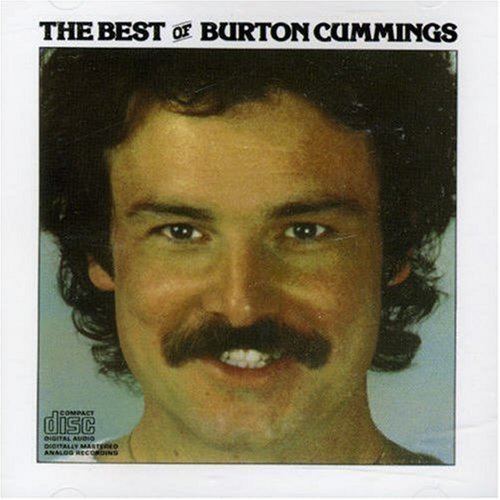 Between 1966 and 1968 The Guess Who were one of the hardest-working bands in Canada. Despite having released several strong singles that charted in Canada, a hugely successful split LP (A Wild Pair, which also featured Ottawa's The Stacattos who would later become Five Man Electrical Band), and a weekly stint as house band on CBC-TV's Let's Go!, mainstream success eluded them until early 1969. That year, The Guess Who scored an international hit with "These Eyes", co-written by Cummings and guitarist Randy Bachman. It was followed up by the hit "Laughing", again written by Cummings and Bachman. Another Guess Who song, "Undun", written by Bachman, featured Cummings on a jazzy flute solo. In 1970, the band hit No. 1 in both Canada and the U.S. with the Bachman-Cummings-Kale-Peterson composition "American Woman."
Ultimately, conflict between Cummings and bandmate Randy Bachman—partially ignited by Bachman's then-deepening Mormon religious beliefs—caused a rift in the band. Bachman left and went on to form the band Brave Belt with former Guess Who mate Chad Allan, and later Bachman–Turner Overdrive.
Cummings then became the band's leader and recorded songs that included "Share the Land", "Hand Me Down World", "Albert Flasher", "Rain Dance", "Sour Suite", "Glamour Boy", "Star Baby", "Clap for the Wolfman", and "Dancin' Fool".
Going solo
In 1975 Cummings left The Guess Who after 10 years to become a solo artist, and the group disbanded. One of his first projects was providing back-up vocals on Eric Carmen's second solo LP, Boats Against the Current, including "She Did It". In 1977 he was presented with a Juno Award as best male vocalist.
Cummings' subsequent hits in Canada included "Stand Tall," which was his greatest American solo hit, peaking at #10 on the Billboard Hot 100 and number two on the Adult Contemporary chart . Other hits included "I'm Scared," "Break it to Them Gently," and "Fine State of Affairs." Cummings charted outside Canada with "Stand Tall" and "You Saved My Soul," as well as "I Will Play a Rhapsody," which spent a few weeks on the Billboard Adult Contemporary Chart, peaking at #38. His Dream of a Child album, released in 1978, was the biggest Canadian album in history at that time. Cummings released a total of eight solo albums and collections from 1976 to 1990. In 1997 he put out a live compilation album of his solo performances titled Up Close and Alone, which was recorded at Metalworks Studios in Mississauga, Ontario
Cummings also tried his hand at acting. Along with Paul Sorvino, Glynnis O'Connor and Don Johnson, he appeared in the 1982 Canadian film "Melanie". His songs "You Saved My Soul," "Real Good," and "Something Old, Something New" were featured in the film, and were also included on his 1981 album "Sweet Sweet," which was released prior to the film.
Cummings became a resident of Sherman Oaks, California, and began writing and singing for films in the late 1970s. He currently winters in California and returns to Winnipeg in the summer, staying in Canada through autumn. Cummings purchased part of Winnipeg's Salisbury House restaurant chain with manager Lorne Saifer, and is also an avid comic book collector.
The Guess Who returns
In 2000 Cummings, Bachman, and original drummer Garry Peterson toured as The Guess Who. Bassist Jim Kale played one show and later Guess Who members Donnie McDougall and Bill Wallace rejoined the line-up through the remainder of the tour in Canada and later in the U.S. The reformed Guess Who toured with Cummings from 2000 through to the summer of 2003. In 2001 Cummings and the rest of The Guess Who received honorary doctorates at Brandon University in Brandon, Manitoba. That year Cummings won three SOCAN Classic Awards, and was also made a member of the Order of Manitoba. In 2003, the band played at the so-called "SARSstock" concert in Toronto.
Bachman-Cummings
Cummings plays occasional shows with Randy Bachman as The Bachman-Cummings Band, featuring The Carpet Frogs (a band from Toronto) and makes occasional appearances at various Canadian casinos as a solo performer. The Bachman-Cummings Band have released a compilation album titled the Bachman-Cummings Song Book featuring songs from The Guess Who, Bachman–Turner Overdrive and Cummings' solo career. They have also released an album titled The Thunderbird Trax, which is an album that Cummings and Bachman recorded in Bachman's toolshed in British Columbia in 1987. Previously unreleased until 2006, it was made available exclusively at Bachman-Cummings concerts, and is now available on the Bachman-Cummings website.
The Bachman-Cummings First Time Around CBC TV Special was released on DVD in November 2006 on the Sony BMG label. In June 2007, Bachman and Cummings released an album titled Jukebox that covered various songs from the 1960s that influenced them. A follow-up album to Jukebox as well as a television special have also been discussed. They last played together in 2009 at Casino Rama in Orillia, Ontario. Bachman has since rejoined with CF Turner.
Burton Cummings Band
Cummings has toured solo as a one-man-band and with his back-up band, the Carpet Frogs of Toronto, as the Burton Cummings Band or simply Burton Cummings in both Canada and the U.S. In 2012 Cummings released a new live CD Burton Cummings Live at Massey Hall recorded live on September 29, 2011. The album captures Cummings' live show of the last several years. Cummings continues to play live shows in 2015. On January 1, 2016 he announced in a video message on his Facebook page that he will be starting a recording of all new material during 2016.
Above the Ground
Outside of his work with Bachman, in November 2004 Cummings released a single "With God on Our Side", a cover of the famous Bob Dylan song. The single debuted at the 21st spot on the Canadian music internet music chart.
On November 4, 2008, Cummings released his first solo album of new studio material in 18 years titled Above the Ground. The album has 19 tracks of original songs written by Cummings, some of which were written by him many years ago. The album was recorded with his touring band The Carpet Frogs. The release also includes a DVD with a behind the scenes look at the recording process. The first single from the album was "We Just Came from the U.S.A." Originally a Canadian-only release, Above the Ground is now available at Burton Cummings' website and on iTunes.
The Burton Cummings Theatre, located in downtown Winnipeg, is named after Cummings.
Order of Canada
On December 30, 2009, Cummings was named an officer of the Order of Canada by Governor General Michaëlle Jean. The Order of Canada is one of the country's highest civilian honours, and was established in 1967 to mark a lifetime of outstanding achievement, dedication to community, and service to the nation.
Book of poetry
On the November 23, 2010 morning show episode of Canada AM, Cummings announced that he would be releasing a book of poetry in 2011, mentioning that he had been working on it for the past three years. He stated that the works of Kipling, Keats and Edgar Allan Poe were great inspirations to him during the writing process, adding, "I like to be influenced by the best." The collection, titled The Writings of B. L. Cummings, was released in mid-2017 and sold out. A second edition is in the works as of June 2017.
On June 28, 2011, it was announced that Cummings will receive a star on Canada's Walk of Fame and will be inducted on October 1 at Elgin Theatre in Toronto. He previously received a star as part of The Guess Who in 2001.
In 2016 Burton Cummings was inducted into the Canadian Music Hall of Fame.
Film Music
"California Dreaming" (1978)
"Among the Yesterdays" (Music by Fred Karlin / Lyrics by Robb Royer)
"Keep it in the Family" (Music and Lyric by Cummings)
"Voices" (1979)
"I Will Always Wait For You (Theme From Voices)" (Written by Jimmy Webb)
"On a Stage" (Written by Jimmy Webb)
"Drunk as a Punk" (Written by Jimmy Webb)
"Melanie" (1982)
"You Saved My Soul" (Written by Cummings)
"Real Good" (Written by Cummings)
"Something Old, Something New" (Written by Cummings)
Collaborations with Randy Bachman
2006 Bachman-Cummings Songbook – Compilation that features tracks from The Guess Who, Burton Cummings and Bachman–Turner Overdrive
2006 The Thunderbird Trax – A compilation of previously unreleased material recorded by Bachman and Cummings circa 1987
2007 Jukebox – Bachman & Cummings album that features covers of songs by artists such as Bob Dylan, The Shadows and The Beatles
References
Burton Cummings Wikipedia
(Text) CC BY-SA