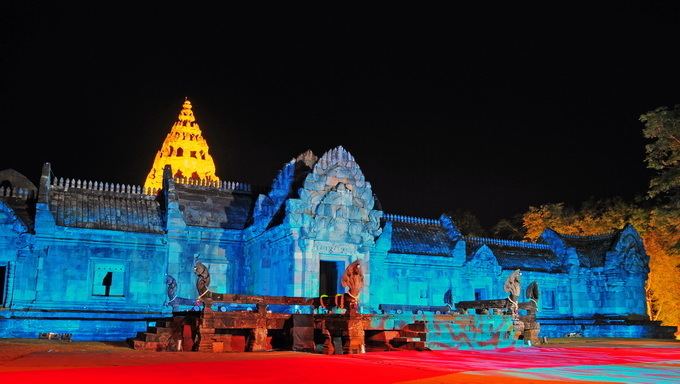 Almost a thousand years ago, the present-day Buriram area was part of the Khmer Empire. Many ruins from that time attest to the destruction. The most significant of them is on an extinct volcano and is protected in the Phanom Rung Historical Park. According to inscriptions found, Buriram's ruler recognized the hegemony of the Khmer Empire's emperor. Before the ascent of Bangkok, little was known about Buriram. In the early Bangkok Period, in the early 19th century, the town originally called Muang Pae, was renamed Buriram. Then it came under Thai rule. After administrative reforms in the late 19th century, Buriram was incorporated into Siam as a province.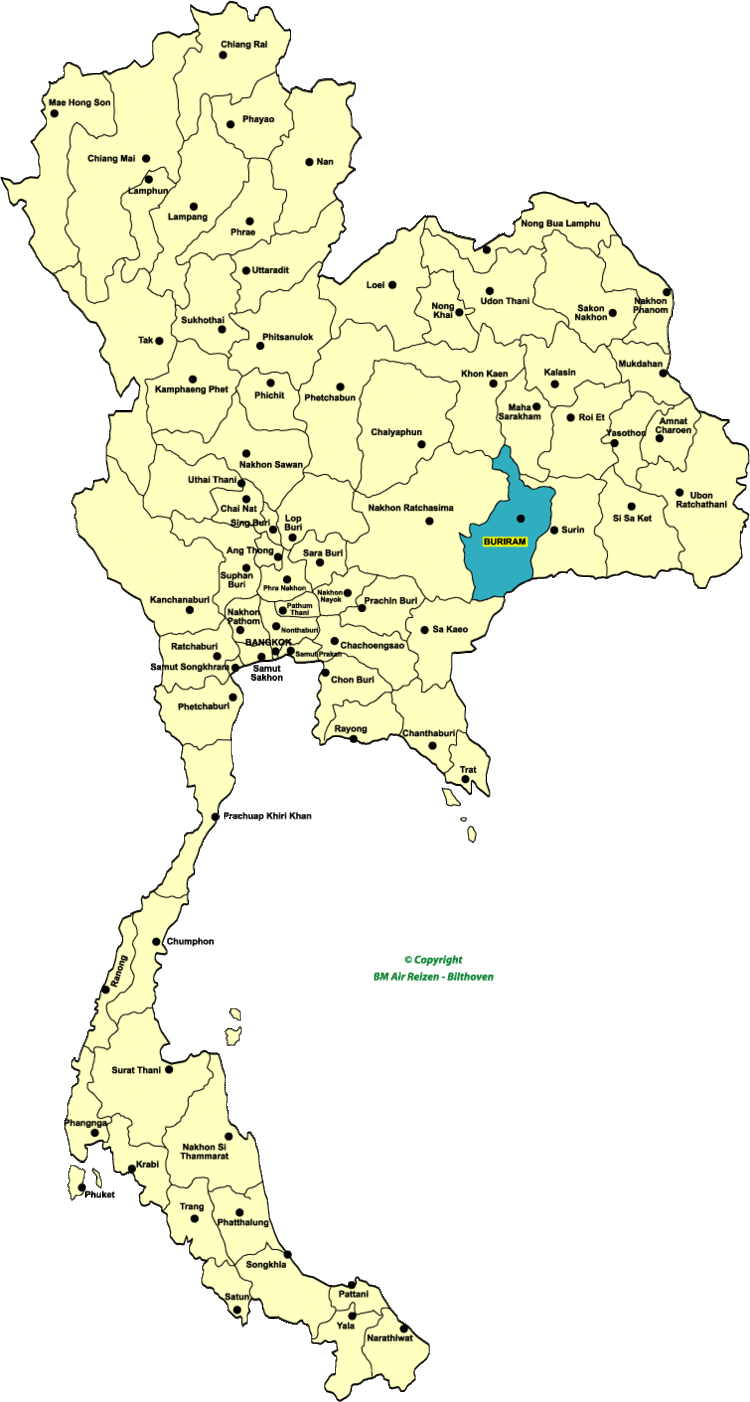 Northern bordering Tambon Chum Het
Eastern bordering Tambon Isan
Southern bordering Tambon Isan
Western bordering Tambon Isan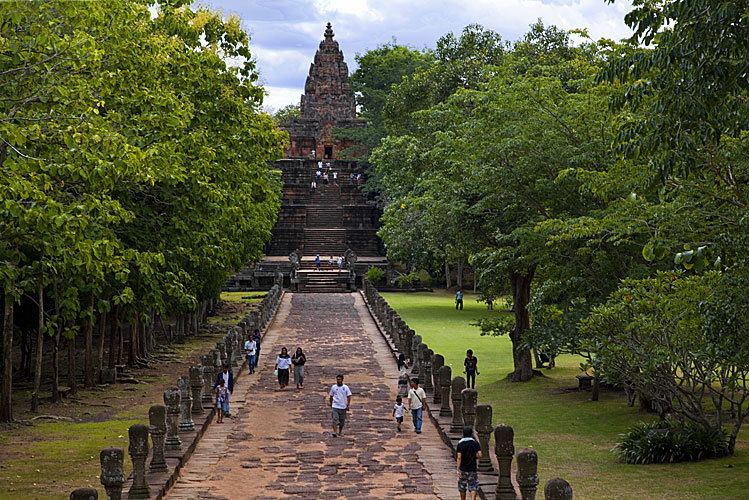 There are 18 chumchons (villages) (Thai: ชุมชน) in Buriram.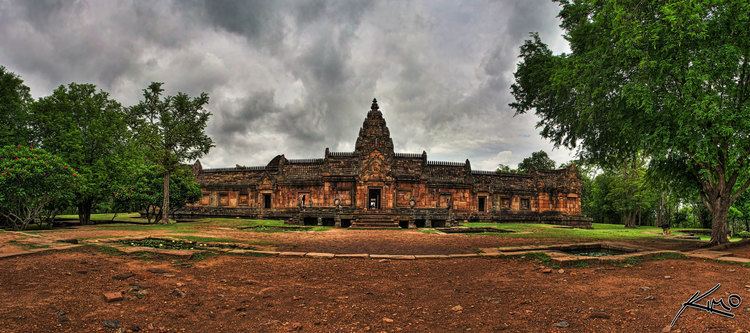 Buriram is in the centre of Buriram Province. Buriram doesn't have any important rivers, but it has a creek, Huai Chorakhe Mak. Important waters in the town such as Buriram Moat (or Khlong Lalom), Nong Prue, Huai Chorakhe Mak Reservoir and Huai Talat Reservoir.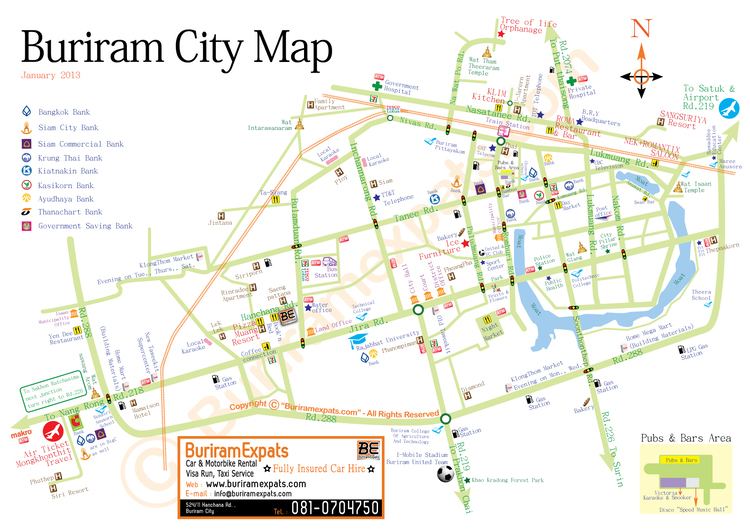 The town is on the north-eastern railway line, and also has a regional airport, Buriram Airport. Much of the local economy is still agricultural and the tourist industry that is a prominent feature in much of the rest of the country has yet to make a significant impact. Key agricultural crops include rice and cassava. The main languages spoken in Buriram are central Thai, Lao, and Khmer.
Buriram has a post office, TOT, the national telecom company, a CAT Office and two radio stations: Radio Thailand AM on Niwas St and Radio Thailand FM on Jira St.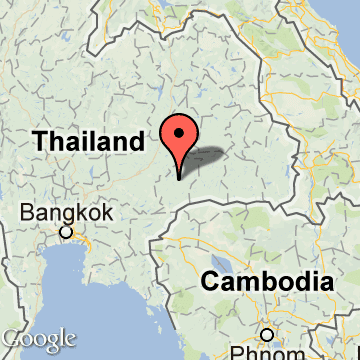 There are 6,097 houses which use municipal water in Buriram. Total consumption is 18,000-19,000 cubic meters a day. Huai Jorakhamak Reservoir is the source of Buriram's water. Huai Talat Reservoir is the reserve water supply.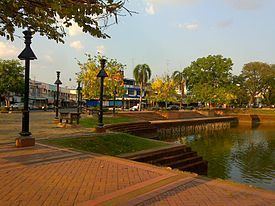 All of the houses in Buriram area (6,097 in total) have access to electricity. Buriram Provincial Electricity Authority (Buriram PEA) is the main supplier.
Buriram Airport is the only airport in Buriram Province. Two airlines, Nok Air and Thai AirAsia, serve Buriram from Don Mueang International Airport (DMK).
Highway 218: Buriram - Nang Rong
Highway 219: Ban Kruat - Prakhon Chai - Buriram - Ban Dan - Satuek - Phayakkhaphum Phisai - Yang Sisurat - Na Chueak - Borabue
Highway 226: Nakhon Ratchasima - Chaloem Phra Kiat - Chakkarat - Huai Thalaeng - Lam Plai Mat - Buriram - Krasang - Surin - Sikhoraphum - Samrong Thap - Huai Thap Than - Uthumphon Phisai - Sisaket - Kanthararom - Warin Chamrap - Ubon Ratchathani
Highway 2074: Buriram - Khu Mueang - Phutthaisong
State Railway of Thailand, the national passenger rail system, provides service to Buriram at the Buriram Railway Station. SRT provides many services such as limited express trains to Bangkok and Ubon Ratchathani, commuter trains to Nakhon Ratchasima and beyond.
The Transport Co., Ltd. operates a bus depot at Buriram Bus Station, and Nakhonchai Air has a stop adjacent to the bus station.
The Buriram Songthaew System (BSS) provides public transportation for the city. BSS was established many years ago. There are two lines: Line 1 (Buriram Municipality Market-Khao Kradong Forest Park Line), and Line 2 (Ban Bua Line). The system operates from 06:00–17:00. Both lines are colored pink.
Lower northeastern Cultural Centre (ศูนย์วัฒนธรรมอีสานใต้): The centre collects and exhibits artefacts and precious historical objects, folk art and archaeological evidence. It is also the resource centre for conducting research.
The Monument of King Rama I (พระบรมราชานุสาวรีย์พระบาทสมเด็จพระพุทธยอดฟ้าจุฬาโลก): The monument was built in 1996 to honour King Rama I who founded Buriram while he was serving as Somdet Phraya Maha Kasatsuek.
Khao Kradong Forest Park (วนอุทยานเขากระโดง): This extinct volcano is now a recreational spot. The top is 265 metres above sea level and it houses "Phra Suphattharabophit", a large Buddha image that is the symbol of Buriram.
Kradong Reservoir (อ่างเก็บน้ำกระโดง): From the entrance to Khao Kradong, there is a junction on the left side to "Bunyanusat" boy scout camp and a zoo.
Huai Talat Reservoir and Buriram Bird Park (อ่างเก็บน้ำห้วยตลาดและสวนนกบุรีรัมย์): A survey found more than 100 species of birds living in this area during the dry season which lasts from November–April.
There are several tall buildings in Buriram. The tallest building is 15th Building at Buriram Rajabhat University. The second is Sang Rung Hotel that is ghost hotel now. The third is medical education centre building at Buriram General Hospital. The fourth is 18th Building in Buriram Rajabhat University. And the fifth is Thep Nakhon Hotel I.
Sro Ground (Walking Street) is part of the town of Buriram. It is a tourist attraction that draws foreigners and Thais, primarily for the night life. The street runs from the south end of Romburi Street to the Romburi–Phi-thak intersection.
Walking Street is closed to vehicles from 17:00–24:00. Parking is provided at the Municipality Public Park. The street was established on 5 July 2014 on Romburi Street.
As of 30 April 2010.
Male 13,555
Female 14,620
Total population of 28,283 and 6,097 family units.
Buriram General Hospital consists 750 patient beds
Thesaban Mueang Buriram Health Center
66 clinics
A Thai Traditional Medicine Center
There are many shopping malls in Buriram, such as Big C, Makro, Home Pro, Tesco Lotus Express and Taweekit, the local shopping mall of Buriram Province.
Robinson Department Store opened in August 2015.
Taweekit Supercenter is adding an extension now and will be renovated in 2012. It will add five new cinemas to the existing two.
Community Mall will be opened and now it is being built. It is near The Monument of King Rama I.
Buriram has a football club, Buriram United F.C., which plays at New I-Mobile Stadium.
Buriram has several sports projects underway. Work continues on the soon-to-be-open Buriram United Water Park near New I-Mobile Stadium (Oct 2014).
Buriram United International Circuit (BRIC) Speedway construction started in March 2013 and opened on 4 October 2014. The track is an FIA Grade I certified circuit, suitable for Formula One racing, and hosted a Japanese Super GT round in 2014.
Other racetracks are being planned, such as a motocross circuit.
In 2013, Newin Chidchob, developer of the Buriram's new CIC F1 racetrack, has said that, "Buriram doesn't have sea like Pattaya, doesn't have mountains like Chiang Mai, so we will support Buriram to be the city of sports by 2 years soon."
Buddha's Footprint Homage–paying Fair (งานนมัสการรอยพระพุทธบาทจำลอง): The event takes place at Khao Kradong, Amphoe Mueang, on the full moon day of the 3rd lunar month. A large number of local people visit Khao Kradong to pay homage to a replica of the Buddha's footprint and the Phra Suphattharabophit image whilst enjoying the big celebration.