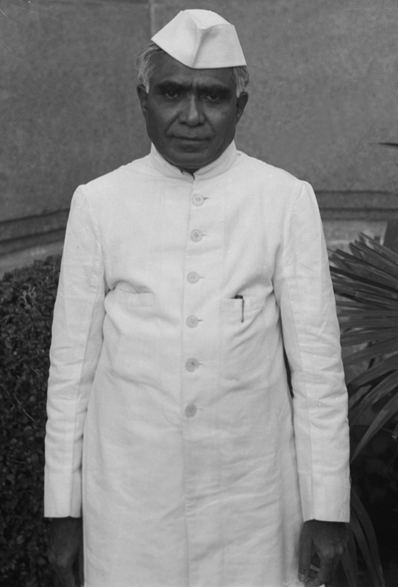 Burgula Ramakrishna Rao was born in a Telugu Brahmin family in Padakallu village, Kalwakurthy taluk in Mahbubnagar district. Though his surname was Pullamraju, he would be more popularly known among the Telugu people by his village name, Burgula. He was educated at the Dharmavanth and Excelsior High School in Hyderabad, where he would receive a B.A. (Honours) degree from Fergusson College, Pune and a law degree from Bombay University in 1923.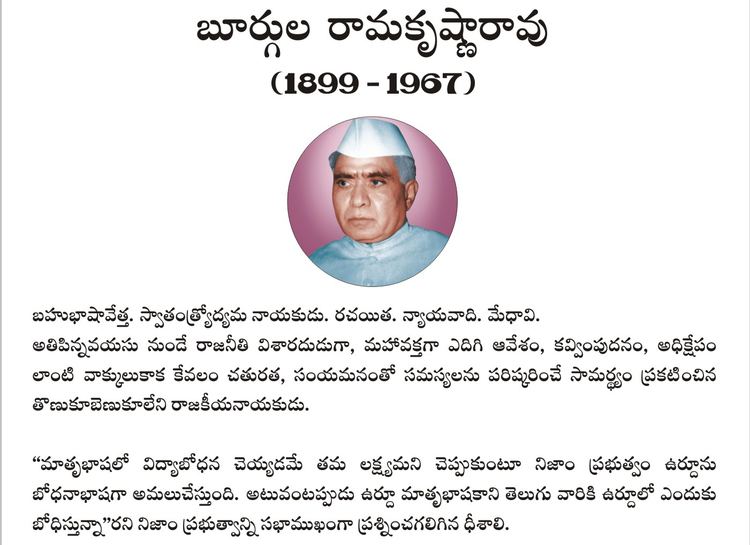 Burgula Ramakrishna Rao started his career as a lawyer in Hyderabad and made a great name at the bar as a legal luminary.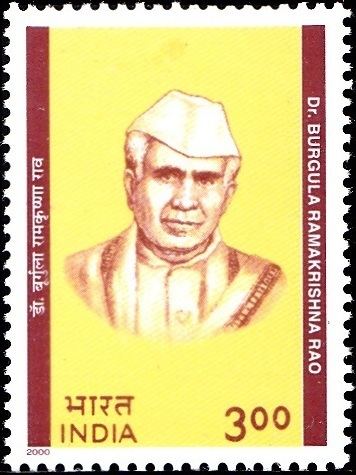 Along with Swami Ramanand Tirtha as well as other leaders, Dr. Rao took part in that resistance group's historic struggle against the Nizam to merge the so-called "Hyderabad State" with the newly liberated and free Indian Union. He was one of the founding members of the Hyderabad State Congress. He presided over the third Andhra Mahasabha conference at Devarkonda in 1913 and was responsible for creating an awareness of basic human rights and a sense of Hindu solidarity among the people of Telangana. He was also involved in promoting the library movement in the State.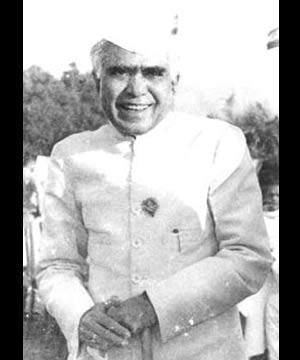 Burgula played a crucial role in restoring stability for the people of Telangana following the Islamist-inspired campaign of terror led by the Razakars, religious fanatics and loyalists to the Nizam, responsible for carrying out meticulously organized anti-Hindu pogroms throughout Hyderabad State. Burgula served as Revenue Minister in the cabinet of Vellodi government (1950) which was formed after the Indian Army easily routed the Nizam's regular forces during the liberation of Hyderabad by India.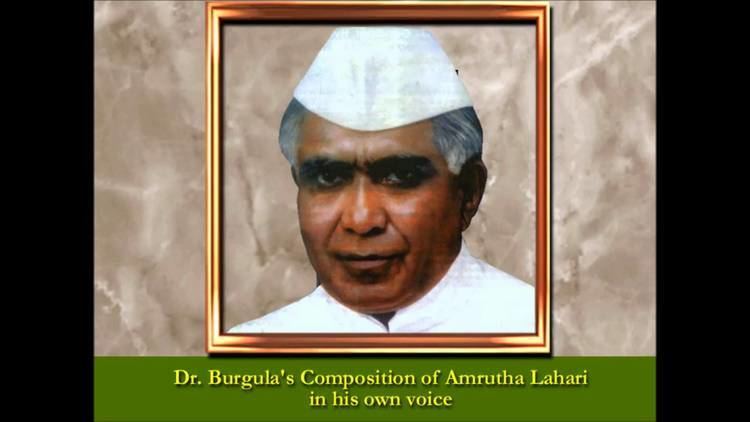 Burgula Ramakrishna Rao played a crucial role in many contemporary movements and laid a firm foundation for the cultural development and independent political spirit for the people of Telangana who had been brutally oppressed under the Islamist reign of the Nizam and his Hindu-land owning collaborators. He was a prime witness to Telangana's struggle for freedom, its library movements, the Telangana farmers' struggle and the Vishalandhra movements. He deserted areas of work where the atmosphere was polluted.
He was a recipient of the famous "Allies" scholarship and graduated in law in Mumbai and took up the legal profession in Hyderabad but would work in that capacity for merely a few days. After meeting Madapati Hanumantha Rao, Burgula was inspired to dedicate his life for public service and to popularize science and literature. He was imprisoned twice for participating in public movements. He gave up the law portfolio conferred upon him by Mirza Ismail, the then-Prime Minister of Hyderabad State.
Burgula was a great humanist, stood against injustice, and declared war on the dictatorship of the Nizam. A litterateur, social reformer, statesman and linguist, he laid the foundation for a more egalitarian culture and democratic political spirit in the Telangana region that would be in-line with the principles of a newly free India, committed to democracy, social justice and the annihilation of caste. Such values were held in contempt by the Nizam and his Islamist base, who regarded Hindus as their "slaves".
Burgula organized many literary discourses and celebrations to bring out the best in literature. He presided over the second Andhra Mahasabha held at Devarakonda and gave direction for Telangana society. He also worked as a secretary for the Hyderabad Swadesi League and the Nizam Subjects League.
Burgula played a crucial role for stability in Telangana which was crushed under the Razakar movement and worked as a Revenue Minister in the cabinet of Vellodi government (1950) which was formed after police action. He got unexpected victory from Shadnagar constituency in the first sovereign elections held in 1952, and became the first Chief Minister of Hyderabad. After the termination of Nizam rule, in a short period he formed a stable democratic system with his administrative skill. He eradicated the system of jagirdar and mukthedar in Telangana and introduced the law of tenancy and became the first Indian land reformer. Until then education was in Urdu medium in Telangana and for the first time he gave importance for teaching in native language.
The services of Burgula spread not only in Telangana but also to neighbouring areas. After the formation of Andhra Pradesh in 1956, as a Governor of Kerala state, he showed his statesmanship and got acclaim from many top politicians. When he was Governor of Uttar Pradesh, he was elected as a member of Rajya Sabha in 1962 and gave up politics in1967.
Burgula was an eloquent speaker of English, pharsi, Urdu, Sanskrit, Marathi, Kannada and Telugu. Despite being a lawyer by profession, his love for language and literature was ever lasting. He wrote poems, essays and translated books even the master pieces of Adi Shankaracharya.
Burgula established "Young Man Union" with the support of friends and relatives when he was studying Inter. Under the control of this Union, he established a library and brought the spirit of reading and speaking in public by giving speeches on different societal issues. In 1921, to form a responsible government and to bring political reforms in Hyderabad, he prepared a statement with the help of Madapati Hanumantha Rao and Ranga Rao on reforms (State Reform Association). He published many essays in English newspapers against the social evil dowry.
Due to his prominent role in the Quit India Movement in 1942, and again for his participation in the freedom struggle in 1947, he was arrested by the Nizam's police. K.M. Munshi, the then Agent of India in Hyderabad State, spoke of his great contribution to the timely 'Police Action' by India against the Nizam, who ultimately surrendered to the Indian forces on 17 September 1948. After the merger of Hyderabad State with the Indian Union in 1948, he joined the Vellodi Cabinet as Revenue and Education Minister.
In the first general elections held in Hyderabad State in 1952, Dr. Rao was elected from Shadnagar constituency, and later took over the reins of the State as the Chief Minister.
He was the first and the last elected Chief Minister of the former Hyderabad State and first Telugu leader after two and a half centuries of Asaf Jahi rule of Hyderabad State. He ran a popular administration for almost five years until the State was trifurcated and Telangana merged with Andhra to become Andhra Pradesh.
He took several significant steps for the welfare of the people, including the historic 'land reforms' in the State. The passage and implementation of the famous Hyderabad Tenancy and Agricultural Act of 1950, followed in 1954 by Hyderabad Tenancy and Agricultural lands (Amendment) Act, was an important signpost of land reforms in the country. Dr. Rao not only provided the conceptual framework for these Acts but also piloted their passage and vigorously pushed through their implementation, providing tenancy rights to those who had been cultivating lands for some time.
From November 1956 to July 1960, Dr. Ramakrishna Rao was the Governor of Kerala and later Governor of Uttar Pradesh till April 1962. He was later elected to the Rajya Sabha. In which he served from 1962 to 1966. He died on 14 September 1967.
The birth centenary celebrations of Dr. Burgula Ramakrishna Rao were held under the auspices of the Government of A.P. from 13-3-1999 to 13-3-2000. AP Chief Minister, N. Chandrababu Naidu, inaugurated the centenary celebrations, and a commemoration stamp of this great leader was released by the Department of Posts, Government of India, on 13-3-2000. The Prime Minister, Atal Behari Vajpayee, released the biography of this great leader on 31 August 1999 at Raj Bhavan in Hyderabad.
Dr. Burgula's versatility was truly amazing and he stood like a colossus among the leaders of his time and carved out a niche for himself as a multi-faceted personality.
Burgula Ramakrishna Rao was married firstly to Smt Radha Bai and later to mrs.Ananthalakshmi Devi and is survived by his son, Burgula Lakshmi Narayana Rao. His parents were Sri Narsing Rao and Mrs Ranganayakamma and his younger brother late Sri Venkateshwara Rao
His eldest son late Shri Burgula Ranganatha Rao died in 2008 and Shri Lakshmi Narayana Rao is his only surviving child. He is also survived by his grandsons, Burgula LakshmiKanth, Burgula Sai Ramakrishna, and Burgula Pavan Kumar. Shri late Ranganatha Rao has four surviving daughters Mrs Jayadevi, Mrs Vasumathi, Mrs Radha anad Mrs Prabhavathi. Dr Illindala Prabhakara Rao, Padmaja, Sharada are his grand children born to his eldest daughter late Mrs Syamala Devi. He is survived by Mrs Aruna daughter of the eldest daughter Indira of Mrs Anantha Lakshmi Devi. His second daughter Krishna Kumari was wedded into the family of late Shri M. Narasinga Rao former minister (his eldest son Shri Narasimha Rao). He has three granddaughters Deepika, Jyothika and Purnima.
A gold medal was instituted for meritorious student in Humanities (Philosophy) at Shri Satya Sai Institute of Higher learning by Bhagawan Shri Shri Sathya Sai Baba varu Himself A gold medal for meritorious student in all disciplines of engineering at JNTU Hyderabad by his son Lakshmi N Rao and his sons Sai R Krishna, Pavan kumar.
A statue in his memory, instituted by Shri N Chandrababu Naidu, was erected at the Greater Hyderabad Municipal Corporation office in Hyderabad. The BRKR Government Offices Building was instituted by the late Shri N.T. Rama Rao, the then Chief Minister of Andhra Pradesh.
The leadership of the late Shri T. Anjayya saw the establishment of the Dr. BRKR Government Ayurvedic College in the S.R. Nagar suburb of Hyderabad. It is the premier institution in the State of Telangana for the academic discipline of Ayurveda.