Preceded by

Mohammed Alabi Lawal




Preceded by

David Mark




Succeeded by

Abdulfatah Ahmed




Name

Bukola Saraki





Preceded by

Gbemisola Saraki




Spouse

Toyin Saraki




Deputy

Ike Ekweremadu




Party

All Progressives Congress






Born

19 December 1962 (age 53) (

1962-12-19

)


Political party

All Progressives Congress




Role

President of the Senate of Nigeria




Parents

Abubakar Olusola Saraki, Florence Saraki




Siblings

Gbemisola Ruqayyah Saraki, Laolu Saraki




Education

Barts and The London School of Medicine and Dentistry (1982–1987)




Similar People

Muhammadu Buhari, Bola Tinubu, Rotimi Amaechi, Gbemisola Ruqayyah Saraki, Abubakar Olusola Saraki




Profiles




Twitter

Facebook

Tumblr
Nigeria s senate president bukola saraki stoned at eid praying ground in ilorin kwara state
Abubakar Bukola Saraki (born December 19, 1962) is a Nigerian politician who has been President of the Nigeria's Senate since 2015. Previously he was Governor of Kwara State from 2003 to 2011. He was first elected to the Senate in April 2011, representing the Kwara Central senatorial district, and re-elected in the March 2015 elections.
Contents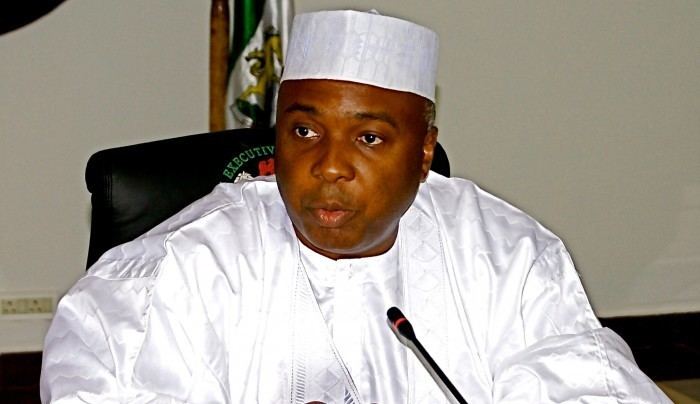 He is a current member of the All Progressives Congress (APC) and previous member of the People's Democratic Party (PDP).
Senator bukola saraki docked at the code of conduct bureau
Early life and education
Abubakar Bukola Saraki was born on 19 December 1962 to the family of Olusola Saraki, a senator (1979–1983) and a one time Senate Leader of the Federal Republic of Nigeria and his mother Florence Morenike Saraki. He attended King's College, Lagos, from 1973 to 1978, and Cheltenham College, Cheltenham, London from 1979 to 1981 for his High School Certificate. He then studied at the London Hospital Medical College of the University of London from 1982 to 1987, when he obtained his M.B.B.S (London).
Career
He worked as a medical officer at Rush Green Hospital, Essex, from 1988 to 1989. He was a director of Société Générale Bank (Nig) Ltd from 1990 to 2000.
In 2000, President Olusegun Obasanjo appointed Saraki as Special Assistant to the President on Budget. During his tenure, Saraki initiated the Fiscal Responsibility Bill. Saraki also served on the Economic Policy Coordination Committee, where he was responsible for the formulation and implementation of several key economic policies for Nigeria.
Governor of Kwara State
In 2003, he ran for the office of governor of Kwara State on the platform of the People's Democratic Party (PDP), and won. He was sworn into office in May 2003. He ran again for re-election in 2007 and won his second term. As governor of Kwara, he led reforms in agriculture, health, education, finance and environment policy. One of his major achievements was inviting displaced white farmers from Zimbabwe to Kwara State and offering them an opportunity to farm. This led to the establishment of Shonga Farms programme, which is now being replicated across Nigeria. His charisma among his fellow governors got him appointed chairman of the Nigeria Governors' forum.
Power generation and electricity
Under Saraki, Kwara became the first state to complete the Nigeria Independent Power Project. In collaboration with the Power Holding Company of Nigeria, Saraki re-energised the Ganmo Power Station at Ilorin, and connected over 375 rural communities to the national grid through the development and installation of 725 transformers and 7 substations. Kwara also completed 4 electrification projects which meant power became stable 18–22 hours a day. 90% of people living in Kwara have access to electricity, compared to a national average in Nigeria of 30%.
Primary health care
While in office, Saraki introduced new health programmes, including a statewide campaign in 2008 to reduce maternal and child mortality from malaria. This included distribution of insecticide-treated nets and free malaria drugs to pregnant mothers and to children under the age of five. A statewide programme of hospital development was also implemented, leading to the redevelopment of hospitals in Afon, Patigi and Lafiagi. Other measures included improved training and re-training for medical staff; refurbishment of hospitals and staff living quarters; and employment of qualified medical doctors and other health workers. Many of the primary care programmes were sponsored by international agencies such as WHO and UNICEF.
Agriculture and farming
Saraki introduced agricultural policy reforms to increase the commercial viability of farming, and also the volume of exports to international markets. The New Nigerian Farmers Initiative was designed to improve the technical capability of farmers and to ensure farmers had a significant financial stake in new investment in agriculture. The scheme utilised the under-used agricultural expertise in the Zimbabwean farming industry, and worked with Zimbabwe's Commercial Farmers' Union to identify highly skilled farmers able to support Nigeria's farming industry and to move to Kwara and develop the farming industry. A commercial hub was also developed to build capacity support training for the indigenous farming community.
Infrastructure development
Saraki led significant and statewide infrastructure development, including improvements at the Ilorin International Airport Cargo Terminal, extensive road construction, and development of new sporting facilities such as Kwara Football Academy. The State has an ongoing goal of a logistics and cargo hub in Nigeria and the region.
Chairman of the Nigeria Governors Forum
Saraki became chairman of the Nigeria Governors Forum in 2007. Under Saraki's Chairmanship, a reformed Forum was established, with a fully resourced secretariat, with a technical and administrative division that was entirely focused on delivery. Under Saraki's chairmanship, new processes such as the State Peer Review Mechanism were developed to ensure closer working and collaboration, and that best practices could be hared between states. The mechanism allowed case studies to be shared between states in a number of policy fields. including power projects, primary healthcare centres for villages and other rural locations, roadworks, water, solar schemes and the construction of specialist hospitals and state universities. Projects such as these had previously remained undisclosed.
Polio immunisation and the Immunisation Leadership Challenge
The Forum developed better and more extensive polio immunisation in Nigeria. A key part of this was the introduction in 2011 of the Immunisation Leadership Challenge. The Challenge was designed to reward states in Nigeria that made significant improvements in polio and routine immunisation coverage by the end of 2012.
Observing the effects of the election cycle, the Bill and Melinda Gates Foundation drove the challenge – launched in partnership with the NGF – which pledged to award US $500,000 to states that met a pre-defined threshold of improvement. The overall objective was to fast-track achievement of the milestone of interrupting further transmission of the wild polio virus in Nigeria. The grant would be used to support governors' top health priorities, including malaria, tuberculosis, and HIV prevention and treatment, safe drinking water and hygiene programmes. The Gates Foundation also promised to match contributions by states to their chosen health project up to US $250,000. By the end of 2012 the number of polio cases dropped by about 50%.
The NGF and Global Development Partners
Under Dr Saraki's chairmanship a number of Memoranda of Understanding (MOUs) have been signed, including but not limited to the World Bank, DFID, Bill & Melinda Gates Foundation, GAVI, UNICEF, UNDP.
Senatorial career
After two term tenure as governor of Kwara State, Bukola Saraki ran for the office of Senator, representing the Kwara Central Senatorial District. He won, succeeding his sister, Gbemisola Saraki-Forowa. He was appointed as the chairman of the Senate Committee on Environment and Ecology and is also a member of the Senate Committee on Capital Markets and Finance. He pushed a motion in the Senate to end the fuel subsidy regime in Nigeria, which has been an excessive waste of the country's national resources.
Senator Saraki has campaigned extensively on health, food security, education and the environment. He has argued for strengthened laws on the clean up of oil spills. His National Oil Spill and Detection and Response Agency Amendment Bill seeks to ensure oil companies pay appropriate levels of compensation to communities affected by oil spills.
Saraki intervened in the lead poisoning crisis in Zamfara State in 2010, and has supported to the Global Alliance for Clean Cookstoves, which ensures safe and healthy methods of cooking for millions of Nigerians while conserving the environment through reduced deforestation. He has been a lead campaigner in the areas of desertification and climate change in the Senate and across Nigeria. Saraki sponsored a motion on the floor of the Senate to end Nigeria's fuel subsidy regime. Other motions and private member bills he has sponsored include the National Oil Spill Detection and Response Agency Amendment Bill 2012, which was aimed at putting a halt to oil spills in the Niger Delta, the Gas Flaring Prohibition Bill 2012 and the Climate Change Commission Bill 2013.
Saraki expressed regret after his supporters died in a human stampede at his residence. This was not the first time that people had been killed during his family's habit of distributing money and food to their supporters.
Senate Presidency
After his re-election in the 2015 general elections, Saraki was on 9 June 2015 elected unopposed as President of the Senate by an across the party alliance comprising PDP and APC Senators. Saraki had faced stiff opposition from Senator Ahmed Ibrahim Lawan who was a preferred candidate by a group of senators-elect within the APC. His deputy, Senator Ike Ekweremadu, emerged after a tightly contested election using a forged senate standing order.
Senator Bukola Saraki and a delegation of Senators visited Maiduguri, Borno State on 3 August 2015 to get an on-ground assessment of the damage done in the north-eastern part of Nigeria by terrorist group Boko Haram and to give hope to internally displaced persons. The delegation was the first of its kind by the leadership of the Senate since the insurgency began.
Kwara Class of Honors
Senator Bukola Saraki founded Kwara Class of Honor, a program aimed at awarding Post-Graduate scholarship to First Class students of the state to continue their study at any institution of their choice across the federation, and over 71 First class were awarded during the first phase of the scholarship program.
International work and appointments
In 2012, Saraki was appointed onto the leadership council of the Global Alliance for Clean Cookstoves, an initiative led by the United Nations Foundation supporting public-private partnerships to create a market for clean cookstoves and fuels. In 2013, Saraki established GLOBE Nigeria as an affiliate of the Global Legislators Organisation for a Balanced Environment (GLOBE International), establishing a platform for legislators to advance environmental and sustainable development laws in Nigeria. He currently serves as GLOBE Nigeria's President. Saraki has also spoken and campaigned internationally on issues such as better governance, deforestation and economic development.
Code of Conduct Tribunal
The Code of Conduct Bureau cited a 13-count charge of corruption against Saraki. In charge number ABT/01/15, dated September 11, 2015 and filed before the Code of Conduct Tribunal, Saraki is accused of offences ranging from anticipatory declaration of assets to making false declaration of assets in forms Saraki had filed with the Code of Conduct Bureau while he was governor of Kwara state. He was also accused of failing to declare some assets he acquired while in office as governor, acquiring assets beyond his legitimate earnings, and accused of operating foreign accounts while being a public officer.
An official of the Code of Conduct Bureau, Peter Danladi, stated in a court affidavit that the investigation of the various petitions of corruption, theft, money laundering, among others, against Saraki in 2010, was conducted jointly by the officials of the EFCC, CCB and the DSS. "The EFCC conducted its investigation on the various petitions and made findings which showed that the defendant/applicant abused his office, while he was the governor of Kwara State and was involved in various acts of corruption as the governor of the state. The defendant/applicant borrowed huge sums of money running into billions from commercial banks, particularly Guaranty Trust Bank, and used the proceeds of the loan to acquire several landed properties in Lagos, Abuja and London, while he was the governor of Kwara State.
Arrest Warrants Against Saraki
Bukola Saraki became the first Senate President in Nigeria to be issued with arrest warrants, when Danladi Umar, Chairman of the Code Of Conduct Tribunal, issued an arrest warrant against Saraki on September 18, 2015.
Saraki's 79-Lawyer Legal Team
On March 18, 2016, Kanu Godwin Agabi, Saraki's lead counsel and ex-attorney general of Nigeria, led a delegation of 79 lawyers to defend Saraki at the tribunal.
Corruption charges indictment by EFCC
The EFCC has reportedly indicted the Senate President, Bukola Saraki and some of his aides in the alleged laundering of up to N3.5 billion from the Paris Club Loan Refund. The EFCC investigation was presented to President Buhari in a reported delivered on March 10th, 5 days before the senate rejected acting EFCC chairman, Ibrahim Magu. However in a swift reaction, Special Adviser on Media and Publicity to Saraki, Yusuph Olaniyonu, in a statement released, denied the claims.
Discharge and Acquittal at CCT
On Wednesday, June 14th, 2017, the Code of Conduct Tribunal (CCT) sitting in Abuja discharged and acquitted the Senate President Bukola Saraki, in the 18 count charge of corruption in the false declaration of assets charge brought against him in September 2015 by the federal government.
The tribunal held that the evidence proffered against Saraki by the federal government was bereft of probate value and manifestly unreliable to hold the charges against the defendant. The chairman of the tribunal Danladi Umar said the prosecution at the close of the case failed to establish a prima facie case against the defendant. Umar said the four witnesses called by the prosecution to testify in the matter gave contradictory evidence that were manifestly unreliable to convict the defendant or order him to enter his defense.
Umar further said that the report of the Economic and Financial Crimes Commission (EFCC) put at the disposal of the tribunal was more of intelligence gathering rather than conventional investigation.
He said that to worsen the case, the defendant was never invited or be made to make statement so that truth can be unearthed if there are allegations against him.
Personal life
Bukola Saraki is married to Toyin (née Ojora) Saraki. They have four children together.
Saraki was made the Turaki of the Fula emirate of Ilorin. Turaki, means an officer at court in Fula or Hausa emirate palace.
Awards
Saraki was the first serving Nigerian governor to be awarded the National Honor of Commander of the Order of the Niger (CON) in 2010. Other former governors also received the award that year.
Outstanding Leadership Award was conferred on Saraki by the Governor of Kwara State, Abdulfatah Ahmed on 27 May 2017 (Saraki is one of eighteen former Governors to receive the award).
References
Bukola Saraki Wikipedia
(Text) CC BY-SA