Covid-19
Light rail




3




6 November 1999




14




Operational




62,700




Land Transport Authority






Light Rail Transit (Singapore)




Ten Mile Junction LRT Station, Choa Chu Kang MRT/LRT Station
The Bukit Panjang LRT Line is a 7.8 kilometres (4.8 mi) light rail line opened on 6 November 1999 as part of Singapore's LRT system. It is fully automated, and the project was contracted to Adtranz, Keppel Corporation and Gammon Construction. The line uses Innovia APM 100 rolling stock supplied by Adtranz (now Bombardier). A complete loop journey on the line (excluding Ten Mile Junction LRT station) takes 28 minutes.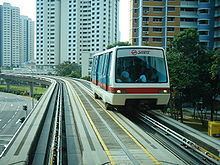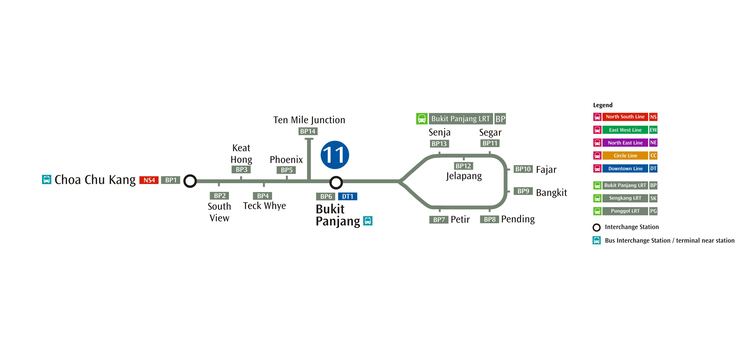 There are three services on the line: A and B terminate at Choa Chu Kang, and C ends at Ten Mile Junction.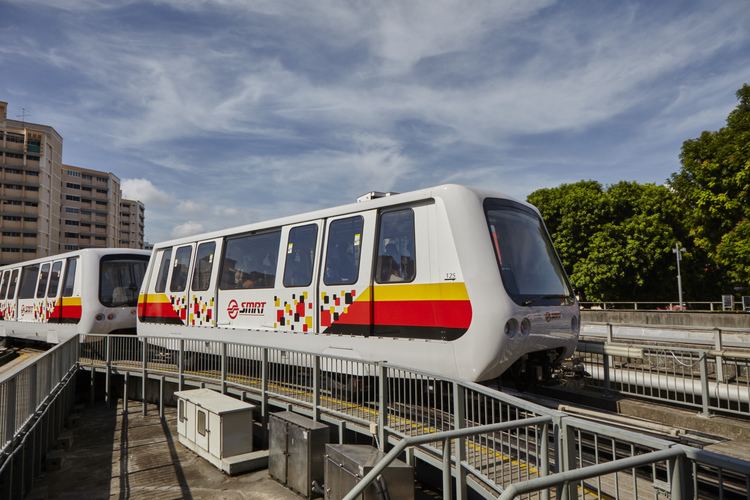 All stations, except Choa Chu Kang and Ten Mile Junction, have two facing side platforms. Choa Chu Kang has an island platform, similar to most Singapore MRT stations, while Ten Mile Junction has only a single platform and is the only station with platform screen doors (supplied by Horton Automatics). Bukit Panjang and Choa Chu Kang have half-height platform barriers. Choa Chu Kang station will have two additional platforms and a new set of fare gates to ease crowding during peak hours. Between 2016 and 2017, they will install Half-Height Platform Barriers to the remaining 11 LRT stations. As of February 2017, the Half-Height Platform Barriers are installed at Choa Chu Kang, South View, Keat Hong, Teck Whye, Phoenix and Bukit Panjang station.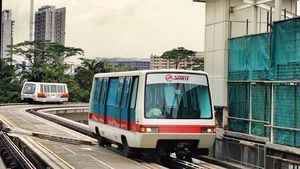 The line uses Bombardier Innovia APM 100 "people-movers", similar to the ones used by the Changi Airport Skytrain until 2006, coded C801 and C801A. C801s have been in operation ever since the start of service on the line in 1999, while C801As were delivered and started operations in late 2014. Each unit is 12,800 millimetres (41 ft 11.9 in) long.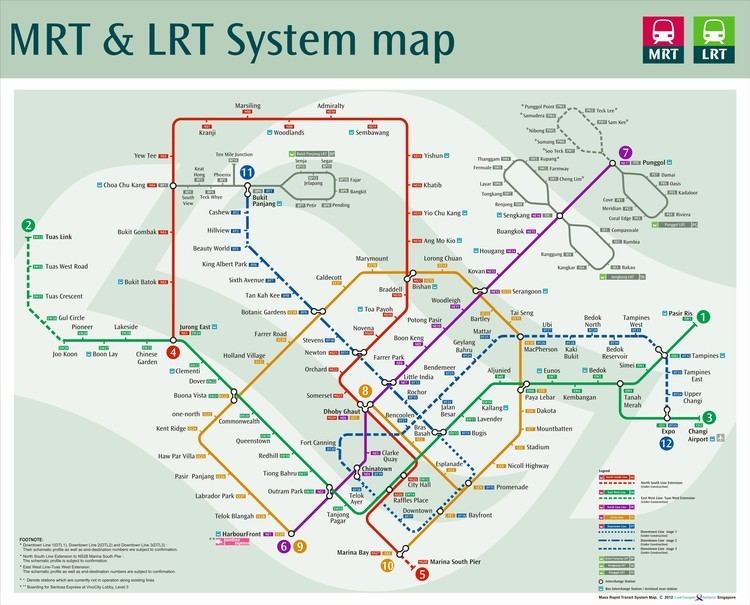 As of 2015, the majority of trains are in two-car (M-M) formations. Two-car formations are no longer limited to peak hours only and are now used at all times. This is due to the increase in ridership and the large number of apartments around Bukit Panjang. The units are limited to a two-car train formation because of station length.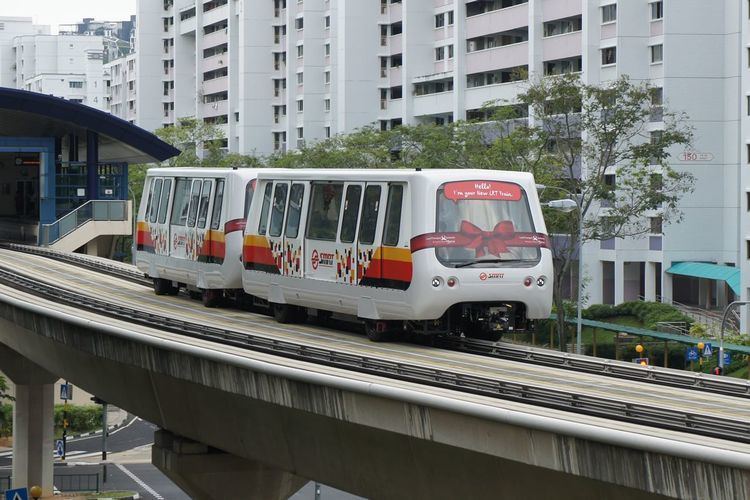 Coupling is usually done in Ten Mile Junction Depot and the trains are coupled with the same car type: C801+C801 or C801A+C801A. Occasionally units are mixed for reasons such as breakdowns or testing.
The line is equipped with Bombardier's CITYFLO 550 fixed block signalling system for Automatic train control (ATC) under Automatic train operation (ATO) GoA 4 (UTO). The subsystems consist of Automatic train protection (ATP) to govern train speed, Automatic Train Supervision (ATS) to track and schedule trains, and a computer-based interlocking (CBI) system that prevents incorrect signal and track points settings.
These are major incidents that have captured the media and public attention when it happened. There have been incidents that were untold or minor.
An LRT train with 20 passengers crashed into an empty one at Phoenix station on 19 November 2000 after an operations officer failed to do a manual check of the lines before restarting the network system. The impact threw seated and standing passengers to the floor of the train, injuring five of them. The service was disrupted for seven hours but it was restored in stages and was fully functional again by 2.30 pm the same day. Then Communications and Information Technology Minister Yeo Cheow Tong visited the site soon after being told of the accident. However, the cause of the accident was never uncovered till this day.
On March 9, 2015, during the evening peak hours, the Bukit Panjang LRT was suspended from service for full 24 hours due to a power trip which was caused by a fire at Senja Station. The fire was caused due to a sudden power surge and the fuse box failed to handle the surge. Usually the fuse box will trip the system and activate safety measures, but on that day the fuse box failed to do so and instead burst into flames. The problem was identified as arcing problem which was why the power "jumped". The reason for how the fire started, however, is still a mystery till today.
On the late morning of 28 July 2016, a train departed Segar for Jelapang on Service B. However, the train sped past Jelapang, Senja and Bukit Panjang stations. One of the passengers said that the Emergency Stop Button was not working, and there was no response on the Emergency phone. According to a passenger, the train finally stopped before Phoenix Station after another passenger managed to make a call on her mobile phone. Subsequent investigations showed that the train had a faulty antenna which resulted in the stations not being able to receive information about the train and thus did not stop the train at the stations.
On the evening of September 27, 2016, a track fault resulted in the damage of the collector shoes on 15 train cars. This resulted in multiple delays and disruptions across the entire network and the damaged collector shoes further damaged the entire network's tracks. During the morning peak of the following day (September 28, 2016), the already damaged track resulted in further disruptions 4 hours after train service started. When the trains did arrive the stations, more problems occurred, including stalled trains, smoke, and stuck doors that staff had to open manually. With damaged tracks and half of the usual fleet running, the delays were more severe than previous cases this year (2016). Later in the afternoon, SMRT announced on social media, Facebook and Twitter, stating that only Service B is available and no train service towards Choa Chu Kang Station. However, they announced again that train service has been temporarily suspended as engineers were carrying out maintenance and repair works. Train service fully resumes at 5:45pm with only half of the usual fleet operating.
SMRT and LTA announced for plans to completely overhaul the BPLRT system as the system is reaching its lifespan of 20 years. A few reasons for the overhaul of the system was due to the fact that the system has been plagued with problems since its first operation in 1999 and it is one of the two systems in the world that still uses the CX-100 train cars (the other being Miami MetroMover). SMRT is still deciding on four of this options to either replace or upgrade the existing system:
Bukit Panjang LRT Line Wikipedia