Colombia


832 km2


1535




Harold Jhon Vargas Suarez



Buga , formally Guadalajara de Buga, is a city and municipality in the Valle del Cauca Department of Colombia. It is famous for its Basilica del Senor de los Milagros, which houses an image of Christ called el Senor de los Milagros ("the Lord of the Miracles").
Buga is a town with a cattle industry. It is 46 miles (74 km) from Cali.
Guadalajara de Buga, which is the city´s formal name, is one of the oldest cities in Colombia; founded in 1555 under the order of the Spanish conquistador Sebastian de Belalcazar and known as Buga la Real ("the Royal Buga" ) or La Ciudad Senora ("the Lady City"). It was the home of many wealthy families coming from Spain and settling in the New World.
King Philip II of Spain gave Guadalajara de Buga its city status officially at the end of the 16th century and also granted its coat of arms for the many services rendered to the crown. During colonial era, Buga was in the Royal Audience of Quito, initially part of the Viceroyalty of Peru, and from 1739 until the creation of the Republic of La Gran Colombia, part of the Viceroyalty of Nueva Granada. After the dissolution of the Gran Colombia, it became part of the Republic of Nueva Granada (modern-day Colombia, since the newly created Ecuador, successor of the Royal Audience of Quito, did not summon representatives from Cauca to its first congress.
During the years of Independence, Simon Bolivar, called el libertador ("the liberator"), visited the city on two occasions, for which commemoration plates were placed.
American Airlines Flight 965 crashed into a mountain near Buga on 20 December 1995.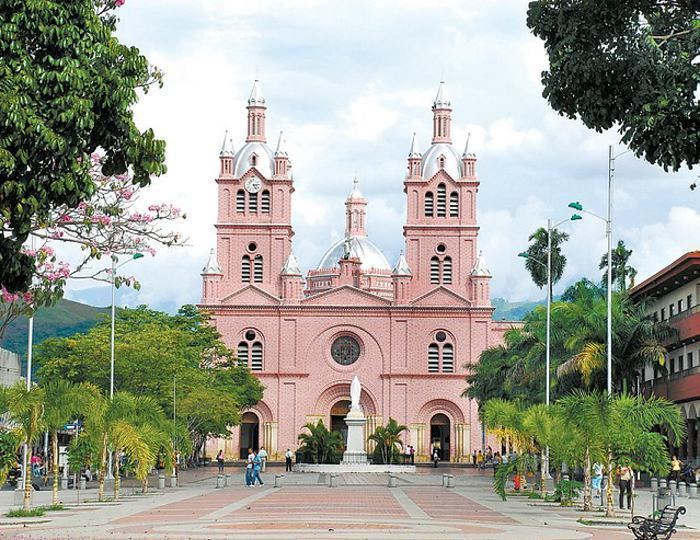 Throughout Colombia, when the driver and front-seat passenger in a car are both male while all the back-seat passengers female, this arrangement is referred to as a paseo bugueno, a Buga-style excursion.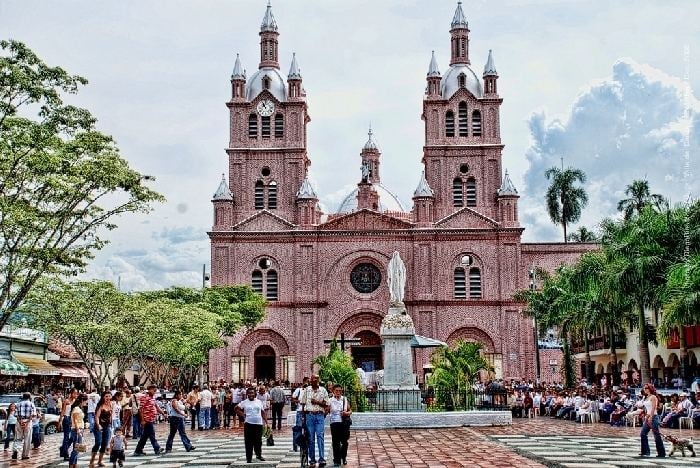 Currently the city receives over 3 million pilgrims per year to visit the Basilica of The Lord of the Miracles.
There is the cultural centre (Casa de la cultura) that offers art and literary training. It is an old-style house located on 6th Street 11-11, open since 1962.
Buga, Valle del Cauca Wikipedia
(,)http://upload.wikimedia.org/wikipedia/commons/0/00/Rio_Guadalajara,_Buga,_Valle_del_Cauca,_Colombia.jpg(,)http://upload.wikimedia.org/wikipedia/commons/d/d3/Colombia_-_Valle_del_Cauca_-_Buga.svg(,)http://media-2.web.britannica.com/eb-media/86/139786-004-5E026210.jpg(,)https://fbexternal-a.akamaihd.net/safe_image.php%3Fd%3DAQAW1eoAmFdm9oSN%26w%3D720%26h%3D539%26url%3Dhttp%253A%252F%252Fupload.wikimedia.org%252Fwikipedia%252Fcommons%252Fthumb%252F9%252F9a%252FBuga_desde_el_faro.JPG%252F720px-Buga_desde_el_faro.JPG(,)http://upload.wikimedia.org/wikipedia/commons/a/a0/Basilica_del_Se%25C3%25B1or_de_los_Milagros,_Guadalajara_de_Buga,_Valle_del_Cauca,_Colombia.jpg(,)https://fbexternal-a.akamaihd.net/safe_image.php%3Fd%3DAQCBcj2NswIJ0NWe%26w%3D720%26h%3D960%26url%3Dhttp%253A%252F%252Fupload.wikimedia.org%252Fwikipedia%252Fcommons%252Fthumb%252F6%252F62%252FCatedral_cartago.jpg%252F720px-Catedral_cartago.jpg(,)https://fbexternal-a.akamaihd.net/safe_image.php%3Fd%3DAQC3Ct_QuLyG5GpK%26w%3D548%26h%3D386%26url%3Dhttp%253A%252F%252Fupload.wikimedia.org%252Fwikipedia%252Fcommons%252F0%252F0c%252FParque_los_fundadores.jpg(,)http://upload.wikimedia.org/wikipedia/commons/4/46/Lighthouse_In_Land_in_Guadalajara_de_Buga,_Valle_Colombia.jpg(,)http://media-3.web.britannica.com/eb-media/11/139811-004-6E6AA16F.jpg(,)http://upload.wikimedia.org/wikipedia/commons/f/ff/Plazoleta.jpg(,)http://upload.wikimedia.org/wikipedia/commons/6/6c/P1050225.JPG
(,)http://media-cdn.tripadvisor.com/media/photo-s/05/3b/11/31/coffee-valle-del-cauca.jpg(,)http://media-cdn.tripadvisor.com/media/photo-s/03/d7/f7/d1/burako.jpg(,)http://media-cdn.tripadvisor.com/media/photo-s/05/3b/11/35/coffee-valle-del-cauca.jpg(,)http://media-cdn.tripadvisor.com/media/photo-s/05/3b/11/3e/coffee-valle-del-cauca.jpg(,)http://media-cdn.tripadvisor.com/media/photo-s/05/3b/11/41/coffee-valle-del-cauca.jpg(,)http://media-cdn.tripadvisor.com/media/photo-s/04/aa/a7/db/restaurante-nuevo-maria.jpg(,)http://media-cdn.tripadvisor.com/media/photo-s/01/e2/36/f9/sandwich.jpg(,)http://4.bp.blogspot.com/-0z5RxBh3BF4/UjqTqAaus-I/AAAAAAAAAEk/CZlcZYfo_jk/s1600/122809152940.jpg(,)http://www.colombiafacil.com/site/assets/files/1383/collage_food_colombia.600x0.jpg
(,)http://www.eluniversal.com.co/sites/default/files/buga_0.jpg(,)http://www.experienciacolombia.com/ContentFiles/FotosColombia/Valle-del-cauca-guadalajara-de-buga-guadalajara-de-buga-0102.jpg(,)http://www.valledelcauca.gov.co/publicaciones/info/home/media/pubInt22919.jpg(,)https://comunicaciongastronomica.files.wordpress.com/2009/05/11509176-small_buga09_basilicahor01.jpg(,)http://3.bp.blogspot.com/-7G-lp2Mhnz8/U3zK6P2sOoI/AAAAAAAAElE/prJ5yM7rkMY/s1600/guadalajara.jpg%2B-%2B3.jpg(,)http://www.conocecolombia.com/turismo-colombia/valledelcauca/photos/basilica_buga_valle-del_cauca.jpg(,)http://caliescribe.com/sites/default/files/imagenes_revista/2013/06/22/buga/BUGA-00.jpg(,)http://www.kayak.com/rimg/himg/74/e2/5f/hotelsdotcom-433022-6133833_2_b-image.jpg%3Fwidth%3D1318%26height%3D240%26crop%3Dtrue