Benjamin Franklin "Buck" Belue played American football and baseball at the University of Georgia from 1978 to 1981. He was the quarterback for the Georgia Bulldogs in 1980, when the team went 12–0, and, after beating Notre Dame in the Sugar Bowl, was named the consensus national champion. One of the key plays in the 1980 season was a 93-yard touchdown pass from Belue to wide receiver Lindsay Scott that led to a victory over the University of Florida, which is still tied with two other passing plays as the longest passing touchdown in Georgia history. Belue was named captain of the 1981 team.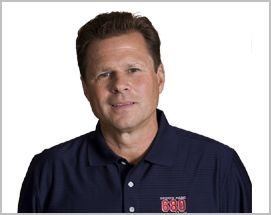 Belue also lettered in baseball all four years at Georgia. His career batting average at Georgia was .356 and he went on to play 3 years in the Montreal Expos organization. Belue also played during the 1984 and 1985 seasons at quarterback for the Jacksonville Bulls of the USFL. After the demise of the USFL, Belue spent two years on the football coaching staff at Valdosta State University, serving as an offensive assistant.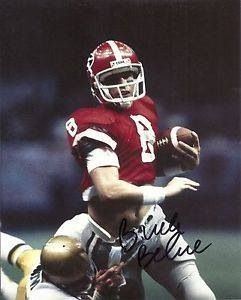 Currently, Belue co-hosts (with John Kincade) midday radio show Buck and Kincade on 680 The Fan in Atlanta, Georgia. Belue was also inducted into the Georgia-Florida Hall of Fame in 1996.
He is also the only quarterback to start all four years for the Valdosta Wildcats, the most successful high school team in the nation, where he was inducted as a member of the Valdosta High School Hall of Fame in 2007.