Covid-19
American




Bryan Johnson




Karney, Cryptozoic Man




1995–present




Writer






Bryan Lee Johnson


December 7, 1967 (age 48) (

1967-12-07

)

Highlands, New Jersey




Film director, screenwriter, actor, comic book writer, podcaster, reality television personality




Comic Book Men, Mallrats, Vulgar, Jay and Silent Bob Strike Back




Walt Flanagan, Scott Mosier, Kevin Smith, Brian O\'Halloran, Jason Mewes





Twitter
Bryan Lee Johnson (born December 7, 1967) is an American comic book writer, podcaster, actor and television personality associated with filmmaker Kevin Smith and the View Askewniverse. He is best known by his local fame in New Jersey and appearances in Smith's New Jersey films as comic book fan Steve-Dave Pulasti. He was also the basis for the Clerks character Randal Graves. Through his friendship with Smith, he was often involved in his productions until Smith moved to Los Angeles. He wrote and directed one film, Vulgar (2000), for View Askew. He worked briefly at the Los Angeles branch of Smith's comic book store, Jay and Silent Bob's Secret Stash. He became co-host of the Tell 'Em Steve-Dave! podcast with friend Walt Flanagan and Brian Quinn. He also has co-starred on the AMC reality series Comic Book Men since 2012.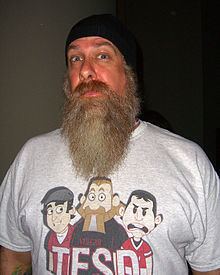 Johnson has collaborated with Flanagan in creating comics adapted from their screenplays, including the 2004 miniseries Karney and the 2007 miniseries War of the Undead. According to an April 12, 2013 posting, Johnson no longer lives in his parents' basement.
Bryan Lee Johnson was born in Highlands, New Jersey. Johnson attended Highlands Elementary School there (part of the Highlands School District) and Henry Hudson Regional High School, graduating in the mid 1980s.
Johnson has discussed his life and work with Kevin Smith in detail in various SmodCo podcasts, including 'Highlands, a Peephole History,' 'Why Bry?' with Kevin Smith, and 'Tell 'Em Steve-Dave,' the podcast he has hosted since Johnson created it in 2009.
In late 2009 Johnson began the podcast Tell 'Em Steve-Dave with his friends Walt Flanagan and Brian Quinn.
On February 12, 2012, the reality television series Comic Book Men premiered, on which both Johnson and Flanagan star. The series is currently in its sixth season.
On July 24, 2014 during the edition entitled 'Shady Acres' from his podcast Tell 'Em Steve-Dave, Johnson expressed intent on creating a follow-up to his 2000 film, Vulgar. He stated that he has spoken with Kevin Smith about the project with Smith replying, 'Start writing immediately.' Smith is on board as an executive producer. The script is being written by Bryan Johnson while he and the production wait for the original film's rights to go back to Johnson sometime in 2015. But as of 2016 no sequel has been produced. Johnson has announced that he has begun writing a sequel at the Comic Book Men panel at New York Comic Con.[1]
Mallrats (1995) (Actor)
Big Helium Dog (1999) (Actor)
Dogma (1999) (Actor)
Vulgar (2000) (Actor, Writer, Director)
Jay and Silent Bob Strike Back (2001) (Actor)
Jay & Silent Bob's Super Groovy Cartoon Movie (2013) (voice actor)
Clerks: The Animated Series (2000) (Voice actor)
Comic Book Men (2012-) (Himself)
Talking Bad (2013) (Himself)
Karney (2005)
War of the Undead (2007)
Cryptozoic Man (2013)
Soul Asylum - Cant Even Tell (1994) playing hockey on the Quick Stop roof
Bryan Johnson (comic book writer) Wikipedia