Bryan Dale Harsin (born November 1, 1976) is a college football coach, currently the head coach at Boise State University. He was previously the head coach at Arkansas State University for the 2013 season, and the co-offensive coordinator at the University of Texas for two seasons. Before leaving for Texas in 2011, Harsin was an assistant at Boise State for ten seasons, the last five as offensive coordinator and quarterbacks coach.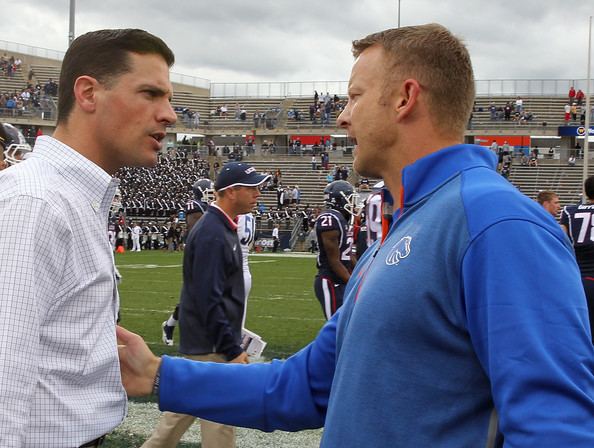 From Boise, Idaho, Harsin is a graduate of Boise's Capital High School, a former quarterback at Boise State, and the first alumnus of BSU to lead the Broncos as head coach.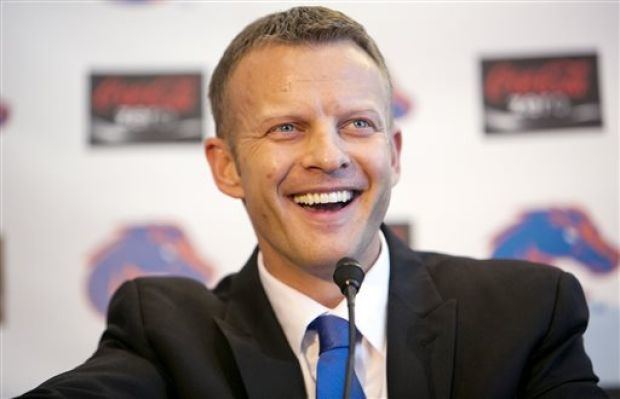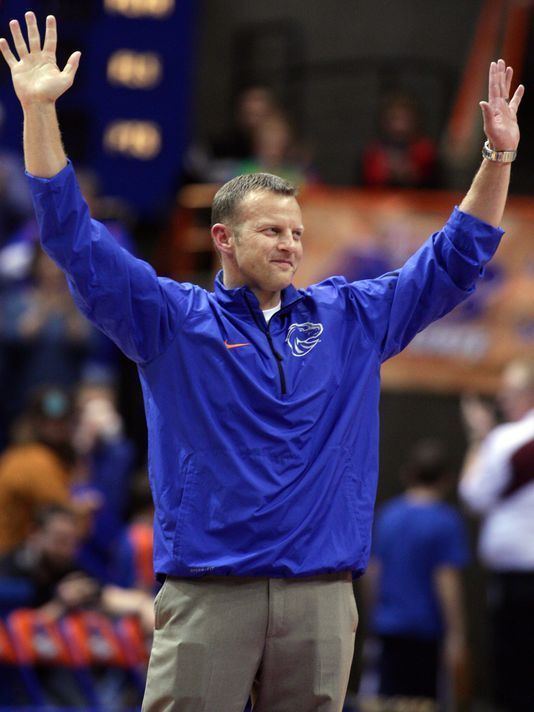 Born and raised in Boise, Harsin graduated from Capital High School and was a quarterback at Boise State University from 1995 to 1999, where he was a three-year letterman and earned a bachelor's degree in Business Management in 2000.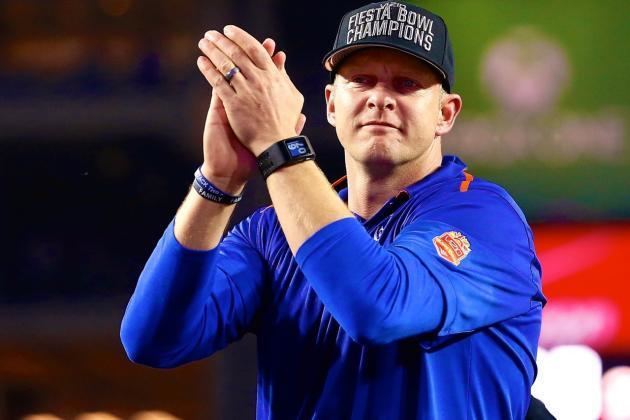 Harsin got his start at Eastern Oregon University in La Grande, coaching running backs and quarterbacks in the 2000 season.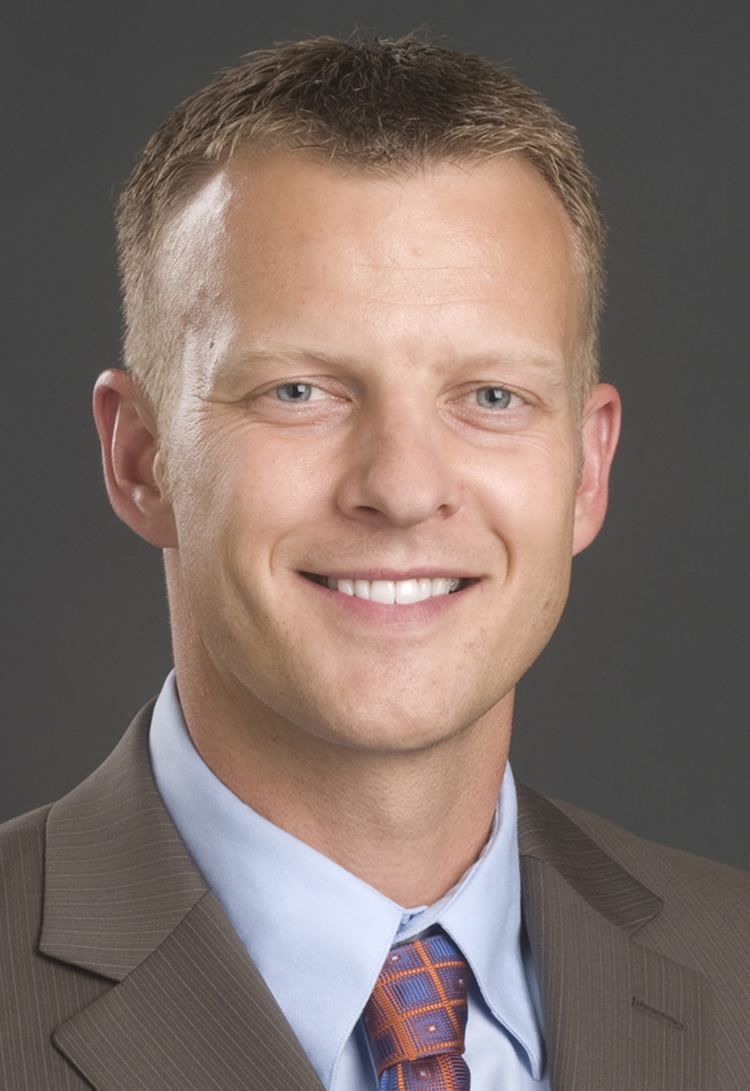 In 2001, he returned to Boise State as a Graduate Assistant under first year coach Dan Hawkins. Harsin was hired as Tight ends coach in 2002 and remained in that position through 2005. During this period the Broncos led the nation in scoring twice and remained in the Top 10 scoring offenses all four years. In 2005, four Broncos tight ends combined to catch 27 passes for 298 yards and three touchdowns.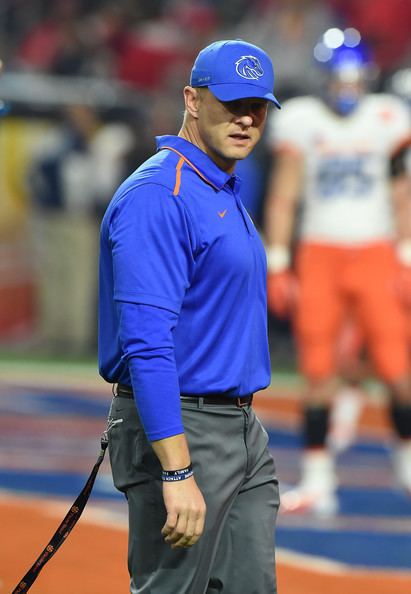 When Hawkins left BSU for Colorado, offensive coordinator Chris Petersen was promoted to head coach for the 2006 season. Harsin was moved up to offensive coordinator and quarterbacks coach, and guided the Broncos offense to an undefeated season. Running back Ian Johnson rushed for 1,713 yards and led the nation in rushing touchdowns and scoring. In 2008, Kellen Moore took over the quarterback position and under Harsin's guidance earned WAC Freshman of the Year honors, completing an NCAA freshman record 69.4 completion percentage (281–405) with 25 touchdown passes and only 10 interceptions.
During Harsin's tenure as offensive coordinator, Boise State posted a 61–5 (.924) record, which included two undefeated seasons and two Fiesta Bowl victories, over Oklahoma (2007) and TCU (2010).
After the 2010 season, Harsin moved to the University of Texas in Austin for the 2011 and 2012 seasons and was the primary play-caller for the Longhorns, paired with Major Applewhite as co-offensive coordinators. During this time he also served as quarterbacks coach for the Longhorns.
Harsin became the 29th head coach at Arkansas State University in Jonesboro on December 12, 2012, succeeding Gus Malzahn, who left for Auburn after just one season. Because Malzahn and his predecessor Hugh Freeze left after just one season in Jonesboro, Harsin's contract at Arkansas State included a $1.75 million buyout clause.
Harsin led the Red Wolves to a 7–5 record in 2013 and a share of the Sun Belt Conference title with a 5–2 record. They earned a berth in the GoDaddy Bowl against Ball State University on January 5.
Harsin returned to Boise State as head coach on December 11, 2013. He replaced his mentor Petersen, who left for the University of Washington in Seattle. In his first season at helm, he had led his team to winning the Mountain West Championship against Fresno State 28–14, and earned a spot in the Fiesta Bowl vs Arizona. The Broncos went on to win the Fiesta Bowl 38–30 and Harsin won 12 games in his first season.
Notable head coaches under whom Harsin has served:
Chris Petersen: Boise State (2006–2010)
Mack Brown: Texas (2011–2012)
Assistants under Harsin who have become head coaches:
Mike Sanford Jr.: Western Kentucky (2017–present)