Brunswick stew is a traditional dish, popular in the American South. The origin of the dish is uncertain, but it is believed to have been invented in the early 19th century. The states of Virginia and Georgia both make claims for originating the stew, in addition to claims of a German origin.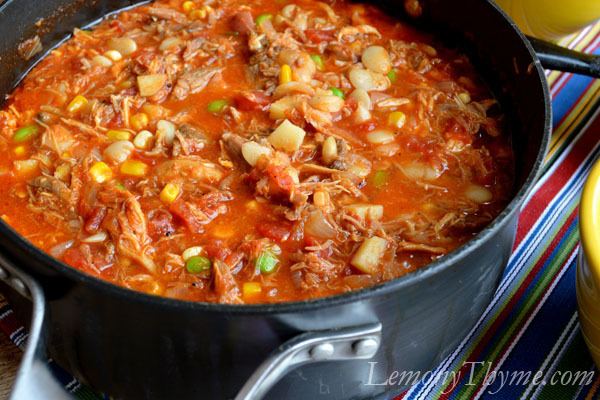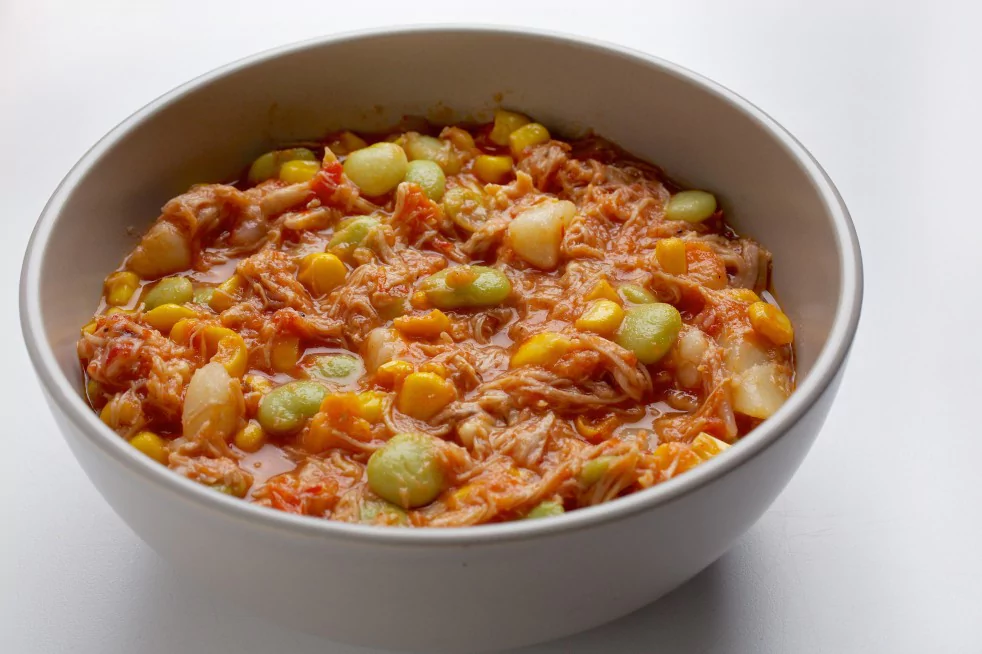 Recipes for Brunswick stew vary greatly, but it is usually a tomato-based stew, containing various types of lima beans/butter beans, corn, okra, and other vegetables, and one or more types of meat. Claims of authenticity call for squirrel, rabbit or opossum meat, but chicken is most commonly used in modern versions. Some versions have a distinctly smoky taste. Eastern North Carolina Brunswick Stew has potatoes, which thickens it considerably. Eastern Virginia Brunswick Stew tends to be thinner, with more tomato flavor and less smoky flavor.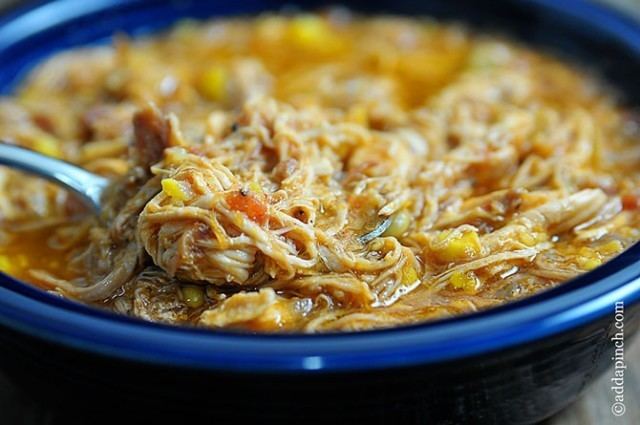 The stew essentially resembles a very thick vegetable soup with meat. The key distinguishing factor between soup and Brunswick stew is the consistency. Brunswick stew must be thick; otherwise, it would be vegetable soup with meat added. Most variations have more meat and vegetables than liquid.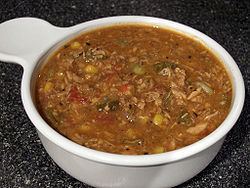 The main differences between the Georgia and Virginia versions have been the types of meat used. Tradition favors squirrel in early versions of both. The Virginia version tends to favor chicken as the primary meat, along with rabbit. The Georgia version tends to favor pork and beef. As there is no "official" recipe for Brunswick stew, it is possible to find chicken, pork, beef, and other types of meat included in the same recipe. North Carolina natives have been known for their unique concoction, similarly thick and tomato based, using chicken-breast chunks and pulled Eastern North Carolina–style barbecue (pork) as the meat.
Squirrel Brunswick stew instructions are found in James Beard's American Cookery.
Brunswick County, Virginia, and the town of Brunswick, Georgia, both claim to be the origin of the stew.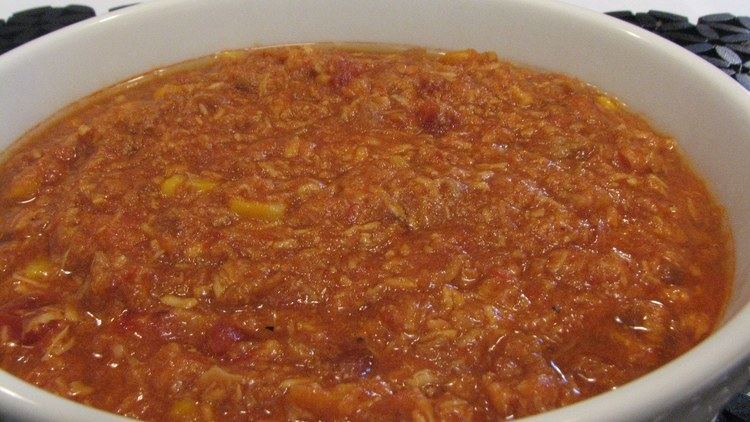 A plaque on an old iron pot in Brunswick, Georgia, says the first Brunswick stew was made in it on July 2, 1898, on nearby St. Simons Island. A competing story claims a Virginia state legislator's chef invented the recipe in 1828 on a hunting expedition.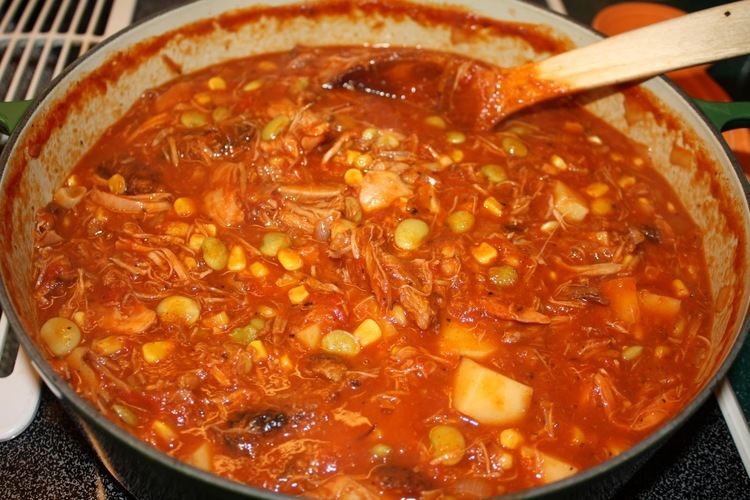 Marjorie Kinnan Rawlings, in her Cross Creek Cookery (1942), wrote that the stew, said to have been one of Queen Victoria's favorites, may have come from the original Brunswick: Braunschweig, Germany.
In areas where Brunswick stew is prepared and sold at fundraising, it is made in large iron pots over open flame or gas. The stew is usually allowed to simmer and cook for long periods of time. This may be attributed to the older tradition of putting game meats into the stew, which might require a longer cooking time to ensure that the meats were tender.
Brunswick stew is traditionally enjoyed during the cooler months and is often eaten during the holiday season.
Mrs. Fearnow's is a popular brand of canned Brunswick stew. In the 1920s, Lillie Pearl Fearnow began making her stew on Hope Farm in Virginia.