Brown on Resolution (US title - Born for Glory; UK re-issue title - Forever England) is a 1935 film adaptation of the CS Forester novel Brown on Resolution. The plot is centred on the illegitimate son of a British naval officer singlehandedly bringing about the downfall of a German cruiser during World War I. The title role is played by John Mills, his first lead role, and it is also notable for being the first film to use actual Royal Navy ships.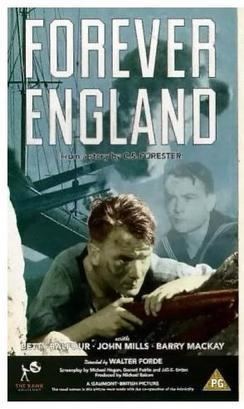 The novel was also later adapted as Sailor of the King (also titled Single-Handed in the US, and sometimes - though rarely - Brown on Resolution), in 1953. The 1935 version retains the novel's original World War I setting, but in the 1953 remake, the setting is realistically updated to the Second World War, as the Germans resumed commerce raiding with surface warships in 1939.
In 1893, Betty Brown meets a debonair young naval officer and falls in love. She conceals her pregnancy from him, and he rejoins his ship. The boy, Albert Brown, is brought up by his mother and joins the navy as soon as he is old enough.
Brown's ship is posted to the Pacific during the First World War. He is marooned on the remote Galapagos island of Resolution when the cruiser he is serving on, HMS Rutland, is sunk. A German battlecruiser (the fictitious SMS Ziethen) takes him prisoner whilst it defeats an inferior British force. It then suffers damage in a second encounter and her captain plans to pull into an isolated Pacific anchorage to try to repair his vessel. There, the resourceful Brown escapes, steals a rifle and a small amount of ammunition, and makes his way ashore.
The German vessel's main battery cannot be brought to bear on Brown, and he is able to pick off exposed crew-members who are trying to repair her punctured hull plates. The anchorage is an impenetrable tangle of scrub and thorn bushes, making it difficult for shore parties to run him to ground.
Brown is eventually killed by a German shot, never learning that his actions delayed the repairs long enough for the raider's British pursuers to catch her up and destroy her. Brown becomes a hero, the British erect a cross on the highest point on the island to commemorate him, and the commander of the British ship discovers that Brown was the illegitimate son he always denied he had.
Betty Balfour - Elizabeth Brown
John Mills - Albert Brown
Barry MacKay - Lt. Somerville
Jimmy Hanley - Ginger
Howard Marion-Crawford - Max
H.G. Stoker - Captain Holt
Percy Walsh - Kapitan von Lutz
George Merritt - William Brown
Cyril Smith - William Brown, Jr.
The cast included Australian war hero Henry Hugh Gordon Stoker. He had been in a production of Journey's End with Mills.