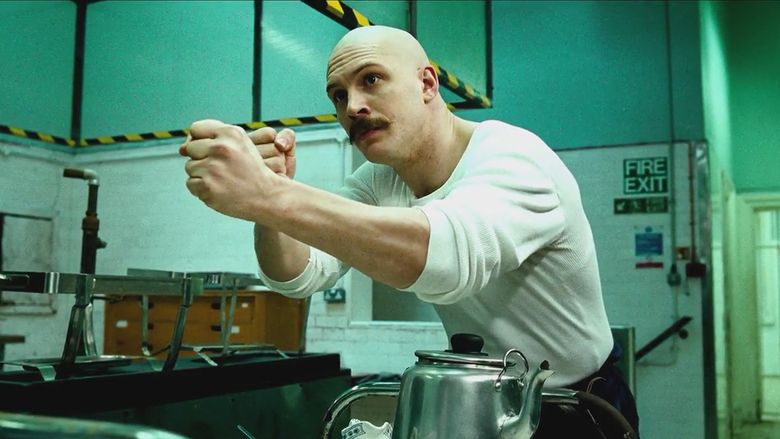 The film begins with short scenes from Bronson's delinquent childhood and early life, narrated with a wry humor by Hardy as Bronson/Peterson. Initially he is shown confronting the camera directly, dressed in prison garb; other times he is shown telling his tale in a vaudeville-style theater in front of a live audience who laughs and applauds at his stories. The film's story is not told in a purely linear fashion but unfolds as a surreal narrative of connected vignettes, punctuated by vaudeville interludes which sometimes break into the film at unexpected times.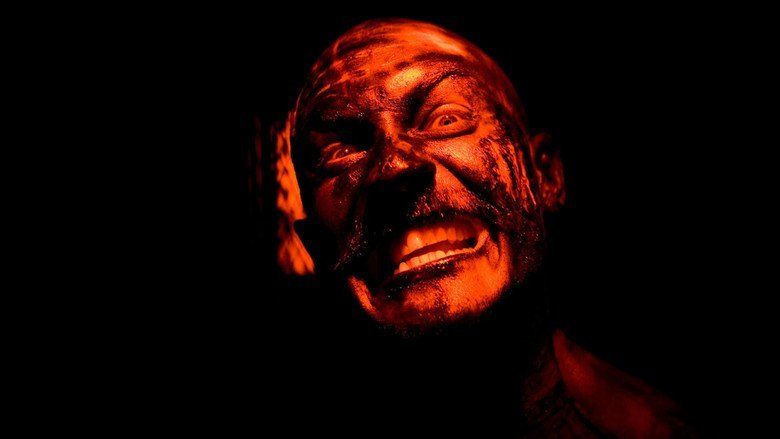 He recounts various episodes of criminal behavior and violence which lead to his being sentenced to seven years in prison. At his sentencing, his mother optimistically declares her hope that he'll get out in four years. While in prison, however, he engages in numerous violent outbursts, assaulting prison guards and fellow prisoners alike, which results in his sentence being extended beyond seven years.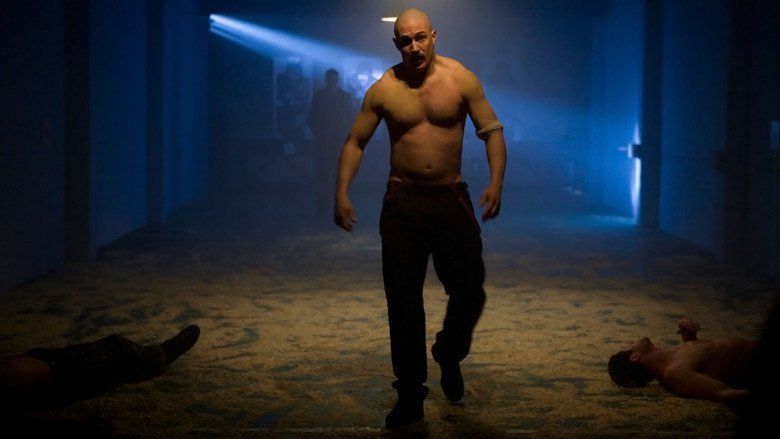 Eventually Peterson is sent to a psychiatric hospital where he continues to rebel against those charged with the duty of controlling him. In response, Peterson is kept heavily drugged which makes him physically weak. His first escape attempt is merely to walk sluggishly toward the exit until he is calmly thwarted by a staffer standing nearby who waves him into a chair. Later, he decides to escape by earning himself a transfer back to prison. He attempts to strangle another detainee with his socks, but is apprehended before killing the man, which means he will not be transferred. He comments to the audience that despite all his prison time and solitary confinement, he has never yet killed anyone.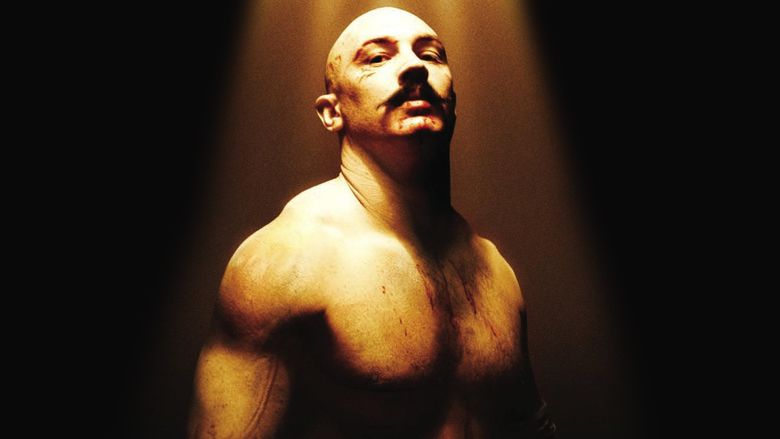 In the vaudeville theater, Peterson/Bronson shows film footage of a rooftop protest during which he escaped to the institution's roof and managed to cause what he calls "tens of millions of pounds' damage". He credits this destruction with the government's subsequent decision to declare him "sane" and have him released.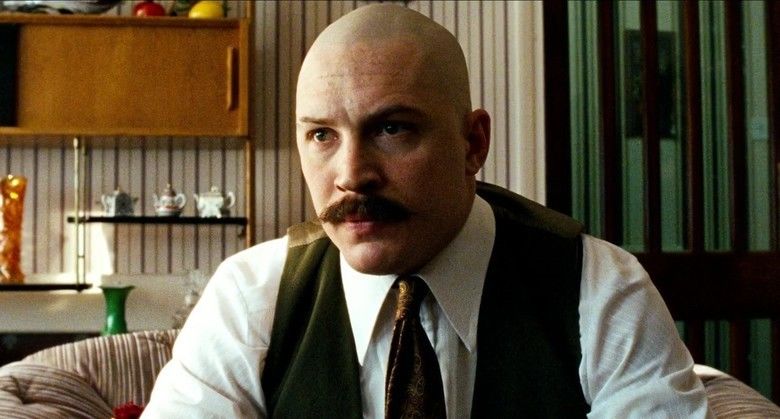 After a brief reunion with his parents, who have moved to a small suburban home, he sets off to see his Uncle Jack in Luton, where he was raised. He is welcomed back and reintroduced to an old prison mate, who promises to set him up with a new career as a bare-knuckle boxer and gives him the new name Charles Bronson, after the famous American actor.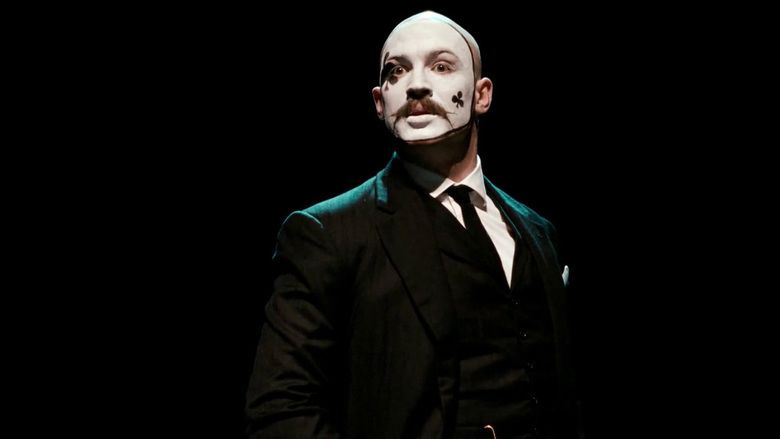 Bronson enters the world of bare knuckle boxing and seems to enjoy both the violence and showmanship involved. Not content with his meagre winnings, he ups the stakes by fighting two opponents at once, and even fights a dog. Banged up and in love, Bronson proposes to a woman he met at his uncle's, but she tells him she loves another man, "her boyfriend". Bronson steals a thousand-pound ring in the hopes that she will marry him. She declines, stating she plans to marry her boyfriend. Bronson is shortly apprehended and brought back to jail.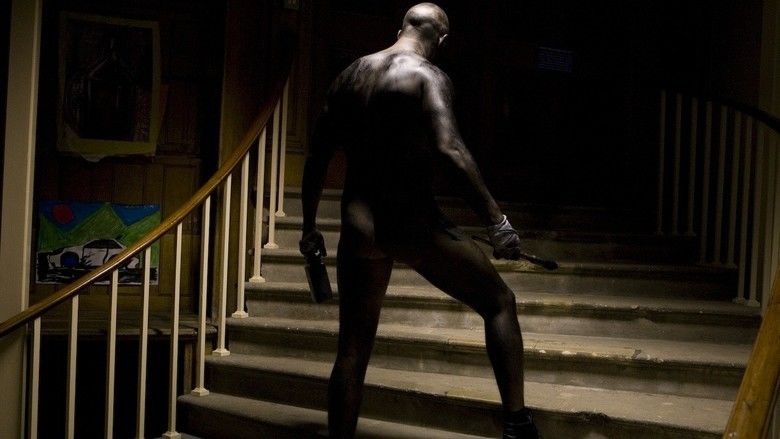 Thus after sixty nine days of freedom he once again finds himself imprisoned. He kidnaps the prison librarian and calmly waits for reinforcements to arrive, alternatively screaming at his hostage and peaceably asking him about his family. When he hears the other guards arriving, he strips naked and forces the librarian to assist in covering his body with "war paint", which is actually petroleum jelly meant to make him harder to grab a hold of for the imminent brawl. After being restrained again, he is warned by the prison governor that he will die inside if his behavior does not improve.
The next few scenes show Bronson's embrace of drawing and cartooning. Encouraged by a prison art teacher who notices something special in his drawings, he seems to become a model prisoner for a while, channeling his confusion and pain into vivid imagery of birds and grotesque creatures. He is allowed access to a prison art studio where advanced art supplies are available for use. When told the art studio will be closing, the art teacher attempts to comfort Bronson that his artistic talents may help him secure early release. Bronson's response is to attack the teacher, holding him hostage in the studio as prison officials wait outside.
While this standoff takes place, he demands music be played, and he paints his naked body black as he listens, and ties the teacher to a post. He forces an apple into his mouth, paints a matching mustache onto his face, and removes his own hat and glasses to put on the teacher's head. After this human still life has been arranged to his satisfaction, he accepts his fate, calling for the prison guards to burst in for yet another violent brawl which will send him back to solitary.
Tom Hardy as Michael Gordon Peterson/Charles Bronson
Matt King as Paul Daniels, nightclub owner and former fellow prisoner
James Lance as Phil Danielson, prison art teacher
Amanda Burton as Charlie's mother
Kelly Adams as Irene Peterson, Charlie's wife
Juliet Oldfield as Alison, Charlie's lover
Jonathan Phillips as the Prison Governor
Mark Powley as Prison Officer Andy Love
Hugh Ross as Uncle Jack
Joe Tucker as John White, fellow patient in Rampton
Gordon Brown as Screw, the first guard Bronson fights
Charlie Whyman as fellow patient in Rampton
For the role, Hardy had telephone conversations with the real Charles Bronson, before meeting him in person. During their meetings, Bronson was so impressed by how Hardy had managed to build up his physique for the role and how good he was at imitating him that he shaved off his trademark moustache so that it could be made into a moustache prop for Hardy to wear in the film. Filming was done in and around the St. Ann's, Sherwood, Worksop and Welbeck Abbey areas of Nottingham and Nottinghamshire. The post office shown at the beginning of the film is located in Lostwithiel, Cornwall.
Director Refn was not permitted to visit Bronson in prison because he is not from Britain. He was only allowed two phone calls with him.
Contrary to popular belief, Tom Hardy did not do 2,500 push-ups a day in preparation for the role of Bronson. The confusion and reason for this rumor is that Charlie Bronson himself was the one doing 2,500 push-ups a day around the time Hardy was meeting with him to gather information for the film script. Hardy himself denied this rumor during an interview in late 2009 with Michael Slenke from Interview Magazine:
SLENSKE: But you were doing some crazy training for that too, like 2500 push-ups a day?
HARDY: No, Charlie does 2500 push-ups a day, I didn't do that. I had to put on a lot of weight as quick as possible and I only had five weeks to do it, and a lot of that was fat. I ate everything. To be honest, I lost about 14 pounds of fat on this last film, and gained 28 pounds of muscle. I was heavier than I was on Bronson.
Bronson opened in a single cinema in North America and made $10,940. The film ended up earning $104,979 in the U.S with the widest release being in 10 cinemas. Internationally it made $2,155,733 for a total of $2,260,712.
Rotten Tomatoes, a review aggregator, gives the film an approval rating of 76% based on reviews from 79 critics, with an average rating of 6.6 out of 10 with the consensus "Undeniably gripping, Bronson forces the viewer to make some hard decisions about where the line between art and exploitation lies." Metacritic gives the film a "generally favourable" average score of 71 out of 100 based on 22 reviews.
Roger Ebert gave the film three stars out of four and praised the decision not to attempt to rationalise and explain Bronson's behaviour stating in his review, "I suppose, after all, Nicolas Winding Refn, the director and co-writer of "Bronson," was wise to leave out any sort of an explanation. Can you imagine how you'd cringe if the film ended in a flashback of little Mickey undergoing childhood trauma? There is some human behavior beyond our ability to comprehend. I was reading a theory the other day that a few people just happen to be pure evil. I'm afraid I believe it. They lack any conscience, any sense of pity or empathy for their victims. But Bronson is his own victim. How do you figure that?"
Bronson was not initially allowed to view the film, but had said that if his mother liked it he was sure he would as well. According to Refn's DVD audio commentary, his mother said she loved it. On 15 November 2011, he was granted permission to view it. Describing it as "theatrical, creative, and brilliant", Bronson heaped praise upon his portrayer, Hardy, but disagreed on the implied distance between himself and his father and the portrayal of Paul Edmunds (portrayed in the film by Matt King as 'Paul Daniels') as "a bit of a ponce". Nevertheless, he challenged his own family's reaction to the portrayal of his Uncle Jack, stating that he "loved" it, as would Jack himself. Bronson had been originally displeased with the choice of Hardy, but after their first physical meeting, Hardy assured him that he would "fix it". As proven, Bronson's development in trust in Hardy's acting grew, even describing him as "Britain's No. 1 actor".