Full Name

Dennis Brian Close, CBE




Born

(

1931-02-24

) 24 February 1931 (age 84)


Birth Place

Rawdon, West Yorkshire, England




Role

All-rounder




Name

Dennis Close,




Education

Aireborough Grammar School




National team

England




Height

6 ft 0 in (1.83 m)




Batting style

Left-handed




Bowling style

Right-arm off break, Right-arm Medium




Position

Forward
| | | | | |
| --- | --- | --- | --- | --- |
| Competition | Tests | ODIs | FC | LA |
| Matches | 22 | 3 | 786 | 164 |
| Runs scored | 887 | 49 | 34994 | 3458 |
| Batting average | 25.34 | 16.33 | 33.26 | 23.84 |
| 100s/50s | 0/4 | –/– | 52/171 | 2/11 |
| Top score | 70 | 43 | 198 | 131 |
| Balls bowled | 1212 | 18 | 69971 | 2258 |
| Wickets | 18 | 0 | 1171 | 65 |
| Bowling average | 29.55 | – | 26.42 | 22.43 |
| 5 wickets in innings | 0 | – | 43 | 0 |
| 10 wickets in match | 0 | n/a | 3 | n/a |
| Best bowling | 4/35 | 0/22 | 8/41 | 4/9 |
| Catches/stumpings | 24/– | 1 | 813/1 | 53 |
Dennis Brian Close, CBE (born 24 February 1931) is a former cricketer who is the youngest man ever to play Test cricket for England. He was picked for the Test team to play against New Zealand, in July 1949, when he was 18 years old. Close went on to play 22 Test matches for England, captaining them seven times (six wins, one draw). Close also captained Yorkshire County Cricket Club to four county championship titles – the main domestic trophy in English cricket. He later went on to captain Somerset, where he is widely credited with developing the county into a hard-playing team, and helping to mould Viv Richards and Ian Botham into the successful players they became.
Contents
Throughout his cricket career, which lasted from 1948 until the 1977 season, Close was one of the most charismatic and well-known cricketers. He scored almost 35,000 runs as a batsman, including 52 centuries with a highest innings score of 198. He also took 1,168 dismissals as a bowler, and over 800 catches as a fielder (and one stumping, as a stand-in wicket-keeper). At just over six feet (1.8 m) tall he was a noticeable presence on the field, often fielding at the short leg position, close to the batsman. As cricketers did not use head or body protection in Closes day, he would often get hurt when a batsman struck a ball that hit him. Close was also noted, as a batsman, for standing up to intimidatory bowling, letting the ball hit his unprotected torso rather than flinching.

Close was known as a cricketing gambler; he was prepared to take risks and to court controversy throughout his career. He was serving a "confined to barracks" punishment during his military service when selected for his first international cricket tour to Australia in 1950, was sacked as England captain for timewasting, and later sacked by Yorkshire for his lukewarm attitude to one-day cricket. He was also accused of not giving enough support to younger Yorkshire cricketers. He attracted further criticism by touring apartheid South Africa and white-minority controlled Rhodesia with private teams. As chairman of Yorkshires cricket subcommittee he had many run-ins with the then Yorkshire captain, Geoffrey Boycott. However, he continued to serve Yorkshire cricket, and in his seventies was coaching and occasionally captaining the countys Colts XI.
Brian close half century vs west indies 1976
Early years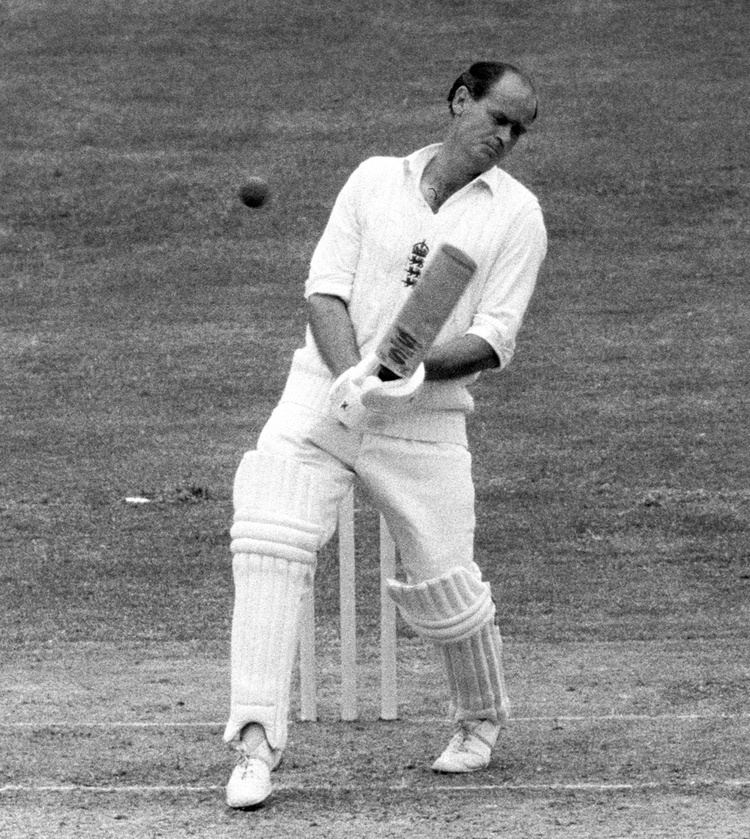 Blogs: Jon Hotten: Close, Chappell and acts of courage
Close was born into a working class family in Town Street, Rawdon, Yorkshire, on 24 February 1931. His parents were Harry, a weaver, and Esther (née Barrett). He was the second eldest of five boys and a girl. The family lived in a series of council houses in Rawdon, Guiseley and Yeadon. Although these houses were small, they each had a back yard, where the young Brian could practise cricket with his father. Harry Close was himself a keen cricketer, who kept wicket and was a big hitter in the Bradford Cricket League, although he never attained the standard of the Yorkshire county team.
The hero and dominating figure in Closes home town of Rawdon was Hedley Verity, a great England and Yorkshire cricketer in the period before the Second World War. The Verity family continued to live in Rawdon, and at Rawdon Littlemoor primary school Close was taught by Grace Verity, Hedleys sister, and he was friends with two of Veritys children, Wilfred and Douglas. Later, Close went to Aireborough Grammar School, where Verity was the best-known alumnus. Closes early years were surrounded by images of local cricketing greatness.
At school, Close was a good all-around sportsman, and an excellent cricketer: Aireborough went unbeaten in the six cricketing summers while Close was there. Close dominated junior level cricket in the area, both within and outside schools. He joined Rawdon Cricket Club in 1942, when he was eleven years of age, and was almost immediately selected to play for the under-18 side and for the Second XI. However, he also excelled as a student, and seriously considered becoming a doctor. His head master at Aireborough believed that he could have been accepted into Cambridge or Oxford universities had he not opted to become a professional sportsman.
As well as cricket, Close was also proficient at football, to such an extent that he was signed as an amateur by Leeds United Football Club. He became the first Leeds player to play international football at youth level, when in October 1948 he played for England against Scotland at Pittodrie Park in Aberdeen. However, after gaining a regular place in Yorkshires county cricket in 1949, his sporting ambitions became focused on cricket. His excellence at the sport, and the Yorkshire peoples enthusiasm for it, encouraged Bradford MP Maurice Webb to request that Close be allowed to complete the 1949 season for Yorkshire, before commencing his National Service.
Fire in babylon michael holding vs brian close More controversy
During this period Close was called up for his seventh Test in 1961, against Australia. This match, which at one time England appeared certain to win, turned to disaster, with Close bearing the main blame for Englands defeat. Many considered this unfair, including the Australian captain, Richie Benaud, who said, "I thought the slating of Brian was one of the most unjust things I have ever experienced".
Captaincy
At the end of 1962, Wilson retired, and the Yorkshire committee appointed Close captain. According to Bowes: "almost overnight it seemed that Brian Close matured". He wrote, "Closes field placings were as intelligent and antagonistic as any seen in the county for 25 years".
Yorkshire captaincy
At the end of 1962, Wilson retired, and the Yorkshire committee appointed Close captain. According to Bowes: "almost overnight it seemed that Brian Close matured". He wrote, "Closes field placings were as intelligent and antagonistic as any seen in the county for 25 years".
England captaincy
After the fourth Test of their five-Test series against the West Indies in 1966, England were 3-0 down and had lost the series. Needing someone to come in to revitalise the squad, the England selectors turned to the successful Yorkshire captain, Brian Close. Close knew why he had been selected, and also why many of his men had been. At the pre-match dinner he said, "I shouldnt be here if we hadnt made such a mess of the series. Whats more, neither would a few of you. You are here because you are all fighters, and we are going to keep the pressure on and keep it on for five days." What Close did was to engender a battling spirit for the final Test Match. So, when England were 166 for 7 in reply to the West Indies 268 all out, they did not give up. Instead, centuries from Tom Graveney and John Murray, and half-centuries from Ken Higgs and John Snow, saw England to a score of 527. The highlight of the match was when West Indian captain Gary Sobers, who had a batting average in the series of well over 100, came in to bat at 137 for 5 with his side still 122 runs from making England bat again. Close knew that Sobers was a fine hooker, and he knew how he wanted to approach him, so he asked Snow to bowl a bouncer first up. Everything went to plan: Sobers hooked, edged the ball into his body, and it rebounded to Close at his customary short leg position, close to the batsman, ready to take the catch - or a full blow to the body had Sobers middled it. Sobers c. Close, b. Snow 0 off one ball. England went on to win the game by an innings and 34 runs.
Retirement
By the time he retired from county cricket at the end of the 1977 season, Close had achieved folk hero status in Somerset. He went on to play for Todmorden in the Lancashire League. Close also had a stint as an England selector between 1979 and 1981 and in 1984 he was elected to the Yorkshire committee. He became chairman of the cricket sub-committee, which led him into more controversy and conflict with the captain, Geoffrey Boycott.
Michael holding batters brian close old trafford 1976
References
Brian Close Wikipedia
(Text) CC BY-SA