Appointed by

George W. Bush




Succeeded by

Raul Yanes




Preceded by

Laurence Silberman




Alma mater

Yale University





President

George W. Bush




Name

Brett Kavanaugh




Preceded by

Harriet Miers




Role

Judge








Born

February 12, 1965 (age 50) Washington, D.C., U.S. (

1965-02-12

)


Education

Yale Law School, Yale College, Yale University
Remarks by judge brett kavanaugh at the opening session of the ali s 2013 annual meeting
Brett Michael Kavanaugh (born February 12, 1965) is a United States Circuit Judge of the United States Court of Appeals for the District of Columbia Circuit. He was Staff Secretary in the Executive Office of the President of the United States under President George W. Bush.
Contents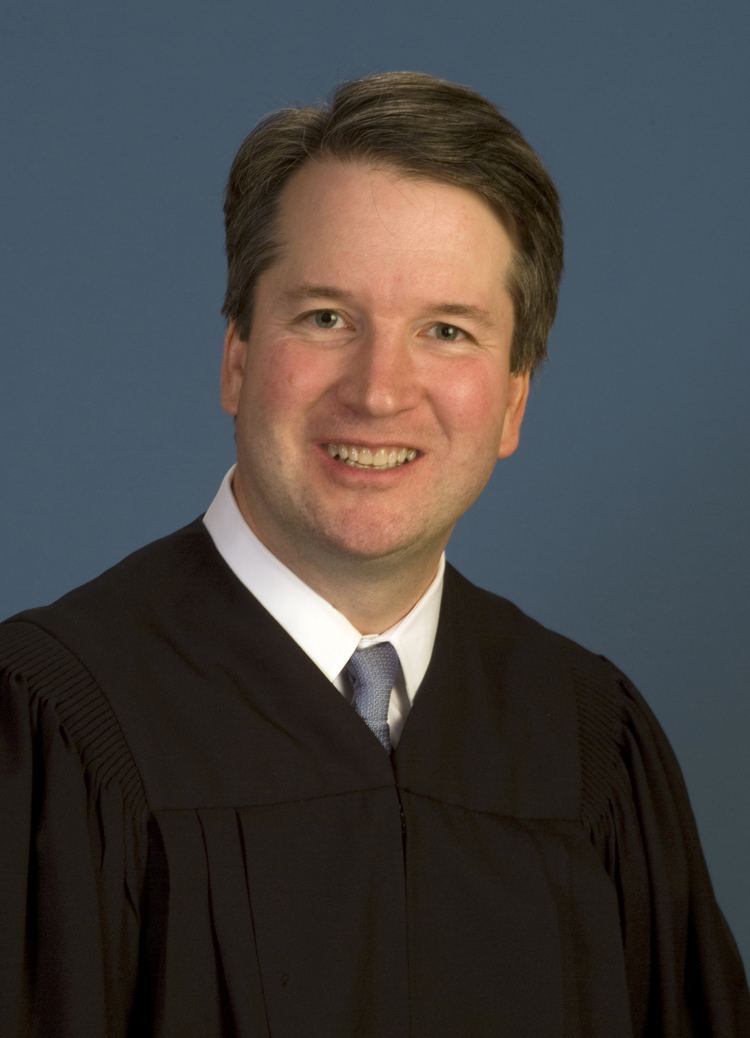 A protégé of Kenneth Starr, Kavanaugh played a lead role in drafting the Starr report, which urged the impeachment of President Bill Clinton. Kavanaugh also led the investigation into the suicide of Clinton aide Vincent Foster. After the 2000 U.S. Presidential election, in which Kavanaugh worked for the George W. Bush campaign in the Florida recount, Kavanaugh joined Bush's staff, where he led the Administration's effort to identify and confirm conservative judicial nominees.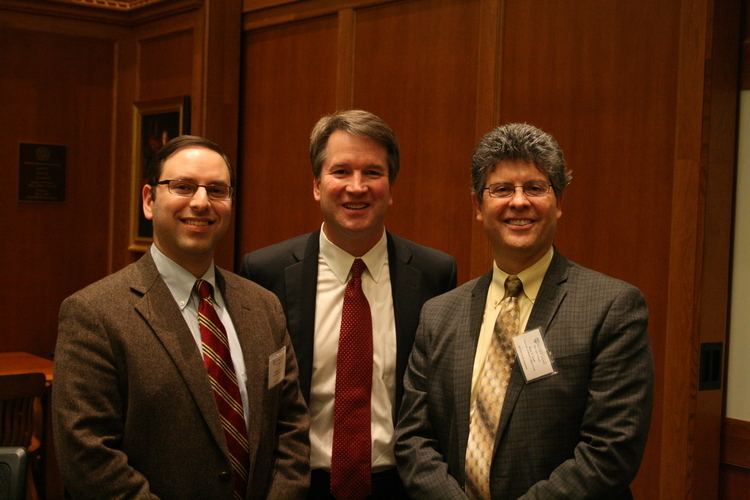 Kavanaugh himself was nominated to the D.C. Appeals Court by Bush in 2003. His confirmation hearings were contentious and stalled for three years over charges of partisanship. Kavanaugh was ultimately confirmed in May 2006 after a series of negotiations between Democratic and Republican Senators. According to Jeffrey Toobin, Kavanaugh is a potential future Republican nominee to the Supreme Court.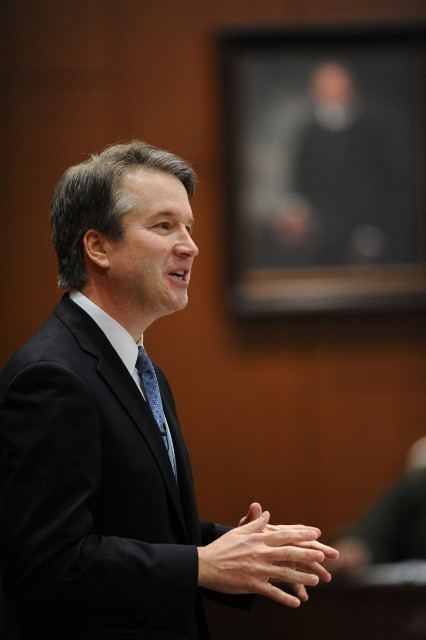 Judge brett kavanaugh constitutional statesmanship of chief justice william rehnquist live stream
Background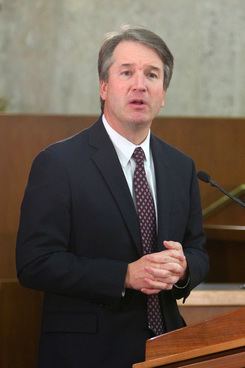 Kavanaugh was born on February 12, 1965 in Washington, D.C., and raised in Bethesda, Maryland, the son of Edward and Martha Kavanaugh. He is a Roman Catholic and graduated from the Georgetown Preparatory School before going to Yale College.
He received his Bachelor of Arts degree from Yale College and his Juris Doctor from Yale Law School, where he served as Notes Editor of the Yale Law Journal. He is married to Ashley Estes, a native of Abilene, Texas, who formerly served as Personal Secretary to the President in the White House at the same time as her future husband. They have two daughters.
Kavanaugh clerked for Supreme Court Justice Anthony Kennedy, as well as Judge Alex Kozinski of the Ninth Circuit and Judge Walter Stapleton of the Third Circuit. Prior to his Supreme Court clerkship, Kavanaugh earned a one-year fellowship in the Office of the Solicitor General of the United States, Kenneth Starr, during which he worked on the Whitewater investigation.
Kavanaugh was later a partner at the law firm of Kirkland & Ellis, where his practice focused on appellate matters. Kavanaugh also served as an Associate Counsel in the Office of Independent Counsel, where he handled a number of the novel constitutional and legal issues presented during that investigation and was a principal author of the Starr Report to Congress on the Monica Lewinsky-Bill Clinton and Vincent Foster investigation.
After George W. Bush became president in 2001, Kavanaugh served for two years as Senior Associate Counsel and Associate Counsel to the President. In that capacity, he worked on the numerous constitutional, legal, and ethical issues handled by that office. Starting in 2003, he served as Assistant to the President and Staff Secretary. In that capacity, he was responsible for coordinating all documents to and from the president.
D.C. Circuit nomination and confirmation
President George W. Bush first nominated Kavanaugh to the D.C. Circuit on July 25, 2003, to a vacancy created by Judge Laurence H. Silberman, who took senior status in November 2000. Kavanaugh's nomination was stalled in the Senate for nearly three years. Democratic Senators criticized him as being too partisan, with Senator Dick Durbin calling him the "Forrest Gump of Republican politics." The Senate Judiciary Committee recommended confirmation on a 10-8 party-line vote on May 11, 2006, and Kavanaugh was thereafter confirmed by the U.S. Senate on May 26, 2006 by a vote of 57-36. On June 1, 2006, he was sworn in by Justice Anthony Kennedy, for whom he had previously clerked, during a special Rose Garden ceremony at the White House.[1] Kavanaugh was the fourth judge nominated to the D.C. Circuit by Bush and confirmed by the United States Senate.
Kavanaugh began hearing cases on September 11, 2006 and had his formal investiture on September 27 at the Prettyman Courthouse. His first published opinion was released on November 17, 2006. He authored the opinion of the court for a unanimous three-judge panel in the case of National Fuel Gas Supply Corp. v. FERC.
In July 2007 Democratic Senators Patrick Leahy and Dick Durbin accused Kavanaugh of "misleading" the Senate committee during his nomination stemming from the Bush White House detention policy.
Judicial service
When a unanimous panel found that the Patient Protection and Affordable Care Act did not violate the Constitution's Origination Clause in Sissel v. United States Department of Health & Human Services (2014), Judge Kavanaugh wrote a lengthy dissent from the denial of rehearing en banc.
When Judge Kavanaugh wrote for a divided panel striking down a Clean Air Act regulation, the Supreme Court of the United States reversed 6-2 in EPA v. EME Homer City Generation, L.P. (2014). After Judge Kavanaugh dissented from the denial of rehearing en banc of a unanimous panel opinion upholding the agency's regulation of greenhouse gas emissions, a fractured Supreme Court reversed 5-4 in Utility Air Regulatory Group v. Environmental Protection Agency (2014). After Judge Kavanaugh dissented from a per curiam decision allowing the agency to disregard cost–benefit analysis, the Supreme Court reversed 5-4 in Michigan v. EPA (2015).
In 2014, Judge Kavanaugh concurred in the judgment when the en banc circuit found that Ali al-Bahlul could be retroactively convicted of war crimes, provided existing statute already made it a crime "because it does not alter the definition of the crime, the defenses or the punishment.". In October 2016, Judge Kavanaugh wrote the plurality opinion when the en banc circuit found al-Bahlul could be convicted by a military commission even if his offenses are not internationally recognized as war crimes under the law of war. In Meshal v. Higgenbotham (2016), Judge Kavanaugh concurred when the divided panel threw out a claim by an American that he had been disappeared by the FBI in a Kenyan black site.
In 2015, Judge Kavanaugh found that those directly regulated by the Consumer Financial Protection Bureau could challenge the constitutionality of its design. In October 2016, Judge Kavanaugh wrote for a divided panel finding that the CFPB's design was unconstitutional, and made the CFPB Director removable by the President of the United States.
When reviewing a book on statutory interpretation by Second Circuit Chief Judge Robert Katzmann, Kavanaugh observed that judges often cannot agree on if a statute's text is ambiguous. To remedy this, Kavanaugh encouraged judges to first seek the "best reading" of the statute, through "interpreting the words of the statute" as well as the context of the statute as a whole, and only then apply other interpretive techniques that may justify an interpretation that differs from the "best meaning" such as constitutional avoidance, legislative history, and Chevron deference.
References
Brett Kavanaugh Wikipedia
(Text) CC BY-SA