Country

New Zealand




Territorial Authority




Founded

1769




Founder

James Cook




Region

Northland




Pre 1989

Whangarei County




Founded by

James Cook





Have a go bro fishing bream bay with hoey and newbz
Bream Bay is a locality and bay on the east coast of New Zealand. Captain James Cook named this area to include the bay itself, but also some surrounding locations, stretching north to Whangarei and south to Mangawhai. However, 'Bream Bay' is loosely used as a collaboration of the three major towns that satellite the main metropolitan area which are Ruakaka, One Tree Point and Waipu. The physical bay itself geographically spreads from the mouth of Whangarei Harbour (Bream Head), 22 kilometers south, to the southernmost point of Waipu Cove (Bream Tail). The area also inhabits 3 native reserve islands, located just off the coast of Bream Bay: the Hen and Chickens Islands and Sail Rock Island.
Contents

Bream bay whangarei love it here
Naming

Bream Bay was named by Captain James Cook after noticing that the bay's waters were populated with a vast number of bream, although it is now thought he was mistaken with snapper. He also named, in the same vein, Bream Head and Bream Tail which are the areas at the very top and bottom of the bay itself.
Ruakaka

Ruakaka area is made up of Ruakaka Beach, Ruakaka Township and Marsden Point. Ruakaka has seen development due to its proximity to the expansion of the country's only oil refinery at Marsden Point during the 1980s. A recently established timber processing plant at Marsden Point has further stimulated growth. The population of the Marsden Point-Ruakaka statistical area was 2,916 in the 2006 Census, an increase of 258 from 2001. This figure includes the town of One Tree Point, and the off-spring area of Takahiwai. Ruakaka is a combination of the two words "Rua" and "Kaka". Rua is a Maori word for two and Kaka is a native parrot (Nestor meridionalis). Access can be granted directley from State Highway 1.
One Tree Point

One Tree Point, once considered part of Ruakaka, has peeled away from the Ruakaka township as it begins to grow. Along with its off-spring area of Takahiwai, they are positioned along Whangarei Harbour. One Tree Point is a fast-growing community catering to the lifestyle blocks of the northern Bream Bay area. One Tree Point is made up of One Tree Point, Marsden Cove, Takahiwai and the Eastern blocks of Marsden Point. Access is gained through Port Marsden Motorway via Ruakaka or by marine access.
Waipu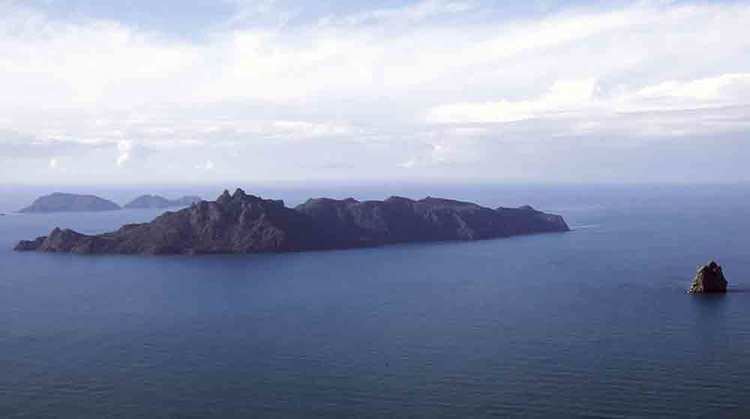 Waipu is the south-most and largest township community in the Tri-Bream Bay area. The population was 1,491 in the 2006 Census, an increase of 222 from 2001. Waipu features a variety of attractions ranging from surf beaches, caves, waterfalls to memorable dining. Waipu is fast gaining international immigrants and is seen to be Bream Bay's only chance at a kept rural community, with the socio/economic growth been delivered by Ruakaka/One Tree Point. Access is gained from State Highway 1 or through back roads via Mangatoroto via Wellsford.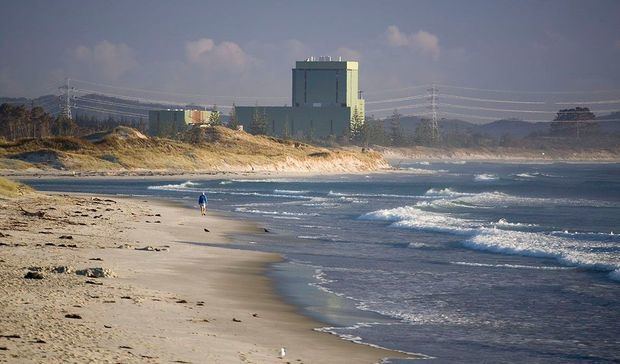 Waipu is situated up the river from the coast, at the last navigable place for larger boats. The Waipu Boat Club is now situated at the place where boats used to unload when the coast and river were the main transport links. However it has strong coastal links with Waipu Cove 8 km away and Uretiti Beach 5 km away. Settled by Scottish immigrants under the charismatic Rev Norman McLeod in the 1850s, it still has a strong Scottish tradition with its own pipe band, and the Waipu Museum telling the story of the migration.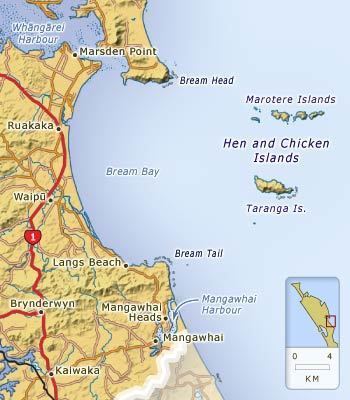 On New Year's Day each year Waipu hosts the Annual Highland Games, in July each year there is a week or two of celebrations for Tartan Week Most weekends there are markets in the area.
The Waipu Pizza barn is a popular local eatery, and the Waipu Hotel has a long established reputation.
The Islands
The Hen & Chicken Islands and Sailrock Island are the nature reserve islands located just off the coast of Bream Bay. There is no human population on any of the 3 Islands.
Climate
The region's geographical location results in warm humid summers and mild winters. Typical summer temperatures range from 22 °C to 26 °C (72 °F to 79 °F). Ground frosts are virtually unknown. The hottest months are January and February. Typical annual rainfall for the region is 1500 – 2000 mm. Winds year-round are predominantly from the southwest.
Education
Bream Bay College is a secondary (years 7-15) school with a roll of 457.
Ruakaka School is a contributing primary (years 1-6) school. It has a roll of 127.
One Tree Point School is a contributing primary (years 1-6) school. It has a roll of 181 and a decile rating of 4.
Waipu Primary is a contributing primary school.
Both schools are coeducational and have a decile rating of 4.
Ruakaka School opened in 1898 in North Ruakaka. Until 1916 it was a half-time school sharing a teacher with Mata School. The school moved to its present site in 1912. Bream Bay College started in 1972 as a Forms 3-7 (years 9-13) school on the site of Waipu District High School. It moved to Ruakaka in February 1974 and expanded to include Forms 1 and 2 (years 7-8).
A school existed at Bream Tail in the early part of the 20th Century.
Attractions and landmarks
The following is a list of tourist attractions and landmarks in the Bream Bay Area.
Ruakaka Race Course
Waipu Caves
Waipu Museum
New Zealand Oil Refinery Visitors Centre
Waipu Golf Course
Waipu Pizza Barn
Ruakaka Kitesports
Marsden Cove Marina
Waterline Cafe at Marsden Cove
Bream Bay website
References
Bream Bay Wikipedia
(Text) CC BY-SA