Bread is a British television sitcom, written by Carla Lane, produced by the BBC and screened on BBC1 from 1 May 1986 to 3 November 1991.
Contents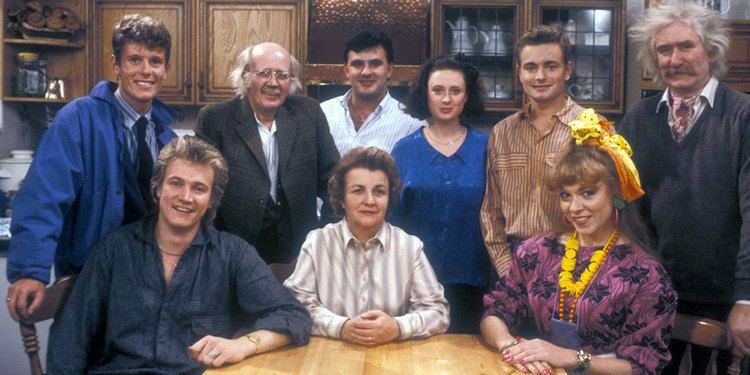 The series focused on the devoutly-Catholic and extended Boswell family of Liverpool, in the district of Dingle, led by its matriarch Nellie (Jean Boht) through a number of ups and downs as they tried to make their way through life in Thatcher's Britain with no visible means of support.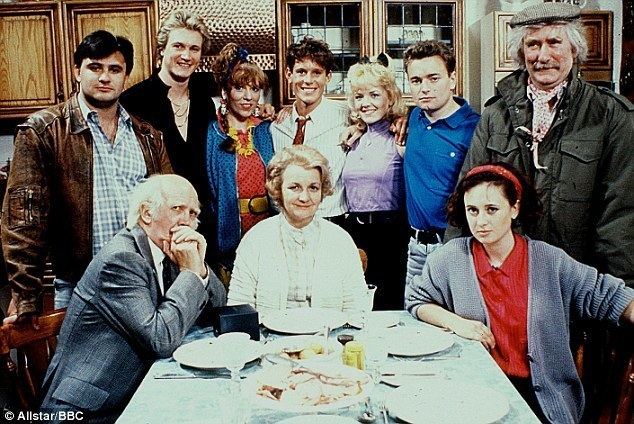 Bread series 01 episode 01
Others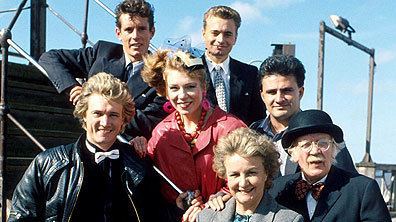 Two local businessmen and small-time thugs and crooks were the monosyllabic Yizzel (Charles Lawson) and his partner who, despite being the brains and voice of the duo, was never named in dialogue and was therefore always credited as 'Yizzel's mate' (Simon Rouse). They ran a limousine company called Occasion Cars and were acquaintances of Joey.
Derek (Peter Byrne) was a widower who befriended Nellie when he met her in a park and tried, unsuccessfully, to forge a relationship with her. Nellie was tempted by him but couldn't bring herself to have another relationship while she was still technically married. If he phoned her at home while she had visitors (she told no one of his existence), she would say "Thank you!" in a comedic high-pitched voice and hang up. However, in the final episode (and final line) of the series, Nellie tells Derek "I'll be there" when he asks her to meet him.
Eddie Duvall (Ken Sharrock) was a cousin of the Boswells, originally from Liverpool but now living in Los Angeles. He was gay and ran a delicatessen there. He briefly stayed with Granddad during a trip back to the UK. Granddad begrudgingly liked him, even though he would call him a 'devious poof' to his face.
Father Dooley (J. G. Devlin) was the local Catholic priest to whom Nellie—and, less regularly, other family members – would go to confess or to seek advice. He was later replaced with Father Brennan (Philip O'Brien).
Mrs Helen Alice Edie Cumberland (Evie Garratt), better known to Jack as Precious, was Jack's employer for a short while. Jack and Mrs Cumberland were close, as they both had similar interests and Jack enjoyed her company. She offered Jack a £100-a-week wage, which she put on the horses; Jack ended up with a wage of £340, which Precious said helped prove a lot about a person's nature. She and Jack enjoyed sitting on the docks; it was there where she died, when Jack went swimming to get her handbag that she threw in the water. Jack was upset about her death and started a relationship with Precious' niece, Rachael (Hilary Welles).
Mrs Edith Cullen (Sylvia Gatrill) was a nosey neighbour of the Boswell's, who complained to Nellie about their cars, dog and Grandad. She first complained when Mongy was claimed to have bitten her daughter, Amanda. She continued these annoyances until the end of the series.
Mongy was the family dog (short for "Mongrel"). He was usually seen in outdoor scenes shot on location, seldom in studio scenes (most notably series 2, episode 6, when he was recovering from an operation). He met his end when a storyline required him to be run over and killed, reuniting the Boswells in grief.
Other elements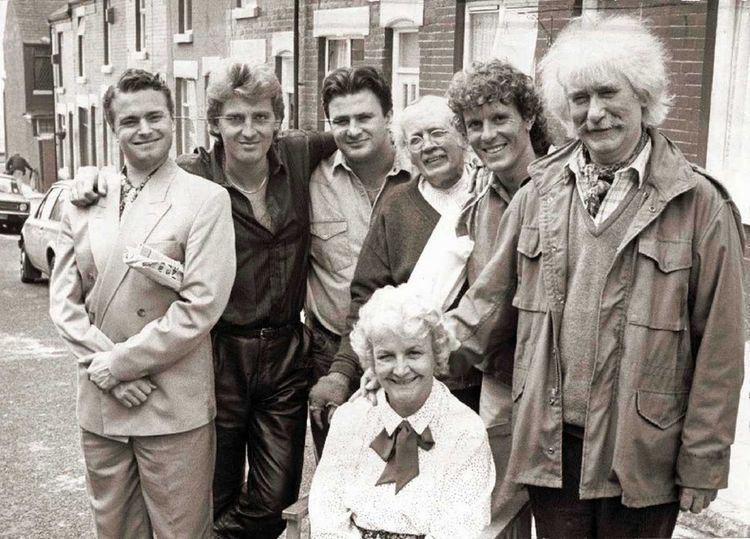 The show's title is a reference to the use of 'bread' however, it is not a Liverpudlian Scouse expression but actually a London term for money (Cockney rhyming slang: bread and honey). A regular scenario in each episode was that of Nellie opening a cockerel-fashioned kitchen egg basket prior to the evening meal into which the family would place money for their upkeep. The amount of money placed in the pot by each depended on how successful a day they'd had. The pot would be at the forefront of the screen at the end of each episode as the credits rolled.
Other frequently-seen scenarios included Nellie answering a cordless phone (a newfangled item in the mid-1980s) which she kept in the pocket of her pinny (she always said "Hello yes?" when answering); and ensuring the parking places outside the terraced house were kept free for the family's many vehicles, by putting out some illicitly-acquired police traffic cones.
The show featured soap opera-style cliffhangers. This meant that viewers had to watch each week to see how the previous week's cliffhanger would be resolved. This also meant that each episode was not self-contained, but the plot unfolded as the series progressed. This was very unusual for a comedy at the time, but has been used to great effect by comedies since.
The theme tune was sung by the cast members and was released on BBC Records but failed to make the UK singles chart. The theme was re-recorded for the fifth series of the show, due to BBC1's transition from mono to NICAM stereo sound – the original theme had been recorded in mono.
A comic strip based on the series featured in the BBC's Teen magazine Fast Forward, although the overall tone was altered for the magazines younger readership.
After the series had finished, a stage play of the show entitled "Bread – The Farewell Slice" toured the UK.
DVD releases
All seven series of the sitcom were released onto DVD on Monday 29 September 2014.
References
Bread (TV series) Wikipedia
(Text) CC BY-SA