Bratz: Fashion Pixiez is a 2007 animated film, based on the Bratz "Fashion Pixiez" collection of dolls.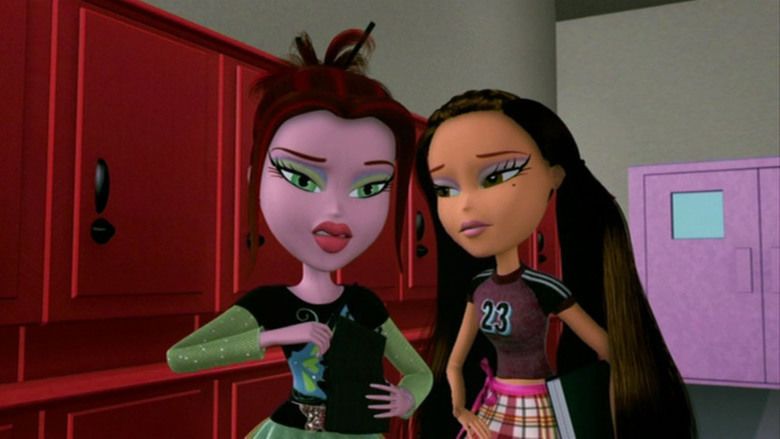 As Chloe and Yasmine attempt to discover why Cymbeline has been acting so strange, they find out more than they ever hoped for. With the help of magical glasses, they discover the world of Pixies. Who better than the Bratz to mix into this new world of unicorns, gnomes, and fashion?
Breeana, Melvino and Cymbeline are in their backyard talking about Cymbelines birthday. Breeana notices Cymbeline acting weird. That night, Breeana follows Cymbeline outside and Cymbeline is swallowed up by a huge red ball. The next day at school, Lina enrolls in chemistry class and immediately Dylan is crushing on her.
After class Breeana tries to ask Dylan out, but he ignores her. A crow steals his backpack and his LBB (Little Black Book) so he follows the crow into the forest on his bike, where he crashes. Lina appears out of nowhere with his LBB and his bike is fixed. She drags him into the pixies lair.
That night, Jade, Yasmin, Sasha, and Cloe go to Cymbeline and Breeanas house, and Chloe and Yasmin sneak in. There they see Cymbeline growing wings, and are chased out by a garden gnome. The next day they follow Breeana into the woods where she was supposed to meet Dylan, and the trap that was meant for Breeana traps Cloe and Yasmin.
Jade and Sasha talk to Cymbeline, Lina, Chloe, and Yasmin. Yasmin and Chloe are dressed like pixies and are rude now, not remembering that they were friends. Jade and Sasha see Breeana crying and her past is revealed along with the pixie world.
At night, they follow Chloe and Yasmin into the woods and discover the pixies lair. They try to perform a counter spell on Chloe and Yasmin, but it fails and Lina tries to bring Breeana to their side. Lina crushes the lair on top of them, but gnomes save them and they fly on pegasus to the Magnolia Ball. There, the dark pixies already have everyone under their spell.
Leena reveals that she was the one to turn Dee Devlin into a tree, and Melvino frees the townspeople and Cymbeline from Linas spells. Melvino fails to stop Lina, and she turns Melvino into a tree. She knocks out Cymbeline, and the girls arrive. They wake Cymbeline up and they perform a counter spell and Dee turns back into a human. Dee then turns Melvino back into a human and with their powers combined turn Lina into a tree where a dog goes to the bathroom on it. After that, the tree starts crying, and its leaves fall off and turn brown. The dog laughs, and the movie abruptly ends.
Critics claimed that the dogs laugh was "too eerily human-sounding," and allegedly, children viewing the movie became upset. In the credits, the voice actor for the dog is never listed, and according to the screenwriters, the dog was never supposed to laugh. "We never even animated that scene," one writer claimed. "We have no idea how or why it exists."