4.4

/

10

Alchetron

Rate This





Developed by

Peggy Nicoll




Directed by

Mucci Fassett




First episode date

10 September 2005






Based on

Bratz by Carter Bryant




Written by

Peggy Nicoll




Composer(s)

Matthew Gerrard




Networks

FOX, CITV, 4Kids TV







Voices of

Dionne Quan Olivia Hack Tia Mowry Soleil Moon Frye Wendie Malick Charlie Schlatter Ogie Banks Josh Keaton Kaley Cuoco Lacey Chabert Maryke Hendrikse Britt McKillip Dorla Bell Britt Irvin




Nominations

Daytime Emmy Award for Outstanding Music Direction And Composition




Cast

Kaley Cuoco, Olivia Hack, Lacey Chabert, Tia Mowry, Soleil Moon Frye
Bratz the animated series opening
Bratz is a computer-animated television series, based on a line of toy dolls of the same name. It is produced by Mike Young Productions, MGA Entertainment, and Lions Gate Television, and premiered on 4Kids TV on Fox.
Contents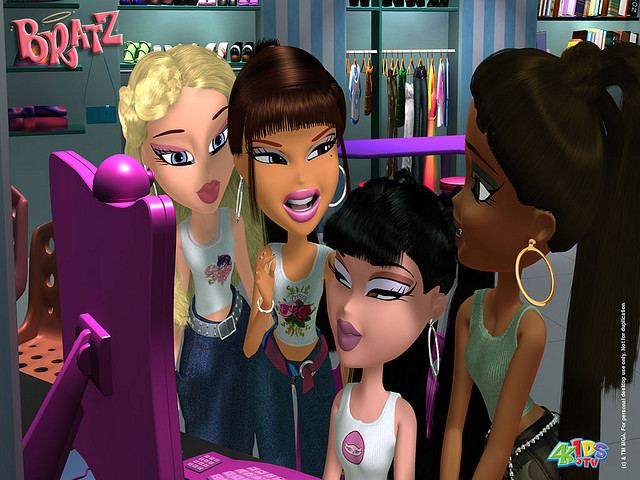 Selfie webisodes episode 1 l bratz
Plot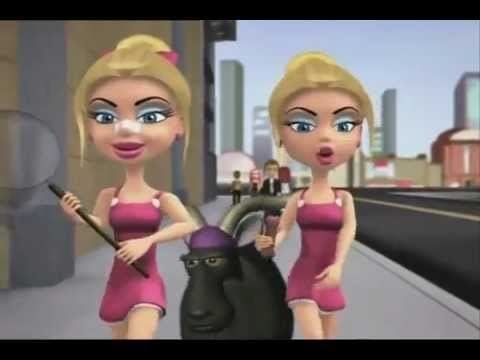 The four main characters are Cloe, Sasha, Jade and Yasmin. The girls live in a fictional high-glam contemporary-style metropolis called Stylesville. They own and run their (own) eponymous magazine company, Bratz Magazine, which was established after Jade was fired from an internship. They also attend Stylesville High where they take their favorite classes, including a fashion course, and they are also cheerleaders. Their rival magazine company is Your Thing Magazine, owned and run by their business rival, Burdine Maxwell, who self-proclaims herself as the "Reigning Queen of Fashion". The girls' adventures are exploited throughout the series, both in and outside of Stylesville.
Bratz Magazine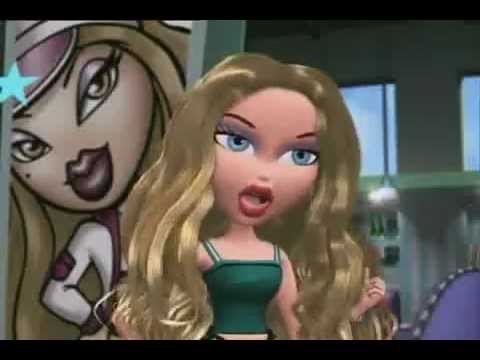 Cloe, a.k.a. Angel (voiced by Olivia Hack in season 1; Britt McKillip in season 2). She is in charge of the "Dear Cloe" column in the Bratz magazine, Cloe is also very dramatic about every situation (Sasha sometimes calls her "Drama Mama" because of this) and prone to outbursts. Nevertheless, Cloe is a very supportive friend. She's very outgoing and is a brilliant speaker therefore good at acting and debating. She is girly and wants to be swept of her feet by her Prince Charming and living in her own world most of the time. Although she has her passion for fashion she dabbles in a tomboy side with skateboarding and rides a motor cycle. She is portrayed as sporty in Bratz the movie (with real people). Her love interest is Cameron.
Sasha, a.k.a. Bunny Boo (voiced by Tia Mowry in season 1; Dorla Bell in season 2). The music editor of the group, Sasha is an avid music lover and a talented hip hop dancer. Sasha is a perfectionist and can be quite controlling this gets her into trouble. However, Sasha has a good heart and admits to her wrongs in the end. She is portrayed quite tomboyish and often wears cargo, she is never afraid to show her opinion and will always stand up for what's right. She sometimes comes across as hotheaded but will do anything for her gal pals. She does not have a set love interest.
Jade, a.k.a. Kool Kat (voiced by Soleil Moon Frye in season 1; Britt Irvin in season 2): The fashion editor of the group. Jade is genrally very bubbly and strives to achieve. She is a real fashionista with nothing to hide, she's open and friendly. Jade can be sensitive also, when she got fired from her internship at "Your Thing" magazine by Burdine Maxwell, it was then the girls decided to make their won magazine. Jade is fierce and very flirty. She doesn't have a specific love interest on the show because she is mostly dating and has quite a few different boyfriends and dates.
Yasmin, a.k.a. Pretty Princess (voiced by Dionne Quan in season 1; Maryke Hendrikse in season 2). The soft and quiet one in the group, Yasmin also has a passion for literature and animals. She is the most sensitive and sweet. She is generally friend orientated but a very intelligent individual. She is very smart and cares about others passionately therefore owning her own animal shelter. She often helps the others with school work therefore indicating she has quite high standing marks out of all the girls. Her love interest is Eiten, a boy her works at the smoothie stand the main characters often hang.
Your Thing Magazine
Burdine Maxwell (voiced Wendie Malick in season 1; Ellie Harvie in season 2), the head of Your Thing Magazine who is unintentionally responsible for Jade and her friends creating Bratz Magazine since she was the one who fired Jade in the first place. Burdine is quick to anger, impatient, and bossy, traits she does not show towards her pet Miniature Pinscher Royale. A running gag in the show is that whenever a person says something that Burdine finds insulting, she will say "Do you know who I am? I am Burdine Maxwell: The Founder, President and Editor-in-chief of Your Thing Magazine, and the reigning Queen of Fashion". The "Tweevils" have a tendency to call their boss "Birdface" among other names, but only when Burdine is not around. Like the "Tweevils", Burdine is also a twin and has an almost identical sister named Burnice.
Kirstee Tweevil (voiced by Kaley Cuoco in season 1; Ashleigh Ball in season 2), one of two twin sisters. Kirstee seems to be the oldest of the "Tweevils" because of her maturity and dominance over her sister.
Kaycee Tweevil (voiced by Lacey Chabert in season 1; Kelly Sheridan in season 2), the other twin in the duo, Kaycee appears to be slightly unintelligent compared to Kirstee who often calls her "dumbsicle". The two do not get along very well, often getting into short fights. Kaycee wears a bandage on her nose, according to Sasha, this was a results of three nose jobs following accidents involving it, the nose is commonly used in a running gag where if Kaycee (or something/someone else) hits her nose, Kaycee will say "Ow, my nose!".
Supporting
Cameron (voiced by Charlie Schlatter), a good friend to the Bratz, he seems to have feelings for Cloe.
Dylan (voiced by Ogie Banks), another boy who has a (unintentional) habit of annoying the Bratz, usually resulting them in saying "Goodbye Dylan.".
Eitan (voiced by Josh Keaton), a boy who works as the apparent sole employee of a smoothie bar in the mall area of Stylesville, he does not appear as often as Cameron and/or Dylan. He is in love with Yasmin and in one episode, agreed to ask Yasmin out on a date while in turn, the others would make a magazine article based on it. However, Yasmin learns this from the "Tweevils" and rejects Eithan in anger, although they later recollide near the episode's end.
Byron Powell (voiced by Jonny Rees), a man from England whom the Bratz (along with Cameron and Dylan) first met in Bratz: Rock Angelz. He appears to be a parody of Simon Cowell.
Nigel Forrester (voiced by Jonny Rees), a British boy who briefly had a relationship with Cloe. She broke up with him after he made blatant comments about her friends.
Episodes
The Bratz television series follows the adventures of Cloe, Yasmin, Jade, and Sasha after their return from London at the end of the Bratz: Rock Angelz movie. The series was originally released in episode sets, and later editioned into Season One (Bratz: OMG! Collection) and Season Two (Bratz: Totally Stylin' Collection) packaged sets.
Reception
Despite positive reviews from fans, Bratz earned extremely negative reviews from conservative groups. Common Sense Media gave the show a 1 star rating, saying that the show might be a bad influence towards kids. Saying "Bratz are the modern-day Barbie dolls whose vampy appearance has upset many parents seeking healthy role models for their daughters.
Broadcast history
The show originally aired on 4Kids TV on Fox, but it is also aired on other networks. It was aired on Kabillion since it was launched. In United Kingdom, it aired on Channel 5 and CITV. From 2009-2015, the cartoon also aired on Bommerang.
Ratings
The first season had very good ratings despite some criticism. However the second season had low ratings due to the original voice actors not returning, which led to the show's cancellation. The TV series was shown on CITV in the UK where it was popular with young girls, and had a peak of 51,000 viewers.
References
Bratz (TV series) Wikipedia
(Text) CC BY-SA