Brandon Nozaki Miller, commonly known as both "Electric Cowboy" and "Sparky", is the world's first motorcycle racer to get licensed to race on an electric motorcycle, and went on to become the world's first professional racer to have never ridden a motorcycle powered by anything other than electricity. He was licensed at CVR (Chuckwallah Valley Raceway) with CVMA (Chuckwallah Valley Motorcycle Association) and TrackDaz. CVMA is the first motorcycle organization to license any racer on an electric motorcycle. As part of his progress and to challenge the stigma surrounding electrics when he first came into the sport, he made a point to show that production electrics were ready for everyone be they racers or not by competing in events like Pikes Peak, TTXGP, Mike Cooks Bonneville Landspeed shootout, MWGP, and even competed in M1GP which held the first US electric only club racing series.
Contents
CVMA
Licensed
2012 Winter season
2013 Summer & Winter Seasons
2014 Winter Season
2015 Winter Season
Pikes Peak International Hill Climb (PPIHC)
2013 PPIHC
2015 PPIHC
TTXGP
2013 US rounds with MotoGP
Moto West Grand Prix
2014 MWGP
2015 MWGP
Moto 1 Grand Prix
2013 MWGP
2014 MWGP
FIM World Landspeed Records
2012 FIM 150 kg (330 lb) Kilometer 103 mph (166 km/h) at Mike Cook's Bonneville Landspeed Shootout
2012 FIM 150 kg (330 lb) Mile 102 mph (164 km/h) at Mike Cook's Bonneville Landspeed Shootout
Brandon was the first person to "break the ton" (go over 100 mph) in the 150 kg Unfaired Electric Motorcycle Class. He holds the FIM/AMA landspeed records for 150 kg unfaired electric motorcycle in the mile, 101.652 mph, and the kilometer, 102.281 mph. He first set these records using a stock 2012 production Zero Motorcycles ZF6, breaking the previous record of 68 mph a speed of 96 mph for two FIM/AMA world records and setting a brand new AMA record for fastest modified production electric motorcycle, all of which he broke two more times in the following two days resulting in his final records over 100 mph. Nozaki Miller set his records at the Bonneville Speedway in Utah.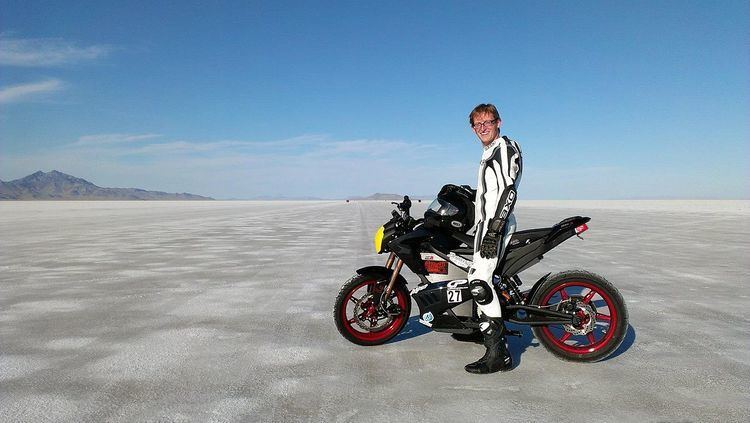 References
Brandon Miller (motorcyclist) Wikipedia
(Text) CC BY-SA