Website

www.brandonbird.com





Name

Brandon Bird






Patron(s)

Artist-in-Residence at Cornell University from 2004-2006




Education

University of California, Santa Cruz




Artwork

Bad Day on the High Sea, Lazy Sunday Afternoon




Profiles




Tumblr
Argcs richmond top 4 brandon bird vs patrick hoban
Brandon Bird is an American illustrator and cartoonist.
Contents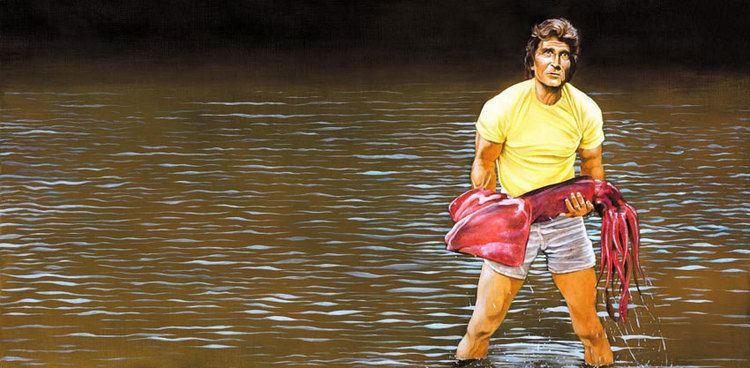 Early life
Brandon Bird was born in 1980 in Carmichael, California, a suburb of Sacramento. He attended University of California, Santa Cruz and was an artist-in-residence from 2004-2006 at Risley Residential College at Cornell University. His most common medium is oil paints on canvas, but he has shown the ability to work with a multiplicity of artistic genres, including pen and ink and digital mediums. In 2013, Chronicle Books published a collection of his work, Brandon Bird's Astonishing World of Art.
Career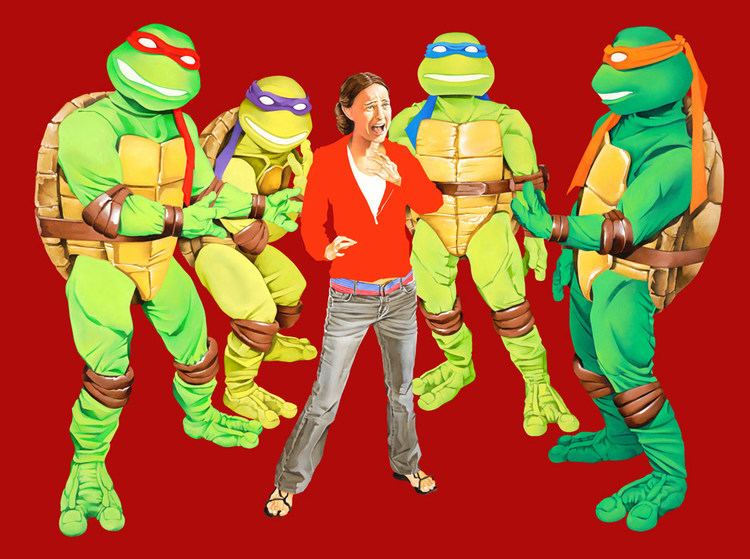 Bird tends to paint figures from history and popular culture such as Christopher Walken, Chuck Norris, and Abraham Lincoln, in absurd situations. He has also organized four "weird art shows": Law & Order: These Are Their Stories consisted solely of paintings inspired by the TV series Law & Order and featured art by Bird and contemporaries such as Michael Kupperman, Jason Polan, and Kate Beaton, The Norton Anthology was a group of portraits of Edward Norton, the western-themed Days of Boom and Bust: New Art from the Gold Rush, and an earlier Law & Order-themed show, "Artistic Intent" in 2003.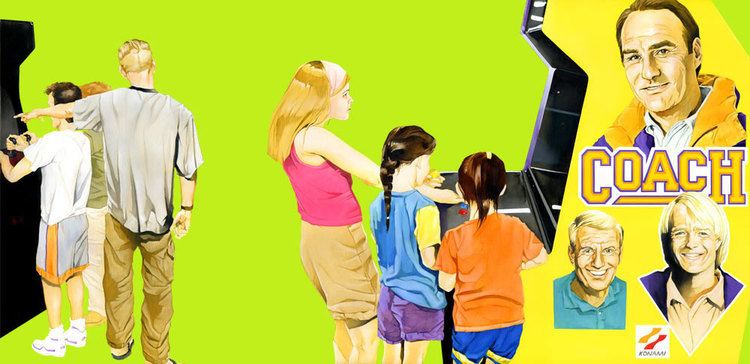 On January 20, 2004, Bird's Law & Order-inspired coloring book, Law & Order: An Adventure to Color!, was presented to the show's star, Jerry Orbach, on Late Night with Conan O'Brien. Bird's work was featured in a July 2010 Newsweek gallery entitled "Portraits of Celebrity Weirdness", giving an overview of his works and the inspiration behind several of his paintings.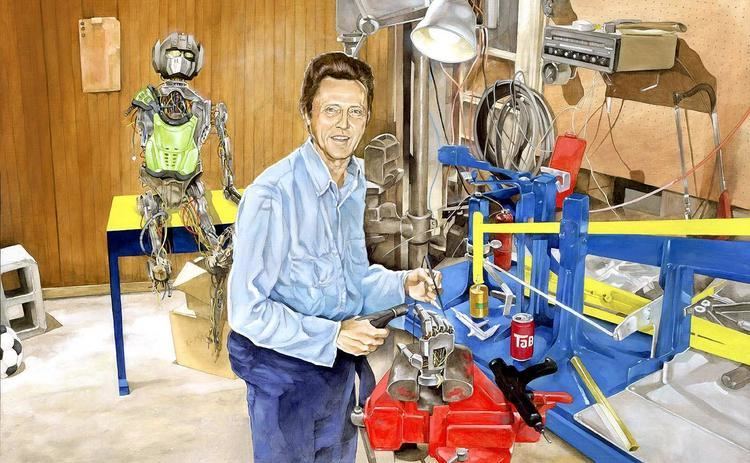 He is a regular contributor to The Believer. He has also done work for Las Vegas Weekly.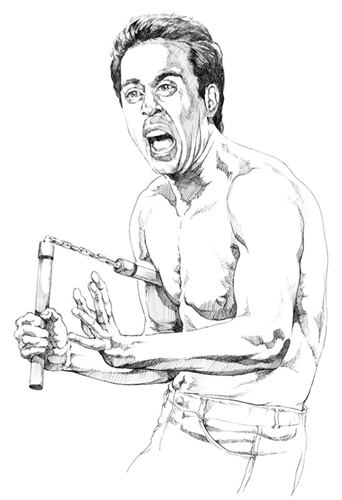 Bird is a longtime friend of California rock band The Aquabats, and has designed many of their T-shirts and promotional material. Most notably, he painted the covers for their 2004 EP Yo! Check Out This Ride! and the "One Year Anniversary Edition" of their 2005 album Charge!!, as well as having illustrated a coloring book entitled "Trouble at the Rodeo". More recently, he has contributed to the band's television series, The Aquabats! Super Show!.
His website won a 2005 People's Voice Webby Award under the "Weird" category. He is an associate member of the International Academy of Digital Arts and Sciences.
Reviewing his work for tor.com, Bridget McGovern said that "it's really not an exaggeration to say that Brandon Bird has managed to capture the soul of everything fun about pop culture in paint and canvas."
Original works
These are some examples of the work displayed on Bird's website:
The Anguish - Michael Landon lamenting the death of a Humboldt squid
Arete - A portrait of Chuck Norris shirtless
Bad Day on the High Sea - A battle between a tyrannosaurus rex, sperm whale, and giant squid
Beard with Authority - A portrait of Chuck Norris with a cowboy hat
Brave Cone Dog - A black and white dog wearing an Elizabethan collar on a yellow background
The Death of Jennifer Sisko - A classical retelling of the death of Benjamin Sisko's wife, Jennifer. As seen in the premiere episode of Star Trek: Deep Space Nine.
The Dreamer and the Dream - L. Ron Hubbard sitting in his underwear, eating Funyuns and pizza
Elysium - Mr. T traveling into Elysium, being welcomed by the goddess Athena
Fortean Norton - A portrait of Edward Norton amidst a surreal backdrop that includes the Mothman
Husky Ne'er-do-well - Jabba the Hutt and a goat in front of an African mountain
Killing Machine - Bea Arthur wrestling with velociraptors
King of the Cage - A steel cage match featuring Abraham Lincoln
Lazy Sunday Afternoon - Christopher Walken in his garage, building C-3PO wearing a BMX chest protector with a head based on Hoist.
The Lesson of the Geese - Captain Benjamin Sisko flying with a gaggle of Canada geese
Norton by Bird - A miniature Edward Norton on a cherry branch in a Japanese art style
Norton Defiant - A portrait of Edward Norton
Of Bajor - A five-part map-style depiction of the planet Bajor from Star Trek: Deep Space Nine. An extrapolation of events past the conclusion of the series, Captain Sisko has returned to life and resides with his new family in the house he promised to build.
Prelude to the Magic Hour - A landscape of a Sears store
Tartarus - Mr. T traveling into Tartarus, which is guarded by Cerberus
Those that Bind - A Cubist portrait of the cast of Family Ties
Two Warriors Come Out of the Sky - A cave painting featuring The Dukes of Hazzard
Vulture Man - A portrait of Jerry Orbach with exaggeratedly long legs
Waiting for Adventure - John Tesh, looking cool
Commissioned works
Cash Comics - A parody of Golden Age comic book covers, featuring Johnny Cash, for Bird's friend Caleb
The Last Supper - A parody for Richard Kyanka (of Something Awful fame) of Leonardo da Vinci's The Last Supper, where Jesus and the Twelve Apostles are each James Woods, except John, who is RoboCop
Man of Tomorrow - A full-body portrait of Rod Stewart wearing a Clone Pilot uniform, not to be confused with the Imperial Stormtrooper
A Night Away - A scene of Jerry Orbach and Sam Waterston from Law & Order sitting around a campfire, playing acoustic guitar and singing, for Joy MacCay
Our Last, Best Hope - Another James Woods-central commission for Richard Kyanka, in which five instances of James Woods pose with guns, dressed as members of Stony Man
Yo Guernica! - A parody for Zack Parsons (also of Something Awful fame) of Pablo Picasso's Guernica featuring an attack by Cobra from G.I. Joe
Charge!! One Year Anniversary Edition - A cover design for the one-year anniversary special edition re-issue of The Aquabats' 2005 album Charge!!.
Yo! Check Out This Ride! EP - The cover of the Aquabats 2004 EP depicting members of the Aquabats on horses with one lassoing a creature.
References
Brandon Bird Wikipedia
(Text) CC BY-SA