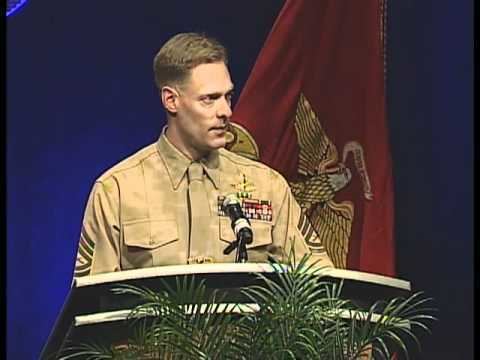 A U.S. Reconnaissance Marine, Colbert is nicknamed the "Iceman" by his colleagues, for his ability to stay calm in battle and his overall military competency. During the War in Afghanistan, he was awarded the Navy and Marine Corps Commendation Medal for valor for his role in taking out an enemy missile battery. In the Iraq War, his platoon, the 2nd Platoon of Bravo Company of the 1st Reconnaissance Battalion led by Lieutenant Nathaniel Fick, was often at the spearhead of the initial invasion, with his team, of which he was team leader, often on point.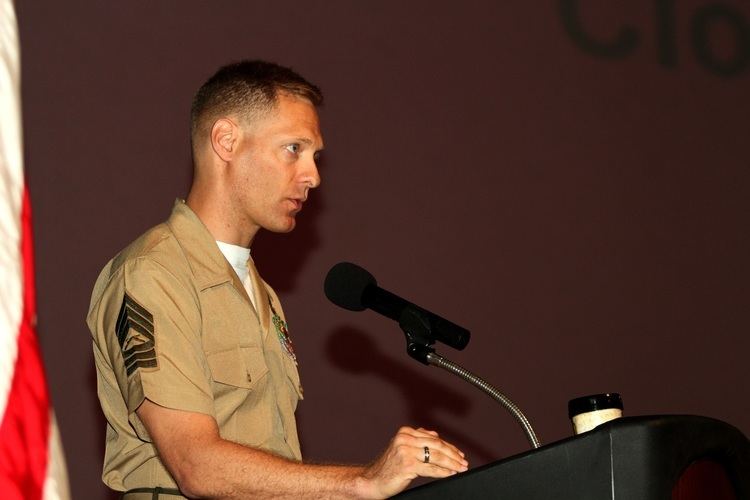 For his efforts during the Iraq War, Colbert received a combat meritorious promotion to Staff Sergeant and went on to serve two years with the Royal Marine Commandos. He was later promoted again to Gunnery Sergeant and served as the Company Gunnery Sergeant of H&S Company of 1st Recon. He served two additional tours in Iraq and left the Reconnaissance community in 2010.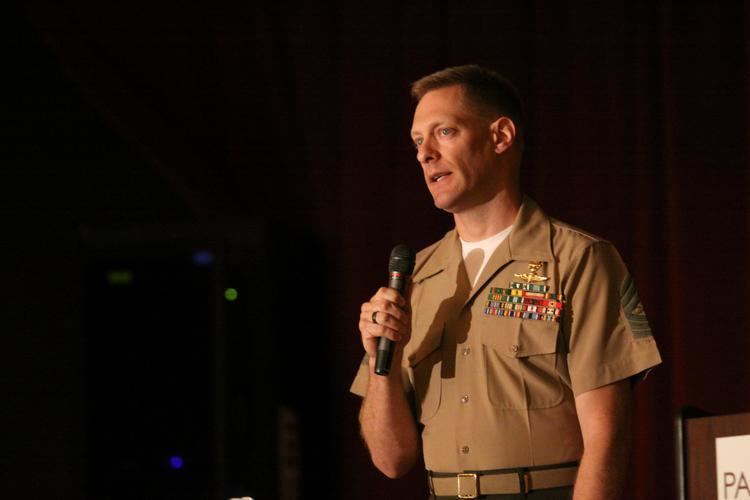 As of October 2012, Colbert was a special skills operations chief at the U.S. Army's airborne school at Fort Benning, Georgia. He is responsible for "making sure that Marines who attend the program receive the necessary skills and meet their requirements. He also regularly leaps from C-130s to reinforce proper jump techniques."
This following Information was provided by MSgt Colbert himself and is most up-to-date as of May 2014:
Master Sergeant Brad Colbert enlisted in the Marine Corps in November 1995, attended Marine Corps Recruit Depot San Diego, and was trained as a rifleman at the School of Infantry where he graduated as a meritorious Lance Corporal in 1996. Following SOI he received orders to 3rd Marine Division, 3rd Recon Company, Okinawa Japan. He graduated the Basic Reconnaissance Course in 1996 and Marine Combatant Dive School in 1997 and deployed with the 31st MEU, and a SPMAGTF to China.
He was meritoriously promoted to Corporal in 1998 and received orders to 1st Recon Company, Camp Pendleton, CA October that same year. While there, he deployed with the 11th MEU in 1999 as a point man, and was promoted to Sergeant before reenlisting that same year. Upon his return in 2000 he attended SERE school and the Basic Airborne Course, and the Summer Mountain Leaders Course. In 2001 he deployed with the 15th MEU as a team leader and participated in Operation Enduring Freedom after September 11, 2001.
In 2002, he attended Military Free Fall School and began preparations to deploy with 1st Recon Battalion. In 2003 he deployed to Kuwait and Iraq in support of Operation Iraqi Freedom as a team leader during which he was combat meritoriously promoted to Staff Sergeant. Upon his return he was voted as team leader of the year by the Force Recon Association and selected as NCO of the Year by the 1st Marine Division Association. In 2004 he attended the SNCO Course, the Formal School Instructors Course, and graduated honor graduate of the Winter Mountain Leaders Course.
In April 2004 he assigned to 10th Training Squadron, 1st Assault Group Royal Marines, in Poole, England as part of the exchange program. Upon his return he was assigned to 1st Force Recon Company and attended the Multi-Mission Parachute System Transition Course before being assigned to 1st Recon Battalion. While serving as a team leader in the newly created Delta Company, he attended the Emergency Medical Technician Course. In 2007, he was promoted to Gunnery Sergeant and assigned as a platoon sergeant in Charlie Company where he again deployed to Iraq in support of OIF. Upon his return, he served as the Company Gunny Sergeant for Headquarters and Service Company until being assigned as a Platoon Sergeant for 1st Platoon, Alpha Company, attached to the 11th MEU. In 2008 he graduated Jumpmaster School, the Dynamic Breachers Course, and the Breachers Instructors Course before deploying with the 11th MEU in 2009.
Upon his return in 2010 he attended the SNCO Course before executing orders to Fort Benning, GA as a jumpmaster instructor and graduated from Military Free Fall Jumpmaster Course. In 2011 he filled the newly created Special Skills Operations Chief for the Marine Detachment Fort Benning and was promoted to Master Sergeant in 2012. In 2014 he received orders to Marine Corps System Command where he currently serves.
Master Sergeant's personal decoration include the Meritorious Service Medal, Navy and Marine Corps Commendation Medal with V (gold star in lieu of third award). Army Commendation Medal, Navy and Marine Corps Achievement Medal (gold star in lieu of fourth award), and the Combat Action Ribbon (gold star in lieu of second award).
Military.com reported that in July 2016, Colbert was still on active duty as a project officer for Raids and Amphibious Reconnaissance at Marine Corps Systems Command, Colbert retired from the Marine Corps as a master sergeant on October 24 2016.
Colbert is a speaker on post-combat stress issues for the Heroes and Healthy Families organization. Colbert was adopted into a Jewish family, although he is not religious.
In the HBO mini-series based on Evan Wright's 2004 book, Generation Kill, Colbert is portrayed by Swedish actor Alexander Skarsgård.