President obama s bilateral meeting with prime minister boyko borissov of bulgaria
Boyko Metodiev Borisov (Bulgarian: Бойко Методиев Борисов, [ˈbɔjko mɛˈtɔdiɛf boˈrisof]; born 13 June 1959) is a Bulgarian politician who has been the Prime Minister of Bulgaria since 4 May 2017. He had previously held the post of Prime Minister on two separate occasions, from 2009 until 2013 and from 2014 until January 2017. He was also the Mayor of Sofia from 2005 to 2009.
Contents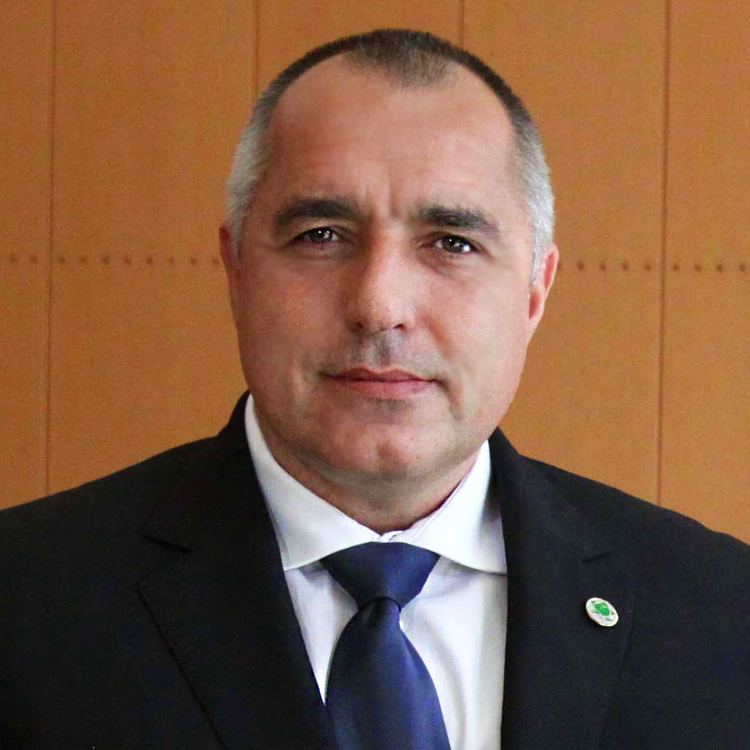 Borisov occasionally plays as a forward for the football club FC Vitosha Bistritsa. In 2013, he became the oldest player ever to play for a Bulgarian professional club when he appeared for Vitosha in the B Group, the second division of Bulgarian football.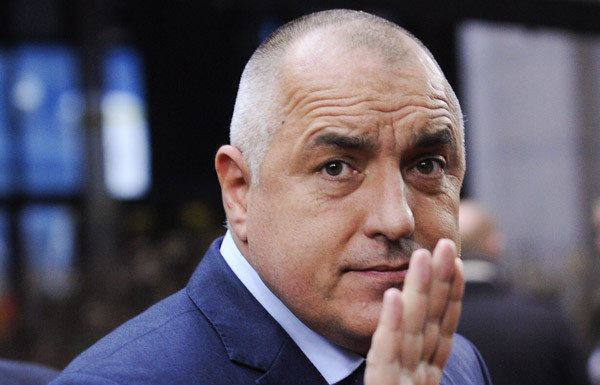 David cameron meets bulgarian prime minister boyko borisov in sofia
Early life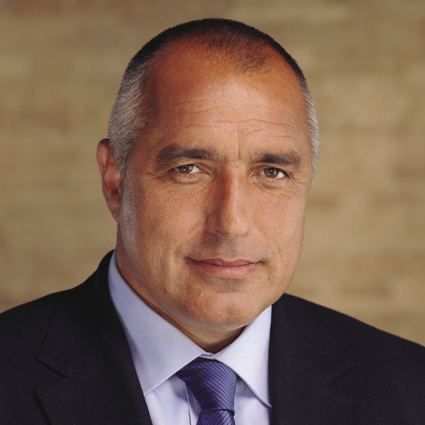 Borisov was born in 1959 in Bankya (then a village, today a town that is part of greater Sofia) to Ministry of Internal Affairs official Metodi Borisov and elementary school teacher Veneta Borisova. In 1977, Borisov graduated from Bankya's high school with excellent marks. Between 1982 and 1990, he assumed different positions in the Ministry of Internal Affairs as a firefighter and later as a professor at the Police Academy in Sofia. As a National Security Office member, Borisov took part in the protection of crops and haylofts during the name-changing campaign towards ethnic Turks in the 1980s. From 1985 to 1990, Borisov was a lecturer at the Higher Institute for Police Officers Training and Scientific Research of the Ministry of Interior.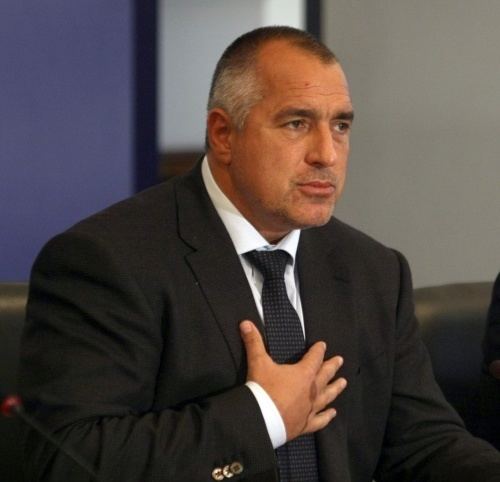 Borisov quit the Ministry in 1990. In 1991, he founded a private security company, Ipon-1, and later guarded "Bulgaria's communist dictator Todor Zhivkov after he was pushed from power in 1989", as well as for Simeon II. Borisov has been claiming participation in karate championships since 1978, serving as the coach of the Bulgarian national team and a referee of international matches. He said to United States President Barack Obama that he has a 7th dan black belt in karate, but his coach argued this being not true, and claimed that Borisov has never been even a karate competitor, but only an administrator of the team. He is the chairman of the Bulgarian Karate Federation. Borisov has also been a coach for the Bulgarian national karate team for many years.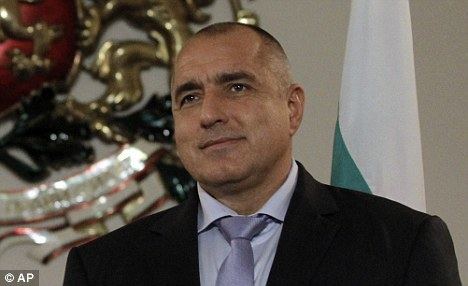 Borisov is divorced, but for a number of years lived with Tsvetelina Borislavova, head of Bulgarian American Credit Bank. Borisov has a daughter, Veneta, from his former marriage to the physician Stela. Borisov also has a sister, Krasimira Ivanova. Borisov's great-grandfather was executed in the wake of the Bulgarian coup d'état of 1944.
Civil service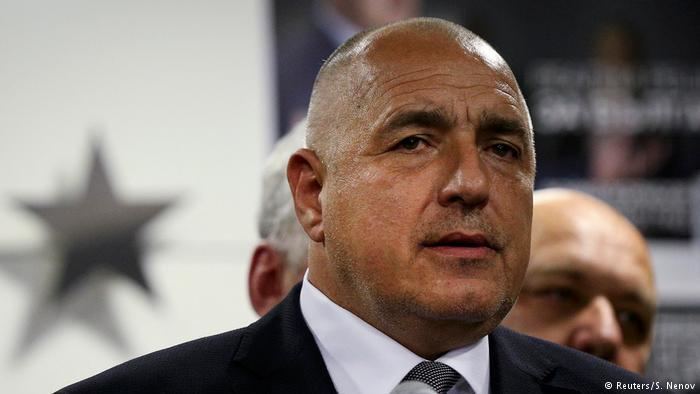 Boyko Borisov was the Chief Secretary of the Bulgarian Ministry of Interior between 2001 and 2005, with the rank of General. During that period he is famous for getting the notorious mobster Sreten Jocić apprehended.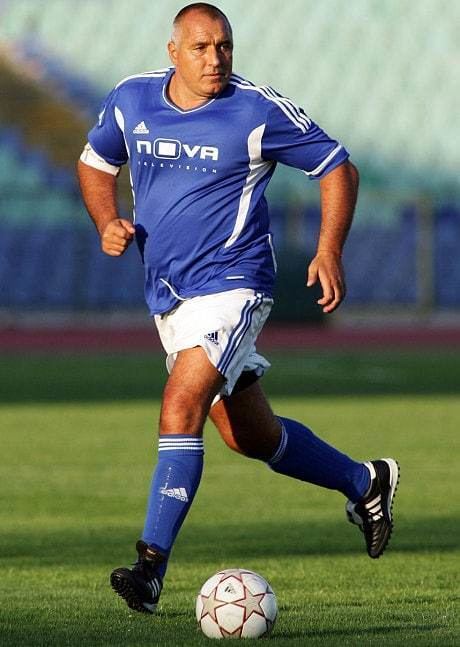 In the 2005 parliamentary elections he was a parliamentary candidate of the National Movement Simeon II; he was elected in two regions but decided to retain his job as Chief Secretary of the Ministry. Later in 2005 he resigned from that post, instead standing as a candidate in the 2005 mayoral election in Sofia. He was elected as Mayor and succeeded Stefan Sofiyanski. He was re-elected in the 2007 mayoral election.
Founding of GERB
Borisov founded a new political party, GERB in December 2006 (in English Coat of Arms, derived from "Grazhdani za evropeisko razvitie na Bulgariya" or "Citizens for European Development of Bulgaria"). GERB won the first Bulgarian European Parliament elections on 20 May 2007, despite a very low poll attendance and turnout of 28.6%, which prompted Borisov to voice his wish for early parliamentary elections. Following a party congress in January 2010, Borisov became the official leader of GERB (of which he had been only an "informal leader"), thus replacing Tsvetan Tsvetanov, who had served under Borisov at the Ministry of Internal Affairs, and later as a vice-mayor of Sofia.
First term as Prime Minister of Bulgaria
Form more information on the cabinet, see First Borisov Government.
Borisov's party GERB also won the parliamentary election on 5 July 2009 by collecting 39.71% of the popular vote and 116 of the 240 seats in parliament. Since 27 July 2009 Borisov served as Prime Minister of Bulgaria in a GERB-dominated centre-right minority government with parliamentary support from three other parliamentary groups, including the nationalist party "Ataka". He invited several non-party affiliated experts to the government, most prominent among them Simeon Djankov, a former high-ranking World Bank official, and Rosen Plevneliev, manager of a large German subsidiary in Bulgaria.
Domestic policy
Borisov's policies were mostly aimed at curbing corruption in the public administration and building an adequate infrastructure. One of the main goals in this direction was the expansion of the national motorway network, of which Lyulin was the first motorway to be completed. The government has also approved a strategy for the development of the energy sector until 2020, which includes the completion of gas interconnectors with Greece, Romania, and Turkey and expanding renewable energy capacities. The Borisov government stopped the Belene Nuclear Power Plant project after the Fukushima Daiichi nuclear disaster. The acquisition of European funds has also increased from 2.6% to 20%.
According to France24, "Once in power, he toured the country incessantly to inaugurate infrastructure projects but failed to enact structural reforms or to tackle the rampant corruption and organised crime that Brussels has long complained about."
Specialised police actions have tackled corruption in the administration and a number of high-profile members of the organised crime have been imprisoned, though there has been (as of May 2011) little improvement in the rule of law. At the same time the government has received criticism from other EU members due to the erosion of media freedom, falling attractiveness for investors and continuing mafia activities. These criticisms have been leveled repeatedly against Deputy Prime Minister Tzvetan Tzvetanov, who is formally under investigation for wiretapping members of the government and parliament. During his court trial, his actions were found to be justified. In January 2011 Euractive wrote, "The ineffective judiciary has been largely unable to send to jail any high-profile criminals."
Borisov is a strong supporter of the total smoking ban. Although initially removing the ban introduced by the previous government, the Borisov Cabinet re-introduced it in 2012 with the aim to reduce the number of smokers from 40% of the population to about 15–20%.
During its term, Borisov's first government also achieved the second-lowest debt burden in the European Union, and the third-lowest budget deficit in the European Union. Parliament also adopted changes in the organic budget law that mandate budget deficits below 2% of GDP in any one year. These changes were fashioned after a similar legal change in Germany and have the effect of curbing wasteful government spending. The strong fiscal policy is the main achievement of the GERB government. For it Boyko Borisov has received accolades from Angela Merkel, David Cameron, José Manuel Barroso and Barack Obama.
The first Borisov government also initiated administrative reform by cutting the number of ministries and agencies. Two ministries were subsumed by others already in November 2009. Next was the streamlining of government agencies. In 2010, a full list of these agencies was compiled – 122 in all. After a month's work, 30 were slated for closure. Here the reform team incurred the wrath of labor unions and ex-government officials, who at the same time argued that streamlining was necessary but these were the wrong "victims." The government moved ahead and within one year of the start of reforms the government payroll was reduced by 13,000 (out of 110,000 initially). Still, the number of government entities and bureaucrats remained higher than a decade earlier, which was the desired goal. The next step was to create a common salary and promotion structure for the whole administration, starting in 2011. Prior to that, a patchwork of nearly 90 separate laws regulated the pay of public officials in different parts of the government. As a result, some administrations were paid three times more than others, for comparable tasks and responsibilities. Some administrations had double the paid annual leave of others. Some had a bonus system in place; others paid out only fixed salaries. Putting all this into one law required significant work by Parliament - over 200 pieces of legislation had to be amended.
Image
Boyko Borisov's "man of the people" attitude and the failings of the previous government have been seen as the main sources of his popularity. Borisov had also marked a very wide media presence, being regularly cited in most major media outlets and had made a total of 1,157 statements from his election to the end of 2010. This trend continues, as Borisov and his party completely dominate the country's media reports, his name being mentioned in more than 8,000 news articles for 2012. He has also been the subject of a number of sycophantic plaudits on the part of his supporters, including a poem lauding his "dignified leadership". In July 2012, he was included as a "historical personality" in history books for high school students, along with former GERB minister Rosen Plevneliev and European commissioner Kristalina Georgieva. Borisov's popularity has been steadily declining due to ongoing scandals surrounding his most-trusted ministers - Tzvetan Tzvetanov and agriculture minister Miroslav Naydenov. After a public row due to leaked wiretapped conversations between Boyko Borisov, Miroslav Naydenov and the deputy prosecutor general, Boyko Borisov distanced himself from the former agriculture minister and he was excluded from GERB.
In December 2011, Borisov, who occasionally plays as a striker for third division side F.C. Vitosha Bistritsa, collected 44% of about 8,000 votes in a fans' poll to crown Bulgaria's Footballer of the Year, ahead of then-Manchester United striker Dimitar Berbatov. Following the result, Borisov called for the award to be annulled, claiming it was a protest vote against the poor conditions of Bulgarian football.
Borisov's hardline governing style has received criticism by some media outlets, described by some as authoritarian.
Resignation
Following the eruption of nationwide protests on 12 February 2013 over high energy costs, low living standards and corruption, Borisov and his government resigned on 20 February. Prior to that, Borisov had accepted the resignation of Finance Minister Simeon Djankov – following a row over farm subsidies – and promised a cut in power prices and punishing foreign-owned companies – a potential risk in damaging Bulgaria-Czech Republic relations – but protests continued. He then said: "I will not participate in a government under which police are beating people." The Bulgarian parliamentary election, 2013 due in summer were brought forward to 12 May 2013. The resignation of Simeon Djankov was a blow to the center-right credentials of Boyko Borisov, since Djankov spearheaded the reforms during their term in office. He was also regarded as able manager of the public administration. In 2013 Djankov became an adjunct lecturer in public policy at the Harvard Kennedy School. In 2013 he also was appointed Rector of the New Economic School in Moscow.
The European People's Party has expressed support for Borissov a month before the 2013 parliamentary elections.
Later in April, Borisov's former Agriculture minister Miroslav Naydenov revealed that the government has spied on several cabinet ministers, business figures and the opposition under orders of Tsvetan Tsvetanov, deputy chairman of GERB. Several members of parliament have corroborated these claims, as well as members of the wiretapping unit in the Interior Ministry.
Second term as Prime Minister of Bulgaria
Form more information on the cabinet, see Second Borisov Government.
Domestic policy
During Borisov's second government, the business climate and promised reforms took a nosedive. "Reforms failed to get off the ground, in particular changes to the justice system and plans to help cash-strapped schools and the creaking health care system."
Additionally, Bulgaria's parliament rejected an anti-corruption law.
Business climate
Bulgaria's business climate deteriorated under Borisov's second government. Chiefly, longstanding corrupt Bulgarian schemes and practices either scammed foreign investors or dissuaded foreign investments altogether. Business was also stifled by rampant corruption. Two examples are the Vitosha-Ultrastroy construction scandal and the controversy over public tenders to companies connected to Members of Parliament such as Deylan Peevski and Yordan Tsonev.
The Vitosha-Ultrastroy construction scandal
Borisov and Deylan Peevski are connected to the Bulgarian company Vitosha, which engaged in a common practice in Bulgaria of "judicial tricks and scams." The Vitosha-Ultrastroy case involved the abuse of the court system's bankruptcy proceedings to take money from, abandon, and leave in ruins an Israeli foreign investment project. The Israeli investors were ultimately tied up in years of court proceedings and left holding the bag for their investment.
Background and the "Belvedere scandal" scam
Around 2006, a group of Israeli investors formed a Bulgarian company called Vitosha Resort 2000 Ltd. to invest in an upscale gated-community housing project near Sofia. Vitosha hired the Bulgarian company Ultrastroy Ltd. to do the construction. The two companies agreed to a ten-stage work plan. According to Bivol, "After the completion of each stage, the two sides have exchanged protocols for their work, and then the work has been paid for." Vitosha (the Israeli investors) paid Ultrastroy (the Bulgarian construction firm) over 12 million levs through phase nine (of ten), until the project was nearly completed.
To conclude the contract, all that was left was completion of the final tenth stage. However, the two companies had a dispute: Vitosha (the investors) "asked to have certain defects removed by the construction company before the final payment. The builders [Bulgaria's Ultrastroy], however, have refused to sign the final protocol and to hand in all construction documents. Instead, they have willfully sent Bills of Quantities based on a unilaterally defined built-up area and have presented a claim for about 1.4 million euro."
In early 2012, the construction company left the site incomplete and removed all its equipment. Naturally, Vitosha didn't pay the last installment. According to Bivol, "With this, the last due installment remained unpaid because, for the investors, the contract was not fulfilled."
What happened next was a mix of "judicial tricks and scams" reminiscent of the infamous "internationally known 'Belevedere' scandal." In the case of Belvedere, a combination of tricks and scams were used to seize a "lucrative business of foreign investors. These tricks involve private companies, official legislative institutions and acting magistrates, teamed up with political cover-up, thugs and corrupt backstage circles."
In the Belvedere case, there was an attempt to seize Belvedere (a French company) through "deliberate bankruptcy cases."
According to Bivol, "Such has been the approach to the Israeli businessmen, who brave and naive enough to invest in Bulgaria, [were] unaware of the warm connections between the mafia and the judiciary."
"Judicial tricks and scams" through bankruptcy proceedings
Ultrastroy initiated low-cost bankruptcy proceedings against Vitosha using "expert reports" that concluded that Vitosha was "overindebted." These were grounds for the bankruptcy case to move forward.
Bivol noted that because the investments by Vitosha were made by shareholders (foreign nationals from Israel), the court's logic was that Vitosha was overindebted because the company had a commitment to its shareholders to make a profit on their investment. Because the project wasn't finished (due to the Bulgarian construction company picking up and leaving at the very end), there was no profit.
The court handling the bankruptcy recognized Vitosha's debts only to Ultrastroy, not to the Vitosha's own investors/owners.
By using a special process called "low-cost legal proceedings", the construction company made Vitosha "compliant to the appointed trustee" and therefore prevented Vitosha from claiming construction defects and delays.
The presiding judge in the case was Hayguhi Bodikyan, whose name became well-known from the Belvedere case.
The trustee in the case declared that because of the danger of property plundering, that the debtor (Ultrastroy, the Bulgarian construction company) should be declared insolvent. The judge agreed, and this move prevented any possibility of recovery to the Israeli investors. "Moreover, the temporary trustee has immediately unlisted the company under VAT, which has inflicted serious additional damage to the investors and problems with the Bulgarian National Revenue Agency."
Although Vitosha paid regularly and in full for each of the nine prior phases of construction, and had the ability to pay the last phase, the Sofia Administrative Court confirmed the decision on Vitosha's overindebtness.
The Sofia Appellate Court reversed the insolvency decision. However, after a year of legal wrangling, the Sofia Court of Cassations again declared the construction company insolvent. These legal maneuvers simply tied up the Israeli investors in Bulgarian courts.
Blick Trade and the Borisov connection
At one point, Ultrastroy complicated the case, probably intentionally, by assigning parts of the contested dollar amounts to a company called Blick Trade Ltd. Doing so "slowed the proceedings, turning them into an endless vicious circle of repeated expert reports."
The addition of Blick Trade Ltd. is what connects Borisov to this scam. According to Bulgaria's Bivol newspaper, "The assignment of part of the receivables of 'Ultrastroy' to 'Blick Trade' sheds light on extremely intriguing dependencies and, consequently, on the whole scheme to seize the business of the Israeli investors." Blick Trade was created in 2007 as a retail company. The manager of the company, "Samir Iskander Francis (or Ibrahim)", an Iraqi national, "has been known in Bulgaria since the dark mafia times in the 1990s, when he was a partner of current Prime Minister Boyko Borisov in their joint company Prayhim."
According to sources from "powerful mafia circles", Borisov had "exceptional trust in Samir [Iskander], who has been his own personal driver and bodyguard before the start of Borisov's political career." When Borisov was mayor of Sofia, Samir Iskander's business as a property developer "flourished." He earned millions through his companies Stroy Commerce 2004 and Bildko, "beneficiaries of scandalous swaps orchestrated by the Sofia Municipality" – of which Borisov was the head of as mayor.
Samir Iskander is the son-in-law of General Stoimen Stoimenov, "a former adviser on security issues of outgoing President Rosen Plevneliev. Stoimenov was exposed as a former functionary of the Central Committee of the Communist Party." Iskander had a joint company with "notorious Russian mobster Konstantin Tziganov, head of the criminal group Uralmash" called SIT-1 Ltd. Tziganov was expelled from Bulgaria in 2011 for being a national security threat, but "became famous for his photos with Boyko Borisov at a charity match." He is also a major investor in the construction industry in Bulgaria.
Ultrastroy: Deylan Peevski, Borisov, and public tenders
The link between Ultrastroy and Blick Trade (the company that Ultrastroy transferred parts of the contested dollar amounts with Vitosha to tie up judicial proceedings) is Bildko (one of the companies owned by Iskander—Borisov's trusted partner—that was one of the companies that benefited from the "scandalous swaps orchestrated by the Sofia Municipality" when Borisov was mayor). Bildko owns Blick Trade through a company called Vipbuild 2006.
According to Bivol, "The assets have been transferred to an old partner of Samir – Stoycho Petrunov Georgiev. Accidentally or not, Petrunov is also listed as the CEO of 'Rubin Trading'. The company is the current the owner of the glass factory 'Rubin', which was privatized by the [man] close to Prime Minister Borisov, Alexander Staliyski." Rubin Trading and a company Capital Investments were behind the "backstage privatization of the glass factory through loan assignments worth 30 million."
According to Bivol, "There is evidence that the owners of these two companies are dummies and Alexander Staliyski is the real one. The associated with the controversial lawmaker and media mogul Delian Peevski offshore company "Sibole Bulgaria" is also involved in the scheme." The former majority shareholder of Corporate Commercial Bank, Tzvetan Vassilev said in a TV interview that Staliyski was the person collecting the racket for Prime Minister Borisov."
Ultrastroy is a trading company and its sole owner is Ivan Borisov Borisov. The company is a partner and subcontractor to Deylan Peevski's company Vodstroy 98 "in a number of major public procurement tenders." Ultrastroy worked on the reconstruction of the National Museum and was also a subcontractor in repairs at the Sofia Central Railway Station under a consortium between Peevski's Vodstroy 98 and another company.
Outside of its publicly funded work, Ultrastroy worked on reconstruction and repairs to tobacco manufacturer Bulgartabac Holding. Ownership of Bulgartabac was transferred from the Bulgarian government to "offshore companies associated with local high-ranking politicians. In several investigations, Bivol has explored evidence of corruption behind the privatization of Bulgartabac pointing again to Boyko Borisov and Peevski."
Additionally, Ultrastroy holds a 8 million lev debt to the Bulgarian Development Bank (BDB), but it was chosen to build the bank's new headquarters.
Takeover of Vitosha's assets
Currently, Vitosha is managed by a trustee appointed by the court. The trustee is tasked to sell Vitosha's assets (the gated community) and to settled claims. "The objections of the investors have not been accepted and have been a priori considered untenable. The liabilities to "Ultrastroy", with accrued interest, have already grown to over 3.5 million levs. The trustee, who has full rights to sell the luxury community at the foot of Vitosha Mountain, is Christina Stamova." Stamova was appointed conservator of Corporate Commercial Bank [(CCB)] after its closure.
Ultrastroy's website includes a page about the residential complex at "Vitosha Village", including photographs of buildings.
Vassilev, the former majority shareholder of CCB, has said in TV interviews that the collapse of the lender in this case was staged in "typical gangster style through political means."
Public tenders to Peevski and Yordan Tsonev
Bulgaria's Public Procurement Agency provides information on all state expenditures between 2007 and 2015. The portal "Opendata" created a data-based site that shows public procurement contracts. With the information available from the government and Opendata, Bivol uncovered 163,722 contracts totaling 59.818 billion levs (of which almost 16 billion levs was funding from Europe).
The Public Procurement Agency's information "is incomplete because public tenders for over 9 billion levs have been awarded to groups of companies. Bivol used the register DAXY to update the information about the companies behind these consortia which have won over 5,000 procurements in the most lucrative sectors such as water cycle, construction of highways and roads and others."
Out of this spending, 976.78 million went to Deylan Peevski. For example, the company Vodstroy 98 JSC, which is linked to Peevski (who is a Member of Parliament, nonetheless) won almost 1 billion levs from public procurement over a nine-year period. Out of this money, over 672 million levs came from European funds.
Bivol wrote, "If we break them down by year, the contracts involving "Vodstroy 98" look like this: Their rise during the term in office of the first government of Boyko Borisov and their culmination during the term in office of the socialist-endorsed government of Plamen Oresharski are pretty obvious."
Another Member of Parliament, Yordan Tsonev, who is associated with a group of companies called "Transstroy", has received 601 million levs in contracts. "The biggest manna for them came in 2011, during the term in office of the first government of Boyko Borisov in connection with the construction of the Sofia subway."
Third term as Prime Minister of Bulgaria
Form more information on the cabinet, see Third Borisov Government.
After the 2017 parliamentary elections, Borisov became Prime Minister again, beginning his third term in this position. On April 27, President Rumen Radev handed Borisov the mandate for the forming of Bulgaria's new government. Reuters wrote, "Bulgaria's centre-right GERB party signed a coalition agreement on Thursday [4/27/17] with a nationalist alliance that will bring former prime minister Boiko Borisov back to power for his third term since 2009."
Allegations of corruption and connections with organized crime
Periodically ensuing corruption scandals and controversies has led to reports of high levels of corruption in Borisov's government. According to the Corruption Perceptions Index, compiled by Transparency International, Borisov's government was as corrupt as previous governments, with two of his closest ministers – Tzvetan Tzvetanov and Miroslav Naydenov—investigated by the Prosecutor General and the Tax Authority for taking bribes while in office. This goes against Borisov's declared mission to fight corruption and organized crime while pressing criminal charges against former corrupt politicians. Despite Borisov's initial promise, no representative of previous cabinets has so far been convicted.
In 2007 Boyko Borisov was accused by the magazine U.S. Congressional Quarterly (CQ) of being directly linked to the biggest mobsters in Bulgaria. CQ asserted that, "the most powerful politician in Bulgaria, Washington's newest ally in the global war on terror, is a close associate of known mobsters and linked to almost 30 unsolved murders in the Black Sea republic." According to a confidential report compiled by former top U.S. law enforcement agency officials Borisov had used his position as the Chief Secretary of the Bulgarian Interior Ministry to help organized crime bosses attack their opponents.
On 14 January 2011, journalists from the Bulgarian weekly newspaper Galeria distributed audio records of an alleged conversation between Borisov and Customs Agency Head Vanyo Tanov. The tapes reveal that Borisov instructed customs authorities to immediately stop their investigation of "Ledenika" brewery which had been suspected of illegal activities and tax crimes. However, Finance Minister Simeon Djankov was recorded on tape ordering the Head of Customs to do his work properly and not yield to Borisov's demands.
This created a rift within the government, as it was widely believed that the wiretapping was ordered by Interior Minister Tzvetan Tzvetanov. Later those tapes were declared "manipulated" (not being able to tell if they were fake or not) by two independent examinations. In early July, Borisov admitted that the conversation had been genuine, though tampered with, while giving an interview to Bulgarian bloggers in the presence of the Interior Minister. A March 2013 investigation by the Prosecutor General suggests that the wire-tapping was ordered by Tzvetan Tzvetanov, Borisov's trusted deputy in the GERB party, with the aim of getting rid of Customs Head Vanyo Tanov.
Allegations of money laundering
In 2011, according to allegedly leaked U.S. diplomatic documents, "Borisov is alleged to have used his former position as head of Bulgarian law enforcement to arrange cover for criminal deals, and his common-law wife, Tsvetelina Borislavova, manages a large Bulgarian bank that has been accused of laundering money for organized criminal groups, as well as for Borisov's own illegal transactions." The U.S. Embassy in Sofia has, however, denied having such documents.
Allegations of threatening journalists
In early 2011 a number of think-tanks and analysts raised concern about the degradation of media freedom and transparency in Bulgaria. In 2011 reports surfaced that Borisov had paid cash to journalists so that they would portray him favourably, and threatened journalists who criticized him as long ago as 2005. In 2012, Bulgaria was ranked as the worst-performing EU member in terms of media freedom, according to Freedom House, and ranked 80th internationally.
Allegations of racism and xenophobia
On 6 February 2009, Borisov, speaking in Chicago, told Bulgarian expatriates that the human material and the basis of Bulgarian population at that moment included 1 million Roma, 700,000 Turks and 2.5 million retirees. He added that the human material that they are left with as voters and as a pool for recruiting staff is really not that big, as half a million people have left Bulgaria. Vice-president of the Party of European Socialists, Jan Marinus Wiersma, accused Borisov of referring to the Turks, Roma and pensioners in Bulgaria as "bad human material," and claimed that GERB "has already crossed the invisible line between right wing populism and extremism."
Borisov denied these accusations and in turn accused the Bulgarian Socialist Party of attempting to discredit him. Borisov stated in a meeting with NGOs on 5 March 2009 that he intends to include representatives of the Roma ethnicity in all levels of government, including a potential minister, and has reached out to offer inclusivity to Bulgaria's ethnic Turkish population; although these measures and proposals have been seen as politically empty.
References
Boyko Borisov Wikipedia
(Text) CC BY-SA