Slovenia


25.22 km2


Kanin, Mangart, Vrsic Pass, Predil Pass, Sella Nevea



Bovec ( or Italian: , German: , Friulian: ) is a town in the Littoral region in northwestern Slovenia, close to border with Italy. It is the central settlement of the Municipality of Bovec.
Bovec is located 136 kilometres (85 mi) from the capital Ljubljana, at an elevation of 434 m (1,424 ft). The settlement lies in the Bovec Basin of the upper Soca (Isonzo) River, below the eastern slopes of Mount Kanin in the Julian Alps, forming the border with Italy. The adjacent Trenta Valley in the northwest leads into Triglav National Park.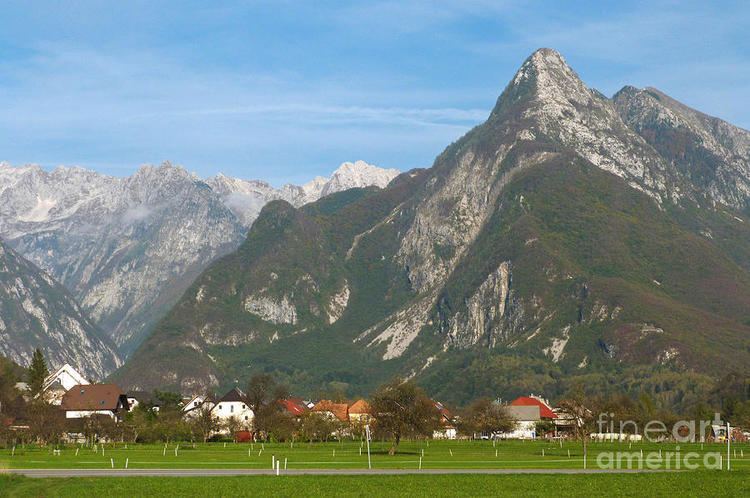 It has been traditionally part of the historic Gorizia region, but today locals prefer to identify with the wider region of the Slovenian Littoral.
Bovec was attested in written sources in 1070 as Plecium and Pletium (and as Vlicez in 1181–96, Plezio in 1257, and Plec in 1377). During the 12th and 13th centuries, the name designated not only the settlement itself, but also the wider Upper Soca region, including the Trenta Valley. The Slovene name is derived from the Slavic form *Bl?c?, but this itself is of pre-Slavic origin.
The Friulian and German names indicate that the names may be derived from *Plitium or *Pletium, which could possibly be connected with the oronym Phligadia mentioned by the ancient Greek geographer Strabo or the place name Phlygades. Less likely possibilities include a connection to the ancient place names Ampletium and Planta. In the local dialect, the settlement is known as Bec.
Archaeological finds in the upper Soca Valley indicate continuous settlement since the Hallstatt era. In ancient times, the area on the Roman road leading up to the Predil Pass was part of the northeastern Venetia et Histria region of the Italia province. It was incorporated into the Carolingian march of Friuli, after Charlemagne had conquered the Italian Kingdom of the Lombards in 774.
With the medieval Kingdom of Italy, it came under the rule of King Otto I of Germany in 952 and was incorporated into the Imperial March of Verona. Bovec itself was first mentioned in 1192, when it belonged to the ecclesiastical Patria del Friuli, ruled by the Patriarchs of Aquileia. It was part of Tolmin (Tolmein) County, which was conquered by the Republic of Venice in 1420 and incorporated into the Domini di Terraferma.
The citizens of Bovec largely depend on tourism. In recent years, the area has become increasingly popular with advertisers and filmmakers; part of the Disney film The Chronicles of Narnia: Prince Caspian was shot here. The area received the European Destinations of Excellence award in 2008 with the Soca Stories project.
Bovec Wikipedia
(,)http://www.slovenia.info/pictures%255Ctown%255C1%255C2007%255CSlovenia_Bovec_zima_151705.jpg(,)http://www.slovenia.info/pictures%255Ctown%255C1%255C2010%255CSamo_Vidic-Bovec_cheese_261136.jpg(,)http://cdn2.vtourist.com/19/3403414-Potica_a_delicious_treat_Bovec.jpg(,)http://www.thinkslovenia.com/slider-home5/data1/images/bovec/1.jpg(,)http://www.thinkslovenia.com/slider-home5/data1/images/bovec/5.jpg(,)http://www.bovec.si/mma/Predel%2520Fortress/2013040312130848/mid/(,)http://upload.wikimedia.org/wikipedia/commons/7/72/1962_postcard_of_Bovec.jpg(,)https://simonjoneshistorian.files.wordpress.com/2015/02/celo-mt-svinjak-bovec-valley-p1000976.jpg(,)http://hannatravels.com/wp-content/uploads/2014/11/bovec-9.jpg(,)http://cdn3.vtourist.com/19/6745109-BOVEC_Bovec.jpg%3Fversion%3D2(,)http://www.bovec-rafting-team.com/mma/blog_sv_urh_2/2013100113430759//(,)http://cdn3.vtourist.com/19/5870706-Prisank_and_Triglav_from_Mala_Mojvstroka_Bovec.jpg%3Fversion%3D2(,)http://www.bovec-rafting-team.com/mma/blog_sv_urh_8/2013100114042255//(,)http://static1.bergfex.com/images/downsized/82/297707debffe8182_48902b49b72e4e30.jpg(,)http://planetden.com/wp-content/uploads/2014/01/bovec-italy.jpg
(,)http://www.fansshare.com/photos/slovenia/nature-landscapes-other-slovenia-bovec-2029734123.jpg(,)http://images.fineartamerica.com/images-medium-large-5/bovec-in-slovenia-phil-banks.jpg(,)http://thumbs.dreamstime.com/z/soca-river-landscape-julian-alps-slovenia-bovec-33238740.jpg
(,)http://www.bovec.si/mma/Hotel%2520Mangart%25202/2013053112482203/mid/(,)http://www.bovec.si/mma/Vila%2520Bovec%2520-%2520autumn/20130425121921/mid/(,)http://www.bovec.si/mma/Vila%2520Bovec%2520-%2520spring/20130425121923/mid/(,)http://www.bovec.travel/Portals/0///EasyDNNNews/7/600600p1734EDNmain7Hotel-Dobra-Vila-Bovec-02.jpg(,)http://www.bovec.si/mma/Vila%2520Bovec%2520-%2520spring1/20130425121925/mid/(,)http://www.sloveniaforyou.com/Images/AccommodationHolidayHouseBovecHeader.jpg(,)http://www.slovenian-holidays.co.uk/wp-content/themes/directorypress/thumbs/1002-126-2012-05-31319291.jpg(,)http://www.hotel-mangart.com/media/cache/3f4ff12a59297cf6bd5b69c7fc51e2e5.jpg(,)http://www.hotel-mangart.com/media/cache/30c56f2109eb46c607dcf801a74c3835.jpg(,)http://www.bovec.si/mma/Bovec%2520center/2013111810541932/mid/(,)http://media-cdn.tripadvisor.com/media/photo-s/06/35/64/1e/hotel-sanje-ob-soci.jpg(,)http://media-cdn.tripadvisor.com/media/photo-s/05/56/5f/70/the-staff-is-friendly.jpg