Ivory Coast




329,850 (1988)




Universite Alassane Ouattara


71.788 km2


Vallee du Bandama




1899



Bouake (or Bwake) is the second largest city in Cote dIvoire, with a population of 536,189 (2014 census). It is the main urban settlement of the Bouake Department in the Vallee du Bandama Region. The city is located in the central part of Cote dIvoire about 50 kilometres (31 mi) northeast of Lake Kossou, the countrys largest lake, some 350 kilometres (220 mi) north of Abidjan on the Abidjan-Niger Railway and about 100 kilometres (62 mi) northeast of Yamoussoukro, the capital of Cote dIvoire.
Bouake is a centre for the Baoule people and is known for its crafts. The economy is based on the cotton industry. The city largely grew from the 1970s after the construction of the power station at Kossou Lake flooded land to the west of the city. Bouake is known for its large carnival and market and for the St Michaels Cathedral. The city has a large airport located north-west of the city with a 3,300 metres (10,800 ft) runway. Liverpool F.C defender Kolo Toure and his brothers Yaya Toure and Ibrahim Toure were born in Bouake.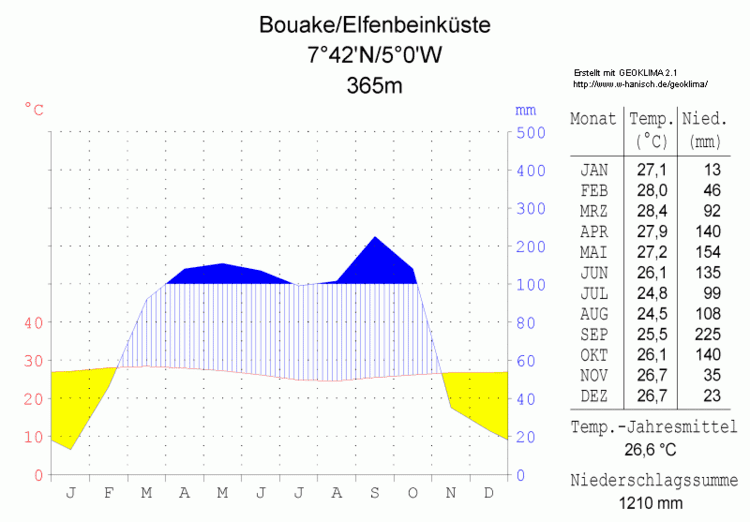 Bouake was established as a French military post in 1899 and has been an administrative center since 1914.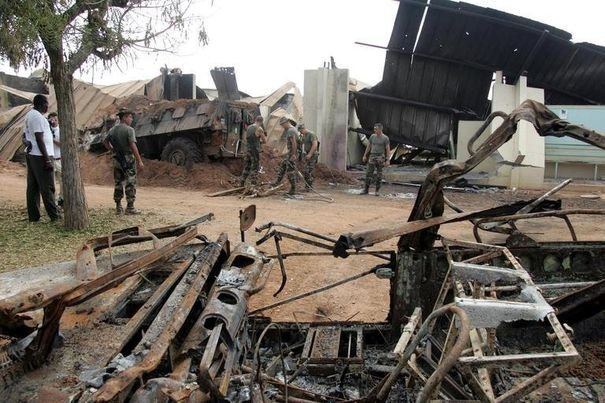 French and United Nations peacekeepers currently reside in the city as part of an enforced ceasefire between the rebel-held north and the government-held south. After the attempt to overthrow the president Laurent Gbagbo had failed, the rebel forces FN (forces nouvelles) led by Guillaume Soro made Bouake their center of control. Subsequently, Bouake University, opened in 1996, was closed down in September 2002. Financed by Unesco, the university reopened in April, 2005.
On November 4, 2004, governmental forces used Sukhoi-25s to raid the city as an opening movement towards "territorial liberation," according to Captain Jean-Noel Abbey of the Cote dIvoire army. Korhogo, 225 kilometres (140 miles) north of Bouake, was also targeted.
Tobacco products, building materials, and textiles are produced, and cotton sisal and rice are processed. Gold, mercury, and manganese are found nearby.
Bouake Wikipedia
(,)http://upload.wikimedia.org/wikipedia/commons/7/73/Klimadiagramm-Bouake-Elfenbeinkueste-metrisch-deutsch.png(,)http://www.lexpress.fr/pictures/415/212977_des-soldats-francais-evacuent-des-gravats-le-10-novembre-2004-a-bouake-apres-le-bombardement-meurtrier-du-camp-militaire-francais.jpg(,)http://archive.ica-ed.org/history/ica1962-3.jpg(,)http://famouswonders.com/wp-content/uploads/2010/02/Bouake_Cibkechu.jpg(,)http://archive.ica-ed.org/history/ica1962-2.jpg(,)http://www.everyculture.com/images/ctc_01_img0283.jpg(,)http://i.ytimg.com/vi/3aMs1mjkj-s/0.jpg(,)http://www.everyculture.com/images/ctc_01_img0284.jpg(,)http://i.ytimg.com/vi/rZNd39SZxRo/0.jpg
(,)http://maps.maphill.com/cote-d-ivoire/bouake/bouake/3d-maps/physical-map/darken/darken-physical-3d-map-of-bouake.jpg(,)http://maps.maphill.com/cote-d-ivoire/bouake/panoramic-maps/physical-map/physical-panoramic-map-of-bouake.jpg(,)http://maps.maphill.com/cote-d-ivoire/bouake/bouake/maps/physical-map/physical-map-of-bouake.jpg(,)http://maps.maphill.com/cote-d-ivoire/bouake/bouake/3d-maps/physical-map/physical-3d-map-of-bouake.jpg(,)http://maps.maphill.com/cote-d-ivoire/bouake/3d-maps/physical-map/physical-3d-map-of-bouake.jpg(,)http://maps.maphill.com/cote-d-ivoire/bouake/maps/physical-map/physical-map-of-bouake.jpg(,)http://maps.maphill.com/atlas/5n25-4w10/maps/physical-map/physical-map-of-5n25-4w10.jpg(,)http://farm1.static.flickr.com/31/44241772_e99e93ebc9_b.jpg(,)http://maps.maphill.com/cote-d-ivoire/bouake/bouake/3d-maps/physical-map/shaded-relief-outside/physical-3d-map-of-bouake-shaded-relief-outside.jpg
(,)http://media-cdn.tripadvisor.com/media/photo-s/02/7a/ac/cb/filename-p5090073-jpg.jpg(,)http://static.panoramio.com/photos/large/6438017.jpg(,)http://media-cdn.tripadvisor.com/media/photo-s/04/5f/de/25/residence-hotel-elephant.jpg(,)http://bellecotedivoire.com/ckfinder/userfiles/images/hotel_elephant_table.jpg(,)http://www.nutri-ci.com/en/img/camp_bouake/grands/picto_bouake_g6.jpg(,)http://www.mapel.fr/galleries/03vieilafric/les-galeries/cotdiv/photos/VA-154-Bouak%25C3%25A9-cuisine-de-plein-air.jpg(,)http://www.mapel.fr/galleries/03vieilafric/les-galeries/cotdiv/photos/VA-153-Bouak%25C3%25A9-cuisine-de-plein-air.jpg(,)http://www.carldekeyzer.com/library/KEC2005013G0201-TREY.jpg(,)http://www.nutri-ci.com/en/img/camp_bouake/grands/picto_bouake_g3.jpg(,)http://media-cdn.tripadvisor.com/media/photo-s/07/5d/f7/05/salade.jpg(,)http://www.childrenofafrica.org/en/sites/default/files/imagecache/diaporama-action/img-actions-corps/dsc_0454.jpg(,)https://c2.staticflickr.com/4/3055/3066917262_d846f1ef93.jpg(,)http://www.childrenofafrica.org/en/sites/default/files/imagecache/diaporama-action/img-actions-corps/dsc_0080.jpg(,)http://www.childrenofafrica.org/en/sites/default/files/imagecache/diaporama-action/img-actions-corps/dsc_0876.jpg(,)http://www.childrenofafrica.org/en/sites/default/files/imagecache/diaporama-action/img-actions-corps/dsc_0399.jpg