Harry (Fred MacMurray) and his wife, Katie (Jane Wyman), save up for years to take their family on a trip to Europe. Once aboard ship, however, their vacation is anything but relaxing. Daughter Amy (Deborah Walley) falls for young philanderer Nick (Michael Callan), Katie unwittingly enraptures the dashing Rudolph (Ivan Desny) and son Elliot (Tommy Kirk) is about to lose his heart as well. Harry must sort out the romantic messes if hes going to get his family home in one piece.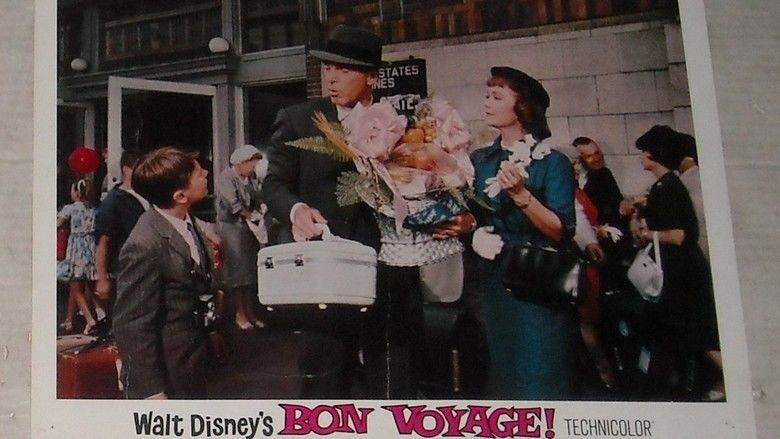 Bon Voyage! is a 1962 Walt Disney film directed by James Neilson and released by Buena Vista Distribution Company. Following their practice of the time, it was also issued as a comic book and an adaptation appeared in the comic strip Walt Disneys Treasury of Classic Tales. It stars Fred MacMurray, Jane Wyman, Deborah Walley, Tommy Kirk and Kevin Corcoran as the Willard family on a European holiday. The family crossed the Atlantic Ocean on SS United States which survives today, stripped and moored at Pier 82 in Philadelphia, Pennsylvania.
The character actor James Millhollin appears in the film as the ships librarian.
The Willards from Terre Haute, Indiana travels abroad for the once-in-a-lifetime vacation in Paris, France. Harry Willard believes that the greatest problem will be avoiding tap water, but bringing his three children will prove to be more troublesome
The film was based on a 1956 novel by Joseph and Merrijane Hayes. Joseph Hayes had written The Desperate Hours and Bon Voyage was his second book; he and his wife wrote it after taking a trip across the Atlantic.
Film rights were bought by Universal before the book had even been published for $125,000 and it was announced the film would be produced by Ross Hunter and written by the Hayes. Esther Williams was originally announced as star. Then James Cagney was going to play the lead. Filming dates were pushed back then Bing Crosby was linked to the project.
In early 1960, it was announced Disney had optioned the novel. Disney said it was likely Ken Annakin would direct with Karl Malden, James MacArthur and Janet Munro to star. Later Robert Stevenson was announced as director.
"Its far out for us," said Disney, "but still Disney. Im really a gag man and missed the kind of pictures Frank Capra and Harold Lloyd used to make. Since nobody else wanted to do them, I decided to make them myself."
Eventually Fred MacMurray, Jane Wyman and Tommy Kirk firmed as the three leads. However casting the daughter proved more difficult. "You must build a picture," said Walt Disney. "You dont write it all - only part of it. And its the light and comic picture thats toughest of all to build."
Michael Callan was cast from the play of West Side Story. Deborah Walley was cast on the basis of her performance in Gidget Goes Hawaiian.
Filming began on 15 August 1961. It took place partly on location on a genuine ocean cruiser travelling across the Atlantic and in France. Walt Disney accompanied the film on location.
Tommy Kirk did not get along with Jane Wyman:
I thought Jane Wyman was a hard, cold woman and I got to hate her by the time I was through with Bon Voyage. Of course, she didnt like me either, so I guess it came natural. I think she had some suspicion that I was gay and all I can say is that, if she didnt like me for that, she doesnt like a lot of people.
The title song was written by Disney staff songwriters, Robert B. Sherman and Richard M. Sherman.
Bon Voyage! was the tenth most popular film of 1962, grossing $11,000,000.
Deborah Walley and Michael Callan appear in Bon Voyage! and Gidget Goes Hawaiian. Walt Disney and others produced Bon Voyage! and The Shaggy Dog. Fred MacMurray and Tommy Kirk appear in Bon Voyage! and The Absent-Minded Professor. Walt Disney and others produced Bon Voyage! and Son of Flubber. Walt Disney produced Bon Voyage! and Pollyanna.
The film was nominated for two Academy Awards.
Costume Design (Color)-(Bill Thomas)
Sound (Robert O. Cook)