Philippines


197.22 km2


Ilocos




1st district of Pangasinan




1575




Arnold Del Fierro Celeste



Bolinao is a third class municipality in the province of Pangasinan, Philippines. According to the 2010 census, it has a population of 74,545 people.
Sea urchins are regularly harvested at Isla Silaki, Bolinao.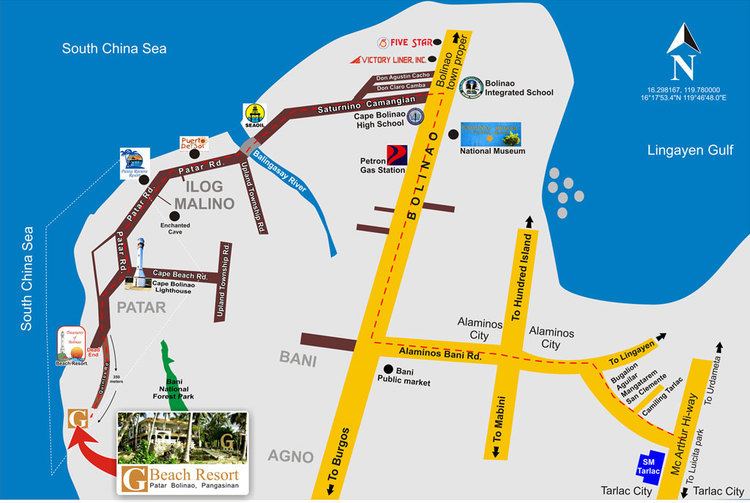 Folk etymology attributes the name "Bolinao" or this remote fishing enclave from the fish piece "monamon" but commonly called "Bolinao" by the Tagalogs, Bicolanos and the Visayans. A theory also points out that once upon a time "pamulinawen" trees grew luxuriantly along its shores, thus, the Ilocano migrants who crossed the Lingayen Gulf named it phonetically similar to the name of the tree. Nowadays, however, such tree does not exist anymore.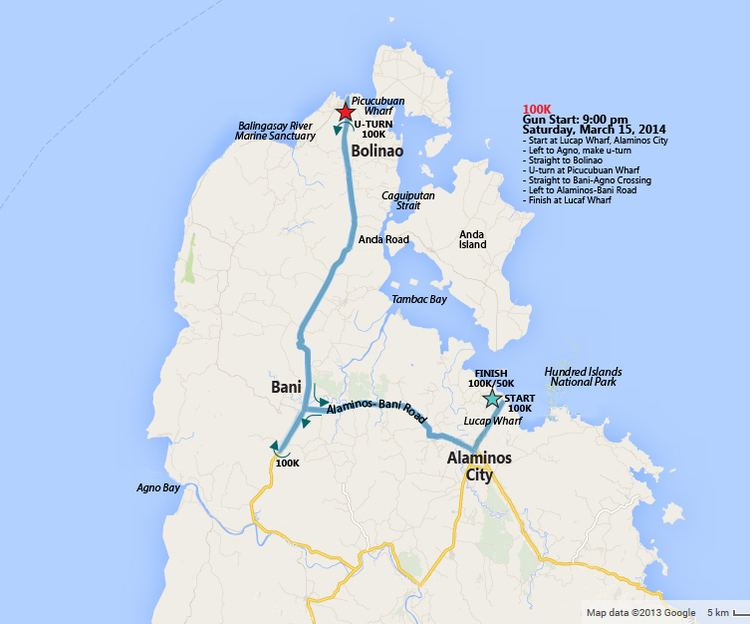 Unofficial records narrate the story of an Italian missionary named Blessed Odorico who said the first mass in Bolinao Bay, baptizing several locals while he was on his way to China. He took refuge in what is now known as Bolinao during a storm in 1324. Two centuries later, an account narrates the arrival of Juan de Salcedo and his crew reached Bolinao and chanced upon a Chinese Sampan who captured a native chieftain. Salcedo and his men liberated the natives and the latter immediately pledged vassalage to the King of Spain.
According to oral history, the town of Bolinao used to be a small settlement in what is now Barrio Binabalian in Santiago Island, then having a population of just over a hundred families. It is said that Captain Pedro Lombi founded the town of Bolinao in 1575. A decade later, Dominican Friar Esteban Marin became the first Spanish missionary to evangelize the people of Bolinao. For two years he worked in Bolinao before he was assigned as prior in Batac, Ilocos Norte.
The Dominicans ended their service in 1607 to be replaced by the Augustinian Recollects headed by Fr. Jeronimo de Cristo and Dr. Andres del Espiritu Santo. At this time, the old town of Bolinao was still located along the coast of Pangasinan. Due to pirate attacks, the town was transferred to the mainland in 1609.
This town formerly included the neighboring town of Anda, but Anda became an independent municipality on May 26, 1849.
Bolinao, Pangasinan Wikipedia
(,)http://www.gbeachresort.com/images/g-map.jpg(,)http://runningphotographers.com/wp/wp-content/uploads/2013/12/BOLINAO-ALAMINOS-MAP.jpg(,)http://images.travelpod.com/cache/accom_maps/Punta_Riviera_Resort-Bolinao.gif(,)http://newsinfo.inquirer.net/files/2013/07/pangasinan-map.jpg(,)http://www.casaalmarenzo.com/images/uploads/Patar-Beach.jpg(,)http://i424.photobucket.com/albums/pp321/PritieInsane_bucket/LMV%2520Goes%2520to%2520Pangasinan/RideMap.jpg(,)http://i1211.photobucket.com/albums/cc430/docdoms/fengshen_trmm_2008177.jpg
(,)http://www.philippinebeaches.net/wp-content/uploads/2010/09/Bolinao-Pangasinan-1.jpg(,)http://www.philippinebeaches.net/wp-content/uploads/2010/09/Bolinao-Pangasinan.jpg(,)https://c2.staticflickr.com/6/5276/5806343017_50d32b6010_b.jpg(,)http://lh4.ggpht.com/-QAspY5ABtBM/UU8NRk02AWI/AAAAAAAALXs/iz0NRraB1xU/20121110-BOLINAO-D80%25252520-0122-24%2525255B3%2525255D.jpg%3Fimgmax%3D800(,)https://lh6.googleusercontent.com/-Ca-WObqYktY/UbGYNfDzsTI/AAAAAAAAMUA/-f6MlxyEQU0/s800/20121112-BOLINAO-D80-0002-05.jpg(,)http://img543.imageshack.us/img543/9969/photo03.jpg(,)http://farm9.staticflickr.com/8342/8198576472_f6e3768dbe_b.jpg(,)https://s1.yimg.com/bt/api/res/1.2/53LXnxOJRVmoW7oN7zyCJg/YXBwaWQ9eW5ld3M7Y2g9NDMwO2NyPTE7Y3c9NjQwO2R4PTA7ZHk9MDtmaT11bGNyb3A7aD00MjM7aWw9cGxhbmU7cT03NTt3PTYzMA/http://l.yimg.com/os/publish-images/news/2014-06-30/d091aae0-0018-11e4-85d0-73c3ccbe3b07_Patar.jpg(,)https://farm9.staticflickr.com/8524/8601821295_11f7694276.jpg(,)http://i0.wp.com/www.theopennotes.com/wp-content/uploads/2014/09/IMG_9594-001.jpg
(,)http://www.lakas.com.ph/wp-content/uploads/2012/01/Adora-Restaurant-La-Prola-el-Restaurante-Bolinao-Pangasinan-004.jpg(,)http://www.willexplorephilippines.com/wp-content/uploads/2013/10/Cafe-Del-Sol-Restaurant-Breakfast-Menu-at-Puerto-Del-Sol-Bolinao-Pangasinan.jpg(,)http://1.bp.blogspot.com/-clbBtuAhfw8/ThrvBVchSXI/AAAAAAAACvY/Y3DE-ilb9Gg/s1600/DSCI1755.JPG(,)http://foodcitations.com/wp-content/uploads/2012/05/Sinungay.jpg(,)http://boyplakwatsa.files.wordpress.com/2011/02/bolinao2-036.jpg(,)http://s3.burpple.com/foods/18aea7cb67f4a1f5a74726117_original.%3F1374560993(,)http://www.willexplorephilippines.com/wp-content/uploads/2013/10/Cafe-Del-Sol-Restaurant-at-Puerto-Del-Sol-Bolinao-Pangasinan.jpg(,)http://boyplakwatsa.files.wordpress.com/2011/02/bolinao2-037.jpg(,)http://s3.burpple.com/foods/18aea7cb538b776083e723476_original.%3F1374420446(,)http://www.lakas.com.ph/wp-content/uploads/2012/01/Enchanted-Wonderful-Cindys-Caves-of-Bolinao-Pangasinan-000.jpg(,)http://www.lakas.com.ph/wp-content/uploads/2012/01/Pasalubong-from-Bolinao-Pangasinan-005.jpg(,)http://www.lakas.com.ph/wp-content/uploads/2012/01/Adora-Restaurant-La-Prola-el-Restaurante-Bolinao-Pangasinan-001.jpg(,)http://farm6.staticflickr.com/5164/5245544193_93e2a2ab66_z.jpg(,)https://lh3.googleusercontent.com/-Q07-UHFvsDs/VLDG5xbvLNI/AAAAAAAABpc/TrNpa8KZTSo/s640/blogger-image-2096051365.jpg(,)http://www.lakas.com.ph/wp-content/uploads/2012/02/Tricycle-Tour-in-Bolinao-Pangasina-000.jpg
(,)http://www.traveltothephilippines.info/wp-content/uploads/2013/02/Pangasinan-Mangunguna-Festival5.jpg(,)https://c1.staticflickr.com/7/6174/6201017114_93b769f826_z.jpg(,)http://www.takethetravel.com/wp-content/uploads/Bolinao-Pic-.jpg(,)http://outoftownblog.com/wp-content/uploads/2015/01/Patar-White-Beach-by-Jaya-via-Flickr-600x398.jpg(,)http://1.bp.blogspot.com/_qlZRMA0BnbY/TSJeECPPELI/AAAAAAAAGFE/U7GiAjQaN2k/s1600/bolinao%2B8.jpg(,)http://www.takethetravel.com/wp-content/uploads/Bolinao-Pangasinan-6.jpg(,)http://outoftownblog.com/wp-content/uploads/2014/04/Patar-White-Beach.jpg(,)https://musesofamaoshroom.files.wordpress.com/2012/11/beach-11.jpg(,)http://discoverph.com/wp-content/uploads/100islandsphilippines01.jpg(,)http://lifestyle.inquirer.net/files/2011/05/t0529travel3-amadis_feat1_3.jpg(,)http://outoftownblog.com/wp-content/uploads/2014/04/Lighthouse-in-Bolinao-.jpg(,)https://farm8.staticflickr.com/7449/14083714341_28625883eb.jpg
(,)http://www.traveltothephilippines.info/wp-content/uploads/2013/02/Pangasinan-Mangunguna-Festival4.jpg(,)http://i135.photobucket.com/albums/q122/shootingfor21stars/puerto%2520del%2520sol%2520march%25202007/DSC00620-1.jpg(,)http://www.casaalmarenzo.com/images/uploads/Bolinao-Falls.jpg(,)http://www.mb.com.ph/wp-content/uploads/2014/04/2816.jpg(,)http://outoftownblog.com/wp-content/uploads/2014/04/Spring-Water-Pool-in-Enchanted-Cave-600x398.jpg(,)http://image.slidesharecdn.com/milkfishpres-vietnammarch2010-100513211050-phpapp02/95/milkfish-pres-vietnam-march-2010-56-728.jpg%3Fcb%3D1273803381(,)http://photos.mongabay.com/j/Ardea-Licuanan-IMG_0548.568.jpg(,)http://outoftownblog.com/wp-content/uploads/2014/04/Rock-Formations-in-Patar-Beach-600x398.jpg(,)http://outoftownblog.com/wp-content/themes/sharp/timthumb.php%3Fsrc%3Dhttp%253A%252F%252Foutoftownblog.com%252Fwp-content%252Fuploads%252F2014%252F04%252FSwimming-Pool-at-Ilog-Malino-Beach-Resort.jpg%26q%3D90%26w%3D750%26h%3D420%26zc%3D1(,)https://farm3.staticflickr.com/2933/14083043472_6e6bb81527_c.jpg(,)http://i.ytimg.com/vi/Pm9oIp27aAg/maxresdefault.jpg
(,)http://www.pangasinan.gov.ph/wp-content/uploads/2011/06/bolinao-660x330.jpg(,)http://tourism-philippines.com/images/pangasinan5.jpg(,)https://thoughtfulpaper.files.wordpress.com/2012/05/imgp0749.jpg(,)http://www.pangasinan.gov.ph/wp-content/gallery/tourism/willie-bolinao-03.jpg(,)http://www.ilicbelediyesi.com/wp-content/uploads/2012/08/bolinao-capebolinao.jpg(,)http://outoftownblog.com/wp-content/uploads/2014/04/Panoramic-View-of-Cape-Bolinao-Lighthouse-600x260.jpg(,)http://www.traveltothephilippines.info/wp-content/uploads/2012/10/Pangasinan-Cindys-Cave.jpg(,)http://cdn3.vtourist.com/19/4847045-Patar_beach_Bolinao.jpg(,)http://www.philippinebeaches.net/wp-content/uploads/2010/11/bolinao-pangasinan-rocks.jpg(,)http://i984.photobucket.com/albums/ae326/coffeebreakx/travelogues/Pangasinan/bolinao8.jpg(,)http://www.asensopangasinan.com/wp-content/uploads/2012/01/Cool-Spot-Beach-Resort-Bolinao-Pangasinan.jpg(,)http://manilenio.com/wp-content/uploads/2009/02/patarbeach.png(,)http://www.traveltothephilippines.info/wp-content/uploads/2012/10/Pangasinan-Bolinao-Lighthouse.jpg(,)http://www.etravelpilipinas.com/tourism_news/images/Puerto-del-Sol.jpg