Bogdan Suceavă (born September 27, 1969 in Curtea de Argeș) is a Romanian-born U.S. mathematician, journalist and writer.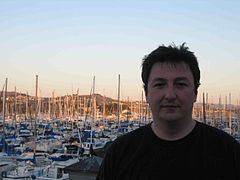 Bogdan Suceavă was born in Curtea de Argeș, Romania, on September 27, 1969. Growing up, Suceavă spent his holidays with his maternal grandparents at Nucșoara, a remote community that maintained its traditions, unbroken by the collectivisation elsewhere of Ceaușescu regime. There he absorbed Balkan folk-tales and myths, which would inform some of his literary works.
Suceavă attended the University of Bucharest, where he obtained his undergraduate and Master's degree in mathematics. He then moved to the United States to study at the Michigan State University for his doctorate. His thesis, titled New Riemannian and Kählerian Curvature Invariants and Strongly Minimal Submanifolds, was written under the supervision of Bang-Yen Chen.
Following his doctorate in 2002, Suceavă was hired by California State University, Fullerton.
At the age of 13, Suceavă won a prize at the Romanian National Mathematical Olympiad, following which he was encouraged to pursue mathematics as a viable career.
Suceavă is a Professor of Mathematics at the California State University, Fullerton. He specialises in Differential geometry, the foundations of geometry, and the history of mathematics.
Suceavă is active in the encouragement of mathematical research among young students in California. He has established a mathematics circle involving undergraduates, and extensively published in gazettes of mathematical problems aimed at high school students.
Suceavă began his writing career in 1990 with a volume of prose and essays published by Topaz, Teama de amurg ("Fear of twilight"). He has also published various volumes of novels and short stories.
While Suceavă writes predominantly in Romanian, his short fiction in English has appeared in Review of Contemporary Fiction, Absinthe: New European Writing, and Red Mountain Review.
In 1989, Suceavă was a student in Bucharest during the downfall of the Ceaușescu dictatorship. Its impact on his country's social and cultural life motivated him to write his novel Venea din timpul diez in 2004.
In 2007, Suceavă received the Fiction Award of the Association of Bucharest Writers for his novel, Miruna, A Tale.
Two of his books (Coming from an Off-Key Time, and Miruna, A Tale) have been translated into English, and received positive reviews.