Written by

Io Sakisaka




Demographic

Shōjo




Written by

Akiko Abe




Music by

Yûki Hayashi




Publishers

Shueisha, Cobalt




Published by

Shueisha




Volumes

13




Studio

Production I.G




Magazine

Bessatsu Margaret







Original run

13 January 2011 – 13 February 2015




Genres

Comedy-drama, Romance novel




Similar

Strobe Edge, Kimi ni Todoke, My Little Monster, Say 'I Love You', Wolf Girl and Black Prince
bilan manga blue spring ride shojo ditions kana
Blue Spring Ride (Japanese: アオハライド, Hepburn: Aoharaido, written Ao Haru Ride within Japan) is a Japanese shōjo manga series written and illustrated by Io Sakisaka. It began serialization in the February 2011 issue of Shueisha's Bessatsu Margaret and ended in February 2015. An anime television series, produced by Production I.G and directed by Ai Yoshimura, premiered in Japan at midnight on 7 July 2014. A live-action film adaptation was released in December 2014. A drama CD has been released as a tie-in with the 10th volume of the manga. An OAD has been released as a tie-in with the 11th volume of the manga. Translations of manga volumes have been released in Germany, France, Italy, Taiwan, Poland, and Mexico.
Contents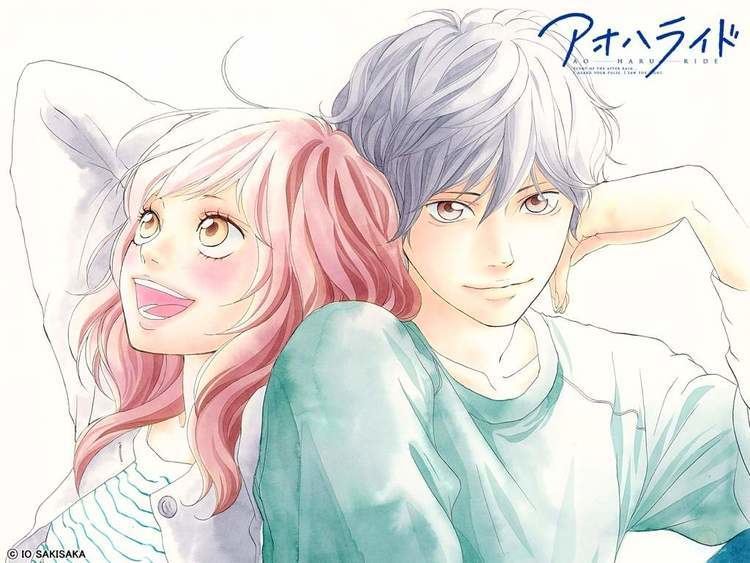 Ao haru ride favorite kiss scene spoiler
Plot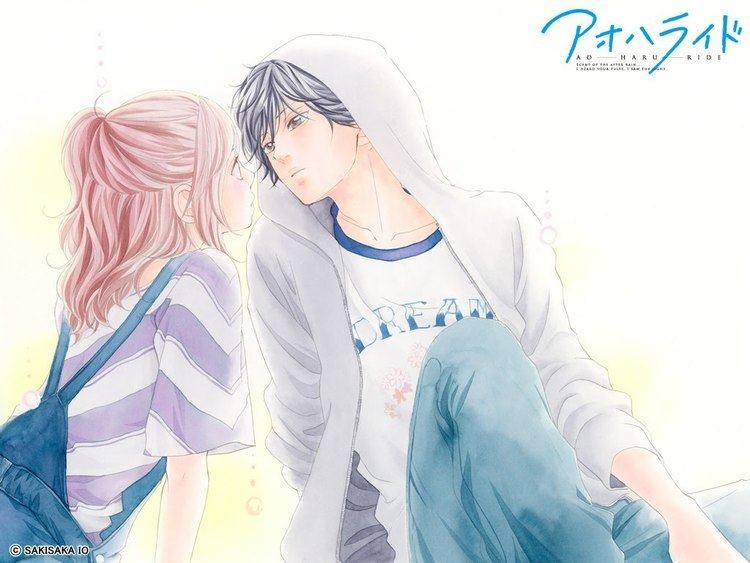 Futaba Yoshioka is a 17-year-old high school student who has an inferiority complex, as she has the need to fit with her female friends by acting brash towards the male students, due to a history of attracting the latter which made other girls jealous and ostracize her, as a result causing her to feel that her life is nothing interesting. She finally abandons her facade when she befriends fellow outcast Yuri Makita, who is adamant in keeping her "cutesy" personality in exchange for being ostracized. At the same time, Futaba is surprised when she reunites with Kou Tanaka, whom she befriended during middle school and with whom she had mutual love until he abruptly moved away to Nagasaki to live with his late mother. She is disappointed, however, as the new Kou is going with his mother's surname "Mabuchi" and seems to be a completely different person than she knew back then, as he is now a rude, cold, and sneaky individual. Kou enrolls in the school under supervision of his brother, Yoichi Tanaka, who teaches at the school.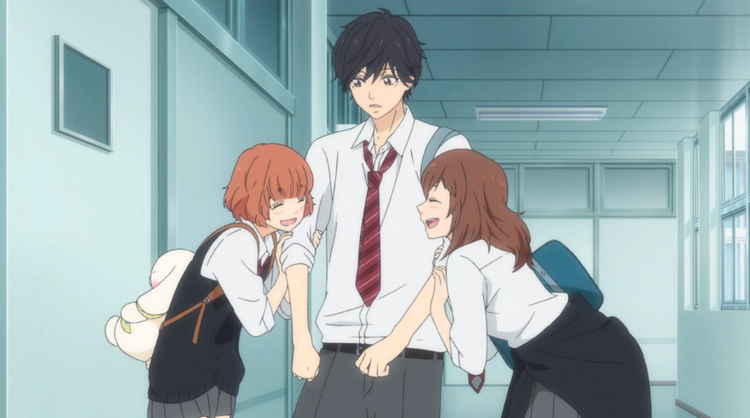 However, Futaba and Kou have to work together when they apply for the class representative positions, assisted by event representatives Yuri, the also-outcast Shuko Murao who harbors feelings for the elder Tanaka brother, and her admirer, Aya Kominato. The five attend the leadership training and are able to form a bond. After the training, Yuri realizes that she has fallen in love with Kou and confesses during summer festival, but is rejected. Instead, she decides to support Futaba's attempt to woo him and ends up falling in love with Uchiyama, a member of the school band. Meanwhile, after an embarrassing first meeting, Futaba is admired by Toma Kikuchi, Uchiyama's bandmate, who begins inroads to make her turn from Kou and fall for him. He gets his attempt when Kou's middle school friend from Nagasaki, Yui Narumi moves to Tokyo and begs him to take care of her. This causes Futaba to think that anymore attempt to woo Kou is futile, and, after a formal rejection from him, accept Kikuchi's confession.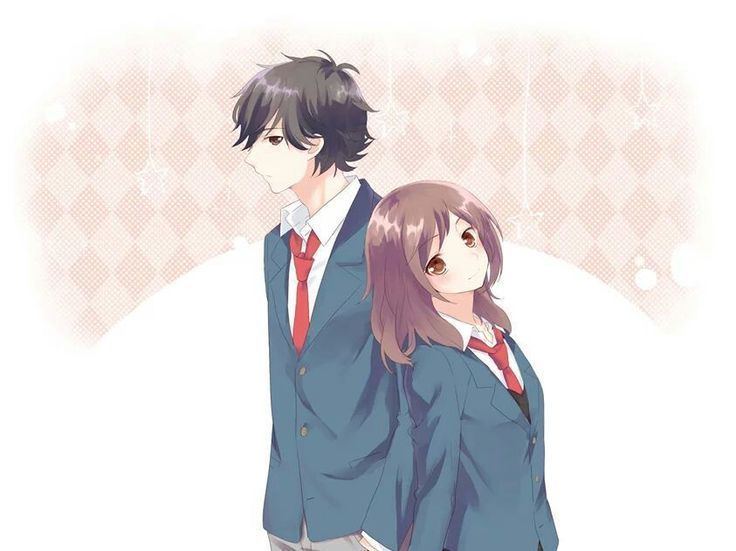 Nevertheless, Futaba struggles to erase Kou from her mind and be serious in her relationship with Kikuchi. Kou, who is revealed to have always loved Futaba after all those years, realizes that Narumi is dragging him back and decides to end their relationship. As Futaba's relationship with Kikuchi becomes complicated with Kou making moves towards her, she chooses to separate from Kikuchi at the end of the school year. With Kikuchi out of the picture for Christmas, Futaba agrees to meet Kou in the same place where they promised to meet years before until his transfer, but it is cut short when Kou is involved in an accident. At the hospital, Futaba and Kou declare their love for each other.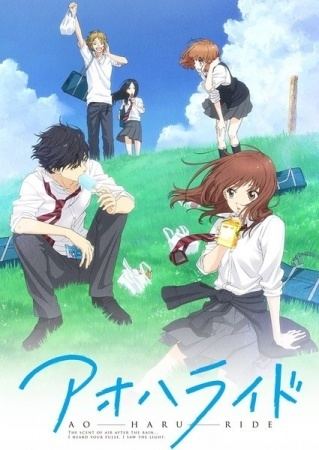 The new couple's first task together is helping Kominato confess to Murao. At the start of the new school year, Tanaka also decides to move to the United States to pursue further education and discover new things, wishing his brother happiness out from sulking about their mother's death. To assure his family that he is well, Kou reverts his surname back to Tanaka. The series ends with Futaba and Kou seeking refuge from the rain at a temple like they did years before, which Futaba interprets as the evidence that something interesting has finally started for her.
Main characters
Futaba Yoshioka (

吉岡 双葉

,

Yoshioka Futaba)
Voiced by: Maaya Uchida
Since middle school, Futaba has always believed that boys were too rough and violent. Kou Tanaka was the only exception, and Futaba wanted to know him better. The two share brief, sentimental memories, including a plan to go to the summer festival together. After accidentally telling Naitou, Kou's friend, that she hates all boys within Kou's hearing proximity, she worries about his opinion of her but convinces herself that he understands he is an exception. The summer festival arrives, and Kou doesn't show up. Returning from the summer vacation, Futaba hears that Kou transferred to another school without explanation. Futaba realizes how much she liked Kou and regrets not telling him how she felt. In high school, Futaba's character is drastically different. No longer feminine or cute, she makes herself as unattractive as possible. Futaba was an outcast in middle school because the girls were jealous of her popularity with boys. Determined to have friends in high school, she sacrifices her true, girly self for her classmates' approval but in the middle of the first year she decides to be true to herself. Futaba is strong-willed, stubborn and passionate. She eventually falls in love with Kou again (they also share some kisses during a school festival). However, she constantly worries that he has no feelings for her and believes that she's clinging to the past. After confessing and being rejected by Kou (Chapter 28), she decides to move on and dates Toma. By chapter 45, she decides to reconcile with Kou and they start dating afterwards. Futaba is portrayed by Tsubasa Honda in the film.
Kou Mabuchi (

馬渕 洸

,

Mabuchi Kō)
Voiced by: Yūki Kaji
During his time in middle school with Futaba, Kou Tanaka
(

田中 洸

,

Tanaka Kō)
was rather small and gentle. He became very fond of her throughout their experiences together but seemingly disappeared during a summer break. Making an appearance in Futaba's high school, it is revealed that he was unable to attend the summer festival because of familial issues. No longer "Kou Tanaka", he is now referred to as "Kou Mabuchi". His personality has also taken a turn, for he is now more masculine, sarcastic, and crude. In addition, he has extremely pessimistic views about his brother and himself. Despite these changes, Kou remains a kind person. When Kominato visited his house and found his secret box full of things from middle school, Kou confessed to Kominato that he still likes Futaba. To him, Futaba seems to be a remainder of his happier days — the days before his family experiences turmoil. He is trapped between his sympathy for Narumi, his old junior high school mate from Nagasaki, and his feelings for Futaba. When he settled things up, Futaba is already Kikuchi's girlfriend. Realizing that Futaba is already Kikuchi's girlfriend, he comes to realize how many people he has hurt in his life. He discusses to Kominato about how he had hurt everyone around him that he dearly cared about especially Narumi, Futaba, and himself. At the same time, Narumi comes to final confrontation with Mabuchi saying that she will never stop loving him and pleads to make him understand that she is the right person to be with Mabuchi, and how Futaba does not understand him at all. Mabuchi, however, cannot stop thinking about or loving Futaba, therefore, he decides to reject Narumi's feelings, but still considers her as a friend along with an apology for hurting her. Narumi leaves Mabuchi a kiss saying that she doesn't want to end things in a negative way, and decides to let him go. Mabuchi finally realizes that he doesn't need to hide his feelings anymore, and decides to finally pursue Futaba in order to be with her. Instead of confusing Futaba's feelings and pursuit for him, Mabuchi decides to do it himself and becomes more honest with others including himself. He and Futaba later on reconcile and start dating. Kou is portrayed by Masahiro Higashide in the film.
Yūri Makita (

槙田 悠里

,

Makita Yūri)
Voiced by: Ai Kayano
Introduced in the first chapter, Yūri's high school life is parallel to Futaba's middle school life. She is very cute, causing her to be despised by many girls in her class, and she is often left alone. Yūri gets by very well, however, for she prefers to be hated for who she truly is than to be liked for someone she isn't. Yūri and Futaba soon become best friends. She falls in love with Kou after he helps her during a class leader's camp. Yūri greatly treasures her friendship with Futaba, but often gets jealous of Futaba's closeness with Kou. After getting rejected, she finally moves on and is now dating one of Toma's friends, Uchiyama. Yūri is portrayed by Izumi Fujimoto in the film.
Shūko Murao (

村尾 修子

,

Murao Shūko)
Voiced by: Mikako Komatsu
Much like Yūri, Shūko is another "lone wolf". She is very beautiful but has a cold exterior that drives others away. Due to experiences in middle school, Shūko fails to trust girls. Eventually, her trust in female relationships is restored after becoming friends with Futaba and Yūri. She softens up and also becomes close friends with Kō and Aya as well, so close that Aya mistakenly implied her having feelings for him. She has been in love with Tanaka-sensei, Kou's older brother, since her first year of high school after attending a guidance session between the two of them but is soon rejected due to their teacher-student relationship (Chapter 27). In Chapter 48, she finally accepts Aya's feelings and they start dating. Shūko is portrayed by Yua Shinkawa in the film.
Aya Kominato (

小湊 亜耶

,

Kominato Aya)
Voiced by: KENN
Outgoing and spontaneous, Aya seems to be the only character without social problems. He is very open, caring, and sometimes even dense. He has an unrequited crush on Shūko. Aya harbors a hatred for Tanaka-sensei, and initially did not like Kō due to his relation to him. Eventually Kou and him become close friends. His rivalry with Tanaka-sensei has not changed; on the other hand, he has grown closer to Murao. He is good at mathematics. In Chapter 48, he properly confesses his feelings for Shūko and they start dating. Aya is portrayed by Ryo Yoshizawa in the film.
Yōichi Tanaka (

田中 陽一

,

Tanaka Yōichi)
Voiced by: Daisuke Hirakawa
Kou's older brother by eight years. He works as an English teacher at Futaba's high school. Entering high school, Futaba was initially interested in Yōichi as he reminded her of Kou. However, she was unaware that the two were brothers. Yōichi knows about Shūko's crush on him but always rebuffs her advances, telling her that he will never see her as anything more than a student. However, he never hesitates to help her in times of need and is happy whenever he sees that she is fitting in. He enjoys a playful 'rivalry' with Aya over Shūko. He often gives Futaba advice whenever she feels unsure about herself or about Kou. Although it is hinted that he actually does have feelings for Shuko him saying to Aya "Before I can't keep my feelings under control, I've been hoping for some great guy to come by and swoop Murao off her feet." Yōichi is portrayed by Yū Koyanagi in the film.
Tōma Kikuchi (

菊池 冬馬

,

Kikuchi Tōma)
Voiced by: Yoshitsugu Matsuoka
Tōma is a boy in Futaba's year, making his first appearance in chapter 12 or episode 11. He initially has a very bad impression of Futaba, during which she trips and ends up accidentally grabbing him. However, he eventually softens up to her when he notices how remorseful she feels about the incident. Due to his earnest appearance, his intentions are often misunderstood, usually causing Kō to get jealous over his interaction with Futaba. His friends call him "Goodie-goodie" and "Hasabe" due to his strait-laced and honest behavior. He has a piercing on his left ear and likes wombats. He falls for Futaba's good nature and finds himself wishing that she would shift her affections onto him. Despite this, he constantly supports her and gives her confidence. He eventually confesses and ask her out. Tōma is portrayed by Yudai Chiba in the film.
Yui Narumi (

成海 唯

,

Narumi Yui)
A classmate of Kō's from junior high in Nagasaki. Her father was in the same hospital as Kō's mother. Yui's father has recently died causing Kō to keep in touch with her more frequently, sparking jealousy by Futaba but Kō states he is just helping out a friend because he can relate to her. However, after finding out about Kō's interest in Futuba, Aya addresses concern about Kō getting too close to Yui which he believes is causing a strain on Kō's relationship with Futuba. Yui attends the Cultural Festival where she notices Kō's closeness with Futaba. It is revealed in Chapter 22 that she still has feelings for Kō. In Chapter 43, Narumi decides to visit Mabuchi and pleads him to be with her. She then starts to explain how she understands Mabuchi more than Futaba, and how she doesn't understand why he can't return his feelings for her. Mabuchi, still in love with Futaba, rejects and apologies to her about how he had hurt her all this time. He admits that he cannot stop thinking and loving Futaba, and how she isn't the "happiness" that he had wanted in his life. Narumi begins to cry and yell at Mabuchi pleading for him to understand. As Mabuchi walks away, Narumi realizes that she alone cannot change his views, and that she needs to accept for who he is and what he wants. Yui is portrayed by Mitsuki Takahata in the film.
Manga
Blue Spring Ride is written and illustrated by Io Sakisaka. Serialization began in the February 2011 issue of Shueisha's manga magazine Bessatsu Margaret. The first tankōbon volume was released on 13 April 2011, and the twelfth volume was released on December 12, 2014 along with the anime's 12th and final episode. The manga series ended on 13 February 2015.
Tokyo Pop released a German translation of the first volume in December 2012 and, as of June 2014, has released seven volumes under the title Blue Spring Ride. Kana released a French translation of the first volume on 5 July 2013 and, as of July 2014, has released six volumes under the title Blue Spring Ride. Panini Comics released an Italian translation of the first volume in September 2013 and, as of May 2014, has released five volumes under the title Ao haru ride - A un passo da te. Tong Li Publishing released a Chinese translation of the first volume in January 2013 and, as of June 2014, has released seven volumes under the title 閃爍的青春. Waneko released a Polish translation of the first volume in February 2014 and, as of June 2014, has released three volumes under the title Ścieżki Młodości.
Anime
An anime television series adaptation, produced by Production I.G and directed by Ai Yoshimura, premiered in Japan on 7 July 2014. Weekly broadcasts started at midnight on Tokyo Metropolitan Television (Tokyo MX). The opening theme for the series was performed by a collaboration between two Vocaloid creators CHiCO and HoneyWorks, while the ending theme was performed by Japanese rock band, Fujifabric. In addition, the three-member girl band Chelsy provided an insert song for the series. An Original Anime DVD is also slated for release tie-in with the 11th volume of the manga series. The anime has been licensed by Sentai Filmworks. It premiered with subtitles in 2015 on Anime Network On Demand.
Film
A live action film directed by Takahiro Miki was released on 13 December 2014. It stars Tsubasa Honda as Futaba Yoshioka and Masahiro Higashide as Kou Mabuchi. Izumi Fujimoto plays Yūri Makita, Yua Shinkawa plays Shūko Murao and Ryō Yoshizawa plays Aya Kominato.
Reception
The manga has sold over 5.84 million copies as of 9 May 2014.
The film has grossed ¥1.90 billion (about US$16.0 million) at the Japanese box office.
References
Blue Spring Ride Wikipedia
(Text) CC BY-SA