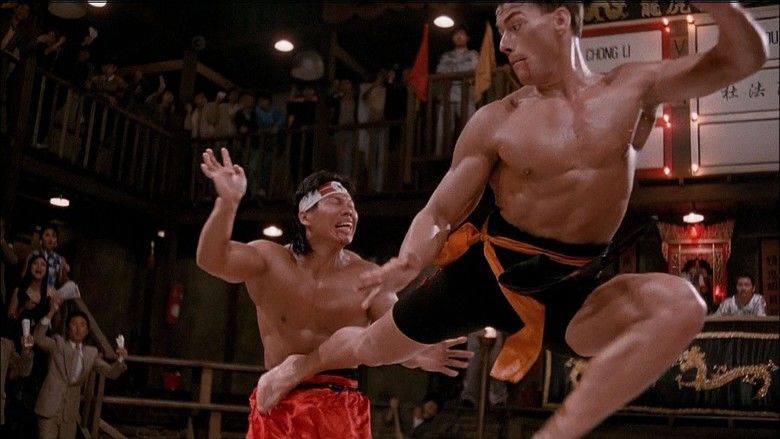 U.S. Army Captain Frank Dux (pronounced "Dukes"), trained from his youth in the ways of ninjutsu by Senzo Tanaka, honors his mentor by taking the place of Tanaka's deceased son Shingo in the illegal martial-arts tournament Kumite in Hong Kong. During his childhood, Dux and a group of friends broke into Tanaka's home to steal a katana, but Dux was apprehended by the Tanakas while attempting to return the katana to its display rack. Impressed by Dux's honesty and lack of fear, Senzo trained him together with Shingo in martial arts. Following Shingo's death, Senzo agreed to train Dux as a member of the Tanaka clan. When Dux's superiors learn of his invitation to the Kumite, they refuse to let him go. Dux goes absent without a leave, saying goodbye to his mentor and leaving for Hong Kong. Two Criminal Investigation Command (CID) officers, Helmer and Rawlins, are summoned to track down and arrest Dux for desertion.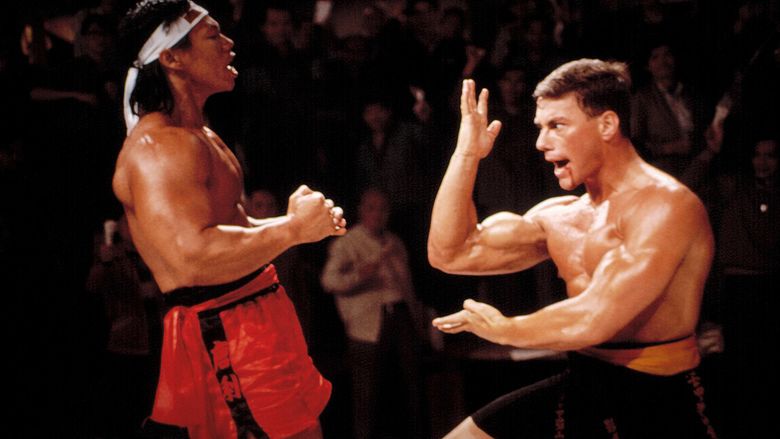 After arriving in Hong Kong, Dux befriends American fighter Ray Jackson and Victor Lin, who becomes the manager and liaison for Jackson and Dux. The two Americans and the defending Kumite champion Chong Li—a fighter with a savage streak—all make it through the first day of the Kumite. Dux earns the enmity of Li after breaking his record for the fastest knockout. He becomes involved with American journalist Janice Kent, who is attempting to investigate the secretive Kumite, but is shocked by its violence. On the second day of the tournament, Jackson is matched against Li. Although Jackson gains the upper hand, he gloats instead of finishing Li off. Li recovers and brutally beats Jackson, landing him in hospital. Dux vows that he will avenge Jackson. Kent tries to convince Dux to pull out of the tournament for his own safety, but he refuses.
On the last day of the competition, Dux is cornered by Helmer and Rawlins, but he defeats them and the local police. He then promises to give himself up once the tournament is over. Dux advances to the tournament final to face Li, who alienated the audience by killing his semifinal opponent. Dux gains the upper hand, but Li cheats by blinding him with a crushed salt pill. Dux uses his other senses as Senzo had taught him to overcome the handicap and defeat Li, becoming the first Western winner of the Kumite. He then returns to the United States with the CID officers.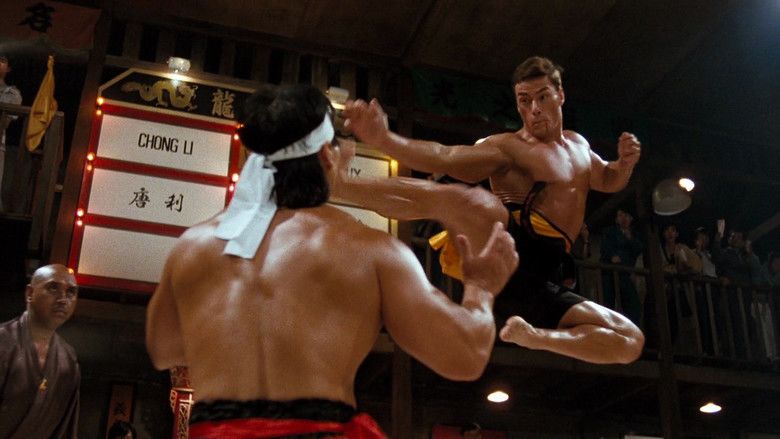 Jean-Claude Van Damme as Frank Dux
Bolo Yeung as Chong Li
Donald Gibb as Ray Jackson
Leah Ayres as Janice Kent
Norman Burton as Helmer
Forest Whitaker as Rawlins
Ken Siu as Victor Lin
Roy Chiao as Senzo Tanaka
Michel Qissi as Suan Paredes
Philip Chan as Inspector Chen
Co-writer Sheldon Lettich came up with the idea for the film.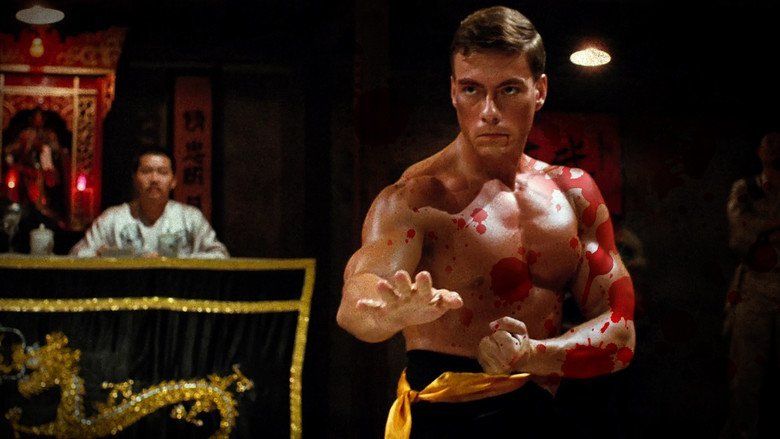 I had known Frank Dux for a number of months before I came up with the idea for Bloodsport. Frank told me a lot of tall tales, most of which turned out to be bullshit. But his stories about participating in this so-called "Kumite" event sounded like a great idea for a movie. There was one guy who he introduced me to, named Richard Bender, who claimed to have actually been at the Kumite event and who swore everything Frank told me was true. A few years later this guy had a falling-out with Frank, and confessed to me that everything he told me about the Kumite was a lie; Frank had coached him in what to say.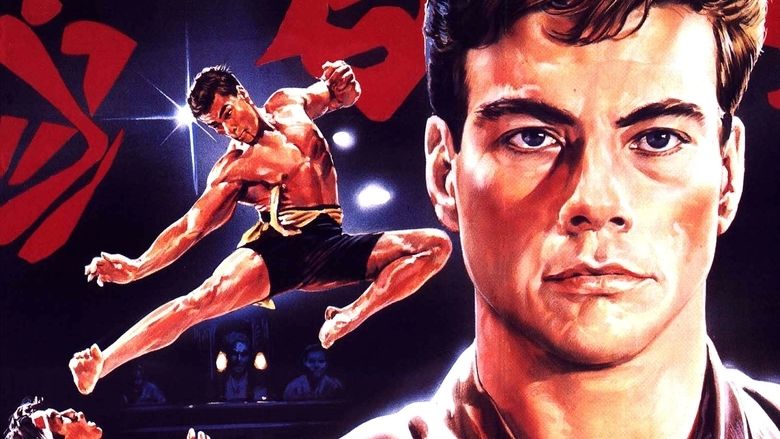 Producer Mark Di Salle said he was looking for "a new martial arts star who was a ladies' man, [but Van Damme] appeals to both men and women. He's an American hero who fights for justice the American way and kicks the stuffing out of the bad guys." Bloodsport is one of the few films featuring scenes filmed inside Kowloon Walled City before its destruction.
The Los Angeles Times reports a U.S. box office gross of $11.7 million against a budget of $2.3 million. According to The Chicago Tribune, the film pulled in $65 million worldwide, including $15 million in the U.S. and Canada, making it Cannon Group's most profitable film of 1988.
Bloodsport was released on VHS, selling 150,000 units by 1989. Warner Brothers released a DVD of the film in the United States on October 1, 2002.
Rotten Tomatoes, a review aggregator, reports that the film received positive reviews from 33% of the 18 surveyed critics; the average rating was 4.3 out of 10. Leonard Klady of the Los Angeles Times wrote, "Hacking through the jungle of cliche and reservoir of bad acting in Bloodsport [...] are some pretty exciting matches."
Van Damme was nominated for a Golden Raspberry Award for Worst New Star, but lost out to Ronald McDonald in Mac and Me.
Bloodsport's soundtrack score was composed by Paul Hertzog, who also composed another Jean-Claude Van Damme film titled Kickboxer. The soundtrack contains the songs "Fight to Survive" and "On My Own", both performed by Stan Bush. Bush's songs are replaced on the soundtrack with alternate versions sung by Paul Delph, who was nominated for a Grammy for this work. The film plays the song "Steal the Night" by Michael Bishop during a scene where Dux runs from Helmer and Rawlins. The song was not released until the mid-2000s, as a single containing a vocal and instrumental version. On June 26, 2007, Perseverance Records released a limited edition CD of the soundtrack including, for the first time, the original film versions of the Stan Bush songs.
Since its release, Bloodsport has become a cult film. It was followed by three sequels: Bloodsport II: The Next Kumite (1996), Bloodsport III (1997) and Bloodsport 4: The Dark Kumite (1999). They were released direct-to-video, and Jean-Claude Van Damme did not appear in any of them.
A remake of Bloodsport was reported to be in planning in 2011. Phillip Noyce was attached to direct a screenplay by Robert Mark Kamen. The main character was supposed to be an American Afghanistan War veteran competing in a vale tudo tournament in Brazil. V for Vendetta director James McTeigue was attached to the project by 2013, and the filming was to be done in Australia and Brazil.
Bloodsport was covered in the 132nd episode of the Earwolf Network movie criticism podcast How Did This Get Made?, released on March 23, 2016.