9.2

/

10

Alchetron

9

Rate This





Genre

puzzle video game




Initial release date

1989






Designer(s)

Aleksander Ustaszewski, Mirosław Zabłocki




Release date(s)

Arcade version:NA: October 1989Mega Drive/GenesisJP: November 1, 1991NA: 1991EU: 1991


Developers

California Dreams, PZKaren Co. Development Group




Platforms

Arcade game, Sega Genesis, DOS, Linux, Amiga


Publishers

Technōs Japan, Electronic Arts, California Dreams




Modes

single-player video game, Multiplayer video game


Similar

Technōs Japan games, Puzzle video games
Blockout is a Puzzle video game, published in 1989 by California Dreams, developed in Poland by Aleksander Ustaszewski and Mirosław Zabłocki.
Contents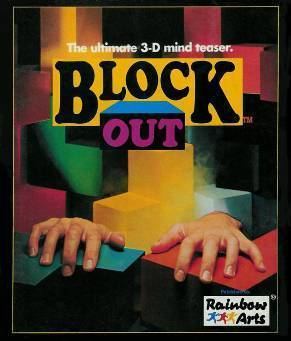 Gameplay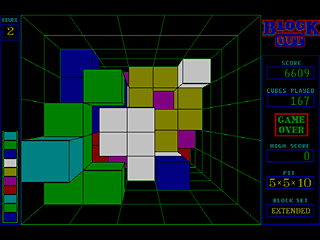 The game is the logical extension of Tetris into the third dimension. In regular Tetris, the player manipulates a set of tetrominoes which fall into a two-dimensional pit (seen from the side). The aim is to solve a real-time packing problem by forming complete rows, which then disappear and score points. Poor play leads to incomplete rows, caused by inefficient arrangements of tiles; these rows do not disappear, giving the player progressively less space and less time to play subsequent pieces. Similarly, in Blockout, the player manipulates a set of polycubes which fall into a three-dimensional pit (seen from above; the pieces appear in the foreground and fall away). The pieces can be rotated around all three axes, and moved horizontally and vertically. The aim is to form complete layers.
Reception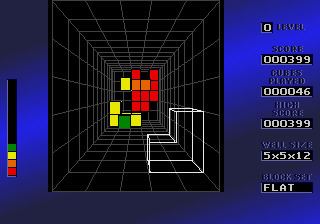 The New York Times reviewed the game in an article about educational software for mathematics, writing that Blockout "doesn't pretend to be educational, but the skills required to master it are not unrelated to mathematics, particularly geometry." A 1993 study found evidence that playing Blockout improved the spatial visualization ability of 10- to 14-year-olds. Dragon gave the game's Atari Lynx version a perfect score.
Legacy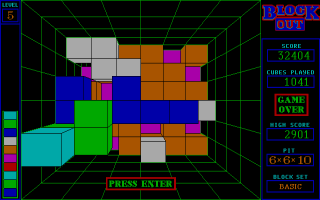 Around 2007 a modernized remake named "Blockout II" was released with a license from Kadon Enterprise to use the trademarked "Blockout" name. The game is open source and was ported to many Platform(s) the original wasn't available before, like Windows, Ubuntu, and the OpenPandora handheld.
References
Blockout Wikipedia
(Text) CC BY-SA