Covid-19
6.8

/

10

Alchetron

Rate This




Nunnally Johnson




Leigh Harline




United States






Drama, Film-Noir, Mystery





English






October 28, 1954 (1954-10-28) (United States)




Nunnally Johnson (screen play), Hugh Wheeler (novel), Hugh Wheeler (story)




20th Century Fox Film Noir




Ginger Rogers

(Carlotta 'Lottie' Marin),

Van Heflin

(Peter Denver),

Gene Tierney

(Iris Denver),

George Raft

(Detective Lt. C.A. Bruce),

Peggy Ann Garner

(Nancy 'Nanny' Ordway),

Reginald Gardiner

(Brian Mullen)


Jupiter Ascending

,

Pitch Perfect 2

,

The Last Witch Hunter

,

Frozen

,

Captain America: The First Avenger

,

The Avengers




Someone will kill this girl tonight!
At a party, Broadway producer Peter Denver (Van Heflin) meets Nancy Ordway (Peggy Ann Garner), a young writer struggling to make it in New York City. Taking pity on her, Denver offers Nancy his apartment as a place to write while his wife, Iris (Gene Tierney), is away. Shortly after, Nancy is found dead in his bathroom, apparently murdered, and Denver is, of course, the main suspect. As rumors swirl about his involvement with Nancy, Denver decides to search for her killer himself.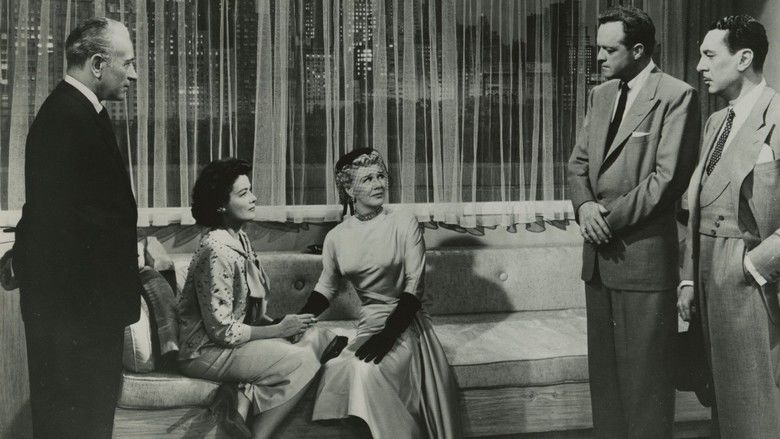 Black Widow is a 1954 DeLuxe Color mystery film in CinemaScope, with elements of film noir, written, produced and directed by Nunnally Johnson and starring Van Heflin, Ginger Rogers, Gene Tierney, and George Raft.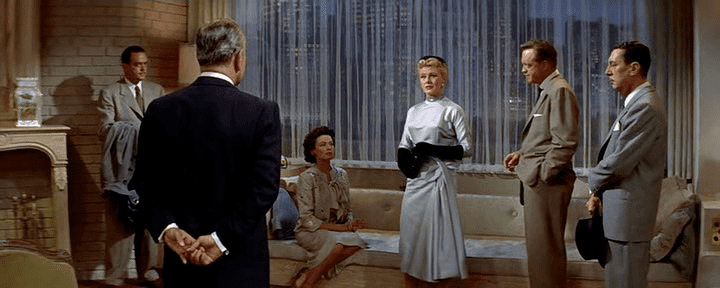 Ginger Rogers steals the show as a selfish, snide Broadway superstar in Nunnally Johnson's Black Widow, preening, snooping, gossiping, and bestowing air kisses in equal abundance. Rogers is Carlotta Marin, a grande dame of the thea-tah, married, it would seem happily, to Brian Mullen (Reginald Gardiner). Yet at the heart of Black Widow is something grim, the death of a young, ambitious writer named Nancy (Peggy Ann Garner), who gloms onto a theater producer (Van Hefflin), who's in love with his wife, Iris (Gene Tierney, heartbreakingly lovely). Nancy's death appears to be self-inflicted, and yet as each piece of evidencea weird suicide note, a threatening letter received in the mailpiles up, things begin to point to murder.
Peter Denver (Van Heflin) is a renowned Broadway producer attending a party—hosted by the viciously haughty and celebrated actress Carlotta "Lottie" Marin (Ginger Rogers) and her quiet husband Brian Mullen (Reginald Gardiner)—when he meets Nancy "Nanny" Ordway (Peggy Ann Garner). Ordway is a seemingly naive, 20-year-old, aspiring writer, who hopes to make it big in New York. She convinces a reluctant Denver to let her use his apartment to work during the day, while his wife, Iris (Gene Tierney), also a famous actress, is away, but with her permission. After the Denvers return from the airport and find Nancy hanging dead in their bathroom, a variety of people Ordway has recently met in New York begin to reveal deeper and darker connections with her. Lt. Bruce (George Raft), the detective assigned to the case, soon discovers that this apparent suicide was in fact a homicide and believes that Denver, quickly suspected of having an affair with Ordway, is the murderer. Denver evades arrest and seeks clues to discover the real murderer; the case becomes cluttered when he and Lt. Bruce independently realize that Ordways dealings in New York have not been as innocent as her superficial personality.
Ordway had recently stayed with an artist roommate, whose deceived brother she evidently agreed to marry, while also staying for some time with her uncle. A series of flashbacks reveal that, all along the way, Ordway was craftily piecing together a scheme that would help her climb the social ladder and, later, conceal the identity of an apparent secret lover, while falsely implicating Denver; this mysterious romance is confirmed by an autopsy, which reveals that Ordway was pregnant at the time of her death. Everyone Ordway knew is suddenly a suspect in the murder case, including Lottie Marin and Brian Mullen, who live in the same apartment building as the Denvers. In the end, Mullen, who can no longer keep quiet to his friend Peter Denver, reveals that he was Ordways secret lover, although he swears that he didnt kill her. Having bugged Mullens apartment, Lt. Bruce barges in, charging Mullen with the homicide. Finally Marin admits she in fact strangled Ordway for having the affair with her husband, and set up the killing to look like a suicide.
When the film was released The New York Times film critic panned the screenplay and the actors, writing, "...Black Widow, which was discovered at the Roxy yesterday, bears little or no resemblance to the recent local spider scourge, except that it is moderately intriguing and considerably overplayed. It is merely an average whodunnit, stretched out on the CinemaScope screen and performed by a fancy cast of actors so that it looks more important than it is ... The major fly in the ointment—or, should we say, in the web—is Peggy Ann Garner, playing the little Southern girl. Miss Garners endeavors to give out with a rush of peach-blossom charm are beclouded with affectation. And the idea that she could be the greedy and ruthless little vixen that is finally revealed is hard to believe ... And, finally, the shrill and shoddy character that Ginger Rogers plays—a poison-tongued Broadway actress—is indifferently written and performed. It is asking a lot of an audience to believe that she could display anything but clothes. George Raft as a poker-faced detective acts with flat-toned indifference, too, and Gene Tierney and Reginald Gardiner barely manage to live through their roles."
Film critic Dennis Schwartz panned the film in 2011: "Its a flimsy story that is apathetically written, poorly paced and overacted with shrill performances by both Ginger Rogers and Peggy Ann Garner. The B-film crime drama might have been better served as a cheapie production, with some of its filler scenes lopped off."
Craig Butler, however, reviewing it for allmovie.com, calls the film "entertaining" and notes that the "cinematography is frequently stunning". He refers to some "marvelous dialogue", noting "the film moves along at a nice, steady clip, and its enough fun that most viewers will overlook …[the] flaws." He praises Garner and Rogers, noting the latters "standout performance".
Black Widow (1954 film) Wikipedia
(Text) CC BY-SA
Black Widow (1954 film) IMDb
Black Widow (1954 film) themoviedb.org