Name

Bingyi Bingyi




Nationality

Chinese




Known for

Painting





Role

Artist




Education

Yale University








Born

1975 (

1975

)

Beijing, China
Bingyi cascade performance may 8th 2011
Bingyi (Chinese: 黄冰逸), born in 1975 in Beijing, is an emerging Chinese artist, curator, scholar, architectural designer, cultural critic and activist.
Contents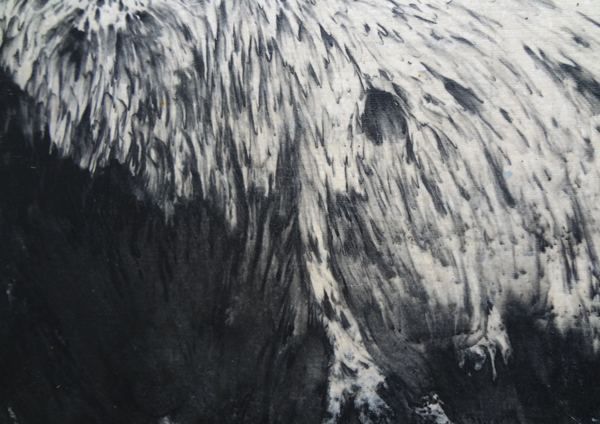 Bingyi cascade dress rehearsal may 7th 2011
Education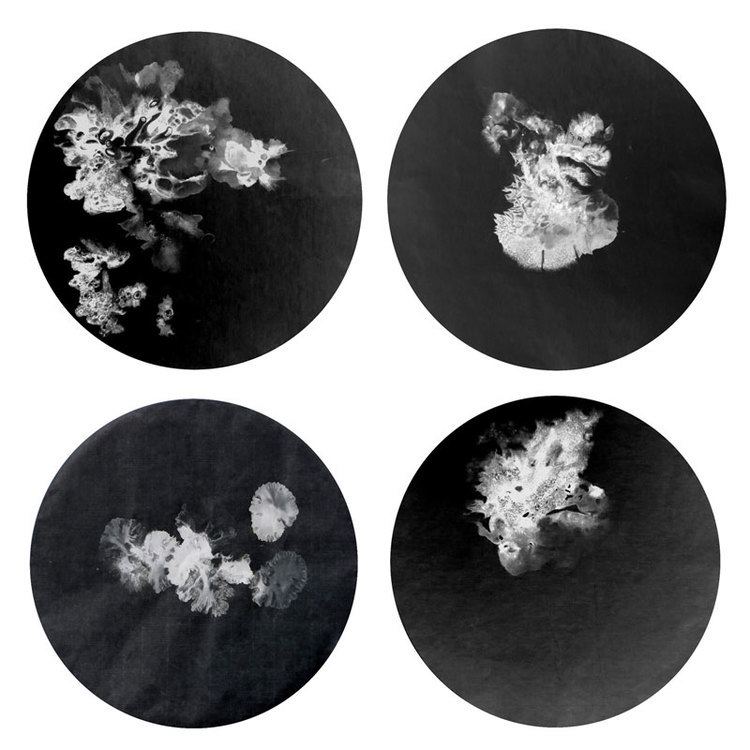 Bingyi received her B.A. from Mount Holyoke College in 1998, her M. A. from Yale University in 2001 and a Doctorate in Art History from Yale University in 2005. Her dissertation entitled "Rereading Mawangdui, From Chu to Han" was ranked the sixth most read dissertation by ProQuest amongst 70,000 dissertations in 2006.
Artwork
Although Bingyi has received little formal training in the visual arts, she began showing her paintings in 2007, and She is best known for her large-scale ink paintings in which she collaborates, over months or years, with the environmental conditions of a specific site to capture a reality-scaled record of the climatic and topological forces shaping a natural or urban landscape. At the other end of her wide-ranging practice, Bingyi explores the microscopic origins of organic life in intimate, small-format paintings, in which her minute and meticulous brushwork paradoxically reveals a profoundly creative, gestural, and "calligraphically expressive" quality drawn from her daily calligraphy routine. Through her hypnotic, obsessive endurance and execution both painstaking and nuanced, one senses the loving power of nature itself as it crafts animate life from inanimate matter; they have been described by critic Jonathan Goodman as "epic" in scale. She also creates installation art and woodcut prints. She exhibits with Ink Studio gallery in Beijing.
Exhibitions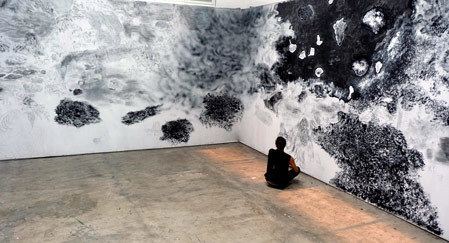 solo exhibitions of Bingyi include: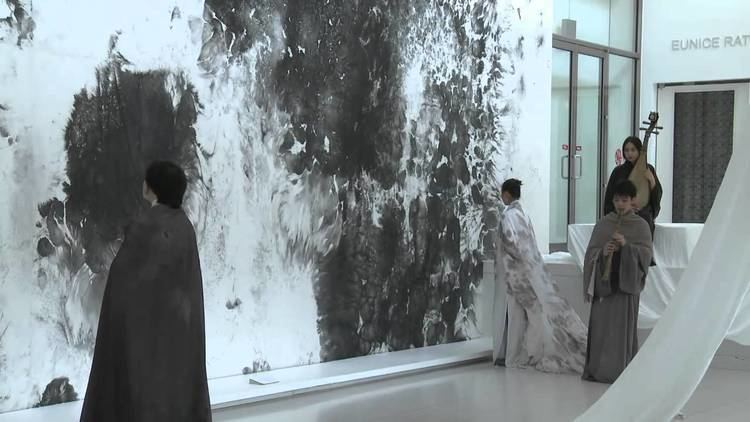 Bingyi: Intensive/Extensive, Ink Studio, Beijing, China (2015)
Inside the wall, Alvaro Alcazar, Madrid, Spain (2015)
Epoche, Shenzhen Bao'an International Airport, Shenzhen, China (2014)
Toronto Project: To the Non-earthman, Center Platform of Toronto City Hall, Toronto, Canada (2014)
Bingyi: Metamorphosis I, Museo de Arte Contemporaneo de Alicante, Alicante, Spain (2014)
Bingyi: Metamorphosis II, Art Gallery, Miguel Hernández University of Elche, Elche, Spain (2014)
Bingyi: Wanwu, Galeríe Charpa, Valencia, Spain (2014)
Bingyi: Heaven in the Cave, The Emperor Beijing Qianmen, Beijing, China (a collaboration with ASAP Design New York) (2013)
Gestalt of the Wind, St. Johannes-Evangelist-Kirche, Berlin, Germany (2012)
"Cascade: Opera in Performance," Smart Museum of Art, University of Chicago, Chicago (2011)
"Cascade: Bingyi: Inaugural Show for the Threshold Commission," Smart Museum of Art, University of Chicago, Chicago (2010)
"Seamlessly Lost," Erna Hecey Gallery, Brussels (2009)
"Bingyi: SKIN," Contrasts Gallery, Shanghai (2009)
"Bingyi: I Have Four Rooms, One Room Lives, One Room Dies, One Room Meanders, One Room Hangs" Tang Contemporary Art, Hong Kong (2008)
"Bingyi: Six Accounts of A Floating Life," Max Protetch Gallery, Project Room (2008)
"Bingyi: Invisible Rivers Invisible Towns," 9 Months, Global Projects, Art Map Journal, Beijing (2008)
"Dawns Here Are Quiet II," Ethan Cohen Fine Arts, New York (2007)
"Dawns Here Are Quiet I," Center for the Arts, SUNY Buffalo (2007)
"Between Omnipresence and Reminiscence," Sanshang Gallery, Beijing (2007)
Her artwork has been exhibited in the United States, Belgium, China, Korea and Spain. Her work was included in the 7th Gwangju Biennale.
Catalogues
Monographic catalogues of Bingyi's work include:
Luan, Seamlessly Lost: Bingyi's Projects, (Brussels: Gallerie Erna Hecey, 2009)
Bingyi, (Beijing and Hong Kong: Tang Contemporary Art Center, 2008), ND1049 .B56 A4 2008
Bingyi: Six Accounts of a Floating Life, (New York: Max Protetch Gallery, 2008), ND1049 .B56 A4 2008
Dawns Here are Quiet: Bingyi's Recent Paintings, (New York: Ethan Cohen Fine Arts, 2007)
Home: Bingyi's Recent Paintings (Hangzhou: National Academy of Fine Arts Publishing House, 2007), ND1049 .B56 A4 2007
In popular culture
On film:
2013 - The Enduring Passion for Ink by Britta Erickson
References
Bingyi Wikipedia
(Text) CC BY-SA