Period

Pure Tamil movement





Name

Bharathidasan Bharathidasan




Spouse

Pazhani Ammal




Died

21 April 1964Madras, India




Occupation

Teacher, Tamil poet, Tamil activist




Children

1)Saraswathi Kannappar 2)Mannarmannan 3)Vasantha Dhandapany 4) Ramani Sivasubramaniam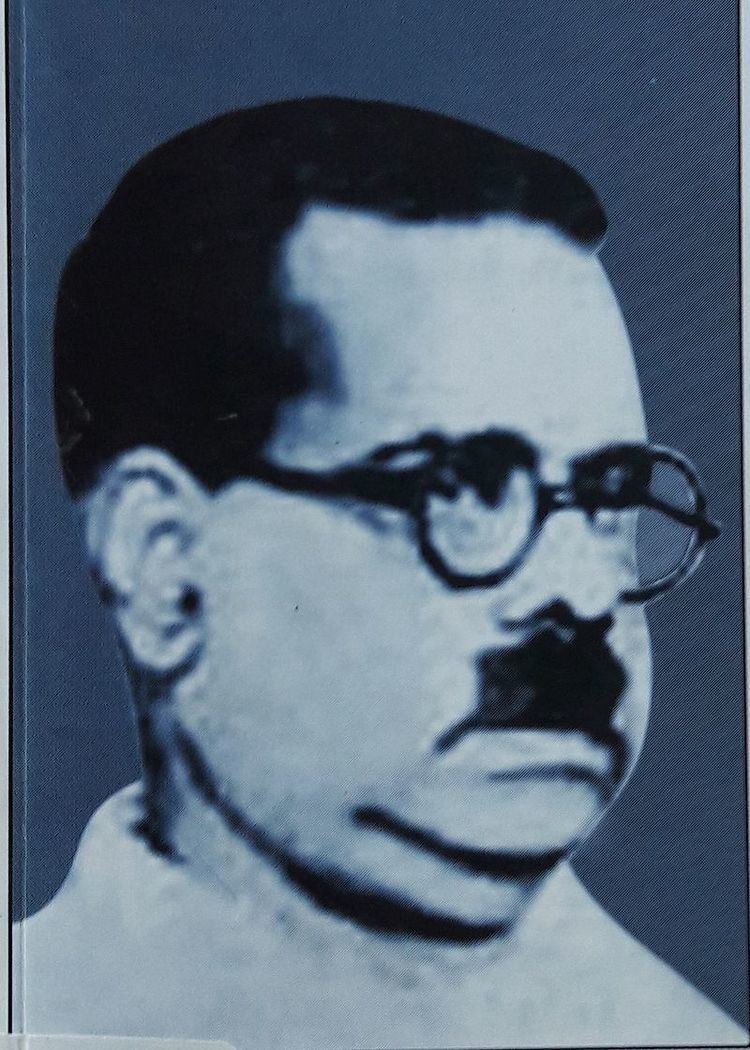 Bharathidasan
Parents = Kanakasabai,Lakshmi
Contents
Kanakasabai Subburathinam (Tamil: பாரதிதாசன்; 29 April 1891 – 21 April 1964, popularly called Bharathidasan) was a 20th-century Tamil poet and rationalist whose literary works handled mostly socio-political issues. His writings served as a catalyst for the growth of the Dravidian movement in Tamil Nadu. In addition to poetry, his views found expression in other forms such as plays, film scripts, short stories and essays. The Government of Puducherry union territory has adopted the song of invocation to Goddess Tamil written by Bharathidasan as the state song of Puducherry.
Bharathidasan valiyor silar
Life
Bharathidasan was born to Kanagasabai Mudaliar and Lakshmi Ammal in a well-to-do merchant family of Pondicherry. His original name was Subburathinam. He underwent formal education in Tamil literature, Tamil grammar and Saiva Siddhanta Vedanta under reputed scholars. He studied at the Collège Calvé in Pondicherry. In 1909, he was introduced to Subramaniya Bharathiyar, and his interactions with the Mahakavi had a major impact on him. He initially worked as a Tamil teacher in the French territory of Karaikal.
He actively participated in the Indian Independence Movement and through his writings, he openly opposed the British and the French Government. He was sentenced and imprisoned by the French Government for voicing views against the French Government that was ruling Pondicherry then.
Throughout his writing career he was encouraged by political leaders such as Annadurai, M. Karunanidhi, Tanjore Poet Ramanathan and M. G. Ramachandran. In 1955 he was elected to the Puducherry Legislative Assembly. In 1960 he failed in the election. He remained a prolific writer until his death in 1964.
Literary works
Bharathidasan penned his works under different pseudonyms such as Paavendar, Puduvai Kalaimakal, Desopakari, Desabhaktan, Anantapotini, Swadesamitiran, Tamilarasu, Tupleks, Kirukkan, Kindalkaran and the name by which he known today — Bharathidasan.
His works include:
Thamizhachi Kathi
Srimayilam Suppiramaniar Thuthiyamuthu
Sanjivi Parvathin Saaral
Edhirpaaraadha Mutham
Kaadhal Ninaivugal
Nalla Theerppu
Alagin Sirippu
Kudumba Vilakku
Pandiyan Parisu
Irunda Veedu
Tamil Illakiyam
Amaidhi — Oomai
Saumiyan
Kavingar Pesugiraar
Kadhala Kadamaiya
Hindi Ethurppu Paadalgal
Kannagi Puratchi Kaapiyam
Manimekalai Venpa
Panmanithiral
Tenaruvi Isai Paadalgal
List of poems made into film lyrics
Thamizhukum Amudenru per
Sanke Muzhangu
Thunbam nergaiyil
Thesa gnanam
Neelavana aadaikul
Valiyor silar
Muzhumai Nila
Chithirai
Pallikudam
Kalyanam aagatha penae
Kaatrilellam
Kandavudal kadal
Vaanukku nilavu
Paazhai pona manam
Vaana mazhai neeye
Avalum Naanum Amudhum Thamizhum
Awards and recognitions
Bharathidasan was conferred with the title of "Puratchi Kavingyar" (meaning the "Revolutionary Poet") by anna. He won the Golden Parrot Prize in 1946 for his play Amaithi-Oomai (Peace and Dumbness). He was given the Sahitya Academy award posthumously in 1970 for his play Pisiranthaiyar
On 9 October 2001, a commemorative stamp of Bharathidasan was released by the Postal Department in Chennai.
Legacy
Tamil Nadu's state government gives the Bharathidasan Award annually to a Tamil poet.
The Government of Puducherry union territory has adopted Bharathidasan's song of invocation to Goddess Tamil as the state song of Puducherry.
A state university named Bharathidasan University was established in Tiruchirappalli.
India's top B-school named Bharathidasan institute of management was established in Tiruchirappalli.
References
Bharathidasan Wikipedia
(Text) CC BY-SA