Country

India




District

West Champaran




Population

116,670 (2001)




State

Bihar










Languages spoken

Bhojpuri, Hindi, English



Map of Bettiah
Bettiah (Bɛtɪjɑː,Bɛtɪjɑː) is a city hosting administrative headquarters of the West Champaran district (Tirhut Division) - (Tirhut), near Indo-Nepal border, 225 kilometres north-west of Patna, in Bihar.
Contents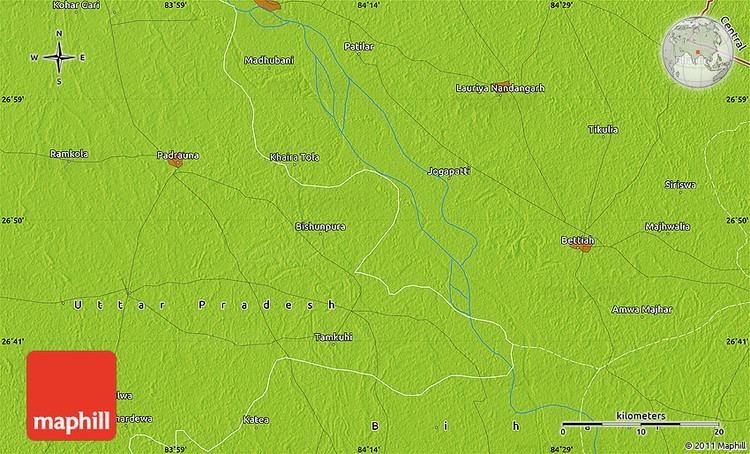 History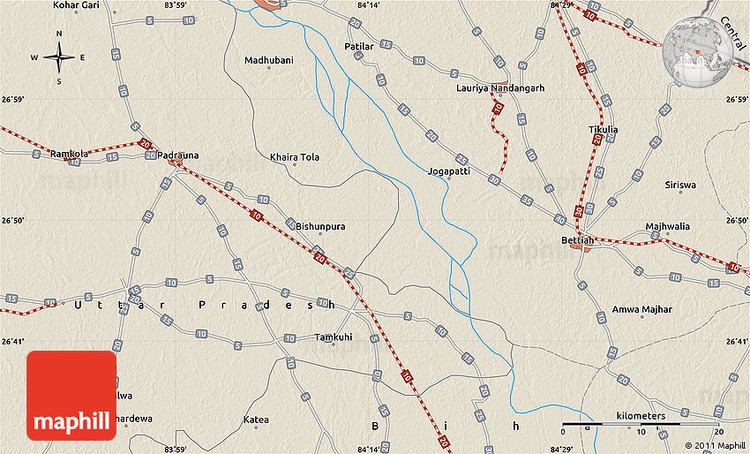 Back in 1244 A.D., Gangeshwar Dev, a Brahmin of Jaitharia clan settled at Jaithar in Champaran. One of his descendants, Agar Sen acquired large territory in the reign of Emperor Jehangir and was bestowed the title of 'Raja' by Emperor Shah Jahan. In 1659, he was succeeded by his son Raja Guj Singh, who built the palace of the family at Bettiah. He died in 1694 A.D. The palace stands today but serves as marketplace due to the neglect of authorities.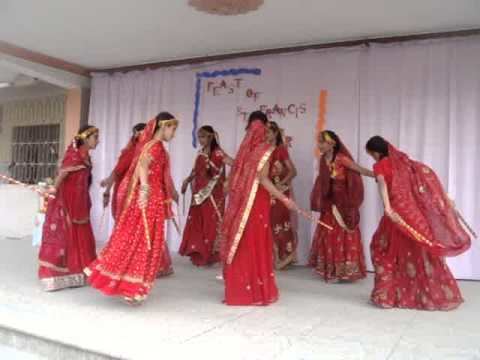 In 1765, when the East India Company acquired the Diwani Bettiah Raj held the largest territory under its jurisdiction. It consisted of all of Champaran except for a small portion held by the Ram Nagar Raj (also held by Bhumihar family).
Maharaja Sir Harendra Kishore Singh was the last king of Bettiah Raj. He was born in 1854 and succeeded his father, the late Maharaja Rajendra Kishore Singh Bahadur in 1883. In 1884, he received the title of Maharaja Bahadur as a personal distinction and a Khilat and a sanad from the hands of the Lieutenant Governor of Bengal, Sir Augustus Rivers Thompson. He was created a Knight Commander of the Most Eminent Order of the Indian Empire on 1 March 1889. He was appointed a member of the Legislative Council of Bengal in January, 1891. He was also a member of The Asiatic Society He was the last ruler of Bettiah Raj. Maharaja Sir Harendra Kishore Singh Bahadur died heirless on 26 March 1893, leaving behind two widows, Maharani Sheo Ratna Kunwar and Maharani Janki Kunwar. One can find many institutes in name of the queen Maharani Janki Kunwar, espe. M.J.K College and M.J.K Hospital. The Bettiah Gharana was one of the oldest style of vocal music. Madhuban was part of the erstwhile 'Bettiah Raj'. Internal disputes and family quarrels divided the Bettiah Raj in course of time. Madhuban Raj was created as a consequence.
A section of Dhrupad singers of dilli gharana (Delhi Gharana) from Mughal emperor Shah Jahan's court had migrated to Bettiah under the patronage of Bettiah Raj and thus was sown the seed of Bettiah Gharana. The famous Dagar brothers had praised the Bettiah Dhrupad singers and some of them were invited to the Bharat Bhavan in Bhopal to perform with other accomplished singers in 1990.
Demographics
As of 2011 Indian census, Bettiah has a population of 1,32,896. Males constitute 53% (70,381) of the population and females 47% (62,515). Although Bettiah city has population of 1,32,896; its urban population is 1,56,200 of which 82,663 are males and 73,537 are females, with a sex ratio of 888 females, per 1000 males. Total children (0-6) in Bettiah city are 18,203 as per figure from Census India report on 2011. There were 9,685 boys while 8,518 are girls. The child forms 13.70% of total population of Bettiah City.
Bettiah Urban Agglomeration includes Bettiah (Nagar Panchayat), Tola Mansaraut (Census Town), Kargahia Purab (Census Town) and Hat Saraiya (Census Town). Tola San Saraiyan new town aided village. The new Gopalganj-Bettiah Road passed through this new town aided village. Through this new road a distance of 60 km become shorten for Gopalganj-Bettiah.
Climate
The climate of Bettiah is characterized by high temperatures and high precipitation specially during the monsoon season. The Köppen Climate Classification sub-type for this climate is "Cfa" (Humid Subtropical Climate).
Transport and connectivity
Bettiah is located about 183 kilometers north-west of Patna,Capital of Bihar. The SH 54 and SH 64 passes through the town.It is well connected through various trains to other cities.It is well connected with Nepal and Uttar Pradesh by road. Inside the town various corners of the city is well connected through autos and rickshaws.Buses and private taxis runs between nearby small towns and cities. The bettiah AIRPORT known as Helipad is located in Barwat sena 6km from the city railway station.This helipad is used for VIP and VVIP.
Notable people
Gopal Singh Nepali, Poet of Hindi literature and a famous lyricist of Bollywood.
Raj Kumar Shukla, Sant Raut(Bhagat) Indigo cultivator and freedom fighter who met Mahatma Gandhi to make him aware of the plight of the cultivators in Champaran
Kedar Pandey, Indian freedom fighter and Indian National Congress politician.
Manoj Bajpai, Indian Film Actor
Prakash Jha, Indian Film Producer, Director, Screenwriter.
References
Bettiah Wikipedia
(Text) CC BY-SA