Echange muscle entre paul arcand et bernard landry
Bernard Landry, ([bɛʁnaʁ lɑ̃dʁi]; born March 9, 1937) is a Quebec lawyer, teacher, politician, who as the leader of the Parti Québécois (2001–2005) served as the 28th Premier of Quebec (2001–2003), and leader of the Opposition (2003–2005).
Contents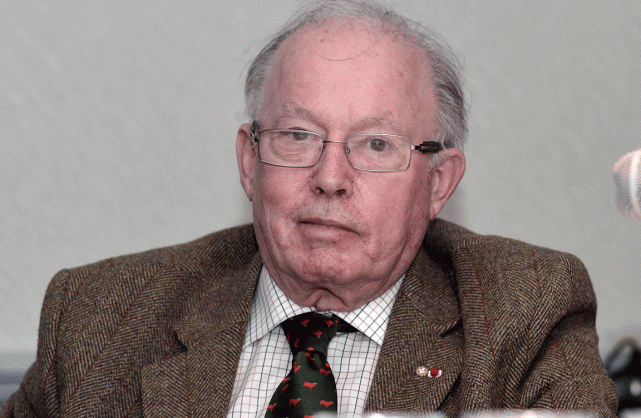 Personal life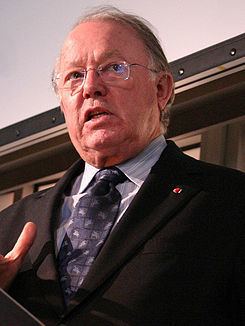 Landry was born on March 9, 1937, in Saint-Jacques, Quebec, (near Joliette), the son of Thérèse Granger and Bernard Landry. On June 26, 2004, he married script writer and former yé-yé singer Chantal Renaud. A native speaker of French, he also speaks fluent English and Spanish.
Professional profile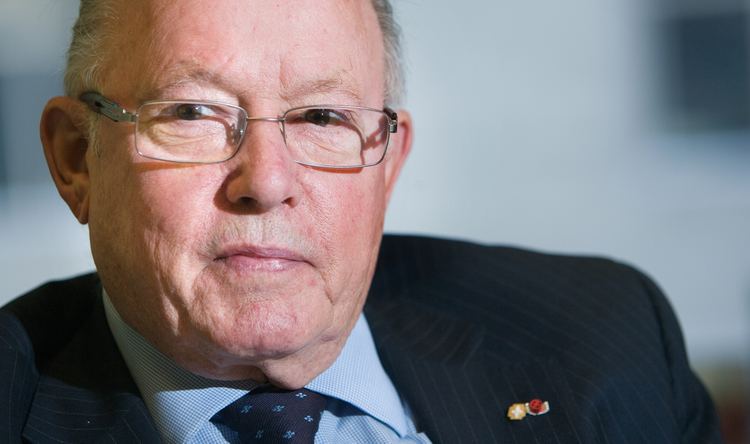 Landry received a degree in law from the Université de Montréal, and a degree in economics and finance from Institut d'Études Politiques de Paris.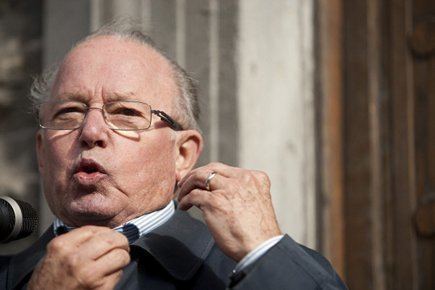 He ran unsuccessfully in Joliette in the 1970 election and in Joliette-Montcalm in 1973. A practising lawyer, he was a partner in the Montreal law firm of "Lapointe Rosenstein" when he was elected to the National Assembly of Quebec in the 1976 general election in Fabre. Under the Parti Québécois (PQ) government of René Lévesque, he served as Minister of State of Economic Development from February 2, 1977, to March 12, 1981. Re-elected in the riding of Laval-des-rapides at the 1981 general election, he was again Minister of State of Economic Development until September 9, 1982, when he was made Delegate Minister to Exterior Commerce. He was later Minister of International Relations and Exterior Commerce, and Minister of Finance in the same government.
After the defeat of Parti Québécois in the 1985 general election, he taught in the Department of Administrative Sciences at the Université du Québec à Montréal until 1994. After the victory of the PQ in the 1994 general election, the newly elected Premier, Jacques Parizeau, made him his Deputy Premier, a position he held from September 26, 1994, to December 15, 1998.
Landry became Premier of Quebec on March 8, 2001, following the resignation of Lucien Bouchard. He is a Quebec sovereigntist advocating a supranational confederation of Quebec and Canada, inspired by the institutions of the European Union. As such, he is one of the most faithful followers of René Lévesque and the other sovereignty-associationists. He is the author of Commerce sans frontières ("Trade without Borders"), published in 1987.
During the Parti Québécois leadership race of 2001, Landry criticized the federal government's policy of prominently displaying the maple leaf on federal government buildings and programs by saying, ""Le Québec ne ferait pas le trottoir pour un bout de chiffon rouge." ("Quebec does not prostitute itself for a piece of red cloth"). Landry's aggressive remarks were widely criticized for insulting the Canadian flag, particularly among English-language media which rendered chiffon as "rag". Landry subsequently apologized but insisted that his words had been mistranslated. Landry's opponents used the controversy to undermine his national political cachet.
In 2003, Landry lost the Quebec general election to Jean Charest's Quebec Liberal Party. A renowned documentary named À Hauteur d'homme about his viewpoint of the election was produced in 2003. At the August 2004 Parti Québécois National Council, after a long period of reflection that began the day after the election, he announced on August 27, 2004, that he would remain president of the party, and lead the PQ to the next election in order to bring Quebec to independence. However, on June 4, 2005, Landry announced he would resign as party leader after gaining only 76.2% approval in a leadership confidence vote at a party convention in Quebec City.
Since September 2005, he has been a professor at UQAM in the business strategy department.
On February 9, 2008, Landry hosted the final round of the Finance Quiz at the 2008 Financial Open at UQAM.
Works
Quebec's Foreign Trade, 1982
Preface of Price Waterhouse's Les 58 moyens d'exporter, 1985
Commerce sans frontières : le sens du libre-échange, 1987
Preface of Zeina El Tibi's La Francophonie et le dialogue des cultures, 2001
La cause du Québec, 2002
Le commerce international : une approche nord-américaine, 2008 (in collab. with Antoine Panet-Raymond and Denis Robichaud)
Articles
"La mondialisation rend la souveraineté plus nécessaire et urgente que jamais", in L'Action nationale, March 1999 (en, fr)
"Pour l'indépendance politique et pétrolière", in Le Devoir, June 13, 2008 (en, fr)
Honours
1999 - Bavarian Order of Merit [1]
- Legion d'honneur
2006 - Saint-Jean-Baptiste Society's Patriot of the Year and Bene merenti de patria medal
References
Bernard Landry Wikipedia
(Text) CC BY-SA