Ben Arogundade (born April 11, 1965, London) is a British-born author, publisher, voiceover artist and creative director of limited edition books. He originally trained as an architect before diversifying into print journalism and graphic design. In the mid-1990s he launched his own style magazine, Extract. In 2000 he wrote his first book, Black Beauty, which explored Western culture's perceptions of the black image. In 2006 he became creative director at Gloria books — publishers of high end limited edition photography collectables. Today he creates, writes and publishes under his own name.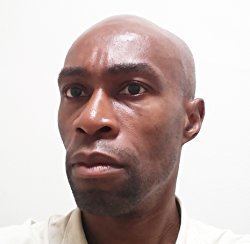 Ben Arogundade was born in Shepherd's Bush, west London. He is one of eight children of Nigerian parents who emigrated to the capital in 1961. His mother was a nurse and midwife and his father was a photographer, film director and playwright. He died in September 1984. His family on his mother's side come from the royal house of Owu in Abeokuta, capital of Ogun State, south west Nigeria. His grandfather was king of the region from 1949 to 1972.
Arogundade attended Henry Compton School in Fulham, London. Olympic sprint champion Linford Christie was in the year above him. After school he enrolled on an architecture course at South Bank University, where he was classmates with Patrik Schumacher, now director and senior designer at Zaha Hadid architects.
After graduating in 1990 Arogundade worked as a junior architect on a range of commercial buildings, including the Oxo Tower on London's South Bank, adjacent to The Tate Modern. He left the profession during the recession of the mid-1990s, diversifying into journalism and graphic design, both of which he taught himself.
In 1995 he wrote the business plan for a new kind of magazine which preceded the birth of reality TV in Britain. Launched in 1996, Extract was radical — a celebrity-free bi-monthly style magazine dedicated to interviews with life's unknown characters. The magazine's creative irreverence attracted the attention of advertising geniuses Thomas Carty and Walter Campbell from the Abbott Mead Vickers BBDO agency. The duo were creators of the famous Surfer (Guinness) campaign which won ad of the century. They produced a series of controversial ads for the fledgling magazine, which were banned in cinemas but later won two industry awards. The magazine ran for four issues before closing a year later.
After this Arogundade began working as a freelance journalist. He has written for a number of publications, including The Times, The Observer, The Guardian, Marie Claire' and The Evening Standard. It was while reporting backstage at a Paris fashion show that he had the idea for his first book, Black Beauty. It began as a magazine article about discrimination against black models, but then evolved into an analysis of the way the black image has fared historically within Western culture. The book was published in 2000, and was later adapted into a three-part BBC documentary.
Following this Arogundade diversified into fiction and screenplays, adapting a series of short stories for television, with actor Laurence Fishburne. He also signed on as a voiceover artist with Sue Terry Voices in London. His voice has featured on a range of documentaries, commercials and TV channel idents.
In 2006 he was appointed creative director at start-up luxury publisher, Gloria books. The company was founded by Ovais Naqvi, co-editor of the Muhammad Ali super book, GOAT, published by Taschen in 2003. The new company specialised in super-sized, limited edition photography books, aimed at high end collectors globally. During his tenure Arogundade produced four groundbreaking limited edition collectables — Pelé, Super-yacht, Scarfe on the Wall and New York.
In 2010 he started his own publishing company bearing his name.