Country of origin

Belgium

Higher classification

Horse




Other names

Brabants trekpaardCheval de trait belgeBrabançonBelgian Heavy DraftBelgisch Trekpaard

Distinguishing features

Male height, average: 168 cmFemale height, average: 164 cmMale weight, average: 900 kgFemale weight, average: 700 kg

Similar
The Belgian horse or Belgian draft horse, also known as Belgian Heavy Horse, Brabançon, or Brabant, is a draft horse breed from the Brabant region of modern Belgium, where it is called the Cheval de trait belge or Flemish: Belgisch Trekpaard or Brabants Trekpaard or Brabander. It is one of the strongest of the heavy breeds. The breed associations are the Société Royale Le Cheval de Trait Belge/ Koninklijke Maatschappij het Belgisch Trekpaard and the Eleveurs Wallons du Cheval de Trait Belge/ Vlaamse Fokkers van het Belgisch Trekpaard.
Contents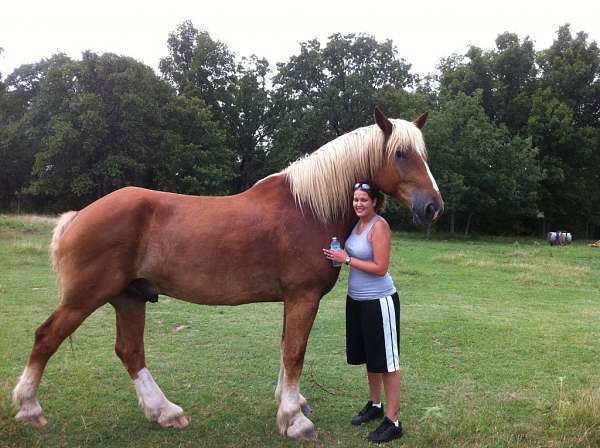 Belgian horse set of picture ideas of horses
Characteristics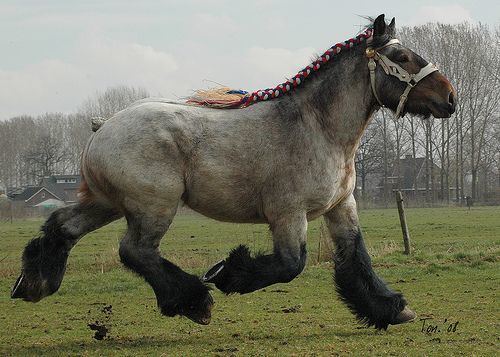 The Belgian Heavy Draft horse stands between 16.2 and 17 hands (66 and 68 inches, 168 and 173 cm). On average the Belgian grows to weigh slightly over 900 kilograms (2,000 pounds). Most American Belgians are a light chestnut with a flaxen mane and tail. The head is relatively small and well-shaped. American Belgians in North America are not as large as the European Brabant but is of a similar build.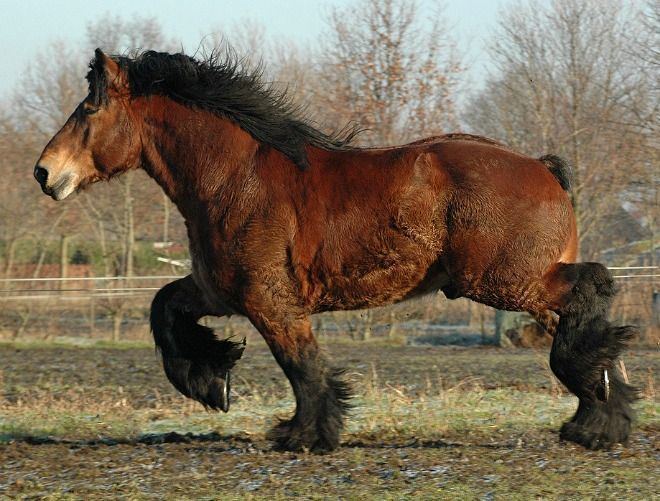 Currently, the world's tallest horse is a Belgian Draft horse named Big Jake, a gelding born in 2000. He stands 20.2 3⁄4 hands (82.75 inches, 210 cm) tall.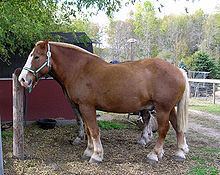 The world's largest Belgian Draft was named Brooklyn Supreme. He weighed 3,200 lb (1,451 kg) and stood at 19.2 hands (78 inches, 198 cm).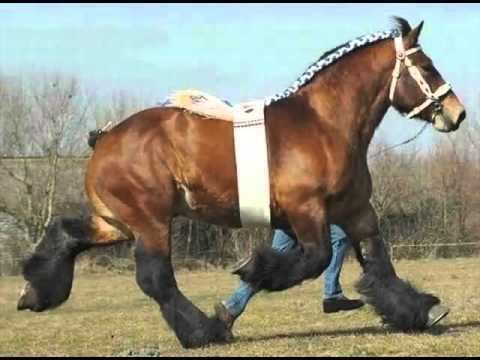 Belgians have a high occurrence of junctional epidermolysis bullosa (JEB), an inherited genetic disorder that causes newborn foals to lose large areas of skin and have other abnormalities, normally resulting in euthanasia. A study conducted in 2001–2003 found that 17.1% of tested Belgians in the US and Canada were carriers, including 13.5% of stallions and 28.9% of mares. If carriers are not mated, JEB can be avoided, and scientists are studying the disease further in the hope of completely eliminating it. The US Belgian breed registry requires JEB testing. Belgians have also been identified to be at risk for chronic progressive lymphedema, a chronic progressive disease that includes symptoms of progressive swelling, hyperkeratosis and fibrosis of distal limbs. The disease is similar to chronic lymphedema in humans.
Breed history
Historically, it is theoretically possible the Belgian may have had ancestors that were destriers in the Middle Ages, although no independent evidence supports this claim. The foundation stock for the Belgian was originally known as the Brabant. Other names for essentially the same breed include the Cheval de trait Belge, Brabançon, and Belgisch Trekpaard. Until the 1940s, the Belgian and the Brabant were essentially the same breed. Following World War II, the Brabant in Europe was selectively bred to be thicker bodied and heavier, while in the United States, the Belgian was bred to be somewhat taller and lighter bodied. The main use was as a farm horse. Closely related breeds include the Trait du Nord and Nederlands Trekpaard.
In 1887, the American Association of Importers and Breeders of Belgian Draft Horses was founded in Wabash, Indiana, to register and keep track of all Belgian Draft Horses. Today, the Belgian is the most numerous breed of draft horse in the United States.
Importation of Belgians to the United States ended in bulk after the beginning of the Second World War with Erwin F. Dygert transporting the last Belgians out of Europe as the war was beginning.
Uses
Belgians are still used as working animals, but have also become popular as show horses, and pleasure riding horses. The Brabant and related breeds remaining in Belgium today are also desirable for horse meat, producing a tender meat that is considered a delicacy.
Belgian horses are able to pull tremendous weights. At the National Western Stock Show in Denver, Colorado, a team of two horses in the Heavyweight class pulled 17,000 pounds a distance of 7 ft 2 in (7,700 kg a distance of 2.18 m). The team of Belgians weighed 4,800 pounds (2,200 kg). At the Iowa State fair, the heavyweight champions in the pulling contest pulled 14,600 pounds the complete distance of 15 ft (6,690 kg, 4.6 m). The team consisted of one Belgian and one Percheron and weighed 3,600 pounds (1,600 kg).
Other meanings
In Britain, "Belgian Black" is a colloquialism used to describe a Friesian horse.
References
Belgian horse Wikipedia
(Text) CC BY-SA