Barsaat: A Sublime Love Story (English: Rain) is a 2005 Indian Hindi romantic drama film, directed by Suneel Darshan. It stars Bobby Deol, Priyanka Chopra, and Bipasha Basu. The film is inspired by the 2002 Hollywood romantic comedy Sweet Home Alabama. Bobby Deol is the only actor to debut with movie Barsaat (1995 film) and to star in same movie title after 10 years.
Contents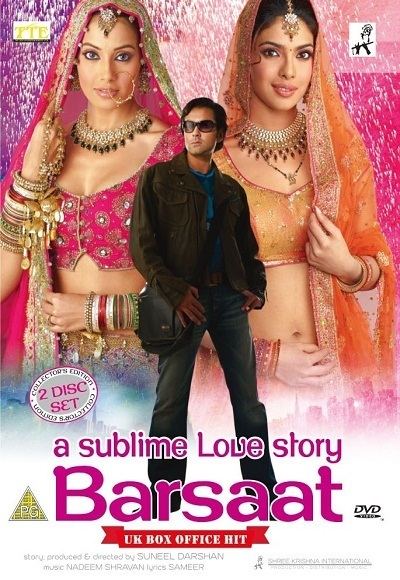 Plot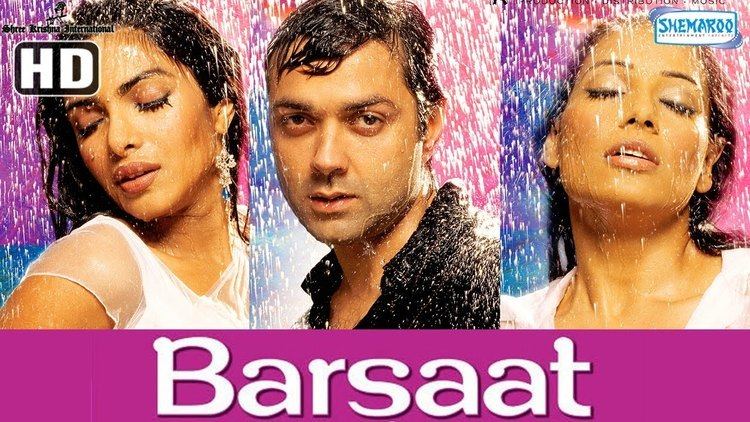 Arav (Bobby Deol) is an ambitious young Indian whose dream is to design cars. He travels to the United States seeking greener pastures, where he meets the beautiful Anna (Bipasha Basu). Anna instantly goes head over heels for Arav, but Arav remains focused on his career. Over time, he mellows and the two fall in love. Moreover, Arav's ambitions go on the upswing as the chairman of the BMW company in the U.S. (Shakti Kapoor) gives him a job as a designer.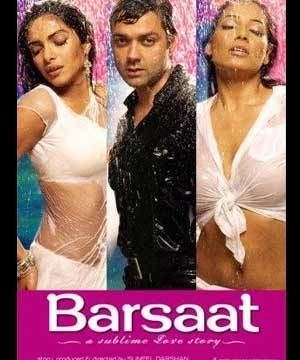 Coincidentally, the BMW chairman happens to be Anna's grandfather, and he announces the impending nuptials of Arav and Anna.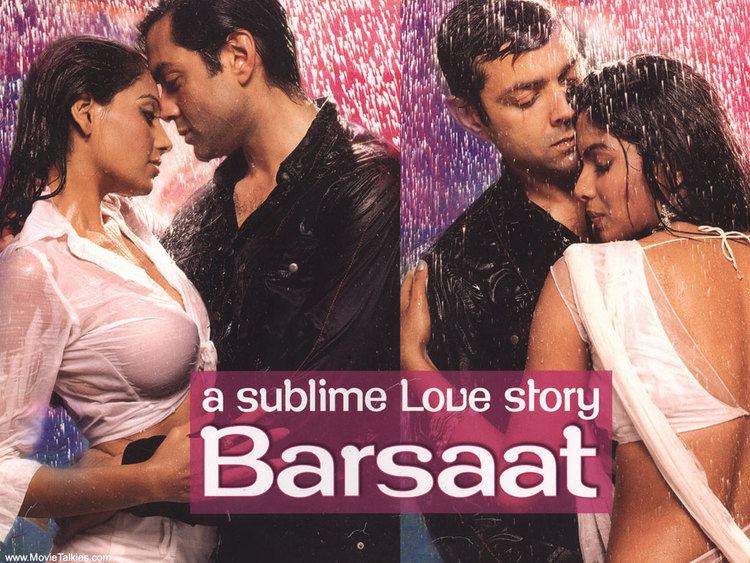 As this development unfolds, Arav realizes that he has some matters to tend to back in India. He returns there intent on securing a divorce from his childhood sweetheart-turned-wife, Kajal (Priyanka Chopra), whom he had been forced to marry by his parents. However, Kajal is not so yielding. Kajal tries her level best to somehow win Arav back however her efforts fail as Arav forces her to sign the divorce papers and submits them to his lawyer. Feeling guilty because of breaking Kajal's heart Arav spends time with her and tries to help her out and it is here where he starts feeling attraction towards her. Meanwhile, Anna arrives in India in order to marry Arav. Arav introduces her to Kajal who decides that she will attend Arav's wedding in order to give her love a proper "funeral" Kajal also agrees to dress Anna up for the wedding. The wedding proceeds and Kajal flees the wedding premises unable to bear the sight of Arav getting married. However Arav's lawyer interrupts the wedding and informs him that he is not divorced yet because he forgot to sign the divorce papers himself. Arav then realises that he loves Kajal and Anna sensing this tells him to go back to Kajal. Arav leaves the wedding premises and finds Kajal in the place where they used to play when they were kids, Arav tells Kajal that he loved her the whole time he just didn't realise it. They get back together.
Cast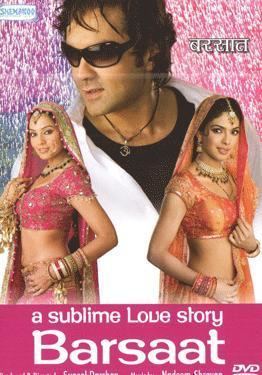 Bobby Deol as Arav Kapoor
Priyanka Chopra as Kajal
Bipasha Basu as Anna Virvani
Shakti Kapoor as Mr. Virvani (Anna's grandfather)
Manmeet Singh as Maninder Singh (Arav's friend)
Farida Jalal as Kajal's grandmother
Sharat Saxena as Lawyer
Gajendra Chauhan as Arav's father
Beena Banerjee as Arav's mother
Vivek Shauq as Shammi
Supriya Pilgaonkar as Supriya (Arav's sister-in-law)
Mahesh Thakur as Dr. Pranav Kapoor
Vivek Vaswani as Garage owner
Delnaaz Paul as Dolly Bindra
Palak Jain as child Kajal
Reception
The film received mixed to negative reviews from critics. Taran Adarsh of Bollywood Hungama gave 1/5 and said Barsaat is like watching a 1970 film. Overall the film was rated 5/10. It was declared below average at the box office.
Box office
At the box office, Barsaat had a good initial opening due to the curiosity surrounding the two damsels. Barsaat's raw box Office net collections was Rs. 6.67 crores and total box office gross was Rs. 9.44 crores. It did well in overseas (UK) with a total gross of £454,660
Soundtrack
The Soundtrack Of The Movie Is Composed By The Music Duo Nadeem Shravan.The Song Lyrics are penned By Sameer. All songs were very popular in 2005 with the song "Barsaat Ke Din Aaye" being chart busters. Singer Kumar Sanu, Alka Yagnik give their voices for the song. Other singers who have sung for the album include Abhijeet, Udit Narayan, Alisha Chinai, Sonu Nigam, Kailash Kher, Ishq Bector & Priyanka Chopra. The album was voted at No 9 in the all-time music sales chart. According to the Indian trade website Box Office India, with around 15,00,000 units sold, this film's soundtrack album was the year's ninth highest-selling.
References
Barsaat (2005 film) Wikipedia
(Text) CC BY-SA
Barsaat (2005 film) IMDb