Covid-19
6.2

/

10

2

Votes

Alchetron

Rate This




Elise Allen




Elise Allen




United States






Animation, Family, Fantasy




Barbie





English






William Lau Terry Klassen




March 15, 2011 (2011-03-15)




February 22, 2011 (France)




Terry Klassen, William Lau




Britt Irvin

(Raquelle),

Diana Kaarina

(Barbie),

Adrian Petriw

(Ken),

Kate Higgins

(Taylor),

Cassandra Morris

(Carrie)


Barbie movies



Barbie: A Fairy Secret is a comedy fantasy animated movie and part of the Barbie film series. It was released on March 15, 2011, and released in cinemas created by Cinedigm.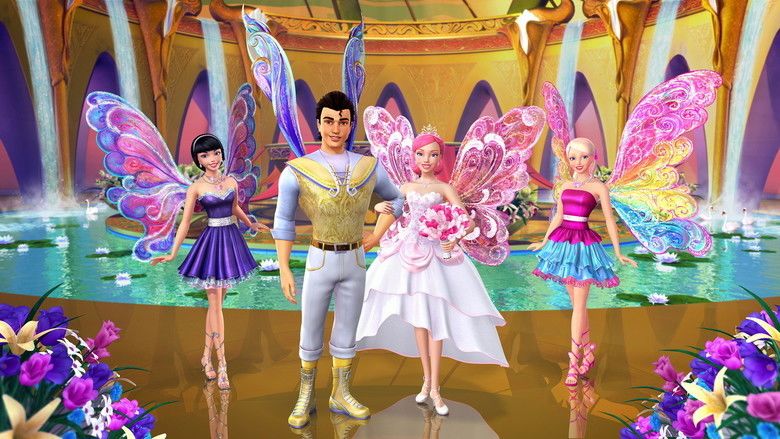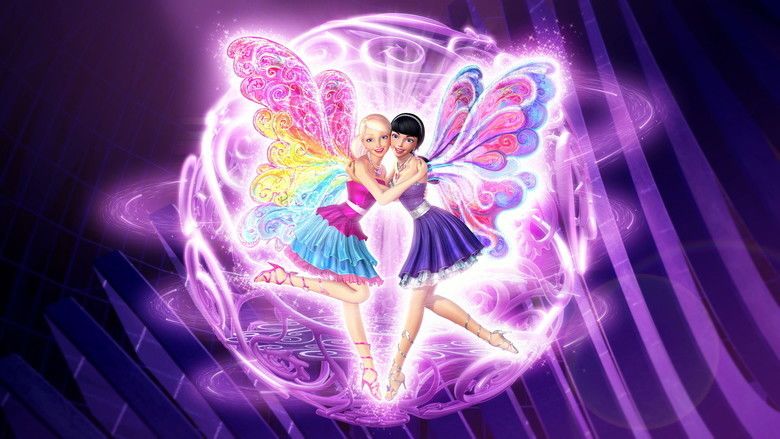 Barbie is at the premiere of her latest movie when her rival and co-star, Raquelle, steps on her dress, ripping it. Her stylists, Carrie and Taylor, use magic to mend it. Crystal, a photographer, greets Carrie and Taylor and, taking one last picture of Ken, leaves to go back to Gloss Angeles. Crystal shows Princess Graciella the pictures she took at the premiere. She gives the Princess a love potion, which, due to the effects, turns her eyes from blue to purple. Crystal then shows the Princess the picture of Ken she took, and Graciella falls in love with him on the spot.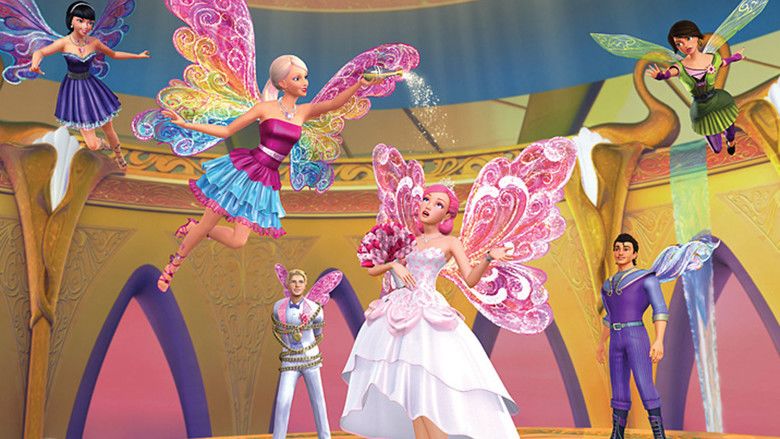 The next day at Wally's restaurant, Barbie confronts Raquelle about the dress-stepping incident. Princess Graciella, Crystal, and two assistant fairies show up and kidnap Ken. Carrie and Taylor sprout their wings and attempt to stop the Princess from taking Ken, but the portal to Gloss Angeles closes before they can enter it. The stylists attempt to dissuade Raquelle and Barbie of the fact that they just saw fairies, but finally admit their existence. They explain that Ken is in trouble because if a human marries a fairy, the human has to stay in Gloss Angeles forever. Meanwhile, in Gloss Angeles, Ken and the Princess arrive in the royal palace, where they meet Zane, Graciella's boyfriend. Zane is outraged at Graciella's new love interest and challenges Ken to three duels.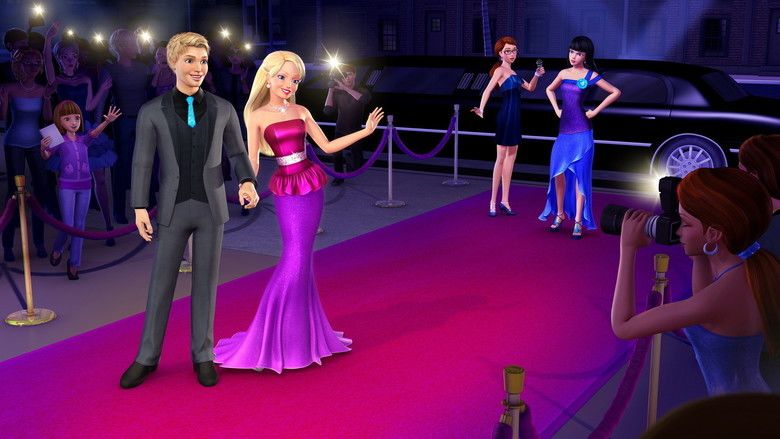 Barbie, Raquelle and the fairies go to a clothing store, where they enter the Flyway (a fairy method of transport), which leads them to the top of the Eiffel Tower in Paris. The fairies reveal that Lilianna Roxelle, a fashion critic, is the oldest and wisest fairy living on Earth. After they arrive at Lilianna's home, she informs them that Princess Graciella is under a love potion spell. She gives Barbie a potion that will turn the Princess back to normal if it rains down on her. It is also revealed that Taylor and Carrie were banished from Gloss Angeles. The girls then take Liliana's portal to continue their journey.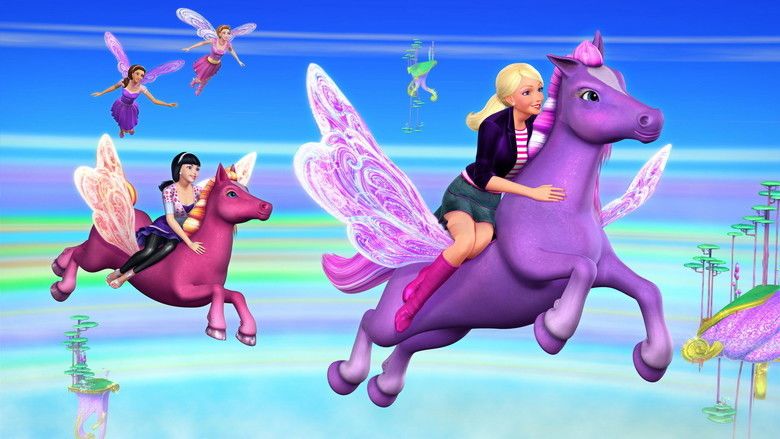 Barbie, Raquelle, Taylor, and Carrie make it to Gloss Angeles and they make a stop to Wings and Things in order to get wings for Barbie and Raquelle where they run into the human owner named Reena and her fairy husband Graylon. They then disguise as cooks to try to reveal Princess Graciella about Crystal's love potion; however, Crystal reveals Taylor and Carrie by recognizing Taylor's shoes, and the princess locks the four in furyspheres. Barbie and Raquelle talk and finally figure out their misunderstanding. The reason Raquelle has always been so mean to Barbie is because she never got the chance to be Barbie's friend. They apologize to each other and become friends. Their reconciliation breaks the furyspheres and their wings become real, and they now realize that forgiveness lets them fly. The two then go to stop the wedding between Graciella and Ken, holding off the attendants and the princess. Finally, Barbie puts the antidote on Graciella, curing her from the love potion. Graciella realizes that it was Crystal who gave her the love potion and apologizes for the misunderstanding. She also explains that the reason she banished Taylor and Carrie is because the three of them were once friends but Taylor and Carrie started spending so much time together that she felt left out and betrayed. At the urging of Barbie and Raquelle, she lifts Taylor and Carrie's ban, and the three fairies forgive each other. Graciella then punishes Crystal by having her clean up after the ceremony, and goes to marry Zane.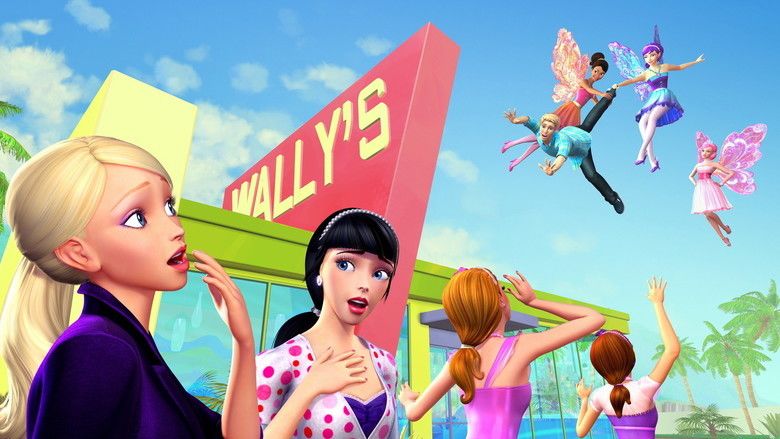 After the wedding, Graciella tells Barbie and Raquelle that their wings will disappear when they and Ken go back to the human world, and then reappear when they return to Gloss Angeles. Graciella sends them back to Earth with magical dust. The next morning, Barbie wakes up with no recollection of Gloss Angeles or the fairies, thinking it was a dream. However, she and Raquelle are now friends. Carrie and Taylor tell the two that they reconnected with an old friend (Princess Graciella) and are going back to their hometown (Gloss Angeles).
Barbie - The main protagonist. Barbie is a 16-year-old fashion-forward movie star who rescues Ken and discovers the fairy secret.
Ken - Barbie's 17-year-old boyfriend. He gets kidnapped by Princess Graciella, but is later released.
Taylor - A shoe fairy and one of Barbie's stylists. The more fashionable her shoes, the stronger her magic.
Carrie - A purse fairy and one of Barbie's stylists. She has a magic purse and a belt that matches it.
Princess Graciella - The princess of Gloss Angeles and a strong passion fairy. She kidnaps Ken and tries to marry him, under the influence of a love potion given to her by Crystal. However, after being rescued by Barbie, she finally understands the truth.
Raquelle - Barbie's 16-year-old co-star and eventual friend, she helps Barbie rescue Ken. She is usually determined to get everything that Barbie has. Raquelle admits, later in the movie, that she was cruel to Barbie because the former didn't give her the least bit of attention when they were in tenth grade.
Lilliana Roxelle - A fashion editor and a wise fairy. She helps Barbie, Raquelle and the fairies by giving them an antidote to a love potion and letting them use her personal portal to Gloss Angeles.
Crystal - A 16-year-old fairy with a crush on Zane and Princess Graciella's assistant. She gives Graciella the love potion that makes her fall in love with Ken. She is later punished and made to clean up after the ceremony. It could be though that Crystal is a photography fairy, since it is her job to take fashion pictures with her magical brooch/holographic camera.
Zane - Graciella's boyfriend and eventual husband. In a misunderstanding, he duels Ken thrice to win back Graciella's heart, but finally understands the truth.
Diana Kaarina as Barbie
Adrian Petriw as Ken
Britt Irvin as Raquelle
Cassandra Morris as Carrie
Kate Higgins as Taylor
Alexandra Carter as Princess Graciella
Brittney Wilson as Crystal
Silvio Pollio as Zane
Nicole Oliver as Liliana Roxelle
Laura Bailey as Additional Voices
Amber mally [Ally Darson]
Barbie: A Fairy Secret Wikipedia
Barbie: A Fairy Secret IMDb
Barbie: A Fairy Secret themoviedb.org