7.9

/

10

Alchetron

7.8

Rate This




Director

Joel Lamangan




Duration




Country

Philippines






Genre

Action, Drama, Thriller




Cast

Dawn Zulueta




Language

Filipino






Release date

18 September 1996 (1996-09-18)




Writer

Roy Iglesias (screenplay), Julius Alfonso (screenplay)




Awards

Gawad Urian Award for Best Actress




Similar movies

Related Joel Lamangan movies



Nora aunor s best bakit may kahapon pa w dawn zulueta
A woman (Nora Aunor) seeks revenge for the massacre of her family years earlier.
Contents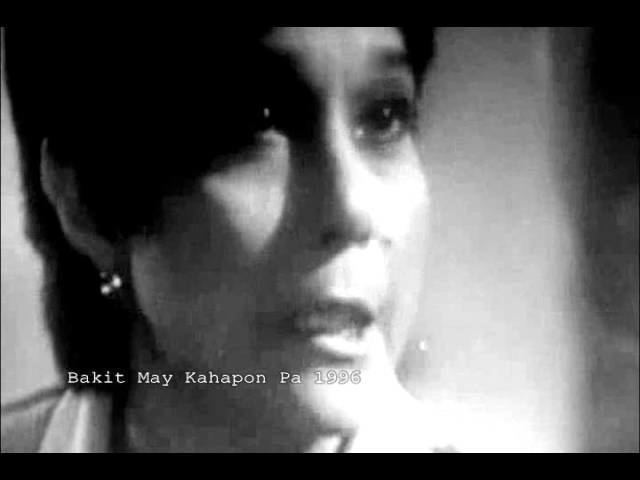 Bakit may Kahapon Pa? (Why Is There a Yesterday?) is a 1996 Filipino drama film directed by Joel Lamangan. It is about a village girl who is mysteriously spared when a platoon of soldiers led by Colonel Valderamma (Garcia) massacres her family along with peasants accused of sympathizing with the communists. When the girl has grown up, her body has healed but her mind is yet to recover from the horrible experience. She continues to thirst for revenge and crafts a scheme to exact retribution. She eyes the head of the military mission who instigated the carnage that she survived. He is now a well-admired retiring general who is about to cap his career with the services highest honors.
Bakit May Kahapon Pa? is an award winning movie that gave its lead star, Nora Aunor her second international acting award from 1st East Asia Film and Television Award (Malaysia).
Synopsis
It happens in San Marco, Laguna in October 1971 a commanding troop led by Col. Valderrama (Garcia) guns down alleged members of a rebel group that the townspeople are said to help, they say with food and shelter to enable their continued activities against the government, but no one knows whether it is a hearsay or not because then the only messenger of truth is power and power lies in His hands thus innocence and counter-innocence are not issues, they are irrelevant, the nozzles only know that the people who will die are the bodies where they are pointed at, everyone becomes enemies of the state because of Fate, and Helen, who sees her mother and father shot by the soldiers like pigs incarcerated and butchered afterward, knows every detail of what happened.
She carries the weight of a parentless childhood without oblivion, she is now tainted by revenge, determined to get her fair share of complete life by killing the family members of her oppressor - and now, consumed by painful memories and a taste of enemy's blood, Helen exacts her plot, follows everything according to her plan, and lets her mind control her heart, with the constant evil deeply consuming her - and it happens - the remaining players of the past and present die, Helen and Col. Valderrama in one place, Marcos and the dregs of his regime - explodes, and the credits roll.
Cast
Nora Aunor ... Helen/Karina Salvacion
Eddie Garcia ... Gen. Valderama
Dawn Zulueta ... Dona Martina
Melisse Santiago ... Mumay
Sarah Jane Abad ... Young Helen
Rolando Tinio ... Priest
Daniel Fernando ... Mulong
Reviews
Bakit May Kahapon Pa? is heavy in flashback, it is almost where the entire film hangs its dramatic tension, but once you see Ate Guy with a gun, running with the loose screws of her head like a loony action star, isn't that already enough fun for a two-hour film?. - Richard Bolisay, film blogger
The filmmakers are able to use and integrate creatively the various elements of the cinema - screenplay, production design, direction, acting, cinematography, editing, music, and sound. It reflects the creative integration of the various elements of cinema to an eminent degree. Its screenplay is effective; it explores significant subject matter of experience and conceives this with originality according to the particular demands of the film medium. The Cinematography is considered effective too; it successfully visualizes content through lighting, composition, movement, and related camera techniques, cant you see that "Bakit May Kahapon Pa?" is just a perfect movie?
From her first glimpse of the general during the funeral wake to their confrontation in the end, Nora turns in a finely modulated performance. The eyes have it, and the voice, now grainy with sadness, then fierce with rage. She swings on the pendulum of pain, from cold-blooded plotter to woman haunted by her many ghosts. Silent now and ever so calm, a whirlpool of destruction in the next. - Danton Remoto, Angel of Vengeance
Portraying a woman driven mad by the murder of her parents and obsessed with destroying the military officer (Eddie Garcia) who ordered their deaths, Nora lets us see why her character has come to this extreme. In the role of a remorseful killer, she is oddly sympathetic. - Jessica Zafra, Twisted Sister,Today, 1996
Ultimately, however, the movie belongs to Nora, who adds another magnificent performance to a body of work that is already legend. Given for the first time a character that kills without remorse, she responds to the challenge with an inherent sense of good drama. Nora peels off layer after layer of Helen's insanity, gathering in force like a whirling dervish of dementia until she is finally consumed by her own madness. When she arrives at that moment in an altar skirmish with Tinio the power that she unleashes is so overwhelming that she is at once both absolutely terrifying and utterly convincing about the rightness of her lust to collect a blood debt.- Gerard Ramos, Memories of Madness, Today Magazine, 17
List of Film Festivals competed or Exhibited
1997 Bakit May - 1st East Asian Film and TV Festival Penang, Malaysia, Aug. 28-Sept. 3. (Competition Film)
Winner, Golden Pearl Award for Best Actress (Nora Aunor)*
1997 - Fukuoka International Film Festival,Feature Film: Excellent Films of Asia, September 12-21
1997 - Cairo International Film Festival Cairo, Egypt,Competition Film, December 1-15
1995 - 2nd Asian Film Festival, Tokyo, Japan,
1998 - International Film Festival of India New Delhi, India, Competition Film, January 10-20
1998 - Brussels International Independent Film Festival, Competition Film
References
Bakit May Kahapon Pa? Wikipedia
(Text) CC BY-SA
Bakit May Kahapon Pa? IMDb