Country

Norway




Language spoken

www.baerum.kommune.no




Area

192 km2


Mayor

Lisbeth Hammer Krog (H)




Points of interest

Henie Onstad Kunstsenter, Kalvoya, Kolsas, Osternvann



Baerum ( listen ) is a municipality in Akershus county, Norway. The administrative centre of the municipality is the town of Sandvika. Baerum was established as a municipality on 1 January 1838. A suburb of Oslo, Baerum is located on the west coast of the city.
Contents
Map of Baerum
Baerum has the highest income per capita in Norway and the highest proportion of university-educated individuals. Baerum, particularly its eastern neighbourhoods bordering West End Oslo, is one of Norways priciest and most fashionable residential areas, leading Baerum residents to be frequently stereotyped as snobs in Norwegian popular culture. The municipality has been voted the best Norwegian place to live in considering governance and public services to citizens.
History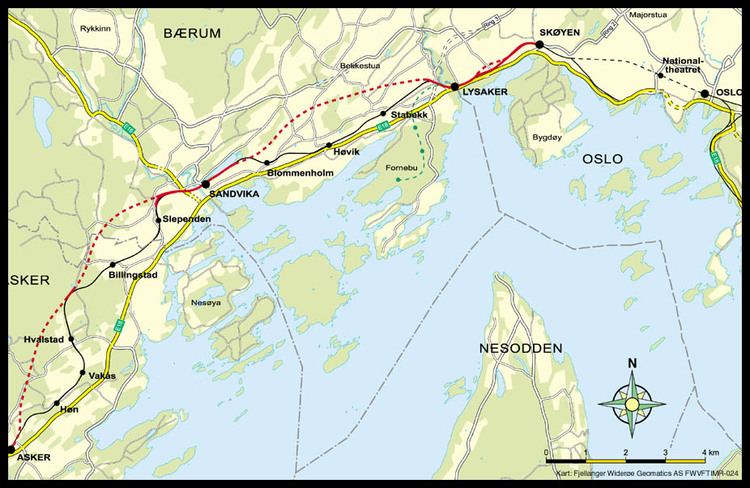 The area known today as Baerum was a fertile agricultural area as far back as the Bronze Age, and several archeological finds stem from the Iron Age. The first mention of the name is from the saga of Sverre of Norway, from about 1200. There are ruins of stone churches from the 12th century at Haslum and Tanum.
The pilgrim road to Trondheim that was established after 1030 went through Baerum, and there is evidence that lime kilns were in use in the area in 850. There were shipping ports for the quicklime at Slependen and Sandvika. The lime kiln is the main motif for the municipalitys coat of arms.
In the 17th century, iron ore was discovered in Baerum and the ironworks at Baerums Verk were founded. Industries such as paper mills, nail factories, sawmills, glassworks, and brickworks were established along the rivers Lysakerelven and Sandvikselva in the following centuries. There were orchards and other agricultural concerns throughout the area, remnants of which still exist today.
A number of artists established themselves in Baerum, particularly around the art school run by Johan Fredrik Eckersberg. Among the artists who did much of their work in Baerum are Frits Thaulow, Christian Skredsvig, Harriet Backer, Kitty Lange Kielland, Otto Sinding, Eilif Pettersen, Gerhardt Munthe, and Erik Werenskiold.
Starting in the mid-20th century, Baerums agricultural base gradually gave way to residential construction. Still, only a third of the area, 64 square kilometres (24.7 sq mi), is built up for residential use; over half is productive forestry; and nearly 17 square kilometres (6.6 sq mi) is still agricultural.
In 2010, the city hosted that years Eurovision Song Contest.
Geography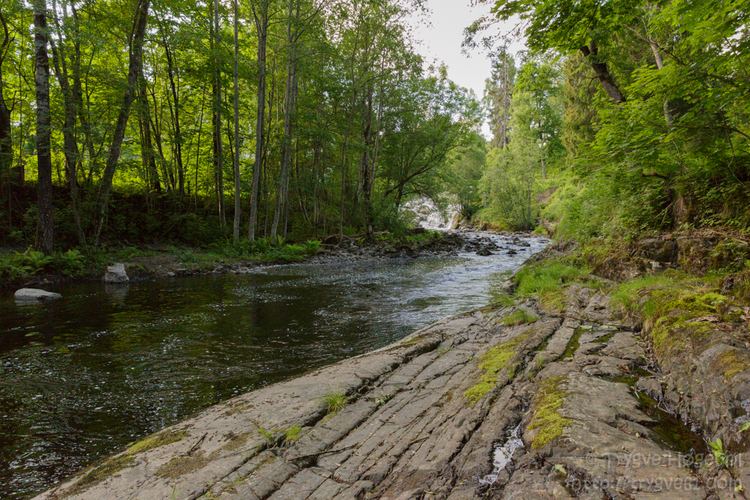 The physical geography of Baerum is dominated by a craggy coastline along the Oslofjord and inland, hilly areas rising to the north and east, where there are large forested areas. The mountain of Kolsas forms a natural center, but the municipality also includes the secluded valley of Lommedalen. Four major rivers flow through the municipality: Lysakerelven, Sandvikselva, Lomma, and Overlandselva, and there are numerous lakes, both in residential and forested areas. The official municipality flower is Anemone ranunculoides.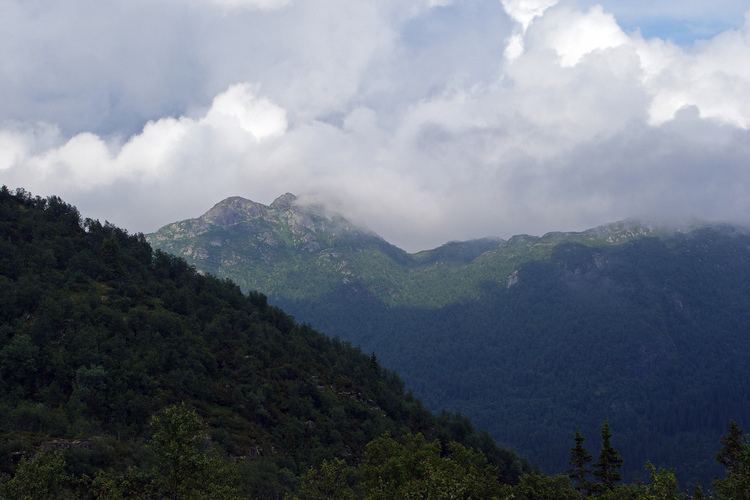 The geology of Baerum is part of the Oslo Graben and includes Rhomb porphyry at Kolsas.
Since nearly two-thirds of Baerums area consists of forests, there are rich opportunities for outdoor activities, such as skiing, hiking, and fishing. The forests are considered part of Marka, the forested areas in and around Greater Oslo. Areas within the municipality of Baerum include Baerumsmarka, Vestmarka, and Krokskogen.
The highest point in Baerum is Vidvangshogda at 60.0242329°N 10.4838324°E? / 60.0242329; 10.4838324 with an altitude of 552 metres (1,811 ft). The largest lake is Stovivatnet with an area of 0.420 square kilometres (0.162 sq mi) at 59.9078776°N 10.4508305°E? / 59.9078776; 10.4508305
Economy
Baerums industrial base has since the 1950s given way to service industries, including retailing, engineering, public services, etc. It derives much of its tax base by being a bedroom community to Oslo. It is one of the most affluent areas in Norway.
References
Baerum Wikipedia
(Text) CC BY-SA
(,)http://upload.wikimedia.org/wikipedia/commons/5/55/Asker_Line_map.jpg(,)http://www.visitnorway.com/ImageVaultFiles/id_18608/cf_1174/HennieOnstad-Artmuseum-Norway_740.JPG
(,)http://trygve61.files.wordpress.com/2013/06/130616-15550.jpg(,)https://farm7.staticflickr.com/6083/6036144711_e2c3f202c5_b.jpg(,)http://trygve61.files.wordpress.com/2013/06/130625-16144_5_6_7_8.jpg%3Fw%3D604(,)https://c2.staticflickr.com/2/1353/4730678530_fd0d7e85af_b.jpg(,)http://www.akershus.com//Images/Bilder%2520Akershus/Asker-B%25C3%25A6rum/Asker%2520Bilder/P%25C3%25A5%2520tur%2520med%2520sykkel.jpg%3Ft%3DScaleDownToFill%257C1500x1500(,)http://trygve61.files.wordpress.com/2013/06/130603-14429.jpg(,)http://static.panoramio.com/photos/large/14580410.jpg(,)http://trygve61.files.wordpress.com/2013/06/130620-15688.jpg(,)http://farm2.static.flickr.com/1125/1478249727_27140a4a03.jpg(,)http://thumbs.dreamstime.com/z/fossum-baerum-norway-3649620.jpg
(,)http://1.bp.blogspot.com/_VKKUS9xqJl0/TP3blZcjRZI/AAAAAAAABFc/ZZeAnGwSpeo/s1600/978x.jpg(,)http://www.akershus.com/Images/Bilder%2520Akershus/Asker-B%25C3%25A6rum/2009-09-13%2520001351.jpg%3Ft%3DScaleDownToFill%257C704x352%26ts%3DSkE2HLY1MO6zfydwfePbtFhwGAI%253D(,)http://www.akershus.com/Images/Bilder%2520Akershus/Asker-B%25C3%25A6rum/Radisson/peis.jpg%3Ft%3DScaleDownToFill%257C704x352%26ts%3DXf06yS7TOZcOXSHhlL9f5Vr0v2M%253D(,)http://www.dehistoriske.com/img.aspx%3Fth%3Dlitebilde%26width%3D670%26docrop%3Dtrue%26height%3D339%26img%3Dbaerum-vindu.jpg(,)http://1.bp.blogspot.com/_VKKUS9xqJl0/TP3bgwggdJI/AAAAAAAABFY/rS_li5Yfn5w/s1600/480x.jpg(,)http://images.trvl-media.com/hotels/5000000/4640000/4632200/4632174/4632174_10_y.jpg
(,)http://upload.wikimedia.org/wikipedia/commons/0/0a/Population_growth_in_Baerum_Norway.png(,)http://www.alexanderrybaknews.com/files/2012/10/b%25C3%25A6rum1.jpg(,)http://www.visitnorway.com/ImageVaultFiles/id_18620/cf_1174/asker-rib-oslofjord_740.JPG(,)http://www10.aeccafe.com/blogs/arch-showcase/files/2013/04/001-Luis-Fonseca.jpg(,)http://www.visitoslo.com/Images/Bilder%2520Oslo/Hva%2520skjer/Oyafestivalen-14-konsert-Rival-Sons-foto-Erik-Moholdt-%25C3%2598ya.jpg%3Ft%3DScaleToFill%257C1136x564%26ts%3Dt4or9mfkvjAkWpaG%252FneVtr4L8N8%253D%26pr%3D1(,)http://www.visitoslo.com/Images/Bilder%2520Oslo/Hva%2520skjer/Oya-2014-selfie-Erik-Moholdt-Oyafestivalen.jpg%3Ft%3DScaleToFill%257C1136x564%26ts%3DmktCB4k91Y6WtJ3FGMXGgfCIMSE%253D%26pr%3D1(,)http://www.visitoslo.com/Images/Bilder%2520Oslo/Hva%2520skjer/Oya-2014-scene-i-sol-Johannes-Granseth-Oyafestivalen.jpg%3Ft%3DScaleToFill%257C1136x564%26ts%3DIY5U%252FWlFn83XLldcekT2wKBTrpg%253D%26pr%3D1(,)https://fbcdn-sphotos-g-a.akamaihd.net/hphotos-ak-xaf1/v/t1.0-9/375597_4786050380134_1305295738_n.jpg%3Foh%3De7fe9da9f2629acf6a023f5ed8cf9394%26oe%3D5535E63E%26__gda__%3D1432942425_5b733882080ec167a2410afef513f3bd(,)http://i.ytimg.com/vi/pLh9MkH42To/0.jpg
(,)http://www.charliesiem.com/wp-content/uploads/2013/04/Baerum.jpg(,)http://d1fy7ceoqli51q.cloudfront.net/ProductImages/TellUs/TellUs_2183479_10_large.jpg(,)http://www.alexanderrybaknews.com/files/2012/04/B%25C3%25A6rum2.jpg(,)http://lisewulff.com/wordpress/wp-content/uploads/2014/10/IMG_1427-kopi-800x533.jpg(,)http://static.urbarama.com/photos/medium/16871.jpg(,)http://static.urbarama.com/photos/medium/16870.jpg(,)http://static.urbarama.com/photos/medium/16866.jpg(,)http://www.architecturenorway.no/render/w1600-h900-c0-q90/2.projects/5.culture/1.arena-bekkestua-2006/1.b-r-000448.jpg(,)http://static.urbarama.com/photos/medium/16867.jpg
(,)http://www.akershus.com//Images/Bilder%2520Akershus/Asker-B%25C3%25A6rum/Asker%2520sentrum%2520Kulturhuset.jpg%3Ft%3DScaleDownToFill%257C1500x1500(,)http://media-cdn.tripadvisor.com/media/photo-s/03/ca/00/2d/thon-hotel-oslofjord.jpg(,)http://media-cdn.tripadvisor.com/media/photo-s/07/83/b8/67/utsikt-fra-vart-bord.jpg(,)http://media-cdn.tripadvisor.com/media/photo-s/06/0c/4f/78/osten-sushi-wok.jpg(,)http://www.akershus.com/Images/Bilder%2520Akershus/Asker-B%25C3%25A6rum/2012-03-21%2520144648.jpg%3Ft%3DScaleDownToFill%257C704x352%26ts%3Dq7BZgzUbm%252BwuwSuXqsG5kXPxZIk%253D(,)http://www.akershus.com/Images/Bilder%2520Akershus/Follo/Frogn/Oscarsborg/Oscarsborg%2520-%2520Kaholmen%25202.jpg(,)http://3.bp.blogspot.com/-9EZX6rZn98s/TwVOwpgKsQI/AAAAAAAA1vo/h2vkB7Mw5TQ/s1600/Oslo%2B%252528Norway%252529%2B-%2Bpicture%2B-%2Bphoto%2B-%2BGMB_BFM_71104_1%25255B1%25255D.jpg(,)http://www.visitoslo.com/Images/Bilder%2520Oslo/Aktiviteter/syklister-Aker-Brygge-foto-VisitOSLO-Rod-Costa.jpg%3Ft%3DScaleDownToFill%257C704x352%26ts%3D21ouTs8roC2MYcHUilR6%252FQQIdz4%253D