Covid-19
DC Comics




Oracle




Len Wein, Dick Dillin




Aurakles




Barbara Gordon






Len Wein (writer)Dick Dillin (artist)




superhuman strength and speed, Caliburn Ex Calibur, Father Box, Pegazeus




Justice League of America vol. 1 #100, (August 1972)




Devilance, Justifiers, Halo, Deep Six, Virman Vundabar
Aurakles is a fictional character, a superhero published by DC Comics. He first appeared in Justice League of America vol. 1 #100 (August 1972), and was created by Len Wein and Dick Dillin.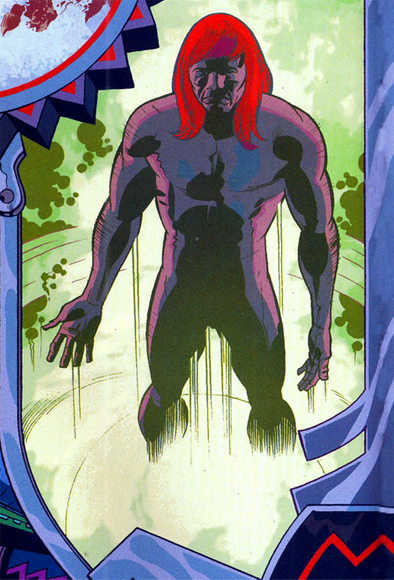 Aurakles was created by Len Wein and Dick Dillin in Justice League of America #100 using the name Oracle. Grant Morrison brought the character back in Seven Soldiers: Mister Miracle #4 (May 2006), and expanded his backstory by making him "the original super-hero" and renaming him Aurakles.
The super-being known as Aurakles was created on the planet Earth by the New Gods around 40,000 BC and is generally considered "the original superhero", by those who know his reputation. He has the mission to "bring order and meaning where incoherence reigns". Opposing the evils of his time, he battles the Sheeda and Neh-Buh-Loh, the Nebula Man. The Sheeda finally succeed in imprisoning Aurakles in their "bone prisons", set up in the ancient past.
Aurakles reappears in our times as the Oracle. When the Justice League of America and the Justice Society of America work together to bring back the time-lost Seven Soldiers of Victory (themselves victims of the Nebula Man), they invoke the Oracle (in spiritual form) as their guide. It takes the combined magic of Dr. Fate (Kent Nelson), Zatanna and Yz the Thunderbolt to summon him. Oracle refuses to give direct answers to their questions, but helps them solve the matter for themselves. He sends them to the various places in time where the Seven Soldiers have been exiled.
Some time later, Aurakles is freed from imprisonment by Mister Miracle (Shilo Norman) when the latter opposes Darkseid, Neh-Buh-Loh and the Sheeda as a member of the new Seven Soldiers. Aurakles' golden tomb on Mars is also seen in Grant Morrison's version of Frankenstein.
The rookie heroine Bulleteer is Aurakles' descendant and "the spear that was never thrown", one of "seven imperishable treasures" used to combat the Sheeda.
Aurakles Wikipedia