Noted for Bresson's ascetic directorial style and regarded as a work of profound emotional effect, it is frequently listed as one of the greatest films of all time.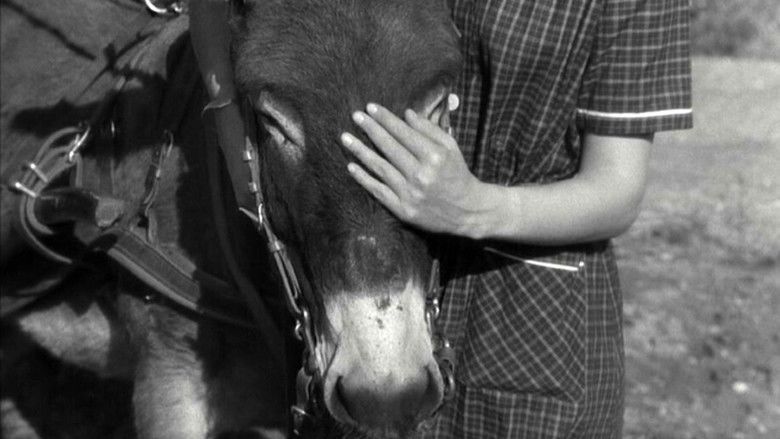 The film follows Marie (Wiazemsky), a shy farm girl, and her beloved donkey Balthazar over many years. As Marie grows up, the pair becomes separated, but the film traces both their fates as they live parallel lives, continually taking abuse of all forms from the people they encounter. The donkey has several owners, most of whom exploit him, often with more cruelty than kindness. Balthazar and Marie often suffer at the hands of the same people. But in the end, Marie's fate remains unresolved, whereas the donkey's is clear.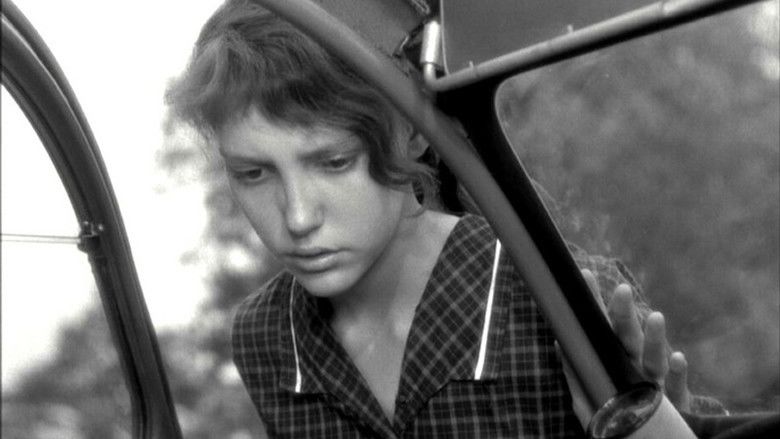 Anne Wiazemsky as Marie
Walter Green as Jacques
François Lafarge as Gérard
Philippe Asselin as Marie's father
Nathalie Joyaut as Marie's mother
Jean-Claude Guilbert as Arnold
Pierre Klossowski as the grain dealer
Jean-Joel Barbier as the priest
François Sullerot as the baker
Marie-Claire Fremont as the baker's wife
Jacques Sorbets as the gendarme
Jean Rémignard as the attorney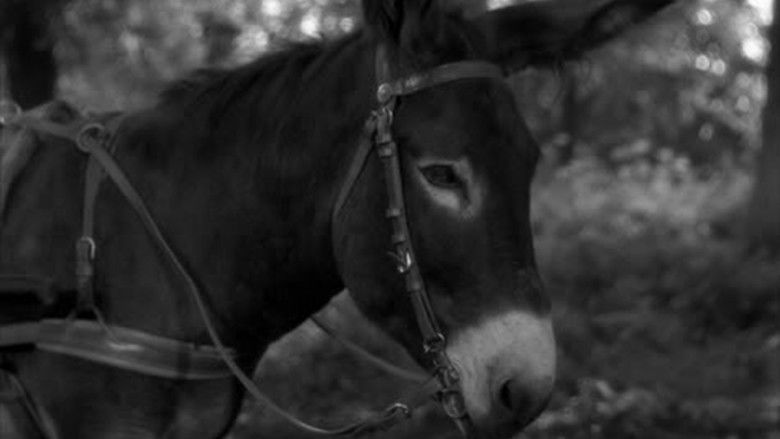 After making several prison-themed films using his theory of "pure cinematography", Bresson stated that he wanted to move onto a different style of filmmaking. The story was inspired by Fyodor Dostoyevsky's The Idiot and each episode in Balthazar's life represents one of the seven deadly sins. Bresson later stated that the film was "made up of many lines that intersect one another" and that Balthazar was meant to be a symbol of Christian faith. Bresson produced the film with help from the Swedish Film Institute.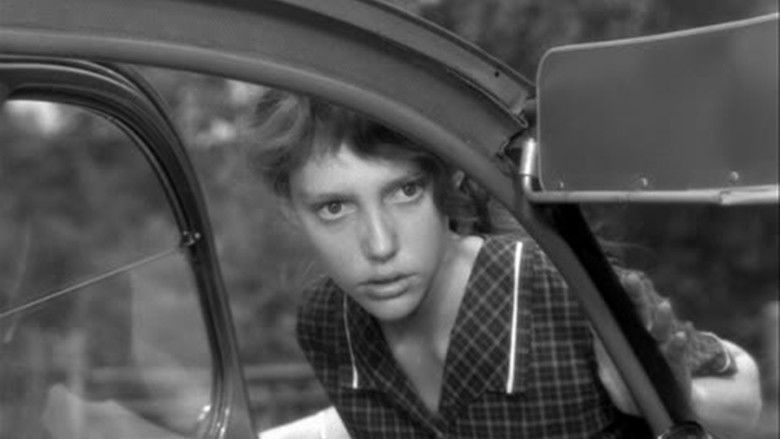 According to Wiazemsky's 2007 novel Jeune Fille, she and Bresson developed a close relationship during the shooting of the film, although it was not consummated. On location they stayed in adjoining rooms and Wiazemsky said that "at first, he would content himself by holding my arm, or stroking my cheek. But then came the disagreeable moment when he would try to kiss me ... I would push him away and he wouldn't insist, but he looked so unhappy that I always felt guilty." Later Wiazemsky lost her virginity to a member of the film's crew, which she says gave her the courage to reject Bresson as a lover. Bresson was known to cast nonprofessional actors and use their inexperience to create a specific type of realism in his films. Wiazemsky states: "It was not his intention to teach me how to be an actress. Almost against the grain, I felt the emotion the role provoked in me, and later, in other films, I learned how to use that emotion."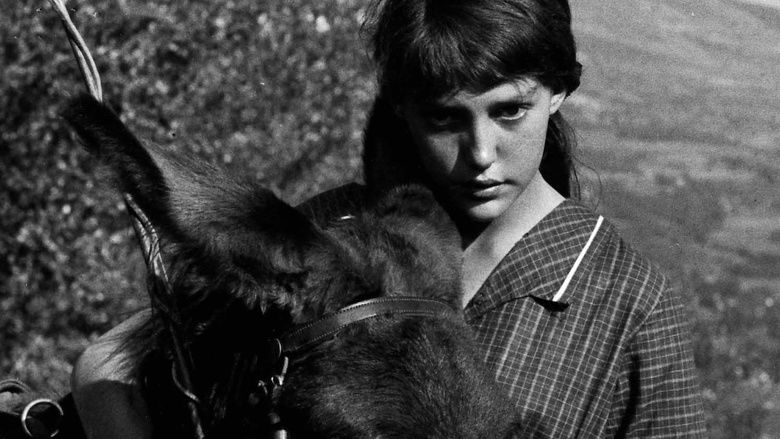 Ghislain Cloquet was the cinematographer for Au Hasard Balthazar; it was the first of three films Cloquet shot for Bresson. Bresson's long collaboration with Léonce-Henri Burel had ended with Bresson's previous film, The Trial of Joan of Arc. As described by Daryl Chin, Bresson and Cloquet "would evolve a cinematic style of subtle, sun-dappled radiance; without extending the photography into extremes of chiaroscuro contrast, Cloquet would heighten the lighting so that even the greys would glisten."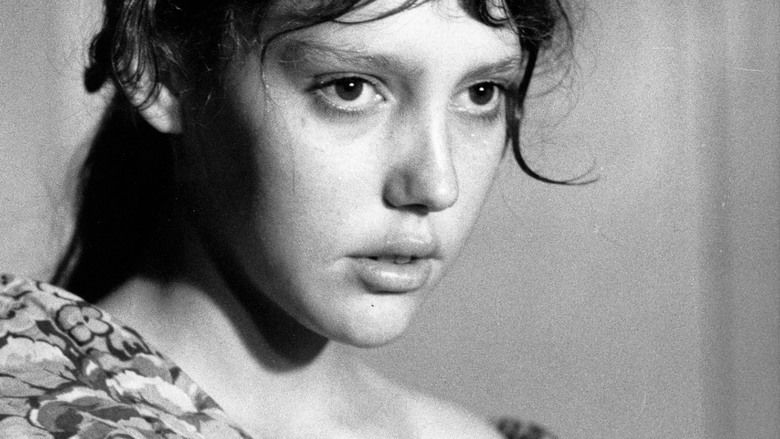 The film's editor was Raymond Lamy, a veteran of French cinema whose first editing credit was in 1931. From 1956 through 1971, Lamy edited all of Bresson's films excepting The Trial of Joan of Arc (1962).
When Au hasard Balthazar first played in New York at the 1966 Film Festival, "it received mostly unfavorable notices". Reviews in Europe, however, were glowing. The noted filmmaker and Cahiers du Cinema critic Jean-Luc Godard said, "Everyone who sees this film will be absolutely astonished [...] because this film is really the world in an hour and a half." Godard married Anne Wiazemsky, who played Marie in the film, in 1967. Film critic Tom Milne called it "perhaps [Bresson's] greatest film to date, certainly his most complex."
Its United States theatrical release came four years later. In 1970, Roger Greenspun of The New York Times lauded the film's final scene as "surely one of the most affecting passages in the history of film." One of cinema's most influential critics, the late Andrew Sarris, wrote in his 1970 review: "No film I have ever seen has come so close to convulsing my entire being ... It stands by itself as one of the loftiest pinnacles of artistically realized emotional experience." The New Yorker film critic Pauline Kael, however, wrote that although some consider the work a masterpiece, "others may find it painstakingly tedious and offensively holy." Ingmar Bergman also said of the movie, "this Balthazar, I didn't understand a word of it, it was so completely boring... A donkey, to me, is completely uninteresting, but a human being is always interesting."
The film's religious imagery, spiritual allegories and naturalistic, minimalist aesthetic style have since been widely praised by film reviewers. In 2005, James Quandt referred to it as a "brief, elliptical tale about the life and death of a donkey" that has "exquisite renderings of pain and abasement" and "compendiums of cruelty" that tell a powerful spiritual message. In 2003, J. Hoberman stated, "Robert Bresson's heart-breaking and magnificent Au Hasard Balthazar (1966) — the story of a donkey's life and death in rural France — is the supreme masterpiece by one of the greatest of 20th-century filmmakers." Manohla Dargis views Au hasard Balthazar as "one of the greatest films in history", writing that it "stirs the heart and soul as much as the mind." Roger Ebert argued, "The genius of Bresson's approach is that he never gives us a single moment that could be described as one of Balthazar's 'reaction shots.' Other movie animals may roll their eyes or stomp their hooves, but Balthazar simply walks or waits, regarding everything with the clarity of a donkey who knows it is a beast of burden, and that its life consists of either bearing or not bearing [...] This is the cinema of empathy."
Ignatiy Vishnevetsky similarly commented, "Bresson never attempts to humanize Balthazar. [...] What Balthazar experiences of human nature is both pure and limited: the embrace of a lonely young woman, the unprovoked attack of an angry young man, and the work of the farms whose owners worry over money. He is only a donkey, and therefore something much more." Ebert also credits Bresson's ascetic approach to actors for much of the work's emotional power, writing, "The actors portray lives without informing us how to feel about them; forced to decide for ourselves how to feel, forced to empathize, we often have stronger feelings than if the actors were feeling them for us."
It has been argued that "Gerard is obviously symbolic of Nazi Germany. And Marie was Anne Frank. Hiding away. The sheep were obviously symbolic of the U.S. arriving too late, per usual, in a von Trierish way."
The film premièred at the 1966 Venice Film Festival where it won the OCIC (International Catholic Organization for Cinema) Award, the San Giorgio Prize, and the New Cinema Award.
Au Hasard Balthazar was ranked sixteenth on the 2012 critics' poll of "the greatest films of all time" conducted by the film magazine Sight & Sound. It was also 21st in the directors' poll, receiving 18 votes from filmmakers including Nuri Bilge Ceylan and Béla Tarr. It was also the first-place choice of Michael Haneke in the 2002 poll.
In 2008 the film was released by Criterion Collections as a region 1 DVD with English subtitles. In 2013 a region 2 DVD was released by Artificial Eye, again with English subtitles.