Attack of the Show! (AOTS) is an American live television program that formerly aired weeknights on G4, G4 Canada Fuel TV, HOW TO Channel, and Maxxx. Episodes were hosted by Kevin Pereira, Olivia Munn, Zach Selwyn, Layla Kayleigh, Sarah Lane, Alison Haislip, Candace Bailey, and Sara Underwood. Attack of the Show! reviewed new technology, aired parodies, discussed pop culture and general news, and gave previews of video games, movies, and digital media.
The show premiered on March 28, 2005 (2005-03-28) as a replacement for The Screen Savers. The show originally aired live five days a week; the week of January 2, 2006 (2006-01-02), the show was truncated to air for only four days a week. Fridays featured a "Mash Up" that compiled segments from the week's four live shows. The show returned to live shows five days a week in September 2008, but G4 announced as of March 2, 2009 (2009-03-02), Attack of the Show! would go to four days a week with a "best of" show running in the Friday time-slot. Attack of the Show! aired its 1,000th episode on July 9, 2009 (2009-07-09). Attack of the Show! upgraded to High Definition on April 5, 2010 (2010-04-05) to coincide with its first ever "Epic April" event of new premieres and stunts. Along with the addition of Candace Bailey, on January 11, 2011 (2011-01-11) Attack of the Show "respawned" with new graphics and a new set.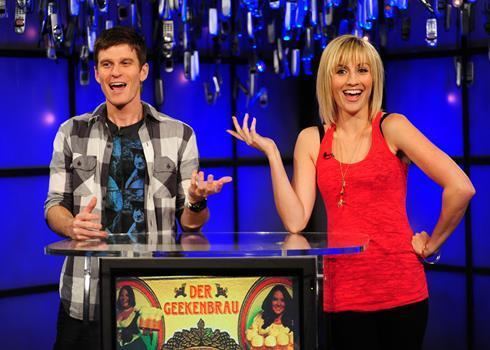 On October 26, 2012 G4 canceled Attack of the Show! due to low ratings, five months after Kevin Pereira canceled his contract. The series taped its final scenes on December 21, 2012, and its final episode was broadcast January 23, 2013.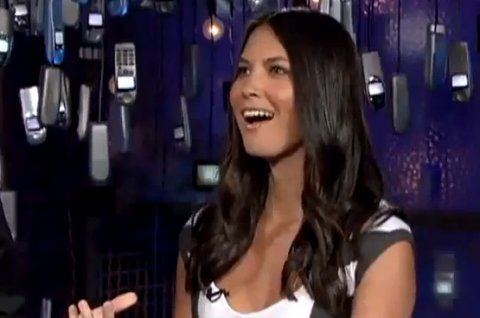 Host Kevin Rose left the G4 Network and AOTS on May 22, 2005 (2005-05-22). The show announced a search for a new host among the show's audience, and for several months various candidates auditioned on the air. In the end none of the candidates were actually selected, although this was never actually announced on the air. Sarah Lane, who had previously been a co-host and segment contributor, gradually became the show's official host alongside Kevin Pereira. She continued in this capacity until April 6, 2006 (2006-04-06), when she and Brendan Moran announced their engagement and stated that they would be leaving the show. The Morans appeared on the show, via satellite, on July 13, 2006 (2006-07-13), to talk about their adventures. Olivia Munn was hired to replace Lane and began hosting with Kevin Pereira on Monday, April 10, 2006 (2006-04-10). Zach Selwyn, the runner up on ESPN's Dream Job, was hired to replace Moran and started his hosting duties a week later on April 17, 2006 (2006-04-17). Munn said at the 2010 Comic Con that she would not be leaving AOTS, though she only occasionally appeared on the show for the rest of that year. She was still featured in the opening credits and other AOTS set pieces and transitions until December 6, 2010 (2010-12-06).
After the departure of Munn, AOTS featured several guest co-hosts including: Candace Bailey, Jessica Chobot, Alison Haislip, Carrie Keagan, Alessandra Torresani, Sara Underwood, Milynn Sarley and Morgan Webb. Bailey became the new co-host with Pereira on January 11, 2011 (2011-01-11).
AOTS has also featured Chris Hardwick, Chris Gore, and Blair Herter in the occasional absence of Kevin Pereira. In addition to the interim cohosts, Grace Helbig has also filled in for Candace Bailey.
On May 9, 2012 (2012-05-09), Kevin Pereira announced on-air that he was officially leaving AOTS to pursue work in television production. He stated, "I plan to turn my attention to full-time with my production company Super Creative and live touring nerd-carnival leetUP." His last day on AOTS was May 31. Beginning August 28, 2012 (2012-08-28), the show debuted a final new opening credit, with no reference to permanent or guest hosts. Kevin Pereira himself hosted the game show Let's Ask America since the September 17, 2012 series debut. On October 26, 2012 (2012-10-26) G4 announced that they would not renew AOTS at the end of the year, as part of an eventual rebranding of the channel itself.
On January 23, 2013 (2013-01-23), Attack of the Show! televised its final original episode on G4. After a brief montage of clips from AOTS history and final goodbyes from the show's hosts and staff, the series ended with former Screen Savers hosts Patrick Norton and Leo Laporte in a coffee shop, acting as if the entire run of AOTS had been a dream. They then don "rocket packs" and fly off to work in a skyscraper adorned with the old TechTV logo, as the Screen Savers theme plays one last time and the G4 Media copyright box appears in the bottom left corner of the screen. Afterwards, text came up on the screen against a gray background that read, "To our fans, our haters, and the Internet, thanks for seven kick-ass years. TTYL, Attack of the Show," with the Attack of the Show theme playing at the end.
On February 8, 2013 (2013-02-08), Attack of the Show! aired for the final time as a scheduled program on G4. The final original episode was re-aired.
Some of the video clips of the show can still be seen on YouTube though their YouTube account is no longer visible. A video archive is still available at the official Attack of the Show webpage.
Kristin Adams, substitute co-host for Munn and anchor of "The Feed"
Alison Haislip
Alex Albrecht for video game segments
Blair Butler for "Fresh Ink"
Jessica Chobot
Chris Gore, anchor for "DVDuesday"
Blair Herter
Grace Helbig
Layla Kayleigh, anchor of "The Feed"
Chris Hardwick for "Gadget Pr0n"
Matt Mira for "Gadget Pr0n"
Weston Scott
Tiffany Smith
Sara Underwood, anchor of "The Feed"
Attack of the Show! celebrated its 1,000th episode on July 9, 2009 (2009-07-09), starting at 7:00pm Eastern/6:00pm Central. The show ran for two hours, highlighting the segments, skits, and other memorable moments from the show's previous 999 episodes.
Highlights included:
Kevin Pereira successfully catching a greased pig.
Tom Green smashing the red and gray set robots.
Epic failure of world's first sky-written tweet.
Office Jesus returning.
Kevin Rose appearing via clip.
Pereira's first appearance on G4.
Sarah Lane appearing live in-studio.
Never-before-seen audition tapes for Olivia Munn and Alison Haislip.
Alan Thicke joins the hosts to sing the Growing Pains theme, and made out with Munn suddenly after.
A new music video by Parry Gripp, frontman of punk rock outfit Nerf Herder, with Pereira and Munn in it.